Dark Strokes: The Legend of the Snow Kingdom
Exclusive
Inspired by the timeless tales of the Brothers Grimm, Dark Strokes: The Legend of the Snow Kingdom offers an experience rich with magic and wonder. From its breathtaking opening scene, in which a hunter saves a princess from an uncertain fate at the hands of a Snow Knight, to its stunning conclusion, Dark Strokes 2 will captivate you with a world abounding in beauty and detail, puzzles and mini-games unlike any you have solved, and a story of unprecedented depth.
Game System Requirements:
OS:

Windows XP/Windows Vista/Windows 7/Windows 8

CPU:

1.6 GHz

RAM:

512 MB

DirectX:

9.0

Hard Drive:

665 MB
Game Manager System Requirements:
Browser:

Internet Explorer 7 or later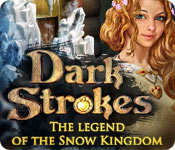 NEW299
The Big Fish Guarantee:
Quality tested and virus free.
No ads, no adware, no spyware.

Reviews at a Glance

Dark Strokes: The Legend of the Snow Kingdom
0
out of
5 (
0
Reviews
Review
)
Customer Reviews
Dark Strokes: The Legend of the Snow Kingdom
16
16
This Apple Isn't The Golden Opportunity You Were Hoping For!
With his Sky Kingdom destitute and it's people starving, the King makes the devil a deal (in this case the Ice Knight) This deal comes with specific and easy guidelines, have the Queen plant the golden apple seed and nurture it as if it were her own child. The golden leaves may be plucked at anytime for riches beyond belief, and in 18 years a golden apple will appear and that apple is all that the Knight requires in return.....Fast forward and the King's beautiful daughter is being chased by this Icy Knight, until Alan comes to the aid of this damsel in distress. All is going well until a strange package arrives at the doorstep and a curious Princess opens the package and poof, she's inside a Sky Kingdom snowglobe! Now Allen and Princess Adele must travel back to the Kingdom to search for answers (she's pretty mobile as a snowglobe) and the adventure begins. There are different types of Hidden Object Games such as interactive list finds, finding 13 musical instruments, and even putting a music box together by finding 10 hidden pieces. The mini games were really good but my favorite one was riding the horse into the Kingdom and choosing the correct path out of three with several obstacles in the road and the horse would go faster and faster, if you hit too many obstacles you have to start all over. You will come across slides and a mini stage to show the story of the King and the rise to fortune. You will find and name a baby lynx to help you reach otherwise unobtainable items and you will make different potions such as a levitation potion which can lift heavy items out of your way (what happened to the good ole pickaxe?) A fantastic edition to the Dark Strokes family, enjoy!
May 9, 2014
Loved it!!
I thought this was a great game. Storyline was interesting. Graphics lovely and bright. HOS interesting and interactive. Puzzles not too difficult or too easy. I play these games for enjoyment not to have my brain fried by puzzles that are too hard. The story finishes well and does not leave you wondering what comes next. Highly enjoyable and I highly recommend this game.
May 10, 2014
I Like Cutesy Animal Helpers!
This is based on the hour-long demo, however I am going to buy it today and can't wait to finish the game. Okay, so this game is not the best I've ever played; there's lots of hand holding; and certainly a game for beginners and children (not too young). However, I'm a grandmother and I still enjoyed playing it. The visual is beautiful; the music is soothing and fits the game nicely; and the voices are okay. I liked the storyline, which you can read in other reviews as well at the top of the buy page. It has an interactive map which shows where there are things to do and transports you there. The hint button recharges quickly and points to things to do in the HOS and game play plus it also gives free directions. There is a cute little lynx who you name and helps you in tight and high spaces. There is a walk through if you really get stuck. Play the demo and read some reviews before making up your mind. On occasion I really like a fast-paced, easy game. I totally played without any frustration! Aaaa. So nice after so many extremely frustrating ones!
May 9, 2014
Awesome Game!
Great graphics. New mini games. Map makes for easy movement so you don't have to waste time constantly backtracking. As with all games, I suggest playing the demo first to see if it's for you.
May 9, 2014
FLAWLESS
Graphics and animation are outstanding. Artistry and use of color palettes were spot on. Good voice overs. Flawless gameplay. Liked that in the 3 modes of difficulty, you could choose what you wanted. Nice storytelling - the combination of knowing that an evil plan was in the works and the heroine being enclosed in a snow globe promises ongoing interest.
June 4, 2014
Beautiful game!
I loved the first one, and love this one, too! The graphics and animations are gorgeous. Good non obtrusive music. The story was more involved than it first seems. It was very much like a movie, with well done end credits. Can't wait for the next one!
July 12, 2014
Unexpectedly Fantastic
I'm a fan of Dark Parables and didn't expect this little game to have the charm or visuals of that franchise. This game had everything and more. Fantastic story, visuals, game and good length. Pros: The story has twists, turns, makes sense and even when you see where it's going - it's interesting. Games easy to low medium. Graphics are beautiful and very smooth. Game play in intuitive, characters interesting and varied. Pros: HOS gets a little redundant, putting things together. Games are a little simple for adults - better for relaxing than challenge.
July 4, 2014
Nice Simple Game...
The following is the review I had done for the CE version: "Hi all. I have the first Dark Strokes and really liked it. This one is a bit different. The colors are very bright and nice to look at , graphics are good for this type of game and game play was very nice, no problems at all. I do like a good fairy tale now and then and this story was right up there. Music was nice and easy to listen to, but a bit loud, so I turn it down. Voice overs are good and seem appropriate for time and setting. Didn't hear a lot in the way of sound FX, but what there was, was well done. Jump map works well, but is very bland. Did not care for the SG at all. I prefer written directions, not a step by step picture of what needs to be done. I don't need that much hand holding and I find that my eyes get tired faster looking at pictures. Hint system is helpful, except that it only shows you where to go, not what to use once you get there. You learn more of the story as you collect more items and "slides." HOGs are the usual and are fairly clean with items quite easy to see. Puzzles are a little different, but still no real challenge, just a little more thought. I think a beginner would find this one more challenging than an old gamer like me. However, if you just want a nice easy game, this one would be a good one. There are a number of achievements and lots of collectibles, e.g., 35 snowflakes, 12 magic scrolls and 10 morphing items that are actually found in the HOGs. None of these items are difficult to find either. This game is not CE worthy to me, so I will wait until the SE comes out and give it another try. I often like the SE version better, even without the extras, but this one is a no buy for me today." Naturally, there are no collectibles in the SE version, but as I said above, I often like the SE version better. I did and I purchased the game. It is a nice game, with a nice fairy tale story that I think most anyone would enjoy. As always, try it for yourself and see what you think. We all have different tastes in games and you may find this one to be exactly what you are looking for today. Thanks for the reviews.
May 9, 2014
I Love Fairy Tales
This is posted after playing the entire game. This is one for the books. While not the greatest game I've ever played, I really enjoyed it. Guess I'm just a kid at heart. The graphics were well done. backgrounds are great and while the characters are more of cartoon in nature they are good also. The hidden objects are well drawn as is the whole game. The music is pleasant and the effects are okay. Voice overs are well done, especially the slide shows. I gave the level of challenge a 3 simply because I could do the mini games. This isn't to say the game is easy. It does have its moments, but anytime I stay with a mini game, it is rather simple. The hidden objects are easily found, but again there are various types of games that weren't so easy. This game would be more toward those who, like me, like to sit back and not necessarily grind the grey matter to a pulp figuring things out. It is entertaining and that is what I like. You have an interactive map which you will need to get around and figure out what to do next. I did have some difficulty trying to get around the kingdom and if not for that map I would have been lost. You also have the assistance of a lynx that you get to name, who can assist you in tight places. He/she is cute and I do enjoy these additions. Also there are different potions and as much as I hate to admit it, I didn't realize until I was almost done with the game, that you are told by the bubble what to use. I am such and idiot! Also you get to set the time for the hint and skip buttons to charge. I really like this. The story, while pretty much the same as most fairy tales, is well told. Big Fish does a good job of explaining this. There is an excellent ending with joy abounding, of course, and it leaves open the possibility of a sequel. My granddaughter is coming to visit this weekend and no doubt we will play this again. If you aren't all wrapped up in the challenge of a difficult game, and just want a way to spend a few hours, then you're going to like this game. I did.
June 11, 2014
very good
nice game. I would recommend it! 2014
May 28, 2014