Cadenza: Music, Betrayal and Death
Exclusive
Listen... for the sound of betrayal! You've returned from school to visit your father at his famous Jazz Pepper Club during Mardi Gras, but everyone is hypnotized. Have they heard the wrong note? Explore the musical mystery in Cadenza: Music, Betrayal and Death!
Game System Requirements:
OS:

Windows XP/Windows Vista/Windows 7/Windows 8

CPU:

2.0 GHz

RAM:

1024 MB

DirectX:

9.0

Hard Drive:

485 MB
Game Manager System Requirements:
Browser:

Internet Explorer 7 or later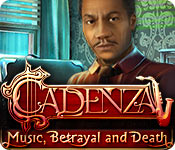 NEW299
The Big Fish Guarantee:
Quality tested and virus free.
No ads, no adware, no spyware.

Reviews at a Glance

Cadenza: Music, Betrayal and Death
0
out of
5 (
0
Reviews
Review
)
Customer Reviews
Cadenza: Music, Betrayal and Death
58
58
Jazz Music So Beautiful It's Hypnotic
"It's good to be back in New Orleans" that is until she finds her father among everyone else in the famous Jazz Pepper Club in a hypnotic catatonic state! Could the man in the white suit who nearly knocked her down as he rushed past her be responsible? You begin your own investigation to find the person responsible, what you find however is evidence of betrayal and possibly the murder of Frankie, the original saxaphone player for the Dixie Peppers! Is Frankie seeking revenge from beyond the grave or is he able to walk amongst the living during the celebrations of Mardi Gras? The quality doesn't get much better than this cats, so crank up the speaker volume, turn off the lights and let this game take you to back to New Orleans (Na-lens) the beautiful sights and sweet jazz music buzzing throughout the streets. The meticulous attention to detail is obvious right from the start of this game, the graphics pop with visual eye candy and the music draws you in hook line and sinker! However, I personally would choose the Collectors Edition for the collectibles and morphs, it adds just a little more challenge and I love morphs, but this is still a quality game and well worth the Standard Edition price. The Hidden Object Scenes are going to knock your socks off, just another example of the attention to detail with flair. The very first HOS gives you the name of an item such as hat, when you find, and click on the hat, a musical note appears to collect. The next item is shown as a picture which requires you to pick up and put into the scene such as a pepper shaker is placed next to the salt shaker, and then you click on that complete item to reveal another musical note, and it will alternate between a list find and placing an item until complete. We're not done yet, the next HOS is more of a mini game combined with hidden objects. As a story is narrated, there is a single item in color that appears on a black and white picture, you need to find that item and place that item where it belongs, which might be a star in the artwork of the picture or a rose that adorns a character's hair. As soon as you place that item, that area fills in with color and you repeat the process until the entire picture is in color. Still not done with the newbies, one HOS required you to find matching pairs such as two books, two ties or two clocks. You had to click on items in the scene to move them and reveal an item you are looking for with the hope of finding the match, if they don't match they return to the previous location and you start over. There was even a hidden object scene on a mosaic painting of the Dixie Peppers and because of all the different shapes in the painting itself, it made it very difficult (but fun) to find some of the items. Great game, probably deserves an end of the year award because I can't imagine a game topping this quality, enjoy!
May 11, 2014
Best & Most Innovative!
BASED ON COMPLETED GAME They?re the awards I?d be issuing to this breathtakingly new and original game. Not only are the production values of Cadenza utterly top quality, but the features and action are also new or so cleverly revamped you?ll think it?s new. BEST CHARACTERS You are an African American woman (the first of an impressive list of firsts!) come home from school at Mardi Gras. Your cabbie is not only the most helpful in the US of A, (so my American fishie friends tell me ? you will find out the reason if you are very, very sharp, about 2/3 into the game), but he is also brought to life by the most amazing animation and lip synching I?ve seen. He?s darn close to real. The other characters are the same. Every character has his/her own accent, interests and obsessions. His own background and motivations. The band members? story is made involving with a series of original mini-games that reveal new info in an interactive way. The who-dun-it really does require the collection of information and character analysis before the truth is revealed. BEST SIGHTS & SOUNDS The graphics are exceptional, and capture the feel of the era, if not a strictly accurate depiction. There is so much to look at! Particularly for a person such as I, who can only imagine the beat and vitality of such an event as Mardi Gras in New Orleans. And the music supplies that beat perfectly. It is so beautifully done, even I started feeling like a jazz fan. With ?Minnie The Moocher? running through my head, I felt as though I was really transported to another time and place. And there are actually songs! Sung well! MOST UNUSUAL STORY A true mystery ? how are the members of Daddy?s old band being targeted and killed? And why? Is Papa not the saint we always thought he was? What?s with Aunt Adele? HOW are these victims being killed exactly? What is the strange music that has sent our father and so many others into a trance. Some of the answers will shock you! MOST INNOVATIVE GAMEPLAY In an environment in which players are demanding more and more that?s ?new?, this game more than answers the demands. Within an almost-familiar structure of HOPs, puzzles, mini-games and adventure, this game delivers the most innovative gameplay you could ask for. The HOPs in particular are ?outside the box?. The first one you meet with involves a standard word list, delivered in a unique way with a silhouette ?replace the object? list and all of it allowing you to move, not ?disappear? the items, to reveal the actual ?hidden objects?. And it all runs so smoothly, and requires but a little head scratching at the beginning. That is just the start of a delightful visual experience. There are oodles of mini-HOPs that pop up everywhere, that might require, say finding 5 saxophones in a newspaper article. Or the replacing one out-of-place item in a grey-scale sketch, which in turn reveals one more, and all the time we are learning the history to this drama, and of our father?s band. There is a type of matching pairs game like no other, in which you must move items to reveal the parts of matching pairs, and if the pairs don?t match, the items return to covering the required items till you match them up. You are given no list or set of silhouettes, you must find out what you need by trial and error, and memory. The map is fun. You can jump from location to location, and you are given indications (at the least difficulty levels, there are 4 plus custom) of where action is required. But you give your preferred location to the cabbie, or other modes of transport as the game progresses. The hint is directional within each cluster of locations, and very useful in the complex HOPs. The puzzles tend towards the visual. I liked them very much. They were innovations of familiar concepts, for the most part, breathing new life into ideas we?ve come across before, without ever looking or feeling old. The adventure component is very easy because it is broken easily into chapters and the action is generally limited to a few locations at a time. But what a nice change to have things make sense! lol COMBINED IMPACT This game is outstanding. Original, involving and with top flight production values. I finished it in one sitting of approximately 3.5 ? 4 hours, and the ending was deeply satisfying. The whole swath of CE bonuses, while fun are totally unnecessary, to the enjoyment of this game.
May 11, 2014
6 star game
This is one of the best games I've played in a long while. The graphics and music are excellent; I mostly turn music off when playing, but this was really good and fitted the storyline perfectly. There were sympathetic, well rounded characters, not just two dimensional props for the story - and a very complex and mysterious villain. The map gave lots of help, as did the hint button if you needed it. The puzzles were just a bit different from the usual, which added to the enjoyment. Unusually for me, I have no quibbles, no little annoyances, no fault to find!
May 13, 2014
So Good - I'm going for the CE next!!!
Wowza, Wowza!! First off: I am playing SE game. This is one amazing game!! The first thing that grabbed me was the HIGH quality of the Soundtracks and Voice Over work!! Great Jazz, Beautiful songs interspersed throughout the game, and a refreshing sight to see a game with Cultural flair in both the people, scenery and music! Characters are unique and colorful and fun all the way through the game. Each Character's voice was a perfect match to their location, job, etc. HO's were varied and unique!! Some of which I haven't come across before...Very good, not too hard, but just the right amount of challenge to make the game more interesting. Each HO has it's own "Theme" One may have you find matching pairs of items that are tucked away under other items..they won't clear until you find the correct match. Another one was a verbal communication overheard on a tape that gave ME verbal cues as to what to pick out of the scene. That was FUN!! Another one was a mix of finding something in a scene, and then the game GIVES you something to help find something else. Very unique gameplay, while still being fun!! Graphics are well done, and gorgeous..I think that the location being New Orleans helped a great deal. Everything is so unique and rich in detail. Just Beautiful!! Game Play is just awesome...I can't say enough about this game! It's soo good, that I'm going to do something I never have before with an SE: save up and get the CE!! I have been gaming with BFG since 2005, and I can honestly say that this is going to be one that I will enjoy playing over and over, and is at the top of my list for everything: Graphics, Game Play and Music!! Thanks Mad Head games..and BFG. You have reset the bar on SE games!!
May 17, 2014
Who Dat? It's Special in da Big Easy
This is being posted after playing the entire game. This was the most enjoyable game I have played in a long . long while. It had me from the opening scene of the Demo. It was fun from the beginning to the very end and well done . The developers did a great job. I seldom ever check the credits at the end, but this time I did. Living just a short ways from the Big Easy, it seemed so realistic, I just knew there was somebody with a Cajun name on the staff to have captured the flavor of New Orleans. I don't remember the last time I gave 5 stars to a game, but this one deserved it. The graphics were fantastic! I do believe they were the best I have ever seen in a game. So realistic. The music was awesome and the voice overs were superb. Although not the most difficult game I've played, it was the most enjoyable. You have several different varieties of hidden object games including some I have never seen before which kept my interest all the way through. The min games were not so challenging that I gave up as usual. They actually had some I enjoyed playing. Tough enough to challenge you and yet attainable without spending too much time trying to figure them out. You have a journal and an interactive map to help you get around the city. The hint button refills fast enough for me and the instructions for the mini games were understandable. The story was well thought out and kept my attention wondering what was going to happen next. The ending was just as good as the beginning and left me satisfied for a change. I know somebody isn't going to like this game, but the folks at Bad Head did a wonderful job. I'm looking forward to another from them. In case you couldn't tell, I really enjoyed this game and I think you will too. There is just so much to tell about this game, but the best way is for you to try it. I don't think you will be disappointed.
May 13, 2014
Well.....................I TOTALLY LOVE THIS GAME!
What the frack is wrong with my computer? I nearly finished my detailed and lengthy review and everything blanked out so here I am, starting over. This game has it all! It's AMAZING (I guess you'll see that word a lot here). Graphics - clear, colors bright, music - (which I usually tune out) spot on jazz, jazz, jazz and all that jazz. Won't tune this puppy out. Lip-syncing-oh yes and thank you gods of the devs who FINALLY thought to continue said lip syncing throughout the game (as most devs don't seem to do) with....wait for it.....FACIAL FEATURES MOVING - so don't read along because I was truly mesmerized by this never before seen phenomena. Seriously, though, I was sucked in in the first 10 minutes, maybe less, of the demo. The SE demo just reminded me why I loved the CE demo so much and got the game. Storyline - It is 1953 Louisiana. You are going back home to visit your father, Samuel Stirling, owner of the famously renowned Jazz Pepper Club and former band member. But, something's afoot and, of course, it ain't all that good. Opening Scene - Here is where I was pulled into the game - no, not the game - which has NEVER happened in the history of my game playing - I was pulled into the story. It's the inside of the Jazz Pepper Club, crowded with people enjoying themselves, the announcer is preparing to bring on the next act when "it looks like we have a special guest" - FRANKIE - who is dead! (Well, what do you expect in the French Quarter?) Not creepy zombie dead but he has been dead for a while. And he's back? Why? And by who? And what happened back in the day that caused him to come back - with a vengeance. He begins playing his sax (oh, that music is so hypnotizing) - WAIT - the music DID hypnotize everyone in the Club including your father who was in the back office. Now, you've arrived. The window out front is broken, the doors locked. There is a cute monkey who you play a game with (shades of street vendors - lol) to receive an inventory item. But first, find the coin that allows you to play. You meet a man (down on his luck?) in the alley behind the Club and help him for which you receive a "spare, ermh," key to the Club which he has "for emergencies". O-k-a-y then. Off you go to investigate. Gameplay - There are 5, count them 5, levels of difficulty - all having musically related names. The last being "innovator" which is the custom mode - you cannot change the timing on the mini game/puzzle skip time. Whoa - just whoa. The HOGs are fun, innovative, new and exciting. The mini games also fun, innovative, new and exciting - neither hard at all. I don't think it's about how hard or easy the game is - because THIS game is all about the story, not the game - something I've never experienced before. You also come across items that will bring back memories/story of how it all came about (OMG, your Aunt's voice singing - mellow, smooth, dare I say sexy?). I could listen to it forever. You get a diary which actually has real info in it, not redundant repeats (yeah, I said that) of notes, etc. you find lying around - boring. A map of the city given to you by what appears to be your own personal cabbie (love the old yellow cabs) which is "jumpable" but not before you move to another area of the city by locating a given address on the map and giving it to your cabbie. And, another thing I've never seen before. Everything, I repeat, everything in the game - HOGs, mini games, items you find and use - are all musically related. Imagine?! A game that actually uses things to incorporate into the actual storyline. Oh ye gods of the devs please continue future games this way. And the actors - please don't ever, ever, let them go - REALISTIC AND MAGNIFICENT. You will meet people/characters who are spot on - the man in the alley sounds like a down on his luck man. The gypsy sounds like a gypsy. The accents in this game are truly LA accents and every time I hear someone speak I melt (ok, a girl has gotta love an accent). I'll take you to the end of the demo - or I'll never shut up - you are running (for your life?) when the cabbie shows up - complete with tires squealing and cab swerving - the door pops open and there is the cabbie extending his arm and shouting "get in"!. End of demo. Major disappointment - total WOW factor and you press that "buy" button faster than the speed of sound. Well, I did. I cannot say this enough. This game is not about the game - it's about the story and you get that just minutes into the demo - at least I did - remember, I haven't played the entire game yet. You are sucked in. You are THERE. I can't imagine playing this over days - I will have to play it in one sitting (keep food, drinks handy). My biggest fear? I finished the demo with 10 minutes to spare and that was after spending time entering my profile, going into options, and checking out "other games". Shades of a short game? I hope not. I really hope not because this demo was just tooooooooooo good. I will most likely cry after I've played my CE and finished it. Don't know when that will be as my game manager groans with the weight of all the purchased games yet to be played but keep a lookout for me - no spoilers but I'll try to give you more info on how much I continued to love this game - or not - and what the CE bling was all about. Obviously, this Glam-ma says play, play and play this demo. If you aren't as taken with it as I am, well, it's ok - to each his own. But I hope you do enjoy all the new things the devs have engineered here. I have truly NEVER been so excited about a game in all my 7 years of BF membership. Happy Gaming.
May 12, 2014
Wow!
Wow, The way this game is played was so unexpected. It took me a minute to catch on but once I did it was "game" on! My first attraction to it was two things, the music and the characters were people of color. What a breath of fresh air. Then the game is so innovative, caught me by surprise. I was so accustomed to how most of the games are played. I almost quit because I didn't get it at first. So glad I continued and the butler didn't do it!. Gotta play this game. I don't think you will be disappointed. Challenging & fun. Buy it, buy it, buy it!
May 15, 2014
Definitely one of the Best games of the Year
This, imho, was an excellent game. Different, unique (as you can get with these types of games), different locale, different story line, different HOS, etc. I actually enjoyed playing the HOS, where I usually just slog through them. Puzzles were intuitive and enjoyable. I love the setting of the game.... Nawleans, Mardi Gras, long ago South. I believe Mad Head succeeds with their games because they take the time to make a game properly instead of churning out one after another. This was a work of art and done with loving care and an inordinate attention to detail. The game is very inventive, HOS are unique, puzzles are very visual and enjoyable, and graphics are top notch. The lip synching, which some developers have sadly eliminated, are so close to real life, it's amazing. A huge 5 stars from me. I did buy the CE for this game, but it is not necessary to complete the bonus chapter to have a satisfying conclusion.
May 11, 2014
Love This Game
On the top five list of best games I've ever played. The puzzles are not very challenging but interesting. Each HOG was a little different and that kept me interested. The graphics, sound and music is good to great. I enjoyed the storyline and characters. Don't pass this one by.
May 19, 2014
Loved the game!
I enjoyed the music, graphics, game play and story line. It held my interest throughout the day. The developers did an excellent job! I look forward to more like this. They truly have an awesome game here. :)
May 11, 2014
The Apple logo is a trademark of Apple Computer, Inc.