The Wall: Medieval Heroes
In The Wall: Medieval Heroes, defend your village, which is besieged by aggressive, jealous barbarians! Discover a new game genre that combines tower defense and resource management. Keep an eye on your villagers, who will gather the resources you need to create your army behind the wall, and deploy your units strategically in front of it! With a wide variety of units, towers and traps to choose from, you will have to find the best ways of diverting, slicing, exploding, poisoning and incinerating an infinite army of aggressive enemies. Recruit mortars, archers, powerful cavaliers, crazy saboteurs, terrifying warriors and shifty assassins, and stand fast! All hell is going to break loose in this rural idyll, with 8 villages and 7 game modes that you can play and replay as you wish!
14 different units to unlock
8 different villages to unlock
7 game modes for an extended challenge
A smart combination of tower defense and strategy
Game System Requirements:
OS:

Windows XP/Windows Vista/Windows 7/Windows 8

CPU:

2.5 GHz

RAM:

1024 MB

DirectX:

9.0

Hard Drive:

346 MB
Game Manager System Requirements:
Browser:

Internet Explorer 7 or later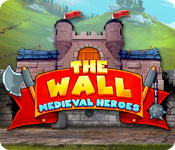 NEW299
The Big Fish Guarantee:
Quality tested and virus free.
No ads, no adware, no spyware.

Reviews at a Glance

The Wall: Medieval Heroes
0
out of
5 (
0
Reviews
Review
)
Customer Reviews
The Wall: Medieval Heroes
10
10
Tower Defense Meets Time Management
This is an extremely fast paced game that will require a lot of skill and strategy so prepare yourself for the ultimate defense game and protect the wall at all costs! There are two sections to this game, the left side is the time management section where you hire workers to build farms for food, mine gold for resources and all the other usual TM chores. The resources you collect are used to build an army defense that will allow you to fight enemy attacks and protect the castle wall. There are several modes available, Classic-defend yourself, Extended- which has more enemy waves, Pro-which has heftier attacks, Pro Extended which is more aggressive, Siege- which earns no gold and 15 waves, Endurance- which is never ending, and I Life- which only gives you one life to win as many battles as possible. You choose which soldiers to use (3 choices available until you progress) There are Cavalry, Projectile weapons, Lightly armed shooters, tanks, heavily armed shooters, and anti-cavalry men to choose from, some are stronger than others. For instance, the Pikeman can defeat Cavaliers but a Halberdier can defeat a Pikeman. Before an attack begins you can build towers for archers or place them on the wall itself, to move the ground soldiers you simply move the flag and they follow and engage in battle with incoming enemies. You can upgrade this flag as well, more stars=more powerful effects. There is a really good tutorial and it does seem like a lot of information to absorb but once you start playing it starts to make sense. This is not a game for casual players, and it isn't an easy game so if you like battle type games and fast paced games this one's for you, enjoy!
May 12, 2014
A Tower Defense with an awesome TM/Builder/Strategy twist!
Love Tower Defense games? Love TM/Strategy games too? Then get ready to call in sick to work, and forget about sleep, cleaning, cooking etc LOL! Because you are going to be in sheer heaven! If you love them, this is the game you have always dreamed of. For starters, I'm new to Tower Defense games. I have a bit of an edge, from playing RPG/Action and Strategy games for many years. But I just don't do well on them, timers or the like have me feeling stressful. It's an easy concept, plan your stratagy, beat a wave, add an upgrade, build your army, play again... For me add lose, replay.. over and over LOL! But this is a game I can play, and made it through the demo! They really did a great job making this game. Bravo! There is so much to do, I got lost in it and was surprised when the Demo hour was up! I made it through the first battle,(I knew I loved it right then and there!!) which is after the great Tutorial. It felt like a practice run when I was playing on the 1st level, so you learn more AND earn some better guys and gear!. There is NO timer, BUT, your wall can die, and you replay. BUT you still keep what your TM side did, so you can upgrade and pass easier, if you need to. Thanks to 7 levels of difficulty, I think anyone will be able to play this game. They go from "Classic (feels untimed and relaxing) To a "Non Stop Wave" which was pretty intense and a huge challenge, offering a replayability factor too! Since I'm a big fan of TM/Builders, this game "got me excited and having FUN!" The TM game is integrated it into it. So, Kudos for not just making a hybrid game, but making a TM and TD game, with a smooth interface! It made it interesting, exciting, AND easy to learn/play. I usualy don't trial TD games, just not my fav genre. This one I just couldn't resist giving it a go, and happy I did. I've never played a game quite like it! I can see TM/Builder or Strategy Players, really falling in love with this game. And if they have never tried a TD game, learning to love a new Genre too. Moving onto the game play.. You are living and defending on the world of "The Wall", sworn to protect it, with a light storyline, not too diaglog heavy. BTW your wall has life (AKA HP in RPG) points, IT takes the damage and yes, it can die. It's also got game, and a few tricks of its own. ;) Instead of just planning wave after wave; you also have to improve your resources too. This is done in a split screen. Mad Genius! You can go back and forth from TM to TD at will! Need some more gold/food to buy a Soldier? Just slide back over to the TM side, glide your cursor over the ones your workers got piled up, and your back in the mix to buy any fighter, and they are still going too on the battle side! So, Battle field on one side. + TM Workers doing their jobs on the other= LOVE IT! Amazing job to the Developers, truly a great concept! You begin on the TM/Builder side. This is pretty easy and way fun! There you need to improving your castle to hold more workers. Then use them to mine gold, improve your food supply, train and improve your "army" etc. Anyone that has played or loves TM Builders will be drawn in, and feel right at home, as it's all done with the best of TM options too! Just set your workers ahead, with check marks and they continue there jobs until done; IE all gold out of a mine, which takes awhile BTW. Use your food and gold to buy different fighters for your army. While there is no real timer, you do have a "call to action" when the troops approach the battle field...That takes us to the other side. If your ready to go fight before the attack alert is signaled, you can click it for more gold, or wait for it to sound while stock piling more food and gold on the TM side! On the TD side, you can build and move your foot soldiers, Calvary at the gate, Archer towers (Just the 1st 3 fighters you have to start with.) You'll earn more as you go and learn new enemies too, with "?" to see what beats them! You can always add more during the battle!! You move your ground troops by 2 banners anywhere on the field during battle. Need to knock out that Catapult? NO problem, move them while your archers hit it too, they won't launch a single stone! There are different banners that give your foot soldiers things like healing or reviving, harder hits, etc. There are also bonus items ON "The Wall", like setting boiling oil above the gate and placing Archers on it, as well as the towers you build for them. Picking up plundered items; food, gold, and gems (used in the main menu to buy lots of upgrades), is easy. Just like TM food/gold wave your curser over them, no clicking needed. That's another plus, its not overly "clicky" so after an hour my hands were not in pain from my carpel tunnel and arthritus. Unlike most TDs, you have full control, see what type of enemy is coming and can react in live action. In other words, you're not limited by setting up TD area and stuck with it. Battle is explained like "rock paper scissors" each type of soldier can attack and beat only 1 or 2 types of enemies. There is also a menu screen to select read about or recruit/buy troops, banners, enemies for that level and bonus items at the start. I noticed areas in the map have stars, but it cut off them demo before I was able to see how many I got. So I don't know how it ranks you yet. All and all, I will use a PCC on it, again for me that's HUGE. If you like TD games.. buy it! If your a TM fanatic, your going to love the twist. If your like me, give it a try and see if you can handle the challenge lol. I hope to see more TD games like it.. Well worth the money or a PCC. I don't always recommend (straight) Tower Defense games,(unless they really wow me, which this one does!) But when I do (find one with a twist like this) Yup. I do recommend, The Wall: Medieval Heroes. Stay Gaming my Fellow Fishies!
May 13, 2014
You'll fall for the wall
Despite only having two reviews posted, I decided to give this game a go. It sounded interesting and it certainly was. I like the combination of resource management & defending in battle. It has a slight 'LOTR' mentality to it. You're defending your territory using armies of soldiers, archers, pikemen and so on. Between battle waves you can focus on your resources and upgrading your buildings. During battle, you can easily replace fallen army members if you have the resources to do so. The game has a lot more to it than it sounds. There are numerous upgrades and bonuses to acquire and the game really does require concentration and skill to win. It's not super easy and not super hard. I've only played the classic level and it has been plenty challenging for me. I assume once I get the hang of the game and beat the classic mode I will try the harder ones. Definitely an engrossing game. If you like battle games (such as Royal Defense) you will like this game.
May 12, 2014
Cool to play
Enjoy playing you will get ingrossed
May 12, 2014
Set em up, knock em down, repeat
I wanted to love this game, but just couldn't get that far into a relationship. The premise is promising in that you move your men around to meet the enemy. You have a town on one side of the wall in which you send workers to collect gold and mills makes you food while you busy yourself collecting their goods and setting up defense men in front and on top of your city's wall. The annoying part is remembering to go back into the town often to collect the income so your workers will keep working. There's really no gripping story line - I forget even now why so many baddies are throwing themselves at my walls. The game play itself is a little clunky. They obviously wanted to get a lot into the game, but there remains aspects of game play unanswered in the tutorials. It was an okay game - I didn't enjoy it as much as I adore other tower defense games.
May 13, 2014
Good idea but bad game
I really liked how this game sounded and I wanted to like it...but I just can't. The time management part is just a little "town" where you can really only assign people to mine gold or upgrade food buildings. By the second or third wave I usually had everything upgraded and then the only use of the town was to annoyingly make you go back and forth to collect your resources. The strategy side isn't that great either. Most of this game for me was throwing walls of low level pawns at enemies. During my whole hour trial I never got access to any real upgrade so there was no way to improve your battle strategy. Bottom line: great idea but this game fails to live up to expectations.
May 13, 2014
I wanted to love it, truly
I tried the free hour wanting badly to use my monthly credit on this game because I love Tower Defense games (and they are few and far between), but it missed the mark for me. I did like that you could move your "forces" around, but having to get your resources by leaving the main screen was a huge detraction for me. Also, hey BF - when are you going to give Tower Defense its own category??
May 26, 2014
Didn't Buy This One. Here's Why.
So I like the idea of combining a resource management/time management type of game with the thought of a tower defense game, both of which are my favorites in terms of what I play. It's a shame that the game itself didn't live up to the promise in my opinion. The gameplay is fairly easy to explain. You have two screens that you toggle between, one inside of your wall where you collect resources (gold, food# and upgrade capabilities of the castle and your defenders, and one outside of the wall where you actually have to defend attacks. You have to collect gold and food to be able to buy archers and cavalry and other types of fighters. The clock counts down between attack waves for you to collect accumulated resources and add defenders to your cadre outside the wall. The good: The graphics are good and the game is fairly easy to understand. The rest: Very, very repetitive. Collect stuff, buy defenders, defend, wash rinse and repeat. Over and over. There's really no upside to the game itself, and I didn't even finish the demo #I got really bored) before deciding I'd have a better time reading a book!
May 23, 2014
garbage game
you half to repeat the same map over and over and over and over and over....ect to get enough gems to upgrade your stuff one time. 1000 gems for one upgrade at around 200 gems per round thats doing the same thing 5x...BORING!!!
May 19, 2014
OMG, castration version of the game here
On Youtube video (touchgameplay) you can see, that you can buy emeralds in this game. In the game here from BF, there is no way to buy them. Now it is clear, that the upgrades are so expensive. But if you can not buy emeralds, you play for them until the end of your days over and over the same. I can not recommend to buy the game without the option to buy emeralds.
July 29, 2014
The Apple logo is a trademark of Apple Computer, Inc.