Royal Jigsaw 3
Check out the new King Size Jigsaw! In the latest installment of the Royal Jigsaw series, choose between 1000 different high quality puzzles! Enjoy the well designed gameplay you've come to expect from the Royal Jigsaw games. Use helpful tools and other hints to guide you. Adjust the game difficulty to give yourself the challenge you're looking for. Record your accomplishments by earning achievements and trophies along your way. Inside you'll find 4 boxes full of real royal atmosphere as well as luxury decorations, beautiful landscapes, famous antiques, vintage jewelry and magnificent castles... All the best for true king!
Choose between 1000 high quality images
No time limits - play as long as you want
Earn achievements and trophies on your way
Try the original Royal Jigsaw
Game System Requirements:
OS:

Windows XP/Windows Vista/Windows 7/Windows 8

CPU:

1.0 GHz

RAM:

512 MB

DirectX:

9.0

Hard Drive:

271 MB
Game Manager System Requirements:
Browser:

Internet Explorer 7 or later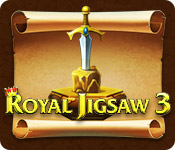 NEW299
The Big Fish Guarantee:
Quality tested and virus free.
No ads, no adware, no spyware.

Reviews at a Glance

Royal Jigsaw 3
0
out of
5 (
0
Reviews
Review
)
Customer Reviews
Jigsaw Puzzles Fit For a King!
Another great Royal Jigsaw, with 4 boxes containing 250 puzzles each for a total of 1000 puzzles ranging from 12-280 pieces! These are gorgeous pictures of castles from around the world, knights in shining armor, antiques, jewelry, landscapes, horses, swans, and royal people, a puzzle to please just about every puzzle geek out there! These puzzles have a unique option that allows you to "modify" any puzzle, you can choose the cut of the puzzle from straight pieces to slanted, you can choose how many pieces from 12-280 and whether the pieces can be rotated or not. There are 7 different categories for trophies (multiple awards in each category) Each puzzle has a box in the top left which allows you to store some of the puzzle pieces to give you more room, Each puzzle has options such as showing the image of the picture at x1, x2, or x3, or you can ghost the image on the background which also has the option of pale green, blue, pink or yellow backgrounds. You can choose the border pieces only and when the border is complete, the rest of the pieces will automatically appear and those pieces can be sorted automatically. There is also a hint button and a magnifying glass feature so get your Royal Geek on and put together a virtual puzzle, enjoy!
May 12, 2014
Great Game for Novice or Expert. Lots of features, lots of puzzles
A few helpful HINTS and extra info is also included, because some other reviews have wrong info. OF NOTE: For max shape change or max # of pieces, DO NOT only use the slider - it omits the last increase. Either use only the PLUS sign, or max the slider and THEN ALSO click the Plus Sign once to get the last increase. Example... Box 1, Screen 1, Mardi Gras guy. Max pieces via slider is 294, via plus sign is 345. Max shape change via slider is 99, while via the plus sign it's 100. The max # of pieces I could find was 345, but I didn't mess with every puzzle so it's possible some go higher. Cons: Just 1 ? only has ONE side tray for getting pieces out of the way. Hint? jigsaws do not have storylines, so having no storyline is a given and NOT a con. Pros: even tho it's jigsaws I like the trophies and scoring features, unused pieces behind the worked puzzle pop to the front when those are only ones left - so don't easily "lose" pieces, LOVE fasten to table feature, can change background color, ghost image, a pop-out with the full color image, piece rotation is OPTIONAL on all puzzles, can change piece shape, can change number of pieces, can move multiple pieces at once to the side box, a button gets you border pieces only. Yes, there ARE 1000 puzzles. In each box you see 8 puzzles with 1-32 at bottom. Use arrows to switch screens 8 puzzles at a time. 31 screens have 8 puzzles, the final #32 screen has 2 puzzles. So that's 31x8 plus 1x2 for a total of 250, per box. You CAN turn off piece rotation, even if puzzle shows 'rotate' icon in the display before choosing it. HINT on "fasten to table" option. If confused by this one, it simply means when a piece gets put in the right spot, it gets locked to the table and no longer moves if you click on it. So... for those that enjoy jigsaws, this is a wonderful game with A LOT of user-friendly options. It seems great for EITHER a novice or a pro, depending on which features you turn on or off. I'm buying this one as soon as I finish my review! Definitely recommend it!
May 15, 2014
Jigsaw lovers delight!
Being a lover of jigsaws, I was thrilled to discover this new set of "Royal" puzzles. They were close when they said a thousand puzzles, there are actually 904 in total.... 4 boxes that each contain 226 puzzles. An exceptional variety of puzzles from early to modern architecture, a variety of beautiful birds, dogs, horses, fish, and even a camel, flowers, statues, castles and pretty much all things regal and royal! There is no "storyline" which appeared to disappoint one reviewer but I might add jigsaw puzzles to my knowledge don't have a story line, you do them as a relaxing pastime. Puzzles on the computer are advantageous over regular jigsaws if you don't have the space to do them in. I enjoy puzzles from a box too, but tricky to do unless you have something large enough to work on when doing the bigger ones. You have your choice here to rotate the pieces or not and you can choose the number of pieces. One I looked at you could choose up to 308 pieces, there may be ones with more to choose from but I just checked a few at random. Certainly with 904 puzzles you have lots to choose from and will keep you busy for quite a while. The graphics are great and super clear, the background music is not great but can be turned off giving you the opportunity of either no music, or just play your own tunes. As usual, try before you buy, but this one for me was a buy! Great selection, very colorful puzzles!
May 12, 2014
Love this one
3rd part with 1000 pcx and relaxing mode on board. No more rush. Good sequel !
May 12, 2014
joyce moore
love the idea you can change puzzel size and the color is great and a lot of puzzels
May 16, 2014
Can't recommend because of the flashing
I agree with Saphhire's post in the forum. The flashing light "feature" in these puzzles is also a "deal-killer" for me. I love the fact that there are so many beautiful puzzles in this developer's games and that you can choose the number of pieces you want in each puzzle. But all those features are meaningless to me because of the flashing "feature" each time a puzzle piece is fitted into the correct place. It's very distracting and annoying to me. I play puzzle games for relaxation and I don't find the flashing to be relaxing. An option should be added to these games to allow the player to play with or without the flashing. The developers of "Royal Jigsaw 3" should check out BFG's "Jigsaws Galore" game. Now, THERE"S a developer who knows how to create a jigsaw puzzle game!!! The puzzle pieces can be changed to many more shapes than the puzzles in this game. You can also create puzzles from your own pictures if you wish. The option to choose the number of puzzle pieces in each puzzle is also available to the player. And there is NO bright flashing to deal with in that game. Even though I can't recommend this game because of the flashing, I've given it 3 stars and average grades for "fun factor", "visual/sound quality" and "level of challenge". I did this because of the number of puzzles in this game and because I feel that jigsaw puzzle fans who don't mind the flashing might find it appealing. Classicaljazz
May 21, 2014
Uh.....no..............just................no.
1000's of pictures encompassing everything you could imagine - except the description doesn't mention animals. Me? I like animals. Many hints, tips, and treats (no, it didn't say treats). Are you getting how I feeI yet? Overall rating: never a one star as "hate" is such a bad word. Sound Quality - maybe I missed something. Storyline: Non-existent/not applicable - maybe it would have been better to actually have a storyline. Imagine, if you will, the following: You have finally chosen a picture from out of the 1000's (although it didn't seem like thousands to me) from a possible 4 boxes of puzzles. You are NOT a jigsaw novice. Not necessarily a pro, but definitely not a novice. So, we have our picture, excitement mounts - but wait - it's only 12, 24 or 32 pieces with no rotation possibility of the pieces to make it just a little more difficult. No, you will probably have to resort to choosing a picture you don't like just to have more pieces to use. The more pieces, however, the smaller, tinier, miniscule the pieces are. And even then, you are NOT guaranteed to be able to rotate the pieces. Imagine THIS scenario: This game actually HAD 1000's of pictures that included everyone's taste. Let's face it - among 1000's you certainly have the room to appease everyone here. That the picture you finally chose had the ability for you to choose the number of pieces you need to put together. That you had the ability to choose to rotate the pieces to make the jigsaw that much more harder/entertaining/whatever. That when you saved your masterpieces they didn't disappear after x number of pictures saved - to make room for more completed pictures. If you have room for 1000's of pictures - why not have a place to save those 1000's of pictures? Doesn't this sound amazing? I think so. Alas, it is not this game. But it would be great if it were. The actual game is the "imagine the following scenario" I described. This particular game has not gotten better with each new version on the market. I believe, a true jigsaw connesouer (sp?) doesn't care about trophies - but the final masterpiece, that sense of satisfaction when the last piece is put in place. There is another jigsaw game out there - for obvious reasons I can't tell you the name, where it is (except on BF) or how to find it. I can say it is heads and tails better than this one. This Glam-ma says run - if you want fun, relaxation, enjoyment, invest in a real jigsaw puzzle, glue it to posterboard, mat it, frame it, and hang it for your world to enjoy. BF you really missed the mark here. Sadly disappointed.
May 12, 2014