Mystika 2: The Sanctuary
The village of Lumina is in trouble! Rikou, our magic tree, cannot protect us anymore. Alrik, the mage, needs your help to restore the sanctuary. Travel through 200 levels in this fun match-3 game and collect enough money to restore the village.

Defeat your challengers with the help of powerful spells, and find treasures in more than 10 hidden object scenes! Enjoy your trip through this enchanted world, listen to amazing soundtracks and prepare for an epic quest.

Will you be the one who will restore the sanctuary?
200 magic levels!
40 Challenges with different match-3 play
Very challenging time mode
Many achievements to unlock
Game System Requirements:
OS:

Windows XP/Windows Vista/Windows 7/Windows 8

CPU:

600 Mhz

RAM:

512 MB

DirectX:

9.0

Hard Drive:

57 MB
Game Manager System Requirements:
Browser:

Internet Explorer 7 or later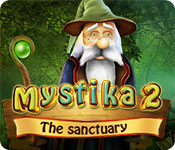 NEW299
The Big Fish Guarantee:
Quality tested and virus free.
No ads, no adware, no spyware.

Reviews at a Glance

Mystika 2: The Sanctuary
0
out of
5 (
0
Reviews
Review
)
Customer Reviews
Mystika 2: The Sanctuary
41
41
Only A Powerful Mage Can Restore The Sanctuary
Fantastic Match 3 game available in Timed or Untimed modes. Rikou the spirit tree has been struck by lightning and you must help the mage, Alrick restore the sanctuary. The only complaint I have is with a few misspelled words such as lezard. This game has some really unique features in the form of challenges. Some challenges include completing the match 3 by removing yellow tiles within 35 moves, Making matches around 4 chains holding 2 cages to free the cages, making matches to "dig" through the earth and recover statues and my favorite, strategically making matches until all tiles have been matched and fall off the board. The goal of the game is to make matches over all yellow, blocked, frozen and chained cells. You earn coins for matches and if you match the coins themselves you get extra coins which is used to restore the sanctuary with upgrades you purchase. If you make matches of 5 or more you will get bonuses on the board such as potions, bombs, lightning and directional rockets pointed either left, right, up or down. There are also a handful (10) of hidden object games which will also earn you money for each find. I found this game to be on the easy side, relaxing even on timed mode, and with 200 levels this is sure to be a long game worthy of a purchase, enjoy!
May 14, 2014
Lovely Match 3 !!!
At last, here is it: a wonderful perfect match 3. The Graphic is perfect, the Story line magical and the game play flowing. such a cute game. I love it !! Please give us more
May 14, 2014
LOVE LOVE LOVE LOVE this game
If you loved CropBusters you will love this more and you will understand the concept of the game. I HAD to stop with 20 minutes left in the demo to give this review. THAT'S how much I love this game - I've never done that before. Graphics: Amazing! Colors are bright, colorful, cheerful and very, very fairyland countryside feeling. Sound: Aside from the opening scene, there are no voiceovers. Only a narrator telling you the story of Rikou the Spirit Tree. I had my volume up and while it was crisp and clear the actor's voice had a very heavy accent which was difficult to understand (and I come from a heavily accented European family). However, I was mesmerized by the lilt to the voice. During game play there are also amazing sound effects. Storyline: The village/sanctuary has lived for centuries in happiness, harmony and bounty. Until one day, Rikou the Spirit Tree (who is responsible for this wonderful life) was struck by lightning, the sky became dark, the village saddened and ran into despair and disrepair. You are there to help Alrick, the Mage, bring the valley back into it's peaceful, harmonious, bountiful self. Gameplay: This is a Match 3 game. There are 2 modes of play and you can play in either Time or Untimed Modes. There is a multitude of different match 3 plays - for instance, the dig levels (my all-time fav and so glad to see it here) whereby your matches are made above - not on top of - a wall of dirt. By matching vertically the dirt below shovels away (great sound effects). You can also match 3 horizontally to achieve this but you must be directly on the line above the dirt. And that's just one of the fun and innovative ways of playing in this game. And, voila, it's also a most fun HOG. Every several levels of play you must play an HOG. It is an itemized list of objects to find in a room. No mish mash of objects, nothing tiny, very easy to play. There is a hint button in the HOG that needs to charge BEFORE the first use (never seen that before) and it does take an immeasurably long time to recharge but don't be afraid to use it. There is a clicking penalty in the form of losing coins you accrue with each item found. So, be careful if you are a random point and click player. If you get 4 or 5 matches in a row you get some neat and very useful bombs/bonuses. If you match coins you earn extra coins to help you rebuild the sanctuary. Oh, yes, you earn coins for all your matches, just earn more for matching coins. Your Mage companion, Alrick, walks you through the tutorial and is with you at the top of the page during game play giving tips and explaining new things as they come along. You will adore him. I can't say enough about this game and it's hard for me to get this excited about a game - any game. I don't give out 5 stars with equanimity. A game has to work darn hard to get an overall rating of 5 stars, as well as the sub-categories beneath, from me. This is the best, most enjoyable and eye-catching M3 I have ever played, It is just levels of fun, fun, fun and more fun. And, it's highly addictive - lol. I believe the game's description said there were 200 levels. Well, I'm off to thoroughly enjoy every single one of them. This Glam-ma says this is without a doubt the very best of M3s available. It's an M3 and HOG all rolled in one. Take the hour and play the game. I hope you at least like it 1/2 as much as I love it. Great game for everyone, even my little grand daughter. Happy Gaming.
May 15, 2014
A Wonderful Combo Type Game. What a Little Gem!
Although my main love in games is the HOPA, every once in a while a game in another genre catches my attention and Mystika 2 The Sanctuary is one of those games. In my humble opinion, Mystika 2 has something to satisfy everyone. It is part builder, part HO, but mainly match 3. The graphics are lovely, very colorful, and crisp. The music in the game itself is very repetitive but not too annoying if I keep the volume low. One of the things I liked is the beautiful voice of the narrator who sets the stage early in the game. As we play through the game we build our sanctuary by earning money in the match 3 rounds. As is the case in these types of games the match 3s become progressively more difficult and challenging. While playing we build our reputation and renown and meet challenges from wizards or mages, so there is quite a bit of variety rather than just playing straight match 3 rounds. There is an option to play the game either in relaxed or timed mode and I chose relaxed. For those who want a more challenging game you can choose the timed mode. For me, I love that I can play without pressure in the relaxed mode. All in all, Mystika 2 The Sanctuary is a lovely little game that I will give 5-stars. If you are looking for something different from the HOPA games, I suggest you try this fun combo type game. As always, I recommend that you at least try the demo to see if this is a game you will like.
May 14, 2014
Very Enjoyable for All Ages
Just a fun way to spend some time and help restore the sanctuary. This game has something for everyone. Match 3, HO, and the ability to purchase items to return the sanctuary to its prior splendor!! Enjoyable for children and adults. Thumbs up!!
May 14, 2014
Great Game
Every once in a great while a game comes along that is an absolute winner, and this is it. I love match 3 games and have played some real bad ones but this is not one. I played this game for only about 10 levels and really liked it. The graphics are not over done, the music is ok, the story line is easy to follow. I think this game will appeal to both kids and adults.
May 14, 2014
Finally a match 3 game I enjoy !
I'm not usually a big fan of match 3 games as I usually become bored after a few minutes but this game has something for everyone ! Match 3,Hidden objects, shopping for improvements for your castle & your surroundings ,I even liked the calm , relaxing background music ! Very enjoyable !!!! Great job on this game Big Fish
May 15, 2014
Fun and match 3
Never come across this little gem before but I had to have it. Very good clear graphics and a nice mixture of match 3 and little challenges. The power ups help to build the coins you need to restore the village. Not a difficult game to play but even harder to stop at the end of the demo. I enjoyed it so much that I bought it straight away. Its fun and a nice relaxing game to play.
May 14, 2014
Yeah! A Fun & Challenging Match-3
This was a great game to play. There is a lot to do. Match-3, hidden objects, find items during the Match-3. The graphics are well done and there is even a good story being told. Thanks for bringing us a great Match-3. I've been waiting and waiting. Off to purchase!
May 14, 2014
good combo of games
I like this game it has a good match 3 plus hog in one game. You have to collect coins to buy upgrades for the town. The game is very relaxing and fairly simple to do . Nice game to play when you just want to relax and enjoy a fun game.Good going Big fish .This game is a keeper.
May 14, 2014
The Apple logo is a trademark of Apple Computer, Inc.