New York Mysteries: Secrets of the Mafia
Exclusive
New York, 1955. It's become dangerous in the city. The mafia is trying to seize power. But recently, a new force appeared. A far more terrible force. Over the last few days, five mafia bosses have disappeared in mysterious circumstances. A strange liquid and a butterfly were found at the scenes of the disappearances. But this isn't what scared the citizens... Children started to disappear in the city. All of them drew exactly the same butterflies before they disappeared. This forced detectives and journalists alike to start their investigations.
Game System Requirements:
OS:

Windows XP/Windows Vista/Windows 7/Windows 8

CPU:

1.6 GHz

RAM:

512 MB

DirectX:

9.0

Hard Drive:

650 MB
Game Manager System Requirements:
Browser:

Internet Explorer 7 or later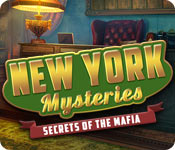 NEW299
The Big Fish Guarantee:
Quality tested and virus free.
No ads, no adware, no spyware.

Reviews at a Glance

New York Mysteries: Secrets of the Mafia
0
out of
5 (
0
Reviews
Review
)
Customer Reviews
New York Mysteries: Secrets of the Mafia
32
32
Say Hello To My ...Favorite Game
There are only a handful of games that can stand the test of time, games that are as exciting to play today as they were a week ago, a month ago and even a year later, this is one of them. This game has superior quality in every aspect, from the high quality graphics and voiceovers to the detail and freshness of the puzzles themselves. The year is 1955 and 5 mob bosses have disappeared, a strange green fog appears out of nowhere and poof! Nothing left but green goo and a butterfly, even stranger is the fact that children have disappeared at that exact moment leaving behind a drawing of the same butterfly as found at the scene of the mob bosses! You play the role of Laura James, a journalist and experienced detective, who has been summoned to the American Museum of Natural History where mob boss Don Luigi had just disappeared. Things take an unexpected turn, you discover a series of tunnels under the city and what appears to be an abandoned operations center. This is the first of many twists in this enthralling mysterious and secretive story. I won't deny that the Collector's Edition has enough bells and whistles to please any player, the story is the backbone of this game but there are 9 collectible briefcases, 9 ties, 9 statues of liberty, and 9 poker chips hidden throughout the game as well as 35 phantom morphing objects available with the Collector's Edition, you can't go wrong with either edition. The Hidden Object Scenes are progressive silhouetted items to find. You find the first item that matches the silhouetted shape and use that item in the scene to retrieve the next item such as finding a box knife and then using the box knife to cut open a package that will reveal the next useful item. Each HOS has a mini game inside such as finding clues of how much water to place into 5 different glasses and finding the order to play music on the filled glasses, after you figure out how to correctly pour the measured amount of water into each glass, you then tap the correct glass from 1-5. The mini games were fresh and entertaining such as placing a frame over the correct pictured items in each row that would be used to make the item that is shown at the top left and right and repeating that process for each item. There were puzzle type games such as placing masks on 3 shelves in the correct order with only a few clues towards their placement. My favorite mini game involved two large discs, one on the left the other on the right, with 4 tokens on each disc of different objects like fish, bears, trees or birds. There were also 2 smaller discs between the larger discs which are used to exchange the tokens between discs until all tokens were in their correct spots. The only decision you need to make is whether to purchase the Collector's Edition or the Standard Edition. Don't let this one slip through the virtual cracks, it is the game to stand any test of time, enjoy!
May 18, 2014
As good of a buy as it gets!
I first played the demo CE version that came out and I loved it but I was not able to purchase it at the time. I recently had a game credit to use but I kept waiting for the right opportunity to come along and this was it! I LOVE this game! I have purchased well over a hundred in this genre and I have enjoyed them all...but a few of them stand above all of the rest and this is one in my honest opinion! I thought the graphics, story line, games and audio were all done very well. I feel the proof is in the pudding and before I finished the SE of this game I purchased it. I am not sorry I did. I just finished and I truly considered my time and money well spent. I very seldom repeat games or watch movies over and over but the few I do are well worth it. This is one! It's another winner at least for me. I hope you enjoy it as much as I did. :)
May 18, 2014
Really Loved It
This game had a lot of the "different" mini games I know I've been asking for. Some were a bit too difficult, and I skipped them, but I was glad to have a different kind of mini game to work on. It was long too. I loved that. I loved how the map marked if I had found the collectibles. I also liked how things I found in one room sometimes weren't used until several screens later. This is my favorite type of adventure/hidden object game. Bravo!!
June 8, 2014
Mafia and Secret Societies in Subterranean New York
Hmmm, mafia and butterflies! It sounds like we are in for a treat with this new game from a developer who gave us the exciting Lost Lands, Dark Overlord earlier this year. This time we are off to solve the disappearances of several mafia bosses and children who have all vanished under mysterious circumstances. The only clues are a green slime and butterflies left behind at the crime scenes. Of course you play the game as a renowned investigative reporter/detective who can solve virtually any mystery that comes your way. The graphics for the game are very good and at least for me are exceptionally clear and crisp. The game has lip-synced voiceovers that are generally very good. The rest of the soundtrack with music and ambient sounds is very good and creates just the right air of mystery as we move through the game. I am having a bit of confusion though regarding time period since there is one thing I noticed in the game that doesn?t quite seem to fit in with the time-period. That being said, game developers often take liberties with time-period appropriate incidences in games ? lol. Sometimes the items jump out at me as this one did but in other games they often go unnoticed. We have the standard set of tools in the game, a diary or journal and a tag that shows our objectives. We have an interactive transporter type map that can be customized to show the location of the collectibles. It is rather nice to be able to customize the game to include the things we want and it seems that more developers are moving in this direction. The game has great HOPs and it doesn?t seem as if it is top-heavy with them. Because the HOPs are very interactive and are sort of mini-puzzles, I certainly don?t find them tedious or boring to complete. I love having to think about what to do and what to use in order to get through an HOP scene and it is nice to have the extra challenge. All of the HOPs I encountered in the demo are the progressive silhouette type but I can?t say for certain that they will all be like that in the remainder of the game but I hope so. Outside of the HOPs we have puzzles that we encounter on our adventure. I guess that the trend now is for developers to incorporate the normal very easy (almost mind numbing) puzzles in their games to placate those who don?t care for the challenge of a difficult puzzle. I am hoping that as I progress further into the game the puzzles will present at least some progressive level of difficulty. I?ve mentioned it before and will do so again (hopefully the developer reads the reviews), that the games have a skip button for those who are not up to the challenge, so please include some difficult and challenging puzzles in your games. I purchased the CE of the game and it was a compelling storyline that kept me guessing until the very end. The gameplay was very enjoyable and provided almost two days of great entertainment. I loved the game and have no hesitation in recommending it as a great play. As always, I recommend that you at least try the demo to see if this is a game you will like.
May 18, 2014
Missing Children, the Mafia and Butterflies...hmmmmm
This was one of the most fascinating, intriguing mystery games I've enjoyed playing the demo of in a long while. I purchased the CE version, however, due to the number of games I have my Game Manager fairly groans when I turn it on - so I haven't played the full game yet - lol. I did want to see if the SE version followed the same flow of the game as the CE - yes, it most certainly does. Storyline: It's the mid 1950's. The five main mafia bosses who are trying to wage a war and win control of the City have disappeared. Left behind is a green liquid. What is it? And a butterfly is left behind. Why? Now, innocent children are also starting to go missing, after having seen or drawn the same butterfly. Why the children? What is the significance of the butterfly, the green goop and the missing Mafia to the children. Mystery upon mystery upon mystery. And the questions only continue. You have been hired by a man who has awakened from a 10 year coma and gone to the museum searching for members of a secret order he belonged to only to find them gone. Why the museum? That's where the last mafia boss disappearance occurred. But why did he bring you in? Aren't the police working this case? He believes you are a good detective as well as an excellent journalist. Not only does he want you to write an amazing article about everything, but he wants to bring you into the Secret Order with him. And so off you go, sleuthing around the museum. Where will your investigating take you? Where are the children? Are they still alive? Who has really taken them? All these questions and more will be answered during the game play. Graphics: Amazing. great HD quality. A bit on the dark and dreary side, but considering the atmosphere I suppose that's to be expected. Sound: Tuned out the music - sorry. But, lip syncing throughout the demo. I LOVE IT. So many games these days stop the lip syncing after the intro to the game. Not so here and it is much appreciated. Game Play: As indicated in the "Storyline" above, you have been hired to not only write an article about the mob boss and innocent children disappearances, but to join a Secret Order. (See "Storyline" above). HOGs: Silhouette objects need to be found. Interactive - find one item, use it to gain another item, and so on and so on until you find the last item which goes into your inventory. Did not find any of them difficult. Mini Games: Thought provoking. I wouldn't call them easy so much as I would call them thought provoking. You need to really think about what you need to do. In one instance, the instructions were not really clear enough for me to understand HOW to do what was needed. Skip button worked fine. There are 3 modes of difficulty - easy, normal and hard. You are equipped for a journal which takes REAL notes and keeps information that will definitely be handy. It doesn't just keep redundant and repetitive notes. There is also a task list, a hint button that recharges fairly quickly and a jumpable map. I LOVE this map. It doesn't just pop you into the next place you need to be. When you look at it, there may be 3/4 places you could go to to complete an objective. Again, thinking power. There is also a tutorial you can choose to turn off. This is a game of mystery and intrigue. I hope you will play the demo. It's only an hour of your time and it's FREE. Then, I believe you will be just as hooked on the game as I was and want to find the answers to the this huge mystery - really, a mystery within a mystery. Happy Gaming.
June 10, 2014
Fantastic game!
Good story and great gameplay for many hours.
May 30, 2014
Great game hidden under the streets of New York
As a frequent gamer I enjoyed this game. The story and graphics were well done. Even though the hidden object scenes were shape finding, they were well done.
June 10, 2014
No junk piles to search
At last a game without a junk pile to search, instead the few scenes where you search for items, you have to utilise the items.Like games where the actions are clear and can work out what to do.
May 19, 2014
Great Bonus Puzzles
Enjoyed the game especially the puzzles in the Bonus chapter. Played the game in Hard mode which made it very enjoyable.
June 9, 2014
Great way to spend a Sunday!
really enjoyed this game and the bonus! Great graphics and a very good story line.
May 21, 2014
The Apple logo is a trademark of Apple Computer, Inc.