New York Mysteries: Secrets of the Mafia
Exclusive
New York, 1955. It's become dangerous in the city. The mafia is trying to seize power. But recently, a new force appeared. A far more terrible force. Over the last few days, five mafia bosses have disappeared in mysterious circumstances. A strange liquid and a butterfly were found at the scenes of the disappearances. But this isn't what scared the citizens... Children started to disappear in the city. All of them drew exactly the same butterflies before they disappeared. This forced detectives and journalists alike to start their investigations.
Game System Requirements:
OS:

Windows XP/Windows Vista/Windows 7/Windows 8

CPU:

1.6 GHz

RAM:

512 MB

DirectX:

9.0

Hard Drive:

650 MB
Game Manager System Requirements:
Browser:

Internet Explorer 7 or later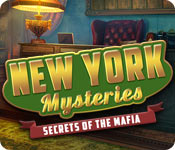 NEW299
The Big Fish Guarantee:
Quality tested and virus free.
No ads, no adware, no spyware.

Reviews at a Glance

New York Mysteries: Secrets of the Mafia
0
out of
5 (
0
Reviews
Review
)
Customer Reviews
New York Mysteries: Secrets of the Mafia
30
30
Good Game - Liked the Mysteries
I played the entire game with bonus in the CE version & loved it. Updated murder/kidnapping mystery to solve. The graphics weren't too bad & the characters had some body & lip sync movement. These things are an upgrade from the cartoonish drawings & wooden people we usually see. HOGS are silhouettes (which I personally love) & are interactive. MIni games are fun & not terribly tedious/boring as they can be with some games. Hint system is quick & the map shows you where the next action is needed. The last couple of BF game offerings have been a real upgrade/cut above the rest. Unfortunately, my euphoria has been dashed. Yesterday/today's offerings have been Match-3/Time Management games which I truly loath & never play!
May 19, 2014
A Long Little Game
This is being posted after completing the entire game. I just finished playing NYM and wanted to post this before I forgot all I wanted to tell you. This game had such possibilities, but fell short in so many ways. To say it was fun.. it was okay. I got my anticipation up when I saw the CE version come out and couldn't wait until the SE made its appearance. This game was okay, but to say it lived up to my expectations, it did not. It just missed out on something and to be honest with you, I can't tell you what it was. I just wanted to finish it. The sound was excellent as were the graphics. The characters were drawn, but very well so. The music was bland, but the voice overs were fantastic. I did have a little trouble seeing the hidden objects, but eventually got them. No complaints whatsoever with the sound or graphics. Where I did have a bit of a problem was in the level of challenge. I didn't count them, but there seemed to be an over abundance of mini games. I know there are those who love them. I do not an these were extremely difficult at times, well most times, some hard to understand and do, and most we have seen before. I never could get some of them to work. I'm not the brightest bulb in the box, I know, so don't put too much credence in my opinion of the mini games. The hidden objects were all silhouette where they give you a shape and you have to find it to unlock another part of the scene to continue. I've played these before, but I have to tell you these were the most challenging I have met. You have an interactive map which makes it a snap figuring out where to go next or where there were things to do. You can set up how long or fast you want the skip (that was a blessing) and the hint button to recharge. The story was decent. It baffled me how in the world the writers were going to blend the Mafia and a the supernatural, but they did it. The ending was as expected and a job well done to the detective/journalist for solving the problems and saving the day. All in all this was a good game. I would have done some things differently, but that's what makes these games so darn good. A little bit of something for everybody.
May 24, 2014
hey...you...yea you..
enjoyed this game it was okay suggest the demo for trying before buying. i must have fallen asleep somewhere because [or i have memory problems] i don't remember the explanation of why the children drew the butterflies before abduction? hummm. maybe play again ...interesting yet tedious with all the hogs silhouettes every time i clicked to the next hog i was disappointed it was the same type.bored me with that...all in all okay game.
May 30, 2014
Twisted Old Gangsters
I bought this game thinking it featured the mafia - but it doesn't. The mafia is missing. I found the different angle exciting and fun. Graphics and old style feel make it fun. Pros: Graphics, music, characters, good storyline (surreal without being simple). Intuitive clues, varied locations. Map is a life saver, and games are easy to medium. HOS are interactive and fun. Story has some plot twists that keep you moving forward. Cons: The blue/white/grey filter over every scene dulls the art a bit. There is a lot of back and forth between screens. Ending not exactly abrupt but quick. So it wasn't the mafia story I wanted - but I loved the story I got.
August 31, 2014
Wasted opportunity
Challenging, but poory told story.
November 5, 2014
Less fun that anticipated
Turned out to be more tedious than fun; a little too much pixel hunting for relevant items. The puzzles veered wildly in terms of difficulty, with many seemingly defined by complete randomness. Another nitpick: A few too many obvious anachronisms for something set in the '20s. (The children's clothing is one glaring example.)
September 26, 2014
NYM: Mafia
It was random hit and miss! A lack of logic in tying various aspects together. Spent most of the time on the hints button. AM fed up to my teeth fillings with locked doors, missing handles, dials, knobs or shadow objects; this became quite relentless as the game progressed. First review here and first strong negative after many years.
August 9, 2014
highly annoying
This game annoyed me immensely. I did not like the music and when I turned it off it played all the time anyway. I also found the way the cursor picked up objects to be wonky and the puzzles were boring. Not worth it.
August 23, 2014
Strange Story
I'm not blown away. It's a bit of a stretch to incorporate supernatural events with the mafia, so cooperating with a mysterious brotherhood is not at all what I expected from the game. So far, all of the HOS have been of the silhouette-matching variety, and each item you find works to uncover another item. As I've complained many times before, I am sure we all graduated from shape matching at least by the time we were out of third grade and are now able to decipher strings of Roman alphabet letters, i.e., WORDS!!! Unfortunately, in this game, it is not so easy to decipher the instructions for playing the mini games. The best thing about this game is the option to shorten hint and skip times --- not to zero, but any amount of shortening is better than none at all. One of these days, some developer is going to make me very happy by designing a decent hidden object/ adventure game with no mini-games at all!! I'm giving it two stars, because it wasn't horrible.
May 19, 2014
Do Not Like
I hate games where you find parts of an object. If I had known that i would not have gotten
July 15, 2014
The Apple logo is a trademark of Apple Computer, Inc.