Youda Sushi Chef 2
Step into the delicious world of Youda Sushi Chef 2, where you put your culinary skills to use. Prepare dishes in 6 restaurants all over the world. Learn mouth-watering recipes from the local cuisines by heart. Serve a 'Diner Delight', the 'Venice pie' and a spicy 'Tortilla poncho'. Don't forget to keep an eye on your supplies and order fresh ingredients on time. Manage your restaurant like a pro.

Upgrade your kitchen to speed up preparation time, get a faster conveyor belt and perform better tricks. Purchase a better coffee machine and upgrade your telephone to order multiple fresh ingredients at once! Get "Star power" to create irresistible puddings, instantly re-fill your ingredient stack, do magic tricks or just freeze all customers to buy some time; anything is possible!

Earn enough stars to progress to the next level! Prove that you are the best chef and beat your boss in each restaurant's final Battle.

Play this tasty and fun time management game and become the ultimate chef in Youda Sushi Chef 2!
6 amazing different restaurants!
Prepare more than 50 dishes
6 challenging Boss Battles
Unlock all features and levels!
Game System Requirements:
OS:

Windows XP/Windows Vista/Windows 7/Windows 8

CPU:

1.0 GHz

RAM:

512 MB

DirectX:

9.0

Hard Drive:

163 MB
Game Manager System Requirements:
Browser:

Internet Explorer 7 or later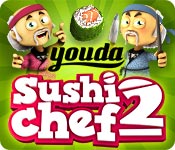 NEW299
The Big Fish Guarantee:
Quality tested and virus free.
No ads, no adware, no spyware.

Reviews at a Glance

Youda Sushi Chef 2
0
out of
5 (
0
Reviews
Review
)
Customer Reviews
Lots of levels
Very fun. You can replay each level 3 times getting different rewards awesome for tons of play
August 28, 2014
Awesome Games!
This game is fun especially if you like sushi!
June 6, 2014
YES YES FINALLY!
I can't even tell you how happy I am to have this game! I loved the first Sushi Chef and the sequel does not disappoint. I agree with some of the previous comments that the new graphics are a little on the cartoon-ey sillier side, but after a few rounds I stopped noticing the change. The gameplay more than makes up for it. For fans of the first Sushi Chef, the biggest deviations from the first game are: -You'll have several restaurants again, but they all serve different types of food! The second restaurant is a diner, there's Italian, etc. -There are drinks and condiments, and the farther into the game you go, the more items there are (thus more challenging to manage!) - Each level within each restaurant has 3 goals to achieve which can only be achieved one at a time, so with 24 levels for each restaurant, you have to play each level 3 times! Huge plus for those who love the replay-ablity factor! -Each restaurant also has a boss level! -There are power-ups! These are given as rewards for passing a level, or can be purchased with earned coins/gold. Ex: refill all ingredients, freeze patience, etc. -There are no design upgrades, at first this disappointed me a little, but I quickly got over it. -Additional challenges. For example, I'm currently in the diner restaurant, and suddenly the ingredients switch spots after completing a dish, for a few dishes in a row. I'm sure there are more challenges to come. I'm still relatively at the beginning of the game, just started the second restaurant, but I am more than happy with this purchase! Awesome fast-paced classic time management style, and a great sequel to a great game! Thanks Youda!
May 28, 2014
LOVE this game, but...
I wish I could turn the hideous music off! Unfortunately, the only option is to turn off all of the audio, but I like having the bell to notify me of customers, and the other sounds. Otherwise, this game is a blast, and you can do each level three times in order to get more points, gold and other goodies. Another fun game from Youda.
May 20, 2014
A Few Bugs But Otherwise A Good Game.
All in all this is a good, fun, time management game. The little things like only having two options for the sound, on or off, and not being able to buy upgrades until the game tells you to, are reasons I didn't give it five stars. If they can fix these things or be able to turn off the tutorial, it would be great. I will probably buy it anyway because I'm a sucker for time management games like this one and they don't seem to come around as often as the hidden object ones.
May 21, 2014
hidden object game`
was not that much fun...didn't explain very good. nothing to hidden object
May 27, 2014
Very poor second installment
I just finished playing through the first game, and started up the demo version of this one with a few things I was looking for. So far, however, this seems to be a big step down. The problems I had with the first game seem to still exist, and there are a bunch of extra things thrown in that don't really improve gameplay for me. Issues with both games: 1) I want to be able to study the recipes without worrying that my time is running down. Either let me examine the book outside of the levels, or pause the timer while the recipe book is open. 2) It drives me nuts when customers "steal" items that were intended for a person farther down the belt. I really wish there was an option to give an item directly to a customer on occasion - not make it the default, that would be awful, but have it available - maybe as a powerup, or something. Issues with this version - 1) I really don't like the change in graphics. This one is way too bright and cartoon-like. I really enjoyed the soothing atmosphere of the first. 2) Music - also something others have mentioned. The first one had separate sliders for music & sound effects. Why take that away? 3) Gameplay seems pretty much the same - even some of the same recipes, but they have changed the icons, sometimes to something harder to recognize. 4) Not sure I like the new ordering system - it requires more mouse movement, which is less efficient. This might be less of an issue if I hadn't *just* finished the first game, however. 5) No explanation whatsoever on the levels - why is only 1 star filled in when I got at least double the target income? 6) tutorial, what there is of it, completely interferes with gameplay, can't be skipped, and my timer ran out when I was "forced" to go buy more rice, even though there was only 2 seconds left on the timer and I knew I didn't actually need it. In all, i won't be buying. This is about a 2.5/5 for me. The changes make the game more irritating and more confusing. If anyone wants to play a sushi game, stick with the first one.
June 10, 2014
Good brain game memory test
This game is similar to a free game you can find elsewhere on the internet. The game is really a memory test, as you have to memorise all the variations of sushi and serve the correct sushi to the correct customer. The game starts off with relatively easy versions of sushi and progresses so that not only do you have to memorise more complex versions of sushi you also need to make sure that you get the orders out in a timely manner as once you reach the higher levels the tolerance levels of the customers decreases so that orders need to be completed quicker, also customers may order more than one sushi. As with others of this game type you need to make sure that you have the enough of the different components of the sushi, rice, seaweed etc in order to be able to fulfil the orders, if you run out and need to ?express order? then this will cost more money. The problem with this type of game as with all games of this type is that if two customers order the same sushi and even though one customer may have been waiting longer than the another, then if the newest customer is sitting nearer the front of the conveyer belt then their order will be fulfilled first, there is no redress to this which I thought given the number of these types of games that they are and all have the same problem, it may have been something that the game developer could have addressed, even if it was an option in the settings asking if we wanted to serve ?longest? or ?newest? customer first. The music and graphics were standard for this type of game, suitably ?Japanese? but with a Westernised slant. One slight negative is that the learning curve for the game is fairly steep especially if this is the first time you have played this type of game, if this is the first time then I would strongly recommend that you download the trial first to see whether you are comfortable with the speed of the game and whether you want a game that is in essence just a memory test. There are power-ups and enhancements that you can purchase that will help either you as the ?chef? or the customers with ?fanciful? power-ups such as a ?trick knife? used sparingly in order to increase the customers patience. The problem with these power-ups is that you need to gain money and whilst the first few levels you can gain money fairly easy, the ?cost? of the enhancements if fairly steep, thus if you need to reply these levels in order to gain further funds this is possible but you need to fulfil quite a lot of orders in order to garner any additional funds (you only get additional money if you put more ?till-money? in then you previously did for that particular round), thus the funds are then what you need to buy the ?chef? enhancements. Overall the game is ok, but one I would only purchase if I as I did there was a BOGOF offer, or you had a credit and there was absolutely nothing else that you wanted to ?buy?, I personally would not spend a Credit or hard cash on the game as the game does not bring anything new to the table, so to speak and is pretty much ?bog-standard? for this type of game. This game as the title says is a good ?brain-game? for testing memory and maybe suited for the younger person, to help with both concentration and memory training but for older teens and adults who want more than what is in essence a 1 dimensional game, I would personally look elsewhere. Anyone for Saki!
June 8, 2014
I wish I could rate this higher, but...
I'm a huge fan of the first game, so I when I saw this version I tried it immediately... and maybe I'll try it again once it's been fixed. Or maybe not. The basic game seem fine, at first. It was similar enough to the first game that I was sure I would like it, but different enough to feel like a new game. I was very disappointed to find that the only sound control options were On or Off. Either you have to turn off ALL the sound, including the ones that signal events, or you have to listen to VERY annoying and repetitive music (20 minutes and I already hate it). You cannot control the volume level from within the game at all. Youda, the 90s are calling, they want their sound controls back! The second disappointment was buying upgrades. In principal it was fine - earn gold, shop, buy upgrade. It would have been wonderful if it had worked, but after the initial 'how to buy' walkthrough in the game, I found myself completely unable to buy any others; the buttons did nothing. On my third attempt to buy an upgrade the game actually crashed. That was not the only place the controls did not respond as I expected. On the game screen I occasionally had to hit the mouse button two or three times to make the game do what it should - grab an ingredient, close the recipe book, etc. It did not happen often, but this is a major flaw in this kind of time management game. Sorry Youda, for me this is a miss, not a hit.
May 20, 2014
Loved the first one, not really caring for the 2nd
I've played the original Youda Sushi Chef to completion a minimum of 50 times - on PC and Android. I really love it. This one... sorry, Youda, this one's not a winner for me. Giving 2 stars almost entirely on the weight of the name/original game and the fact that basic gameplay per level so far seems similar. You have to replay each level a minimum of 3 times to get all the rewards and you can't 'double up'. For example - round 1 - earn 500 coins. Round 2 - earn 600 coins and do 2 "tricks". Round 3 - earn 700 coins and make no turds. (Just examples, I can't recall the exact goals, but it's similar to this anyway - increasing coin amounts etc). On my first pass through the level can only get credit for the 1st round for earning 500+ coins and have to repeat the level twice more - once for each reward level (and, you don't know what is needed for each round until you pass the previous one). But - if you hit the icon (two right arrows) to go to the 'next' level, you go to the next full level (not the next 'round'). You have to click the replay button (or go back to the level selection menu) to play for round 2 and 3 rewards. This isn't very clear in the game. What also isn't clear is what each power-up does. I went into the shop though and there was a ? on each "card" - the trick though is that there are 2 'cards' visible to me at a time, but ONLY the left one has functional buttons. I kept clicking the one on the right (after examining the one on the left first) - but the buy buttons didn't work, the ? for help/description of the item didn't work etc. Only the buttons on the lefthand 'card' worked. Why display 2 cards at a time if only one will function? Just center the working card and not show the full non-working one as though it's active too! Frustrating! (And all the while, my hour trial is ticking away) The minimalist controls that look so "cartoon-y" - I'm over them. You have to decipher the button meanings (on menus mostly and not as much in gameplay). You have the screen space on a PC - use it, please? The character drawings and sushi rolls - again, going with the cartoon-y graphic theme. Not my thing, but not a make/break for me - I can get used to them, but I preferred the graphic style of the original game. The dealbreaker in my case is the options panel with a single "non-option" for sound control (on/off ONLY - no volume controls or even individual controls for music vs game sounds). I typically set game music to a very low volume so it is there in the background, and the other game sounds (customer indicators, etc) a bit louder - and NOTHING at full volume. I had to leave the game entirely to change my entire computer's volume to not be so loud just for one game. Overall - I'll keep playing the original and take a pass on this one most likely. It's really great to see a TM game as the daily release after the abundance of HOGs. I stopped my BFG Club membership quite some time ago over the lack of good TM releases but I still keep an eye out each day and was super excited to see this - I'm SO glad I tried before buying based on the past history of this series. I'll play out the rest of the hour trial and see if it grows on me, but so far, not a fan of this one. Some of the new "gimmicks" would be fine, if they came with more clear instructions (for example - do 2 'tricks', a trick isn't explained or clarified as a "KNIFE trick" - make 5 turds, if you haven't made any mistakes before then making 'turds' is impossible as you don't know what they are or how to make them), explain the 'replay for more rewards' - even just once - instead of just giving us icons to guess at.
May 25, 2014