Youda Sushi Chef 2
Step into the delicious world of Youda Sushi Chef 2, where you put your culinary skills to use. Prepare dishes in 6 restaurants all over the world. Learn mouth-watering recipes from the local cuisines by heart. Serve a 'Diner Delight', the 'Venice pie' and a spicy 'Tortilla poncho'. Don't forget to keep an eye on your supplies and order fresh ingredients on time. Manage your restaurant like a pro.

Upgrade your kitchen to speed up preparation time, get a faster conveyor belt and perform better tricks. Purchase a better coffee machine and upgrade your telephone to order multiple fresh ingredients at once! Get "Star power" to create irresistible puddings, instantly re-fill your ingredient stack, do magic tricks or just freeze all customers to buy some time; anything is possible!

Earn enough stars to progress to the next level! Prove that you are the best chef and beat your boss in each restaurant's final Battle.

Play this tasty and fun time management game and become the ultimate chef in Youda Sushi Chef 2!
6 amazing different restaurants!
Prepare more than 50 dishes
6 challenging Boss Battles
Unlock all features and levels!
Game System Requirements:
OS:

Windows XP/Windows Vista/Windows 7/Windows 8

CPU:

1.0 GHz

RAM:

512 MB

DirectX:

9.0

Hard Drive:

163 MB
Game Manager System Requirements:
Browser:

Internet Explorer 7 or later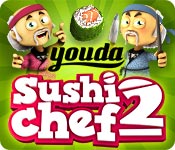 NEW299
The Big Fish Guarantee:
Quality tested and virus free.
No ads, no adware, no spyware.

Reviews at a Glance

Youda Sushi Chef 2
0
out of
5 (
0
Reviews
Review
)
Customer Reviews
Sushi Chef 2
Sushi Chef is back, and this game is going to put your reflexes and memory to the test. Maybe it's just me, I liked the graphics of the first one better, but I think the look they were going for on this game was a more modern one. A customer will sit down at the counter with a conveyor belt system and an icon will appear above their head indicating what items they are ordering. Drink orders are done directly by clicking on the correct drink and then on the customer. The sushi orders are prepared on a roll up mat (real sushi chefs would not appreciate this idea) You look at a recipe book for instructions on what ingredients are needed for each item, and I suggest that you jot this down for quick reference if you cannot memorize several different orders, beleive me it can get confusing especially at a fast pace. After clicking on the correct ingredients you will click on the prep mat which will roll up and magically put these ingredients together and send it off to the conveyor belt which will eventually make it to the customer, then you clear their plates when they leave. If you run out of ingredients, you use your phone to reorder and decide if you want free delivery or pay for expedited shipping There are upgrades that you can buy with your earned gold, Coffee-more coffee at once Faster Conveyor Belt-faster delivery to customer Phone-more ingredients available in a single order Fast food Prep-your food prep is quicker Trick Tools-these increase customers patients Theme Drinks-hold more drinks in stock You can also purchase bonuses with your earned money, theses are located on an inventory bar for quick access that will allow you to freeze time for a few seconds, give customers instant happiness and even transform all dishes into delicious meals.If you don't like fast paced, race against the clock games (or if you're hungry) skip this game, if you do then put on your chef's hat and get to work, enjoy!
May 20, 2014
Fun game
Enjoyed this game, reminded me of how time management games used to be
May 20, 2014
At last!
Same gameplay as Youda Sushi Chef: prepare sushi dishes for your diners as they order and send them out on a conveyor belt. I agree with pennmom36 that I liked the graphics better in the first one, but there isn't anything really wrong with the graphics in this. I love the music in this one. There isn't much of a storyline but the first one didn't have much of one either, just earn points to upgrade your restaurant as you progress. There are three tasks on each level which is a nice touch; you have to play each level at least three times to get the bonuses. It's a little more confusing to navigate to the upgrades than the original, and gameplay is more challenging. Oh, and those mistakes on the conveyor belt that look like turds? Wonder no more...they ARE turds. Not sure I would eat at any restaurant that sends these around on its conveyor belt, but hey, we're in game land here!
May 21, 2014
Best Youda game yet!!
I normally don't write reviews but I had to put my 2 cents in on this one!! I LOVE this game!! If you enjoy time management games then this is the one for you!! There are (I think) 6 different restaurants. Each restaurant has 24 levels. Each level has THREE parts to it. The first time you play each "day" you get one "crown", then you play it for a second time to get your second "crown". The third time you play (and pass) it, you get your final, BIG crown. Not only do you have to serve everyone in a timely manner and learn a TON of different recipes, but there are specific objectives/tasks that you have to finish...such as doing 12 "tricks" within the level, or serving 8 drinks. You also face a "boss" in the 24th level of each restaurant. During those levels you have to race against the "master chef" and try to make the meals for each customer before HE gets to them and steals your profits!! So alll in all you get around 144 SUPER FUN levels! It provides HOURS of fun and I have had a blast playing it! I love almost all the time management games, but this one is the BEST one that has come out in a very long time! I think it ranks up there with my top 10 Big Fish Games!! If you like these kind of games this is one that is WORTH spending your money (or "points") on!! I give it 2 thumbs WAY up!!! ~:)
May 25, 2014
Its About Time!!!
What a wonderful surprise that today's game is not only a NEW Time Management game but a new YOUDA game...and a NEW YOUDA SUSHI CHEF 2!!!!! I'm so thrilled.
May 20, 2014
Very Fun!
Very fun and refreshing game. I love games where customers are served food!
May 20, 2014
Fun TM
Its about time we see another decent TM game :) Its nice to have the classic type back and not the "run, chop wood, bring back, run back to collect leaves" that seems to be running rampant. This is a cute game which is an improvement on the first one. Classic Youda style. Have been playing for hours and just now got into the 2nd restaurant, which is another plus as I'm not wasting a credit on a short game. definitely recommend.
May 28, 2014
Another Round of Sushi Fun!
Loved the first one and was thrilled to see another edition. This 2nd installment does not disappoint! Great game for fast paced memory and time/resource management type skills. It requires some fast thinking and cleverness to eat all the goals for each level and there is just so much replay value. So glad I bought it, I'm having a blast! If you liked the first one I see no reason you won't love this as well. Happy Gaming!
May 24, 2014
Great sequel to a fun game
I loved the original Youda Sushi Chef so when the sequel came out I was really excited. I wasn't disappointed, love this game as much as the original.
June 2, 2014
Super Fun!
I love playing food games! And this is the best that I've played in a long time! I'm not that familiar with sushi, so the first restaurant was a bit challenging for me (but still really fun!# Once I graduated to the second restaurant #which served hot dogs), the game became a bit easier. I love how the food rolls to the customers on a conveyor belt and the power ups are great. There are multiple tasks to accomplish so the game has great replay value. I highly recommend it!
June 4, 2014