Shadow Wolf Mysteries: Under the Crimson Moon Collector's Edition
Exclusive
A blood moon has risen over a rural village in Southern France. Wild wolves are attacking the citizens at night as accusations fly about townsfolk turning into werewolves. Is Martha Patio really a werewolf, or has she been falsely accused to cover up another person's secrets? Examine crime scenes to gather evidence and discover who is leaving strange coins on the victims and why. Your keen observation skills will help you uncover the liars, but be careful who you trust in this small town, or you'll become the next victim!

This is a special Collector's Edition release full of exclusive extras you won't find in the standard version. As a bonus, Collector's Edition purchases count toward three stamps on your Monthly Game Club Punch Card!

The Collector's Edition includes:
Play the bonus game for more adventure
Unlock challenging achievements and collectibles
Replay Hidden-Object Puzzles and mini-games
Music, Wallpapers, Concept Art, and a special Screensaver
An available Strategy Guide
Game System Requirements:
OS:

Windows XP/Windows Vista/Windows 7/Windows 8

CPU:

1.4 GHz

RAM:

1024 MB

DirectX:

9.0

Hard Drive:

703 MB
Game Manager System Requirements:
Browser:

Internet Explorer 7 or later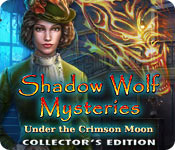 The Big Fish Guarantee:
Quality tested and virus free.
No ads, no adware, no spyware.

Reviews at a Glance

Shadow Wolf Mysteries: Under the Crimson Moon Collector's Edition
0
out of
5 (
0
Reviews
Review
)
Customer Reviews
Shadow Wolf Mysteries: Under the Crimson Moon Collector's Edition
51
51
Great Game
this game is very great----Love it
June 13, 2014
Nice Twist to a Classic Game Style
I liked having to find the clues on the people you meet, though it was a nice touch to the classic detective-style hidden object game.
June 13, 2014
good
very good game keep on hidden games ,i think is the best
June 12, 2014
Awesome
another great game in the series
June 5, 2014
More Interesting storyline
The storyline in this was more interesting than many. I like it when I can't easily figure out everything right away. I even had to look at the Strategy Guide a few times, but that is better than everything being tooooo easy. I love the Strategy Guide so I don't have to look online for help. I love the graphics and that the hidden object games sometimes have puzzles within them where I have to figure out how to put things together to get to another item.
August 11, 2014
The best of the Shadow Wolf yet!
Shadow Wolf Mysteries - Under the Crimson Moon is the best one yet. I have all the others and have enjoyed every one but they just keep getting better. So much to do with this one, 15 achievements, Midnight Hunter collection, great hos with replacement and finding lists, mini games are not overly difficult but fun. Extras include music, wallpapers, concept art, screensaver, hos and mini games. There are three levels to play casual, advanced and hard that can be changed during game. Also, have analyzer for unknown substances and the use of a magnifying glass to find clues on each of the characters, also there is a book that describes the statues that you earn with the achievements. You have been called to France in 1897 to look in the sudden influx of wolves and werewolves. You have a number of characters who may or may not be werewolves and the wolves are gathering for something, but don't know what yet. It is your job to get to the bottom of the mystery and to stop whatever is supposed to be happening. This is a great game and definitely recommend
July 4, 2014
Excellent Game !
Loved playing this game. This series is a must play for gamers.
June 17, 2014
Excellent Game Kudos to Developer Team
The hilariously diabolical ending is alone worth the price of the CE. I'm not going to spoil it for you. I just want to say I think I enjoyed this one more than all the rest of the series.
June 6, 2014
Good Solid Addition To A Solid Series
BASED ON DEMO FIRST IMPRESSIONS Excellent start. The cut scene animations are great. The pace exciting, and the mood much darker than the previous Shadow Wolf games. SIGHTS & SOUNDS The early video clips are really something special, using both 2D and 3D art to create realistically savage wolves, who then bow down to an even more terrifying werewolf designed to give you nightmares. I?m impressed. The fire wolves are beautiful, but this is no sweet little ?rabbit? game. The music fits in well with the scenes, but I do hear a hint of the old ERS tunes sneaking back in. Don?t do it guys! The voices are well done and intonation is excellent. The screams and howls and other ambient sounds from dogs and cats and nasty old owls are all good too. WHAT?S HAPPENING? A detective who by now must be the most experienced wolf investigator ever, you are called in on another case involving wolves and suspected werewolves. The issue doesn?t stay cloudy for long. On arrival, you are greeted by above mentioned savage wolves, who immediately cower and slink away when a huge werewolf appears on the roof. There are many threatening creatures around you, more dark than most ERS games, but I like that there are moments where the game simply laughs at its dire pretensions. The story is a little confusing. At the moment, I seem to be suspecting everyone of being a werewolf, and all of them as victims. You are definitely going to need those detective skills of yours to solve this case. Luckily, you?ve brought the latest in cutting edge technology (1897-style) with you to field test it. GAMEPLAY What are you testing? An analyser that identifies unknown substances. When you receive some unknown ?stuff? into inventory, open the analyser and put the muck in it. Ask a few simple if stupid questions about the substance, and get your answer. You?ll then discover that is exactly what you needed most! There is another new technique we use in this case. On greeting each new character, we keenly observe them using our magnifier, and find pieces of evidence ? blood-stains on clothes, missing jewellery items, etc. While we are doing this, the character is held in stasis in sepia tones ? I guess that symbolises time standing still. The puzzle component seems to be more HOPs than others, and they are of several sorts. There are find multiple related items (such as metal), progressive silhouettes and replace items. You visit them twice each. As an alternative you can play a matching game which resembles mahjong but is actually a style of game I?ve never seen before. Personally, I found it a bit fiddly and preferred the HOP. Adventure side is fairly straightforward, I had no real use for the directional hint, although I did use the interactive jump map a few times as a kick starter for my brain. You have a notebook that holds story notes and details of your investigation. There are 3 modes of difficulty. No black bar tips in the hardest. Some of the puzzles have a casual/harder toggle for them. I saw nothing outrageously different, but not boring either. CE BLING! The collectibles are simply pieces of evidence ? a torn page, a posy of herbal flowers ? that take up residence in a nicely displayed section. Each relates to werewolves folklore, and there is info given on it. The achievements are fun. They are the standard, but you have to crack open the rocking shield in front of those you?ve won, discover the figurine underneath, and then look up the creature in the bestiary (book with a paw print on it), where you get a description of its supposed character, strengths and weaknesses. The usual gallery items plus replayables. COMBINED IMPACT I enjoyed it. Will certainly buy it. But I?m not over the moon (groan). And I find the way certain concepts seem to coalesce in the minds of a few developers at the same time weird. I?ve just finished a review of an Eipix game, Dead Reckoning, which uses almost the same technique of collecting ?evidence? from the person under suspicion. How the heck does that happen?
June 5, 2014
This is the Sort of Gameplay I've Been Waiting For!
BASED ON DEMO WARNING- POSSIBLE SPOILERS AHEAD I've never really been fond of this series, but this is a massive step up for ERS! For once, they weren't afraid to try something different, something out there, something that was unique to their game... and I loved it! This is ERS's best game in a while and I will be sure to purchase the SE! The story is good, but in some elements was a little confusing, and seemed to be a bit all over the place. For example, one minute someone was a suspect, then they were a friend, then they were attacked, then they were a suspect again! Then later, I thought someone was dead, only to be told they were alive not even a minute later! It was all a bit much to wrap my brain around. Confusing stuff aside, the story is exciting, and has all the stuff that a murder mystery should: Collecting evidence, analysing stuff, multiple suspects, finding evidence based on appearance, WOW! These are all the good things featured in a murder mystery type book, so I'm glad they were in the game too! Overall, it's a decent story once you get in to it. The thing that really got me in to this game was the gameplay. Like I said, there was a lot of original stuff in here. My favourite new feature was the magnifying glass. With it, we got to look over everyone we encountered and gain clues based on their appearance. It was like I was Sherlock Holmes, and I loved it! Another new feature was the analyser. Occasionally, we'd come across unknown items (marked in red in the inventory) which we'd have to put through the analyser. From here, we'd be asked a series of questions about the item (is it toxic? what state is it? Etc... This was a fun little minigame and I quite enjoyed every time I got to use it. A great addition. Let's go back to the basics now, starting with the HOS. As usual, they were a mix of junkpile and silhouette. Some were the standard junkpile, just finding one large group of a certain item. While they were just the same old, same old, I still liked them. Those who don't want to do HOS have the option of doing a puzzle as an alternative, which is great, There are quite a good number of HOS in the demo; not too many, not too little, just right. The puzzles, although a bit hard for me, were also fun to attempt. I was still able to solve a couple of them though. They were nothing we haven't seen before, which will probably generate some complaints from expert gamers. What I liked about these puzzles was that ERS have given us the opportunity to change the puzzle difficulty. This is great as it shows that ERS are catering for every puzzler, no matter how good (or bad) they are! Other than the new features, this has all the essentials and controls of a standard HOPA. There are three modes of difficulty, a working hint and the map is helpful. I especially liked the diary in this one, because it has two separate tabs for the story and the evidence. This was great for me, because otherwise I would have had to leaf through all those diary pages just to find the evidence. Just one very, very small complaint: although it wouldn't have been necessary to the game, I would have liked an animal helper. The graphics are the ERS standard; hand drawn, very detailed and lots of colours. While it is true that these graphics haven't changed since 2012 (maybe longer, but that's as long as I've been playing HOPA games), as the old saying goes, ?if it ain't broke, don't fix it?. ERS's graphics are great, and they have no problems, so why bother changing them? A lot of people seem to be complaining that there is no lip-synching with this game, but that doesn't bother me. I tend to focus on the game itself, rather than something so small like no lip movement, I found the voice-overs and music to be relatively standard, so I have no issues here. FEATURES 3 modes of difficulty: Casual, Advanced, Hard. As always, I played Casual. The differences are the usual. What disappointed me is that ERS's custom setting is gone. I liked custom settings, so it was a shame to see they weren't in this one. Hint/Skip- Both recharge at a decent speed for the difficulty I selected. Hint is helpful outside HOS. Diary- Keeps track of events, as well as recording all the evidence you find. This is great as it enabled me to keep track of all story events. Map- The map is helpful and interactive. It tells you where your next action can be performed as well as when locations are complete. Analyser- This is a minigame we come across when we pick up an unknown item. You put said item in to the analyser and must answer a series of questions about it. This was a wonderful feature. Magnifying Glass- Used every time you meet a new character. You use the magnifying glass to find bits of evidence. How many evidence pieces there are varies from person to person. I absolutely loved this feature as it made the game more realistic. I hope it makes an appearance in future games! CE EXCLUSIVES Bonus Chapter- unsure if needed. Built in Strategy Guide- Great for puzzles. Achievements- mostly gameplay based, a few story based. In the achievements section, there is this book with a paw print on it that tells you some stuff about other were animals (werecat, wererat, etc.). This was quite amusing and a pretty good feature, Collectibles- You collect different things throughout the game, so it's nearly impossible to tell what's a collectible and what's not. This is a great idea from the developers. Music Wallpapers Concept Art Replay HOS & Puzzles Screensavers WHICH IS THE BETTER BUY? I'm going to wait for the SE. There's absolutely nothing in here that would make me even consider buying the CE. There's nothing in the CE that makes it stand out from the others. All the CE features here are standard. I can wait and advise you to do the same. I love these types of games, so when I read the blurb, I couldn't resist. I was so pleased that this game turned out to be everything I wanted it to. I really enjoyed the demo from beginning to end, and can't wait to see how the game pans out! Overall, this earns a solid four stars from me, due to the absolutely brilliant, unique gameplay. It would've been a five had the story been a little bit better. Still a wonderful game. I highly recommend it.
June 6, 2014
The Apple logo is a trademark of Apple Computer, Inc.