Dreampath: The Two Kingdoms Collector's Edition
Exclusive
A thrilling new fantasy series from Boolat Games, makers of Timeless: The Forgotten Town and Dark Cases: The Blood Ruby.

The doctors have failed. Now your sister, the Queen, lies on her deathbed - you are her last hope! Rumor has it that a mystical cure exists in the faraway kingdom of Goldthorne... but no one dares to go there since the last king mysteriously vanished. Do you have the courage to face the unknown and save your sister? Find out as you soar high into a world of floating islands, talking cats, and magical dragons. But beware - sinister forces are watching you from the shadows in this exciting Hidden Object Adventure game.

This is a special Collector's Edition release full of exclusive extras you won't find in the standard version. As a bonus, Collector's Edition purchases count toward three stamps on your Monthly Game Club Punch Card!

The Collector's Edition includes:
Join Muir, the cat, in a bonus adventure
Play a secret game with King Harald and Muir
Collect silver and gold tokens to decorate the Cat Room
Concept art, wallpapers, videos, music, and mini-games
Integrated Strategy Guide
Game System Requirements:
OS:

Windows XP/Windows Vista/Windows 7/Windows 8

CPU:

1.6 GHz

RAM:

1024 MB

DirectX:

9.0

Hard Drive:

859 MB
Game Manager System Requirements:
Browser:

Internet Explorer 7 or later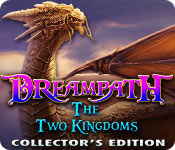 The Big Fish Guarantee:
Quality tested and virus free.
No ads, no adware, no spyware.

Reviews at a Glance

Dreampath: The Two Kingdoms Collector's Edition
0
out of
5 (
0
Reviews
Review
)
Customer Reviews
Dreampath: The Two Kingdoms Collector's Edition
77
77
Wonderful Dragon Fable
BASED ON DEMO FIRST IMPRESSIONS An interesting and dramatic beginning has a king seeking ?all the treasure of the temple?. His efforts, well, the results are unexpected. The opening into the game proper is less theatrical, but invites involvement. SIGHTS & SOUNDS Enjoyed the graphics. Not always the highest quality but always beautiful and colourful and clear. The music was unobtrusive. The voiceovers are excellent. But I may get fed up with that cat. WHAT?S HAPPENING? Our sister the queen is dying and the only cure is in another kingdom where we may get the info we need, if we can find the knowledgeable dragon. We travel there through a mirror (yeah, I know, not exactly original), and are immediately caught up in the problems of the kingdom we are now in. We rescue a talking cat, who turns out to be some sort of butler, and is very helpful with hard to reach items. He is also the source of info on the history of the dragons, and the two kingdoms, which is presented in a cartoon/diorama style as required. GAMEPLAY The HOPs are varied. There are interactive word lists, and silhouettes, and multiples of. The puzzles are mixed, but for the most part not too difficult. The adventure makes sense without being overly linear. There is a directional hint, interactive jump map (with available actions), journal game notes and clues, and lockable inventory. There are plus items in inventory. CE BLING! There are many collectible gold and silver coins to gather, and can be used in the CE extra, the Cat Room. Another area showcases achievements, represented by different dragon eggs. There are oodles of gallery items ? concept art 45, wallpaper 18, 36 movies, 16 music tracks, and replayable mini-games. There is also, in addition to the standard extra chapter, a Secret Game. COMBINED IMPACT Have a really good time playing this, more than I can easily explain by game analysis. Not too hard, fun story. Just the right balance somehow.
June 29, 2014
Played Casual to end of day early trial time,
I'm sure other reviewers will cover story line. Excellent lip-sync. Jump map with available actions. 3 Modes of play. 60 tokens to collect but are visible - no morphs that I could find. FUN puzzles. Good HOs. Cat helper which will be loved or hated. Tokens buy stuff for cat's room. Usual Achievements. Really Beautiful game and with Sale I will purchase CE and not wait for SE. Not for expert players. Still worth trying.
June 14, 2014
Nice to have a change from the darkside!
I played the full demo of this game. I played it on the hardest level and never used the hint or skip. The mini games are fun and a little different than the norm but not hard at all. The HOS are pretty easy and interactive, there was also at least one fractional. You have the cat to tell you the story and help retrieve items, I'm never crazy about this part of games but seems to be the trend. The graphics are good, I wouldn't say excellent but very good. Music is nice, fantasy type quiet music. The storyline is actually semi interesting. I played the full demo and I suspect the best is yet to come so this is a buy for me.
June 18, 2014
Same story but bueatifully done
I like this story adventure. The cat gave it a nice touch. HO's were easy on the eye and relaxing. Plenty to do and a jump map with indicators to help with all the back and forth. Nice easy game for those days where you just need it to be easy. This adventure game played out real well.
June 14, 2014
Great game, fresh approach to puzzles
Really enjoyed this game. The puzzles were slightly different than I have seen before. Only critique is that the maps don't allow you to go from realm to realm, and I did not feel the Extra Bonus chapter was worth the additional $$ fora Collectors edition.
June 15, 2014
Nice Game
It is a change not to play something so dark and creepy. This was light if not a bit juvenile. The Cat's accent was a bit affected and it became a distraction. All told though, I will admit to being entertained. The game was enjoyable.
June 17, 2014
Quite Fun
Hesitated to get this after some of the reviews, but I really enjoyed it? Very nice little fantasy tale, various levels, cool extras including an extra game! I think some folks just don't want to have fun?
June 16, 2014
Is Two Kingdoms Twice As Nice?
A gold kingdom, a silver kingdom, and the secret that links them. Good vs.evil. Dragons, castles, fire, magic and the Elixir of Life. All here in one game. Admittedly, the story contains nothing really new or novel, however it is interesting in its simplicity. The character's voices are excellently done, not overacted, and the dialog is sensible. There is a helper in the form of a cat who walks upright, but he doesn't try to be too cute. In addition to assisting you with various tasks, he matter-of-factly relates the back story to you. Drawing is very high quality. Animations and cut scenes are first rate as well. The style is very colorful, in contrast with the story which is somewhat dark. Sound effects are also very effective, as is the music which is minimal. The game stands out in its EASY PLAYABILITY for both hidden objects and puzzles. Though simple, the puzzles are well designed and interesting nevertheless owing to their seamless integration into the game's theme. Items in your inventory will occasionally need to be combined. You won't overtax your brain on this, though. The easy play causes the story to move along quickly, so my concern is that this could be a short game. This being a Collector's Edition, there are collectible gold and silver coins, achievements, and the usual array of other extras. While it doesn't quite have the story, difficulty or originality to merit the highest rating, it still delivers decent game play. Two times two stars for Two Kingdoms.
June 16, 2014
HUGE issues but great fun
I highly recommend you read the forums before buying this game. That said, once I had struggled passed the glitches, the game was great fun. The visuals were high quality, the voices were ok and not all that intrusive. The games were also very good fun and I had fun trying to beat the game. The bonus game is a good add on but NOT a continuation of the story - more a prequel, so be warned! There is a nice little board game hidden in the extras which is quite good fun to play too. All in all, once the game developer issues a patch, or even if you're willing to put up with its glaring faults it is a great game.
July 6, 2014
For A Fantasy-Story Game, This Is Pretty Good!
BASED ON DEMO Considering this is the developer that made one of my favourite murder-mystery games, The Blood Ruby, I was a little bit worried when they decided to do something completely different. I think they've done a pretty good job here. While I won't be purchasing this game (due entirely to the fact that this sort of story doesn't interest me), I did enjoy the trial. Stories to do with dragons, kingdoms, and all that fantasy stuff, don't really interest me, so naturally I wasn't interested in this story and was never going to be. But don't get me wrong, this isn't a bad story. It's got all the required stuff for a fantasy story. I especially liked the character of the cat (even if how he walked creeped me out). It's nice to have a light-hearted character in there! In terms of the story's content, the whole ?sick sister, must find cure? thing has been done before, but I thought the developers put a unique spin on it. There weren't many twists in the demo, however, which lessened the excitement factor. The most exciting part of the story for me was the opening cutscene, which I thought was done really well. This game also has a backstory, but I found this to be really weird. Dragons transforming in to humans is a bit creepy... I dunno. It wasn't that well thought out, in my opinion. In a game with a story like this, the gameplay has to be amazing for me to consider the SE. While I thought the gameplay was pretty good, it was good enough to warrant me adding it to my purchase list. The HOS, for instance, were basic, but enjoyable. They were nothing new, but I liked playing them. The HOS are evenly spaced out to make this more of an adventure game. The puzzles are basic too, and are nothing we haven't seen before. They've got simple instructions and are quite easy to navigate. Like the HOS, the puzzles are evenly spread out. My problem here is that I found the gameplay a little too easy. I only had to skip about one puzzle, and I could do the HOS with no troubles. This is in contrast to the developer's last game, which I found a little challenging. There are a couple of extra features in this game which really bump up the enjoyment level. Firstly, we've got an animal helper named Muir. Muir is a cat who will help us get things that are high to reach or in small spaces. I love animal helpers and this is no exception. Muir is used frequently enough to warrant being called an animal helper, which is great. The only negative thing I would have to say is that it creeped me out how he could walk upright! *shudders* This game also has + objects. These are items that you must combine with another to complete. These are shown by light green + above the item. However, the + does not appear until both items have been collected. This was a great feature that made the game a little more fun. Other than that, this is your normal HOPA. There's no fancy new gameplay or anything, and the basic stuff is done well. I must point out that the map especially is done very well. It tells you where your current tasks can be performed, as well as letting you know when each location is complete. This was wonderful for me. The graphics were pretty good; drawn with nice detail and great colours. The characters, in my opinion, were very life-like. I found everything in the game to be clear. Well done, developers. FEATURES 3 modes of difficulty: Casual, Advanced and Hard. Differences are usual (hint/skip charge, sparkles...). I played Casual. Hint/Skip- Both recharge at a decent speed for the selected difficulty. Hint is useful outside HOS. Diary- Good for remembering important bits of the game (which I tend to forget). Map- The map is very helpful here. It tells you where current tasks can be performed as well as letting you know which locations have been completed. Very good job by the developer on the map. Muir- Muir is our animal helper. He is used a few times, but not over-used, which is great. + items- Items that you need to combine with another to complete. These are indicated by a green + at the top of the item. The + doesn't appear until the other item is found. CE EXCLUSIVE Bonus Chapter- I doubt it will be needed. Follows the story of Muir. Built in Strategy Guide- This is great for puzzles. The SG tells you the location of collectibles. Collectible gold and silver tokens- used as currency for the shop. Muir's Shop- A shop where you can buy things for Muir. I like shops. I think they are a nice CE extra. Secret Game Achievements Concept Art Posters- pretty sure these are wallpapers Re-watch cutscenes Music Replay Minigames WHICH IS THE BETTER BUY? There's a couple of decent CE Extras in here, but I would purchase the SE. My reasoning for this is lack of collectibles. If there had been other collectibles as well as the tokens, I would recommend the CE. Based on the description of the Bonus Chapter, I'm 99% sure this game will end conclusively. Overall, I did enjoy the trial. As this isn't my type of story, I'm going to pass on this one, but I think fans of this type of story will enjoy it. WHO WOULD SUIT THIS GAME? Beginners? YES. Advanced Players? YES Expert Players? NOT SURE. Gameplay is a little on the easy side for me personally. I'm an advanced player, not sure how you guys would go.
June 17, 2014
The Apple logo is a trademark of Apple Computer, Inc.