Dreampath: The Two Kingdoms Collector's Edition
Exclusive
A thrilling new fantasy series from Boolat Games, makers of Timeless: The Forgotten Town and Dark Cases: The Blood Ruby.

The doctors have failed. Now your sister, the Queen, lies on her deathbed - you are her last hope! Rumor has it that a mystical cure exists in the faraway kingdom of Goldthorne... but no one dares to go there since the last king mysteriously vanished. Do you have the courage to face the unknown and save your sister? Find out as you soar high into a world of floating islands, talking cats, and magical dragons. But beware - sinister forces are watching you from the shadows in this exciting Hidden Object Adventure game.

This is a special Collector's Edition release full of exclusive extras you won't find in the standard version. As a bonus, Collector's Edition purchases count toward three stamps on your Monthly Game Club Punch Card!

The Collector's Edition includes:
Join Muir, the cat, in a bonus adventure
Play a secret game with King Harald and Muir
Collect silver and gold tokens to decorate the Cat Room
Concept art, wallpapers, videos, music, and mini-games
Integrated Strategy Guide
Game System Requirements:
OS:

Windows XP/Windows Vista/Windows 7/Windows 8

CPU:

1.6 GHz

RAM:

1024 MB

DirectX:

9.0

Hard Drive:

859 MB
Game Manager System Requirements:
Browser:

Internet Explorer 7 or later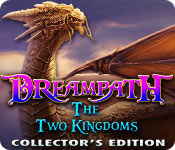 The Big Fish Guarantee:
Quality tested and virus free.
No ads, no adware, no spyware.

Reviews at a Glance

Dreampath: The Two Kingdoms Collector's Edition
0
out of
5 (
0
Reviews
Review
)
Customer Reviews
Dreampath: The Two Kingdoms Collector's Edition
79
79
For A Fantasy-Story Game, This Is Pretty Good!
BASED ON DEMO Considering this is the developer that made one of my favourite murder-mystery games, The Blood Ruby, I was a little bit worried when they decided to do something completely different. I think they've done a pretty good job here. While I won't be purchasing this game (due entirely to the fact that this sort of story doesn't interest me), I did enjoy the trial. Stories to do with dragons, kingdoms, and all that fantasy stuff, don't really interest me, so naturally I wasn't interested in this story and was never going to be. But don't get me wrong, this isn't a bad story. It's got all the required stuff for a fantasy story. I especially liked the character of the cat (even if how he walked creeped me out). It's nice to have a light-hearted character in there! In terms of the story's content, the whole ?sick sister, must find cure? thing has been done before, but I thought the developers put a unique spin on it. There weren't many twists in the demo, however, which lessened the excitement factor. The most exciting part of the story for me was the opening cutscene, which I thought was done really well. This game also has a backstory, but I found this to be really weird. Dragons transforming in to humans is a bit creepy... I dunno. It wasn't that well thought out, in my opinion. In a game with a story like this, the gameplay has to be amazing for me to consider the SE. While I thought the gameplay was pretty good, it was good enough to warrant me adding it to my purchase list. The HOS, for instance, were basic, but enjoyable. They were nothing new, but I liked playing them. The HOS are evenly spaced out to make this more of an adventure game. The puzzles are basic too, and are nothing we haven't seen before. They've got simple instructions and are quite easy to navigate. Like the HOS, the puzzles are evenly spread out. My problem here is that I found the gameplay a little too easy. I only had to skip about one puzzle, and I could do the HOS with no troubles. This is in contrast to the developer's last game, which I found a little challenging. There are a couple of extra features in this game which really bump up the enjoyment level. Firstly, we've got an animal helper named Muir. Muir is a cat who will help us get things that are high to reach or in small spaces. I love animal helpers and this is no exception. Muir is used frequently enough to warrant being called an animal helper, which is great. The only negative thing I would have to say is that it creeped me out how he could walk upright! *shudders* This game also has + objects. These are items that you must combine with another to complete. These are shown by light green + above the item. However, the + does not appear until both items have been collected. This was a great feature that made the game a little more fun. Other than that, this is your normal HOPA. There's no fancy new gameplay or anything, and the basic stuff is done well. I must point out that the map especially is done very well. It tells you where your current tasks can be performed, as well as letting you know when each location is complete. This was wonderful for me. The graphics were pretty good; drawn with nice detail and great colours. The characters, in my opinion, were very life-like. I found everything in the game to be clear. Well done, developers. FEATURES 3 modes of difficulty: Casual, Advanced and Hard. Differences are usual (hint/skip charge, sparkles...). I played Casual. Hint/Skip- Both recharge at a decent speed for the selected difficulty. Hint is useful outside HOS. Diary- Good for remembering important bits of the game (which I tend to forget). Map- The map is very helpful here. It tells you where current tasks can be performed as well as letting you know which locations have been completed. Very good job by the developer on the map. Muir- Muir is our animal helper. He is used a few times, but not over-used, which is great. + items- Items that you need to combine with another to complete. These are indicated by a green + at the top of the item. The + doesn't appear until the other item is found. CE EXCLUSIVE Bonus Chapter- I doubt it will be needed. Follows the story of Muir. Built in Strategy Guide- This is great for puzzles. The SG tells you the location of collectibles. Collectible gold and silver tokens- used as currency for the shop. Muir's Shop- A shop where you can buy things for Muir. I like shops. I think they are a nice CE extra. Secret Game Achievements Concept Art Posters- pretty sure these are wallpapers Re-watch cutscenes Music Replay Minigames WHICH IS THE BETTER BUY? There's a couple of decent CE Extras in here, but I would purchase the SE. My reasoning for this is lack of collectibles. If there had been other collectibles as well as the tokens, I would recommend the CE. Based on the description of the Bonus Chapter, I'm 99% sure this game will end conclusively. Overall, I did enjoy the trial. As this isn't my type of story, I'm going to pass on this one, but I think fans of this type of story will enjoy it. WHO WOULD SUIT THIS GAME? Beginners? YES. Advanced Players? YES Expert Players? NOT SURE. Gameplay is a little on the easy side for me personally. I'm an advanced player, not sure how you guys would go.
June 17, 2014
faliur
I loved to play this game, but all ready in the beginning I got failure and the game frezzze and I had to close down using windows job-list. its very disappointing to buy a game and a very god and beautiful game with theses failures. Even its a beautiful game, please think twice before you buy it, try it before buy it.
September 16, 2014
A Nice Change
I was wary of buying this one as I feared it might be too cutesie but it truly made a nice change. The animal helper isn't used too often and doesn't milk his part - not like that blooming awful glowing eyed thing in Witchville. Play flows quite smoothly, the map is good; I only had to refer to the strategy guide once to help me cheat my way to doing one of the puzzles! The only collectables are coins to spend in the "Cat Room", no morphs, which is a bit of a let down hence 4 stars instead of 5. Bonus game ok but probably not worth the extra CE cost. This game isn't going to strain your brain but it passes a very pleasant few hours when you just fancy a relax.
September 15, 2014
Dragons and Cats
This beautifully drawn and orchestrated game happily filled some rainy afternoons. Compared to other HO games, I'd say it was in the middle challenge range. There were different modes that regulated how slowly the hint button charges. Even in the easiest mode I rarely needed the hint button. The HO drawings were clear and pretty easy. The storyline was standard but one that I enjoy. It's the kind of game I enjoy as a break from TM. I don't enjoy dark, murder, or grisly games so this was a welcome addition. I'll replay it again in the future. I recommend this game for anyone who enjoys relaxing, beautiful HO games and has the patience to get past the demo.
July 18, 2014
I love dragons
In the opening cutscene the greedy prince wants the treasure and will obviously do anything to get it, on the word of Aldred, the Regent of Goldthorne who is behind him. As he puts in the amulet he begins to change into a dragon. You have been transported to Goldthorne to find the Golden Dragon to get the Elixir of Life to save your deathly ill sister's life. You save the life of Muir, a cat who becomes your helper during the game and he says you need to talk to his friend Rald, who is also a dragon. Visually it is beautiful and the art is very well done. The music is not annoying and fit well for the scenes. There are three levels casual, normal and expert. The extras include Bonus Game, Strategy Guide, Media, The Cat Room which you furnish using gold and silver tokens, 11 Achievements and a Secret Game. The hos and mini games were not hard and they can be quickly completed. Enjoyed to game, at some places a little slow, but the storyline was interesting and kept me entertained.
July 4, 2014
Heartwarming romp through fantasy land
I bought this on the promise of dragons. And there were dragons so right then and there the game was a success. What it also had was a pretty standard story juiced up a bit through the way it's told and wonderful atmosphere to boot. The little helper, Muir, was a welcome guide and really the corner stone to why I enjoyed the game as much as I did. Shame the Extra story didn't give us more time with him. Perhaps in a sequel? Otherwise it follows the standard formula for Hidden Ojbect Games but does so well, the hints are useful and I never even needed the map until later in the game when I got turned around which is a boon to the game. I never needed the strategy guide in any big way except for the collectibles which are very optional which is perhaps less good but ultimately not very important. My only real complaint is that there were few puzzles that made me scratch my head. I can probably count them on one hand and I only skipped one puzzle and that was in the Extra story. More challenge would've been preferred and like others have commented on in the reviews, it feels very much like baby's first HOG which is both good and bad, depending on what you want, of course. Finally, to round up the review, the grahpics are clear and crisp, very colorful and goes hand in hand with the music. The cutscenes are somewhat amateurish as are the human characters but the rest is beautiful art work. Do I recommend the game? I do. It's not necessarily a very long game, I got through it in about 3 or 4 hours and I doubt anyone used to HOGs would struggle with it for much longer. But more importantly, I got through the game that fast in one sitting because I simply couldn't put it down. And that's a review in and of itself.
July 4, 2014
Beautifully done
This story was beautifully made and I do love the Medieval Dragons and King/Queen Tales. Nice interactive map, very helpful diary, and cute little Cat Helper. I will purchase this one, but found it fairly easy so no need for a Strategy Guide; will pass on the CE and wait for the SE. If you are a new player, I do encourage you to get the CE as it will help you get thru the learning strategy of these type games.
June 14, 2014
This game is not a CATastrophe!
The start of this was akin to a Biblical dramatization of the Adam and Eve story only this time instead of eating the apple, the ?hero? took the crown. Thus how taking something that doesn?t belong to you only brings about sadness and upset. This opening scene set the tone for the story, in that it was one about good versus evil, it was a good strong story and well-orchestrated. The voice-overs were strong and they were also good music and dramatic ?sound bytes? in pertinent areas of the game. As is usual in these types of games there is a ?companion? and this was a cat, I felt they had missed a trick here in that I thought they were going to bring in a bit of ?comedy? in with the regards to this creature, as at the start it looked like they he was doing a ?warm-up? routine and I thought that the programmers were going to going inject some humour in to the character, unfortunately this was not to be, I understand that the programmers have to be sensitive to the fact that these games go world-wide and humour is subjective, in the fact that British humour, is based around sarcasm and idioms that are not particularly true such as ?isn?t the weather glorious?, when in actual fact it is raining cats and dogs (raining heavily), this humour may not be understood by other races, even English speaking races, thus the program makers would have to be sensitive to this, I just wish sometimes though that the programmers would occasionally break the mould and break this barriers, other games have tried and though there has been elements by other programmers on this website but, not in my opinion fully succeeded. Apart from the above the game was good, from the demo that I played was good, again the programmer is ?giving away? 90 minutes instead of the usual 60, this allowed for the first chapter to be completed, this though was on the easiest level and following the game ?through the map? as it were, by that I mean I used to the map to tell me where the next, objective, puzzle etc was completed that room and moved on to the next, this to me is a litmus test as to whether I am going to purchase the game or not, if I do this then it usually means that there my attention is not grasped enough for me to venture my own path. I feel that this game will fall into that category, as even though there was some different puzzles and the story-telling cat, was good and the story-line was good, there was just something holding me back from completely falling ?in love? with the game. From my point of view I can?t therefore recommend this game, but I can?t categorically say (I will stop with the cat?s now) why I would not want to purrchase the game (sorry).
June 29, 2014
Good fun with a clever story
I tend to like my games on the darker side (or the wackier side like Witch's Pranks), but this was a nice middle ground. If you lean toward fairy tales, this game is for you. A fun story with a clever way to travel between worlds and a sidekick who is a little more intrinsic to the story. The graphics, cut scenes, and audio are all top notch, and I found no bugs at all. One thing that usually bugs me about these games is that they tend to end rather abruptly with no closure. Not so here. The story is wrapped up nicely so you feel a sense of accomplishment rather than "Is that it?" The only reason I didn't give it five stars is because it felt a little long to me. Perhaps I was just aching to move on to another game by this point. Strongly recommended and it's also okay for kids since it's not overly scary.
January 6, 2015
Not CE Worthy...
Hi all. We have dragons! I love dragons and was excited to see this game today. The graphics are more old school and in some places, very cartoon like, but well done. Game play was very good until the demo ended and then it froze when I tried to exit. Music isn't too bad, but gets annoying fairly quickly. Voice overs are very well done. I really like the dragon voice, sounds a bit like James Earl Jones. Jump map is the standard for these games and is useful. SG really isn't necessary with the map and the hint system. Hint will also transport you to the location you need and it is quite helpful otherwise. As always, I do not like the SG, as it does not stay on the last page you visited when you leave the game. Why can the devs not fix this?? You have a helpful cat as well, who gets into small holes or high places to retrieve something for you. He also tells the story as you progress in the games. HOPs are clean and clear and items are not difficult to find, no eye strain. Puzzles were quite simple, no great thought here. The only collectibles are the coins, gold or silver, and are not difficult to find, but some you really have to look for. Some scenes have more than one, so be on the lookout for them. Didn't take the time to see what you did with them. This was not a difficult or very challenging game. I am sure it works well for a beginner, but I do not see that it is CE worthy. There are no extra bells or whistles. The game is very quiet as far as sound FX, which really help to build a story and the excitement that this one didn't have. I'm not even sure I would get this as an SE either. I recommend for beginners. As always, try it for yourself and see what you think. We all have different tastes in games and you may find this one to be exactly what you are looking for. Thanks for the reviews.
June 14, 2014
The Apple logo is a trademark of Apple Computer, Inc.