Rite of Passage: Hide and Seek Collector's Edition
Exclusive
From Mad Head Games, creators of the acclaimed Cadenza: Music, Betrayal and Death and Nevertales: The Beauty Within, comes another thrilling tale in their Rite of Passage series.

Twenty years ago, a group of children in the town of Greystone were taken by a mysterious fog while playing hide and seek, including your brother. Only you escaped… Your father went looking for your brother and never returned. Now you've found evidence that your father has been alive this entire time, still searching for the missing children. But why would he remain silent for so long? And why was he so determined to keep you away from Greystone? You immediately head out to find answers. But are you prepared for what awaits you in the mysterious fog? Find out in this creepy Hidden Object Puzzle Adventure game!

This is a special Collector's Edition release full of exclusive extras you won't find in the standard version. As a bonus, Collector's Edition purchases count toward three stamps on your Monthly Game Club Punch Card!

The Collector's Edition includes:
A bonus game where you must help Angela find happiness.
Complete your own collectible scene!
Bonus mini-games and activities
An available Strategy Guide
Game System Requirements:
OS:

Windows XP/Windows Vista/Windows 7/Windows 8

CPU:

2.0 GHz

RAM:

1024 MB

DirectX:

9.0

Hard Drive:

717 MB
Game Manager System Requirements:
Browser:

Internet Explorer 7 or later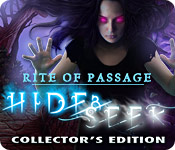 The Big Fish Guarantee:
Quality tested and virus free.
No ads, no adware, no spyware.

Reviews at a Glance

Rite of Passage: Hide and Seek Collector's Edition
0
out of
5 (
0
Reviews
Review
)
Customer Reviews
Rite of Passage: Hide and Seek Collector's Edition
101
101
No wow factor here
I have to say I'm shocked at the 5 star rating this game received. Child of the Forest was the best game I've played to date, I expected this one to be just as dramatic. The story line was ok, but frankly the game just bored me. No challenge to mini games at all, the HOS and match games were super easy. I've never been a pro at mini games and these were just silly IMO. The graphics were great, wish the story had been as vivid. I would have gladly bought this game as a SE, but I don't feel the CE would have been worth it had I paid the full 2 credits for it.
June 16, 2014
Not as good as the first one
I did not dislike the game, but I did not love it either. Not as challenging as the first one and I do not understand why you have to have a pet. It did not go with the story or feel of the game. It is one thing to rescue a pet and then move on, but when you are naming the pet, it just seems bit childish to me. I agree with another reviewer who stated for the developers to make up their minds. Is it suppose to be a eerie like game for adults or a game for kids? Pick one or the other and please do not combine them. I recommend buying the S.E., because I did not care for the bonus game play and you really do not need it unless you want to see where you missed finding a hand print.
June 16, 2014
Feedback For Mad Head Games And Big Fish - Based On Demo
Visual/Sound Quality: I had no problem here. I thought the graphics/artwork just stunning. Nice crisp and clear. I also liked the characters - realistic. Voices excellent. Lip sync right on. Level Of Challenge: I do thank you for providing me a custom mode where I could set the hint/skip to quick charge up though I didn't use them in this game along with no sparkles indicating HOS or anything else so thank you for that however I still had quite a few "black bar tips" telling me what needed to be done in the game. Could you please find a way to turn this off? I do like to try and figure out for myself first, if I can't that this what the hint/skip is for. The HOS/HOPS I had no problem here. These were well done. I liked these. Puzzles/Mini games: I'm not a fan of these. Less the better. I prefer more on the adventure/HOS side. More adventure though. Having said this: I had no problem here either. I was able to get through them with just a few clicks of the mouse. I didn't have to "skip" any. The "adventure" side since this is suppose to be a HOPA game I thought could of been just a bit more challenging. Inventory I used pretty much right away or I didn't have to travel too far. Also as I said being told what needed to be done in the game. I never got "lost" in the game. I didn't use the map or strategy guide. Story Line: While yes there is definitely nothing "new" to the story and even with the lack of challenge I still felt somewhat immersed in the game in this regard and wanted to see where the story would take me especially with the couple of "special features" added to this game. This being the "Karma Meter" that I could choose my answers when interacting with some of the characters. I also really liked the "special powers" such as the ice melt and the translator. Fun Factor: Well I'm sorry to say but I'm going to have a seat on the minority bench and the reason is for a game that is suppose to be "eerie/creepy" I don't understand the need for a "cutesy" animal helper that I not only had to rescue from the well but NAME it? With all due respect here: Just who is your target audience? The people who like "eerie/creepy" games or "cutesy"? Please pick on. Sorry Mad Head but this is where you lost me with this game. Just like some others on here I've had quite enough of "cutesy" animal helpers that seem to have to be added to almost every game. I just have a hard time staying immersed in a game that is suppose to be "eerie/creepy" with a "cutesy" animal helper. I also want to be clear here: I do NOT hate animals. I like animals. I have had dogs and cats for pets during my lifetime. I'll also take this a step further and say I play Farmville 2 on face book. Lots of "cute" animals there BUT they fit the game. It's a farming game. So see I do LIKE animals. I just don't like "cutesy" animals in games that are not "cutesy" such as this. Please keep the "cutesy" animals/helpers in games that are "cutesy." This isn't it. When I want to play an "eerie/creepy" game I do NOT want "cutesy" animals. From my reading of someone who has completed the game this "cutesy" animal is supposedly only used about 4 to 5 times. Well I don't care if it's only used ONCE. Please... ENOUGH with the "cutesy" animals already in games they don't fit. I do NOT have to "overlook" this. People have the right to say they liked/loved this game and the "cutesy" animal helper well I along with others have the right to say we don't care for this. So overall you get 3 stars from me which is a very generous rating from me I did research you here meaning I did come across your home page and according to that you've been making games since July 2011 so almost 3 years.. I did really like some things about this game as I mentioned. I usually rate games lower than this that have these "cutesy" animals where they don't fit the game. I will say though if I see this from you again you will be seeing a 1 star review from me and I don't care how good/great "the rest of the game is". A smile and wink to you here: Don't think you can sneak this in the back door meaning past the demo time I'm not like the majority of the reviewers on here. I don't do 5 star or even 4 star demo reviews. All of mine are based on completed game so if I like your next game well enough to purchase it and come across this "cutesy" nonsense in a game that is supposed to be "eerie/creepy" well that 4 or 5 star rating I was thinking of giving to you will be shot right down to a 1 star. Oh and yes there are a lot of extras. The ones I've mentioned along with achievements/collectibles/morphs among other extras and well truth be told I think some developers and Mad Head here seems to be following the way getting so wrapped up into the "extras" and "cutesy" animal helpers that the challenge (game play) and "eerie/creepy" story gets sent to the waste side. Sorry Mad Head and Big Fish but my wallet will not be supporting this by purchasing the CE or even the SE when that comes out as I don't want to encourage anymore of these "cutesy" animal helpers being added to games where they don't belong. I do however look forward to Mad Head's next game release. I truly hope I can rate you higher and recommend you next time. I'm also truly disappointed compared to your last game I played and reviewed Cadenza. That received 5 stars from me. Since November 2013 this is the only game I've rated 5 stars. So if you Mad Head and you Big Fish want to see more 5 star reviews from me well you need to step it up here.
June 13, 2014
good until I got stuck
I was really enjoying this game and was about to by it but then I got stuck. all it kept saying was there is nothing to do here every place I went. it never told me where to go to find something to do so now I just don't know. might buy it to give it another shot but just not sure. at this point.
July 11, 2014
Not as good as I thought it would be
The game started out good but then started to get boring. I felt there was too much Hogs and not enough adventure. The fun and excitement of their last two games was missing. I did not like the storyline or the villain. After a while I could not wait for the game to end and I almost did not finish it. I did not bother to play the bonus game because I don't think the villain should get a happy ending after kidnapping children, That is not a good ending in my opinion. Anyway the game was just ok for me.
June 14, 2014
Not A WOW for me.!!!!!!
I played for a time saw the ho's and purchased it. It was boring. Never thought it would be a all. Compared to some games I had to stop and take a break. Some games I can not stop at all sorry members.
June 12, 2014
Rite of Passage: Lost the Way
Rite of Passage: The Perfect Show CE and Child of the Forest were good games, however developer has somehow "lost their way" in this their latest endeavor. Have to agree with another seasoned reviewer in terms of high quality graphics and also being very much against another "cutesy" character as well as overall boring gameplay. I've noticed quite a few of the seasoned, respected top reviewers are no longer reviewing. Could it be their honest reviews don't receive the approval ratings as compared to the present Top Reviewers who give 5 Stars to every game? EVERY GAME CE & SE? It's just not possible. These get lots of approvals which are as predictable as the undeserved top-rated reviews. Some of the BEST AND MORE ACCURATE REVIEWERS you might want to explore--sportygal2009, FORTUNATUS, JustTheFacts, nontechiegrannie, Nilosh. Just saying! Enjoy! -Mama Mia-
June 18, 2014
Ridiculous Story!
I am sorry I bought this Game. I thought the Story was going to be good but it was totally asinine. HOG and puzzles were different and good. Graphics were OK also. But the Story held no interest. Couldn't wait to finish it. Not even going to bother to play the Bonus Game. Terrible waste of money!
July 6, 2014
Annoying, silly, and not fun.
The game starts off, typically enough for this genre, with all kinds of broken things needing fixed and stuff that the black bar announces is missing something. Unlike some games though, in this one there is absolutle no story development before you're plunged into this world of "why do I care?" If you click around randomly a lot of the "mystery" will solve itself oddly enough. You don't need to think at all...just click randomly a few times and things all fall into place. The things that don't fall into place from clicking will fall into place from black bar instructions...unfortunately you're going to be dependant on these strategies because there is no story you're following here. For example, your character will develop some glowing scar on her hand...but you have no idea where this scar came from, when she got it, and at the point she develops it you probably couldn't care less about those issues anyway. A magic scar with no explanation? It just feels silly. There is way too much useless and overwrought character talking to herself and saying nothing compared to actual gameplay. The HOS are not real HOS...they're these "interactive" ones that are not challenging at all. You just swish your mouse over things to reveal something you need to collect instead of actually looking for it. The puzzles are so simple you can make a few random clicks at the thing and it's solved. I actually solved one with three random mouse clicks. Another puzzle had the solution to it right above the puzzle so all you had to do was read the answer that was on the screen. The voice over from the main character has an annoying super-dramatic tone that doesn't match what is going on. Everything she says is in this breathless OMG voice even when nothing exciting is going on. And, of course, there are all the typical devices like feeding an animal. I just wonder how often these developers run into random animals they have to feed to carry out a task in their usual life. Overall I have to say this is a game with a really annoying voice over, pseudo-HOS where I want real ones, puzzles that can be solved with random mouse clicks, and not much else. My advice is give it a pass.
June 23, 2014
Needs to be fixed
My review will turn to 5 stars if and when a patch is available for this game. I'm stuck in a bedroom and can't get out.
July 1, 2014
The Apple logo is a trademark of Apple Computer, Inc.