Hope Lake
The Hope Lake Boarding School was abandoned long ago when one of its teachers drowned by accident and the school was closed. Today, all of the girls who attended Hope Lake have gone missing. Who's taking these girls and was the teacher's death really an accident?

As a detective, you must investigate the strange events which took place on the shore of the lake and within the walls of the boarding school. Emily Lynch was the last girl to go missing – this isn't much of a lead, but something is better than nothing. Visit the abandoned and ill-boding boarding school to uncover the truth about these mysteries. Unraveling the intricacies of this difficult case is going to be hard work. Are you up for the challenge!
48 beautiful detailed locations
18 hidden object scenes and 26 unique minigames
An interactive map to help your investigation
6 hours of gameplay!
Game System Requirements:
OS:

Windows XP/Windows Vista/Windows 7/Windows 8

CPU:

1.6 GHz

RAM:

1024 MB

DirectX:

9.0

Hard Drive:

1951 MB
Game Manager System Requirements:
Browser:

Internet Explorer 7 or later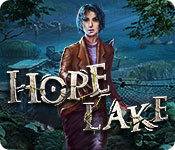 NEW299
The Big Fish Guarantee:
Quality tested and virus free.
No ads, no adware, no spyware.

Reviews at a Glance

Hope Lake
0
out of
5 (
0
Reviews
Review
)
Customer Reviews
Not great
Misnamed items, too dark and odd storyline.
May 21, 2014
Hope Lake the screen quality is not very good..
The story is pretty good and the game play it's self is fun but the quality of the scenes are poor compare to most.. I did enjoy most of playing the game, so I do plan on purchasing it.
May 21, 2014
Irritating music
I would have enjoyed the game better if the music in the background was less irritating. Otherwise it was OK. I turned the music off to continue playing.
May 22, 2014
Can You Say.......Just Awful
You may wonder why all my ratings are 1 star but my Overall Rating is 2 stars. Wave your cursor over over the 1 Star area at Overall Rating - it reads "Hated It". Hate is an awful word that shouldn't even be in our dictionary. So "awful" is the worst I can ever give a game because it's a thing with me. Storyline: You are apparently a Detective who has been given the task of finding a kidnapper (you see this Black-Cloaked figure dragging a girl away who has apparently kidnapped several girls before. I keep saying apparently because nothing was factual, everything seemed to be implied. Quite frankly, as the game started out I thought the main character, you, was a psychic brought in to help find these kidnapped children. Not. In any case, off you go, in the dead of night to begin your search, weaving across 2 lanes - yes, weaving - what is THAT all about? Thank goodness there was no other traffic around, especially oncoming. Graphics: Very old-fashioned looking. Grainy. Very sepia-toned. Everything seemed very monochromatic in color. As if this were a world with no color at all. Not the trees, not the animals, not gold coins. Nothing. I wondered if this game had been w-a-a-y back in the BF vault, forgotten and now brought out - years after it's time. Sound: Awful. The music was so repetitious I had to turn down the volume after 10 minutes. I like sound effects so I didn't turn the volume off. Unfortunately, sound effects were slim to none as well. As far as voiceovers, there really weren't any after the opening scene when you narrated the storyline. After that it was read, read and read. No ones' lips even moved. Do you even have any idea how outdated that is in games? Gameplay: I tried, I really, really tried to finish the hour demo. I already knew not long into the game (15 minutes?) that I would NEVER purchase it - not even with a free coupon - not even if BF filled up my coupon card for me - NEVER. Nothing makes sense. Beginning with your thought (?) when you arrive at the "crime scene" and say you need to be careful BECAUSE it is a crime scene - and then your next move is to take possession of a handkerchief. If this were obviously in a foreign country, I could understand things like totally wrong words for objects - all ..... the.......time. For instance, the broken ladder (it's obvious it's a ladder) is called a ramp, the butterfly net is called a dipper, and the list goes on and on. I guess you're looking - oops, wrong word - searching, on an island since you come across a river. The flying finger of fate which is your cursor (don't freak out it's the index finger) is annoying and you have no clue where anything is that you can actually pick up - so let's call this the "hunt and peck" format of game play. Except for the HOGs, they sparkle. The HOGs are also awful. The ones I played (and I did have to go back to the same areas/ones several times) were very dark, very monochromatic, sepia-toned in color. You had to search threw a miasma of items to find yours. Again, another part of the "hunt and peck" aspect of the game. Some items are interactive (perhaps 2 in an HOG). Other than not being able to find anything, they weren't particularly difficult. Mini Games: I believe I played one in the 40 minutes I lasted in this game. It was placing animals where they belonged on the "features" of the lunchbox. For instance, a wolf, an otter, a bat, a fish and several others. Not particularly difficult to do but very difficult to know WHEN you placed them in the right area. If you looked really, really, really hard you would see that when an animal was placed in the correct location the outline of said animal would have a glow - the lightest glow possible without being no glow at all. So, once again, "hunt and peck". There are 2 levels of difficulty - casual and expert. You get a hint button in the form of a "radio" and it takes a full minute to recharge. On "expert" level it takes 2 full minutes. You have a "diary" which contains a "journal" and "notes". Forgive me, but isn't a diary and journal basically the same thing and isn't what is contained therein notes? If I'm wrong about that, forgive me. You also eventually get a map which shows the area you are investigating, where you are located and where something needs to be done. At first, I thought -- oh, lots of spaces on the map, fairly long game. Not. Unless the map moves off to another area completely, I went through at least 1/4 of the "spaces" in my 40 minutes of game play. Your map is denoted as a compass. You also will eventually get a flashlight that you will use several times. It's on the right side of your screen with the compass and journal/diary so it's a permanent item. Just try to remember to turn it off when you're finished using it. It tends to aggravate the eyes after a while if you don't turn it off. I tried so hard to finish this demo but just couldn't. Forty minutes into it, I had returned for the 3rd time to a shed for another HOG and just couldn't go through that door and submit myself to that agony again. This game has everything - awful. Everything that could make a game unplayable, not entertaining, not enjoyable - this game has. I don't remember who the devs were, but if I were them I would climb under a rock and never come out. Well, I'd come out if I developed a better game. I truly believe there is hope for everyone on this Earth. I have NEVER in all my years of reviewing, EVER not had something positive or nice to say about a game - regardless of how much I "disliked" it. ALWAYS. This, well, it's a first time for me and I really feel badly about it. This Glam-ma says try it before you buy it. Just because I had a negative experience doesn't mean you will. You may truthfully enjoy it. It just really wasn't for me. Therefore, in good conscience, I cannot recommend it. This review is based upon my experiences of the game. And only mine. I am not trying to influence your opinion. Obviously, as I pointed out above, you have the opportunity to try it for a free hour - and you should. That being said, if this review was helpful in any way, please click on the "yes" button below. If not, walk away - kidding - there is also a "no" button. I tried to be nice - so should you - LOL. Happy Gaming!
May 21, 2014
Dark, dismal game. Thank goodness you have a flashlight!
This feels like another dig-up from the past. Missing girls, cloaked figure, but set in reality, not fantasy. It is constantly raining so everything is dull and dismal, little effort wasted on colour here! Gameplay is straightforward. Simple HOSs which are also dismal. I just used the flashlight all the time! Some items mis-named, which is frustrating. Simple puzzles. If you find something you can't do yet, don't worry - a pick-up or HOS will be along in a second. There is some back-tracking so the jumpable map is useful. HOSs are visited twice. Music is repetitive and just awful. I might have stuck with this for the story, though I can already make a good guess at whodunnit. I could turn the sound off, brighten my screen settings, but why should I? I am buying a whole package, not just some interactive pictures. This is a no buy for me. Try it for sure, You might disagree.
May 21, 2014
Hopeless Lake
Basic, Boring Game that Plods Along - Based on Demo. As others have said the graphics are dark, dreary & monochromatic. They are the usual cartoonish drawings without any realism. Music is repetitious & just plain annoying. Hint takes a minute to recharge which is 55 seconds too long for me. I didn't try the map, just went back & forth numerous times. HOGS are usual mishmash with quite a few misnamed items. The only character I saw was the cloaked figure & it seems to me there was no VO just a lot of written dialogue & instructions. There is just nothing new or exciting about this game to make me want to buy it.
May 21, 2014
Disappointing
This game had a lot going for it, but it just couldn't deliver. The length of the game was great but that's it. The gamma was dark and you couldn't change it. They gave you Hard/Casual to play. I played hard, there wasn't supposed to be any sparkles on active areas but there was. Most of the items in the hidden object part were mislabeled, ie, a wrench was called a pin, and there was a lot of that throughout the game. You had to click and double click and triple click to get anything. Just overall terrible game. boo! 2014
June 5, 2014
No 5 Star or even a 4 Star
To give this a 5 or 4 star would be as terrible as the the game itself. The best i could bring myself to do was give it a 2 star rating. Dark games are not so bad if the graphics are clear and sharp. sad to say this game missed on both accounts. The graphics were terrible especially in the HOPS, cluttered and unclear objects. Music was ok but the story line was old and dull, puzzles were easy.
May 21, 2014
Demo review.
Looked promising then the graphics kinda let it down but the most infuriating thing was the pause between going from scene to scene. Took a few seconds for the location to 'bleed in' making the game play quite slow. On full screen one of the hidden objects was off the edge of my screen, making it impossible to see. I quit after 10 minutes of playing this game.
May 21, 2014
Couldn't enjoy it.
I found the initial story so unpleasant with its extreme violence against women theme, that I couldn't enjoy the game. The starting video is of a cloaked being dragging a battered looking woman off by the ties on her hands. Will not purchase this.
May 21, 2014