Elements
The discovery of the `Alchemy Treatise` by Leonardo Da Vinci provides an incomplete formula for creating the Elixir of Life. Follow the clues left by Da Vinci`s assistant on a scientific swap-and-match adventure using the four Elements: Water, Earth, Fire, Air and an unknown fifth element. Swap elemental gems to make matches of the same type and size to merge and distill each element. As you distill each element, the energy created unlocks new combinations of gems using the five Elements.
Spectacular backgrounds.
Unique gameplay to master.
Discover secret formulas.
Game System Requirements:
OS:

Windows 2000/XP/Vista/7/8

CPU:

800 Mhz

RAM:

256 MB

DirectX:

9.0

Hard Drive:

58 MB
Game Manager System Requirements:
Browser:

Internet Explorer 7 or later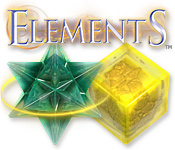 NEW299
The Big Fish Guarantee:
Quality tested and virus free.
No ads, no adware, no spyware.

Reviews at a Glance

Elements
0
out of
5 (
0
Reviews
Review
)
Customer Reviews
Not your typical match 3.
Elements is a game that uses a combining technique. You swap 2 different elements of the same size so at least one matches a like element. Then they combine and become a larger element. I usually play this game on Classic mode, but it also has Timed and Relaxed modes. The instructions are easy to follow and learn. The game starts out nice and slow so it?s easy to catch on. Your goal is to get all the matches combined, and also to get an ?expert? wax seal. The game keeps track of? Current Score Total Points Total Matches Total Combos Longest Combo Biggest Combo Custom cursor can be turned off and the screen can be windowed if you prefer. The music is very relaxing and the story is interesting, but can be skipped by clicking continue. Each element has a small story too. There are 16 elements total, but you begin with 2 and add one as you progress. The length of this game is quite long and with 3 different modes of play it makes it even longer. It is a game that can be replayed again and again, to better scores, or just for the shear fun of it. I love this game and highly recommend it, although I realize not everyone will care for it? Give the demo a try!
November 29, 2011
A different sort of matching game
The object of this game is to combine two of the same elements, so that it becomes -- the same element, only larger. Sounds simple? Yes it is. This is not a game that you *lose* in any way, but there is a challenge in the matching. Because you can only match two identical elements 'of the same size'. As you do the combining, you swap lets say a Fire element with an Earth element so that you have two Fire elements next to each other --these will combine into a larger Fire element--, and the Earth element is now where the first Fire element was. But you can only swap elements that are of the same size - meaning that not only must the two Fire elements that you want to combine be of equal size to each other, so must the Earth element that you swap with be. The trick, then, is to keep an eye out for placements of elements that will give you the better match next swap, or will create a combo --where one combination automatically creates a new combination-- these results of a combo may be swapped with any size element as long as one of the resulting swaps create a combination. There is a bit of strategy involved, seeing a few moves ahead. So; the main goal is to reduce all the several little elements of each kind into just one -- only one left of each type. New elements are added after 4-5 boards, so that in the end you have10-15 elements on the board that all must be refined down to just one of each kind. The playing board --the page in the spell book, so to speak-- will expand and give you more elements if you run out of matches. Thankfully the game keeps track of which elements you have finished this board. Meaning that if you managed to refine an element down to one, then that element is 'finished' for this board even if the book expands out, and remains only as a filler. There is an additional challenge in Classic mode, in completing this in just one 'page' - to achieve the final refinement of elements without expanding out - that will give you expert status. The game has three modes of play - Classic /or story mode/, timed or relaxed. Classic mode is the one descrbed above with the 'expert' achievement, timed mode is like classic except that it is timed, withhout the expert goal. And relaxed is just endless matching of two of the elements of your choice. At length, it does get tedious and dull; there is not much to break the monotony, so this is not a game for hours of continous play. But as a short, "solitaire" kind of game, where you play for half an hour to unwind, it is excellent. In that respect, I recommend this game.
December 2, 2011
Think Ahead
This is a cross between a puzzle and a match 3. Your challenge is to combine elements from small into large so that there is only one remaining element of that kind on the board. This is trickier than it sounds. The variety of sizes and kinds present you a challenge to think ahead for the fastest most efficient direction to take as the elements combine and morph. I enjoyed it! It took a different kind of skill and though. I liked the tracking of the skill set used. I think it would have good replay value. It might not be everyone's cup of tea but I would you suggest you try it an see if you enjoy it.
February 10, 2012
Needs More Challenges
A very pretty game, once you figure out the system there isn't much to do but meditate on the pretty colors and move the pieces. You can win every game the first pass through, so if you like solitaire games that have that same built in success factor, you will most likely be happy with this game. I never got tired of the music, so that was a plus. The storyline graphics could have been better, but still a nice way to pass the time without much stress. Turning on timed mode would add an extra level of difficulty perhaps; I only played in Classic. Not much on the against the clock thing.
June 14, 2012
One of my favorites
This game never leaves my computer. It's simple but addictive. A nice way to waste some time without over-thinking.
February 29, 2012
Real brain teaser
Absolutely addictive. Kept replaying until I could achieve expect in every level
August 24, 2012
Match 3 With a Difference
As one of the other reviews say... Not your average match 3. It can seem long at times but fun non-the-least. Great graphics and animations.
January 22, 2012
Flashy but relaxing game
I have replayed this game about a million times, and I try to win each level in the first round, which means I sometimes have to restart the level multiple times, but it's always fun :) to finally get it. On a fast enough computer, the graphics are stunning and the storyline is actually pretty neat, considering this is a simple matching game. The higher levels are really neat too and challenging but doable. I wish there was a way to skip the helpful tutorial comments each time you restart the game, but oh well. The music is relaxing and not boring to me anyway.
April 9, 2013