Nancy Drew: Ghost of Thornton Hall
Jessalyn Thornton's fateful sleepover at the abandoned Thornton estate was supposed to be a pre-wedding celebration, but the fun ended when she disappeared. While her family searches for clues, others refuse to speak about the estate's dark past. Did something supernatural happen to Jessalyn, or is someone in Thornton Hall holding something besides family secrets?
Take on the scariest Nancy Drew case ever!
Unlock Achievements as you play
Unravel perplexing and spooky puzzles
Game System Requirements:
OS:

Windows XP/Windows Vista/Windows 7/Windows 8

CPU:

1.6 GHz

RAM:

512 MB

DirectX:

9.0

Hard Drive:

2493 MB
Game Manager System Requirements:
Browser:

Internet Explorer 7 or later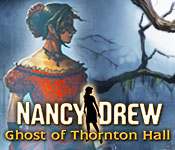 NEW299
The Big Fish Guarantee:
Quality tested and virus free.
No ads, no adware, no spyware.

Reviews at a Glance

Nancy Drew: Ghost of Thornton Hall
0
out of
5 (
0
Reviews
Review
)
Customer Reviews
Nancy Drew: Ghost of Thornton Hall
21
21
A Haunting Experience
Nancy Drew has been sent to Thornton Hall to solve a missing person case. Everyone has steered clear of this case because the manor is haunted. Jessalyn and her cousin spent the night in this family manor for a fun bachelorette party, now Jessalyn is missing. Is this a case of cold feet or cold dead ghosts? This is a very large file game, make sure your computer can handle this game due to the fact that there is no trial version available. This is NOT a hidden object game. This game requires you to solve the case by searching for clues, talking to family members and solving problems. You will have to read books, manuals and journals in order to complete certain tasks. You have a smartphone which will be used to call family members and people related to the case. There are two different modes of difficulty with the biggest difference being able to use hints. The tasks are added automatically such as finding a way to charge Jessalyn's phone. On the basic mode you are able to click on the question mark next to the task and ask for a hint, which will simply tell you the steps you need to take for that task but doesn't show you where the items are. This game has beautiful graphics, trying to navigate around can be difficult at times because of the 360 degree navigational system, but you will eventually catch on. I loved the different characters you meet, Colton in particular, they are lifelike and well detailed. When you are talking to a character, several options of questions are available and I usually ask all of the questions so I don't overlook a detail I might need later. You will receive an EMF reader to check different areas for strength of activity as well This isn't an easy game, but it is an adventure game with an exceptional story. If you are tired of the same ole games, give this game a try, enjoy!
May 27, 2014
Another winner from the Nancy Drew series...
Nancy Drew games games are almost a genre of their own. They are adventure heavy point and click and you will NOT find ANY H0S whatsoever in any of them. IMHO you must have patience and/or be in the mood to truly use the 'ole gray matter because there are no hints and they are not designed in the same manner as most BFG games, though there are strategy guides as well as walkthroughs online if you look for them via G@@gle. So, as you probably already know, Nancy is a young amateur detective who 'stars' in the series of games by HER Interactive #of course, most loosely based on Nancy Drew books#. Each game is unique unto itself. Personally I enjoy all of her games with few exceptions and this particular episode finds Nancy searching for answers in a haunted mansion where you #Nancy# have arrived to investigate the disappearance of a bride to be and heiress to the family business. There are so many unique and interesting puzzles and lots of 'chills' in store as you work you way through the mysterious challenges #including interrogation of suspects, solving puzzles, and discovering clues# in finding answers to determine the fate of the bride-to-be and figure out just who is telling the truth and whether there truly is, in addition, a true "haunting" occurring at Thornton Hall. I purchased and played this game as a 'boxed' PC-CD and I can tell you that BFG's price is WAY lower than retail and SO worth the price tag and effort in gameplay. If you are a Nancy Drew fan, or are willing to take on the challenge to become one, this is an episode you don't want to miss! Happy gaming ~ have fun! : )
May 26, 2014
This games crazy creepy!!!
Anyone who's has played the ND games will want to play this game. It stays true to form: the graphics are ridiculously amazing, the sound effects are super creepy. They've made this game a total freak-out, which is fitting since you are investigating a haunted mansion. The characters are a little average, except for Harper who is by far the most entertaining ND character EVER!!! She's flippin' nuts!!! The puzzles aren't too difficult in this game, even on the senior detective level. Even if you get stumped, there are plenty of walkthroughs and guides online since this game has been out for over a year. Big Fish is waaaayyy behind on the Nancy Drew games. I wouldn't recommend this game to someone who has never played any of them before as a it may be too hard for them to keep up with. But to the die-hard fan I'd say this is a must-play!!!
May 26, 2014
I really enjoyed this game
Nancy receives a call very late at night from Savannah Woodham (if you have played Shadow at the Water's Edge, then you will remember Savannah from this previous game). A girl has been presumably kidnapped from Thornton Hall (located on an island off the coast of Georgia), and Nancy agrees to take on the case. I really enjoyed this game. It has a very spooky atmosphere and one of the characters that you meet is one of the oddest and creepiest individuals I have encountered thus far in a Nancy Drew game (once met, never forgotten). Compared to the other games in this series, I would say that the puzzles were medium in difficulty. There are different endings to the game, depending on what you choose to do or not do. The game has a "Southern Gothic" feel to it, and for that reason alone I found it quite distinctive. And yes, there is a ghost! My only real "negative" about the game is that it is quite dark and that you will most likely find yourself turning up the brightness settings in order to be able to see it properly. A small quibble, but it might be an issue for some players, so I felt that it should be mentioned. Have fun. :-)
May 26, 2014
Fun Spooky
I have many ND games and I have always favored the older games because they have good story lines and the scenery wasn't as dark as some of the newer ones are. I had the honor of testing this game and loved it. It is now among one of my favorites; a spooky old manor, interesting characters to interact with, nice sound track, good colors, and it is not just one puzzle after another like some of the other games are. There is a good story, you have been summoned to find a missing bride to be. Upon entering the house the hall and stairwell are kind of dark, but when you enter the rooms it gets light enough for you to see. There are several people to interact with, other places to visit which includes a spooky grave yard and mausoleum. There are 2 levels to choose from, amateur (regular puzzles, hints,detailed task list) or master sleuth(challenging puzzles, no hints, basic task list). Extras include; 13 awards, outtakes, and teaser(preview of another N.D. game). If you like a good ghost story, you will enjoy this one. There are some scary moments so this might not be good for younger players, you might want to play it before you let them play alone. Definitely has good replay value. I find this game chilling and exciting, like curling up with a good mystery on a rainy night! Enjoy!
May 26, 2014
Can't Go Wrong with Nancy Drew!
Honestly, you can't go wrong with Nancy Drew. They are great engaging games with humor, thoughtful puzzles, interesting characters and storylines. If you are new to Nancy Drew, this game is a little darker and scarier than others, but definitely worth while. These are the type of games that are played over a couple of weeks, especially if you want to get the fun awards and Easter eggs. They are fun and rewarding. I just love Nancy Drew!
May 26, 2014
Best Nancy Drew game so far
I have played all the ND games, and this is the best so far. I loved the changes that have been made. Clues on the task bar, and being able to speed up the conversation. There were only a few times that I had to go to a walk through. Even though there is no trial, there is no other games like these. Worth buying!!
June 4, 2014
NANCY DREW: GHOST OF THORNTON HALL
I am so happy to finally find Nancy Drew in a Haunted Mansion. Some games with Nancy only made it sound like it was haunted...this one really is...Ghosts are in living color and it really does scares you, I had to stop...wait till daylight and I really LOVE THIS GAME.
June 4, 2014
Best Nancy Drew Game Yet!
Amazing fun with this Nancy Drew game. I felt like this is one of the best storylines that Herinteractive has used. It is intriguing and creepy. The Puzzles aren't impossible like most Nancy Drew games but they are challenging. The location of the game is perfectly scary in the deep south. For the best game play, play in the dark at night! So spooky! I highly recommend this game!
July 30, 2014
Another Great Game
What a great game for those ND fans!! I couldn't wait for BF to get this game so I bought it out right! Enjoy the game!!
May 27, 2014