Nancy Drew: Ghost of Thornton Hall
Jessalyn Thornton's fateful sleepover at the abandoned Thornton estate was supposed to be a pre-wedding celebration, but the fun ended when she disappeared. While her family searches for clues, others refuse to speak about the estate's dark past. Did something supernatural happen to Jessalyn, or is someone in Thornton Hall holding something besides family secrets?
Take on the scariest Nancy Drew case ever!
Unlock Achievements as you play
Unravel perplexing and spooky puzzles
Game System Requirements:
OS:

Windows XP/Windows Vista/Windows 7/Windows 8

CPU:

1.6 GHz

RAM:

512 MB

DirectX:

9.0

Hard Drive:

2493 MB
Game Manager System Requirements:
Browser:

Internet Explorer 7 or later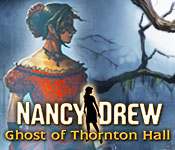 NEW299
The Big Fish Guarantee:
Quality tested and virus free.
No ads, no adware, no spyware.

Reviews at a Glance

Nancy Drew: Ghost of Thornton Hall
0
out of
5 (
0
Reviews
Review
)
Customer Reviews
Nancy Drew: Ghost of Thornton Hall
22
22
Challenging but logical
One of the things I never really liked about the Nancy Drew mysteries is that they were sometimes too complex or they would have you running around a lot. This one is different and for that reason, it is one of my favorites. While the puzzles are challenging, which I appreciate, they make sense and fit in very well with the plot. There's not too many places where you have a "fatal error" and have to scramble to figure out which I like as well. Easy going and fun game.
July 6, 2014
Ghost Story
Great story line, kept me guessing till the end.
May 30, 2014
So impressed!
I was so impressed with this game. After playing "Treasure in the Royal Tower," I was hesitant to play any ND games. However this one is much newer and the developers really improved upon many things I hadn't cared for in the Royal Tower one. Things I loved: -The characters were great. I especially loved the voice acting. -There was always plenty to do, and most scenes had something to interact with, as opposed to just walking around having "filler" scenes. -The puzzles were challenging and kept me interested. -The graphics were great -I definitely found myself sucked into the game! Cons: Really not much. There was one glich I hit where I completed a task and it didn't seem to register that I did. However I went through the motions again and it worked the second time. My only other complaint is very minor. Just an annoyance really. My least favorite puzzle involved the clocks in Charlotte's bedroom. I was thankful when I had that one finished. Much to my disappointment I get toward the end of the game only to find that I have to do the whole thing a second time! I feel like that was kind of a cop out, like they ran out of puzzles so they put that one in there twice. Overall I loved the game and would highly recommend it!
August 10, 2014
Amazing
I love this game!! It's so cool and creepy!
June 4, 2014
NOT FOR SISSIES
This is only the second Nancy Drew game that I have played, and I totally agree with other reviewers that if you are new to adventure games (this is definitely not a hidden object game), this one should be avoided. Actually, all the Nancy Drew games are fairly hard and very different from most of the other adventure games, so they take a little getting used to. I really needed to use my brain on both the Nancy Drew games I've played. Since my experience with Nancy Drew games is limited, I can't really say whether this game is better or worse than others in the series. I can tell you that I fell in love with the voiceovers and the characters; those Southern accents were marvelous. And what could be better than a mystery set in the Deep South? I played the Amateur/Casual level and can't imagine how much harder the higher levels would be. Certainly nothing that I would attempt. There are walkthroughs available on the internet but I was a long way into the game before I felt the need to look one up. The hints available in the casual mode go a long way to keeping you on track. But I did reach that point eventually, and, given all the levels within the game, even the walkthrough takes some concentration. I'll continue playing Nancy Drew games, as this one definitely is a good one. But they aren't games I would play if I was looking for a few hours of relaxing fun. I love a challenge sometimes, but I don't like to be frustrated and there was just enough frustration in this game to keep me from rating it a 5 star.
May 30, 2014
Challenging Fun
This game is gorgeous and yes, a bit creepy. I played in the hardest level, and found it quite difficult. I love that - if I'm not challenged, I'm bored. The story is unique, the characters are well voiced, and the game play is logical. There are no skips however, so anyone not willing to stick through a puzzle should give this game a miss. In the easier level there are hints and other kinds of help, while in the more difficult level you get no help at all. If you like ghost stories, and are interested in a really challenging puzzle game, definitely give this a try.
June 21, 2014
Nancy Drew Is Not for Wimps
This is my first Nancy Drew game, and it was different from most other games I've played. I didn't see a walkthrough/strategy guide like your typical games, but I did find one online, but not like what you might expect from typical Big Fish Games. There is no hint button. Some tasks have a question mark and will give you limited hints to help you along. This is a very challenging game! There were many things I simply would not have had a clue about were it not for the strategy guide I found online. Now that I know what to expect, I'm looking forward to playing another Nancy Drew game. Since the game is so challenging, you really have to think about how things are related. There were details about history and even science scattered around. I'm totally going to try using a potato or orange to power a light bulb as soon as I get my hands on some of those insulated wires with alligator clips. I left the sound playing throughout the game. Sometimes a sound was a clue that something had changed, and I'm not sure I would have noticed otherwise, and if you were trying to read the dialogue, it went pretty fast and did not wait for you to catch up before switching screens. So, the sound was helpful. The mini games were in place for locks and hidden compartments. I got the clocks to work the first time, but on the second go, I could not get them to be consistent. I set them all for 11:00 and watched how fast they went. Then I backed them up from 12:00 by that much. Seems like it would have worked, but it wasn't, and we were about to burn to death. I had to use all of the hints until the game finally revealed the solution. Now, the graphics seemed a bit "old school" in that they were heavy on the computer generated graphics as opposed to the artistically painted graphics seen in other games. However, because of this fact, the scenes were much more interactive, and some locations offered 360 degree views. Now, with that said, the game was not in as strict a sequence as most games. You could go back and revisit places and talk to people. You could even ask more questions. It was more about you putting the clues together and discovering the truth. The mood and the music was very suitable. The southern accents were extremely overdone, but some of the dialogue was funny. Nancy did make a remark to a character as if the way he dressed was an appropriate measure of intellect. I'm from the south, and I realize we can be talking about genetic engineering using proper grammar, and we sound dumber than people from the Midwest talking about fishing. I watch TV, and I know there are dumb people in every state, so I wish people wouldn't do that and make such an ignorant assumption. It's not worth the chuckle you get out of a select group. The game was very entertaining, and I'll be looking to play more Nancy Drew games from now on.
September 9, 2014
Difficult but entertaining
Very challenging puzzles, could not have finished it without using walk-thru's (I use Universal Hint System). The story line is great but there is way too much dialogue - a lot of it unnecessary. I dreaded every time Nancy had to use her phone - talking to Ned and Bess is especially painful, avoid it if you can. But despite all this, the game was fun & would recommend it to Nancy Drew fans.
May 30, 2014
Not the best in the series
I have played almost all the games by Her Interactive. Some stories and the game sequencing are great and in others it is disjointed as it was in this one. At times it was clear what to do and at others it wasn't. There wasn't a natural flow to solving the puzzles and putting the hints together. The storyline was confusing for me - to keep track of the characters (family tree). Overall, I did enjoy it and only got frustrated when I wasn't sure what was next (used the walkthrough a few times). Varying difficulty on the puzzles and too much going on in the storyline (adding in family tree and third party help). I hope Her Interactive makes the games for tablets.
January 6, 2015
Hard puzzles with no skip, means Game over for me :(
I own nearly all Nancy Drew Games since the first release. my favourites are the ones I won, that did not have hard puzzles or need for fast reflexes. I was enjoying game until I got stuck with puzzles I can't solve even with help of a walkthrough. The Game had just begun and now I realize I have wasted my money yet again on a Nancy Drew that will never be finished. I saw someone complain they thought the voices were badly done all I have to say they may need to get a new sound card or new speakers because the southern accents and all voices are easily understood. I deducted stars because it looks like another Game will be left unfinished because like all of Herr Games there is no skip if you get stuck in amateur with hard puzzles. I have wasted money again as much as I LOVE Nancy Drew I HATE there is no skip! I am stuck on the puzzles and it isn't as easy as reading the walkthrough because they are complicated puzzles . If You haven't played Nancy Drew warning if you do not like racking your brain over puzzles, don't buy this game. I have encountered a dead end with hard puzzles even with walkthrough I can't solve it. The storyline is interesting but there are too many puzzles that ruin it for me. I am still at the beginning and stuck trying to get back to Harper for the 2nd time. I ask for help on BFG Forum but thus far no one has offered help. I know Herr would sell many more games if they would add skip to the puzzles. I do appreciate there are built in hints for knowing where to find items, or people. One of the best parts of Nancy Drew I enjoy is the cell phone conversations with Bess and Ned. If you like hard puzzles with no skip I recommend the Game. If you don't like hard puzzles with no skip, I suggest you don't buy the Game or you will regret it the way I do now.
May 27, 2014