Royal Detective: Queen of Shadows
Exclusive
Princess made some mistakes in the past, not always using her magic for good. But she's made amends, and that's all forgiven now. She has finally found her mother after five long years. But just as Princess runs to embrace her, a band of thuggish trees kidnap her mother!

You're the royal detective she came to know so well, and you're Princess' only hope. She's still just a girl, and her magic isn't quite strong enough to defeat the villain who's taken her mother. Help reunite them – and uncover a devious plot by an evil king and his brothers!
Game System Requirements:
OS:

10.9/10.8/10.7/10.6

CPU:

2.5 GHz (INTEL ONLY)

RAM:

1024 MB

Hard Drive:

920 MB
Game Manager System Requirements:
Browser:

Safari 4.0 or later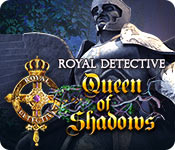 NEW299
The Big Fish Guarantee:
Quality tested and virus free.
No ads, no adware, no spyware.

Reviews at a Glance

Royal Detective: Queen of Shadows
0
out of
5 (
0
Reviews
Review
)
Customer Reviews
Royal Detective: Queen of Shadows
13
13
Witch's Blood
Selena used her magic to see the future and learned that her daughter, Princess would die at birth. Her only hope was to make a deal with the King of Elves, Rizallion, in order to find the Tree of Wishes. This deal bears a heavy price, one Selena may not be able to repay, witch's blood! This is an excellent sequel to The Lord of Statues, a quest to reunite Princess with her mother and save her before Rizallion uses her blood to nourish the Tree of Life. I really enjoyed playing both versions of this game, but I'm a huge fan of morphing objects and favor the Collectors Edition because of the 18 morphing tiny dragons and 22 trading cards to collect. The CE also has achievements to earn and a built in Strategy Guide, but this game is fairly easy to figure out, especially if you use the jump map to figure out where active areas are located. You will be joined by the city's keeper, a creepy skull with a wandering eyeball, that serves as a hint icon. This game does require a lot of back and forth traveling to collect multiple items such as lost souls and will-o'-the-wisps, but you can use the map to quickly reach those destinations if desired. This game also has 4 modes of difficulty from casual to detective mode with no hints, skips or sparkles and the cursor doesn't even change over active areas! Princess hands over her magic book that she used in the first Royal Detective game which will be used to bring any finished statue to life. (yep, even Angel!) The Hidden Object Scenes are interactive list finds and they are actually done very well with items appropriate to the games genre. I will admit that I wish there had been more mini games available, and that they were a bit more challenging. The story is usually told a little at a time with each mini game such as painting pictures with a color key for reference. My favorite game was an interactive diorama of sorts where you have to lead the hero through a series of obstacles and figure out how to acquire different objects to progress such as taking grain from the windmill and delivering the grain to the beerhouse to receive a beer to bribe the lighthouse guard. This is the third time I have played this game and I still enjoy it immensely, the quality and detail of the game makes this possible. If you are a fan of morphs, or want all the bells and whistles, then choose the CE, either way I think you'll love this game too, enjoy!
May 30, 2014
SCARY BUT OH SO CUTE TREES
SUMMARY: A lot of things to do in a slightly muddled story (which is hopefully cleared up by the end of the game). Gorgeous graphics and creative characters. Nice voice overs. Good use of animation. I'll get the SE because I think the CE just misses. If there were more collections or more morphing objects, I'd be tempted to go that way. STORY: You are a detective who wants to help Princess once again recover her mother. Princess and Mom met for a few second when Mom was suddenly whisked away by the trees. You have to get to the Tree of Wishes in the forest and only Rizallion, a powerful sorcerer, can get you there but only in return for a promise. I sometimes found the storyline a little befuddling, but not enough for it to lose its shine. GAMEPLAY: Lots to do and challenges to be met. You encounter numerous force fields which require magical weapons to penetrate. You also encounter several tree manifestations who try to impede your progress. There are plenty of the usual tasks/puzzles to solve as you move forward to find the Tree of Wishes. HOS and PUZZLES: Largely an adventure game, so there are not a large number of HOS. They are crowded, but detailed and list-based. Puzzles to continue on your way are plentiful. A fair number of interesting mini-games that are fun to play. OTHER STUFF: 4 volume and gamma control; 4 difficulty modes; skeleton head who is the keeper of the city is your hint system, which shows you were to go and teleports you if you choose. Animation is wonderful and the color palettes used in the artistic design are really good. Artists were very creative in building various characters composed of entire (or parts of) trees. Ex: tree log with spider legs. Very cute, though you knew they were sinister.
June 4, 2014
Excellent Round Two. The Statues Roar
Lord of the Statues was my #1 favorite game last year, so I looked forward to this one. While it doesn't quite hit the heights of the first - there is a lot of good in this game. Entertaining and Fun. Pros: Beautiful Graphics, smooth and flowing movement, good story line, mini-puzzles easy to medium, new locations and forward movement (not back and forth), help Map, generous hint button. Cons: The instructions for the minigames are poorly written. I had to play several games for a while to figure out what to do. The story is a bit predictable, but still fun. Statues are more "servant" and not as interactive. Small things, no big problems. Overall, an interesting, intelligent game that makes you want to play til the end.
September 19, 2014
another great game in the ceries
have the others of these and bought this one after playing the trial. in general this is a great Ceries and this one appears to be as good as the past.
May 30, 2014
Did The CE.
This gives me a chance to say a lot more. Elephant Games are the developer I wait for every day. Please do bigger ones I would love to play every day. Gamers if you don't know by now how awesome these games are.
December 20, 2014
Best Game All Around
I can see why this game was voted one of the top games of 2014. It is perfection all the way around. Graphics are outstanding and hypnotize you. Voice overs are excellent and fit the characters perfectly. Storyline exciting!!! Must play!!!!
January 4, 2015
Wow - What a Difference an SE Makes!
Please pardon any typos - my eyes are giving me a lot of trouble today. Well, I had to go back and re-read my CE review several times and each time I read it, I remembered all the reasons I disliked the CE version of the game. But, since it was 90 minutes of free play, I thought I'd give the SE a chance and see what it's all about - and I am very glad I did. Storyline: You have helped Princess before. It's been 5 years and you receive another plea of help from her. She was finally reunited with her mother - after 5 very long years for a young girl to endure. Just as they hug, her mother is yanked out of her grasp by trees. Where did she go? What is happening? What happened to Princess' magic that she can't do this on her own? Play the game to get all those answers and more. Graphics: Beautiful. Astonishing colors of ice, caves, freed souls and more. Just beautiful. Sound: Sorry. Just got a new little puppy and she was sleeping near me so I kept the volume turned way down. Game Play: Princess has asked you again to help find her mother so off you go to be the gallant Prince on a White Horses saving the Damsel in Distress (it's an analogy). There is quite a bit of everything going on in just the free demo. Stone statues coming to life, willow-o-wisps being captured to relegate a story to you, Souls being freed, and more and more and more. HOGs: Your typical list with some interactive items to find. Not difficult to find anything. No miasma of items. No monochromatic color that blends everything together. No tiny items you can barely see. HOGs were fun. Boring at times but fun. Mini Games: I enjoyed all the mini games and was glad of the extra 30 minutes Game Play so I didn't have to rush through and possibly skip to get back into the game play. Some took time to think things through. I did skip on one. You can figure that one for yourself. HAH! I still wonder at the length of the game because I completed the SE demo with 27 minutes to spare. That's a lot of time and it does make me wary. I also did not find as much hand holding in the SE version as I did the CE version. Go figure - same game right? The CE version seemed to play rapidly, almost at a dizzying pace; while the SE version seemed to progress at a more reasonable pace. This Glam-ma thinks you will totally enjoy this game and highly recommends you play the SE demo, even if you have already played the CE demo. I don't know why, but there is a difference of the fluidity of the game from one to the other. I MUCH prefer the SE to the point that it is definitely going on my wish list. I hope you enjoy this SE version as much as I did. The review of this game is based on this Glam-ma's unbiased opinion - and only mine. Therefore, if you found this review to be helpful, please click on the "yes" button below. There is also a "no" button. Seriously? You'd give your Glam-ma a "no"? Kidding. Happy Gaming!
May 31, 2014
Pure Elvish Majik
A story with disembodies skulls, sorcery, magic, witchcraft, elves, rebellion and death. If this subjects intrigue you, then this is the game for you. Fabulous audio, voiceovers, artwork and visuals. Navigatable Map - in fact, the game may help you a bit too much... guess that's up to the individual, and there are multiple levels of difficulty to reduce some of the hand-holding. I came across a few, maybe 5 straight hogs, and three mini games. The first was like a paint by number, the second was an order of operation game, and the third was manipulating a ball to put pieces into order. All three games ever fairly easy, but enjoyable. Strategy guide appears to be a separate purchase, but I'm not sure about that - there are 6 chapters. I did not see any collectibles at all. Overall good effort, and they obviously worked very hard on it, but I'm still on the fence about whether it's CE qualified.
May 30, 2014
Liked the Story.
The graphics and voiceovers are fabulous. Love the skull sighing after a hint. Good map. Don?t feel it is a challenging game and thinking it must be very short. Don't think I will be buying this game. Try it yourself.
June 27, 2014
Good game
Enjoyed this game; was challenging for me! I spent 2 days on one HO! (Couldn't find one object) Storyline did not make me recall the first story, so it did not seem as a continuation. I had to return to the story to remember it. Graphics are very good. Map is very good; but no journal! I needed some info a couple of times, and needed a journal. The HOs are good, not junky, but some of them make you work. Puzzles are always great; a few gave me pause, but I struggled through. "Elephant" is always a winner!
September 9, 2014
The Apple logo is a trademark of Apple Computer, Inc.
The Windows logo is a trademark of Microsoft, Inc.