Phenomenon: Outcome
Exclusive
Save the world from an alien substance in Phenomenon: Outcome! When a medallion you've had your whole life suddenly starts acting strange, you follow its trail to a mysterious island. There, you discover a deadly Cyan Plasma that threatens not only the island, but the entire world! You must seek out a missing research team to uncover the secrets of the plasma before it spreads across the globe. But time is running out... Can you find their base before it's too late? The power is in your hands in this thrilling Hidden Object Adventure game!
Game System Requirements:
OS:

10.9/10.8/10.7/10.6

CPU:

800 Mhz (INTEL ONLY)

RAM:

256 MB

Hard Drive:

562 MB
Game Manager System Requirements:
Browser:

Safari 4.0 or later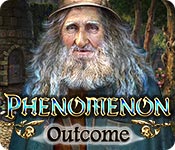 NEW299
The Big Fish Guarantee:
Quality tested and virus free.
No ads, no adware, no spyware.

Reviews at a Glance

Phenomenon: Outcome
0
out of
5 (
0
Reviews
Review
)
Customer Reviews
Phenomenon: Outcome
18
18
Alien Plasma
Sasha's parents were struck by lightning and perished when she was 5 years old. The lightning bolt unearthed a Golden Homunculus that Sasha kept by her side for years, but for some strange reason, the Homunculus has been activated and is guiding Sasha to dangerous locations. Sasha's mission brings her to a restricted area full of toxic Cyan Plasma, and she briefly meets up with Daniel from the last Phenomenon game (still searching for his parents) She will embark on a long and treacherous journey to find the missing research team, their only hope of neutralizing the alien plasma before it's too late. This game has wonderful graphics and plenty of active areas in each scene, but, very few Hidden Object scenes or mini games. There are so many gadgets to repair and items to uncover that they won't really be missed. My favorite feature with this series is the unique HOS. You search for all of the listed items, some slight interactions required such as finding parts to scissors, when you are down to the final item you need to click on the spinning vortex to travel to that same location but in a different time. There you will have another complete list of items to find and once complete, the vortex will return you to the first location where the last item you were searching for has appeared! The mini games were far and few between but they were entertaining such as a 10 step process on a stone statue, you have to read one step at a time and manipulate buttons, switches and dials to accomplish what the directions are telling you. The Collectors Edition has 35 hidden plasma flasks to find, but to be quite honest, I would probably choose the Standard Edition over the Collector's Edition. The flasks aren't enough of a wow factor for me and the game is easy enough to figure out without a Strategy Guide, in my opinion, enjoy!
June 1, 2014
Totally Enjoyed This Game!
I am sorry to say that I have not played any of the previous Phenomenon games and noticed immediately that it put me at a disadvantage. There isn't enough of a background given at the beginning of the story that really enables you to understand everything they are talking about. So, after playing the CE demo and purchasing it, I went ahead and purchased the other games in this series. Storyline: From what I could gather, as a young child your parents were struck down by a strange lightning bolt after you found a glowing homunculus - how would you even know what that is at the age of 4? I'm, well never mind how old I am, I didn't even know what it is and I'm pretty well-read. Anyway, you are now an adult and have a nightmare (of course you do) and wake up to find said homunculus clenched in your hand glowing. Somehow you know to place it on a map and, voila, it leads you "here". Graphics: The graphics are stunning, the colors majestically bright and colorful. I wanted to stop just to "smell the roses" so to speak. Sometimes, an area was just so pretty ... I needed a moment to take in everything. Sound: The voiceovers (yay - lips that move) are spot on, including the movement of the facial features, although the adult "you" doesn't sound quite believable. You/Sasha are directed by a young man who has given you instructions regarding where you need to go. I think I'd be better versed if I had played the previous game There is a discussion between you and the young man regarding the Cyan Plasma, etc. and I was lost. Background music was enjoyable - it hit it's peak at the "here it comes, sit on the edge of your seat" crescendo. But, later on, I realized it was a repetitive loop and got annoying so I turned the volume way down. Game Play: There isn't a lot to add in Game Play that isn't in "Storyline" above. You are on a hunt to get to the "Safe Place" by traversing several other areas where you need to activate and re-activate your neutralizer. There was just a lot going on in every area you went to. Best I can do. Sorry. HOGs: Wonderful! Although not totally monochromatic in color, the items DID blend into the scenery. For instance, the feather that was blended into the greenery of the tree - green feather. Also a game within a game, as you went through a portal in the HOG to access ANOTHER HOG. Brilliant! Mini Games: The few I came across were new, fresh, innovative and totally fun! I usually skip the mini games to get back into game play but these I just couldn't resist because they were so much fun! There are 3 difficulties of play - Casual, Expert and Hardcore. You get a scroll that glows when a new note is input, a task list, and a hint button, which recharges at a fairly good pace. I don't know if the hint button transports you to the area you need to go to because I preferred to use the map. So saying, there is a transportable map that shows where you are, where there is an available action to be done and where you need to come back later. What I absolutely LOVE about this map is that it doesn't hold your hand as so many games today do - you are required to use your brain. For instance, you will amass quite the collection of inventory and when you look at your map there may be 3/4 areas you can go to that have available actions - you have to remember where you were, look at what you have in your inventory, and find where you need to be - pick a place and you will be transported there. Wrong place? Try again. You will NOT be immediately transported to the next area that needs something done - YAY THANK YOU DEVELOPERS. I believe this makes the game more interesting than a map that just takes you everywhere you need to go and then the hint button shows you what you need to do - that type of game just plays itself - HATE it. I am disappointed that I didn't have a good grasp on the storyline and probably won't quite get it until I play at least Phenomenon Cyan. So, I don't think it's quite a standalone game. Even so, I thoroughly enjoyed playing this demo. It is mysterious, intriguing and had me from the beginning. This Glam-ma says please do try it - I think you will truly enjoy this new and innovative game. The developers really came through with new ideas to keep us entertained. And you get a 90 minutes instead of 60 to play. This Glam-ma recommends this game for everyone. The review of this game is based on this Glam-ma's unbiased opinion - and only mine. Therefore, if you found this review to be helpful, please click on the "yes" button below. There is also a "no" button. Seriously? You'd give your Glam-ma a "no"? Kidding. Happy Gaming!
June 1, 2014
Phenomenon: Outcome SE Review
Have both previous games. Play Casual. Checked reviews on CE and played the CE for the hour. Then i played the SE. It's a beautiful/FUN game. Try it and see. The CE only has: 35 vials, achievements, wallpaper, etc. I don't need those but will definitely be buying the SE.
June 1, 2014
Beautiful Phenomenon with an Abundance of Challenge
In Phenomenon Outcome, the third game in the Phenomenon series, there is only a minor connection to the previous two games in that they all begin with an orphaned child who in early adulthood is drawn to seek the mystery of her/his parent?s disappearance. Phenomenon Outcome begins as Sasha, age five, is on a picnic with her parents when a glowing orb explodes with lightning as Sasha approaches it. When Sasha awakens her parents are gone and the only thing remaining is a golden Homunculus amulet. Now years later, Sasha is having nightmares that are leading her to a strange location and this is where the adventure begins. The graphics in Phenomenon Outcome are beautiful and even better than they were in the previous Phenomenon games. The characters are drawn to perfection and with the addition of the lip-synced voiceovers they come to life. One of the things I noticed is that the artists have added a lot of facial expressions to the characters in the game and that seems to make them much more realistic when they speak. In general the voiceovers are quite good but at times the dialogue seems a bit ?corny? or vague. Overall, the entire soundtrack is very good and suits the game perfectly, but you may need to fiddle with the volume button since at times the music is quite loud and overwhelming. I happen to love some parts of the soundtrack that are quite mystical and very beautiful. Your Homunculus amulet will become one of the most important tools in the game, and eventually you learn that it is called a neutralizer. Your other tools include a scroll that is updated with information as you travel through your adventure. Next to your inventory box and right below the scroll is the task button that I found very helpful. There is also a color-coded transporter type map to indicate areas of interest. The map however is very general and really doesn?t hone in on the exact locations where you need to find or do something in order to progress in the game. In a departure from the norm, the HOPS in this game are presented a bit differently and I don?t want to elaborate on how they work because you will find out soon enough. Once you understand the mechanics of the HOPS, you will see that there is only minor interaction required to find some items. Although I think the developer was quite creative in setting up the HOPS, I found them at times to be jaw-clenching tedious with some objects being extremely difficult to find. The one disappointment with the game is that there are not very many puzzles. One of the reasons I love HOPA games is the inclusion of puzzles that we encounter on our adventure and, IMHO, Phenomenon Outcome is lacking in this regard. I felt the developer missed some opportunities where puzzles could have been included but they weren?t so in the end the game becomes more of a hidden object game. However, even with fewer puzzles than I like, it is still an excellent game. After purchasing the CE of Phenomenon Outcome and playing it for several days I can highly recommend the game. It was not an easy game to get through as it was quite challenging and took quite a bit of thought at times to figure out what to do next. I found progress in the game to be very slow in the beginning but the action picks up once you get into the game. Those who are taking a first dip into this type of game might find Phenomenon Outcome a bit confusing at times but I would encourage you to keep going and give the game a chance. As always, I recommend that you at least try the demo to see if this is a game you will like.
June 1, 2014
A REAL ADVENTURE
Mostly adventure with lots to do and plenty of challenges. You will have a homunculus amulet which you will need to recharge whenever you come to recharging station on your search for the plasma to cure a skin disease. You'll be searching in a restricted area. - Interesting story - 3 modes of difficulty - Teleport map showing active scenes and where you will need to return - Task button - HOS -- find the list of hidden objects; then transport to the same scene in a different hue and find a different list. Found them to be sometimes difficult to find objects because the color palette in each scene was almost monotone. - Puzzles: plenty - there was almost too much to do and it took a lot of brainpower to remember where to use an object you just found. Some required several objects to complete. - Mini-games: none that I saw - Graphics: simply awesome. - Music: fast-paced; gets your blood flowing.
June 1, 2014
Lovely Music and Graphics
I love this game. Enough to stop in the middle of playing it to write a review. That's a first for me. I'll admit that the HOS have been very hard for me, but the music is so beautiful I don't mind waiting (a bit long) for the hint to charge. The thing that I had to stop and say is that the graphics, especially the flowers, are just wonderful. Enjoy this one! Note: had someone not mentioned that there were no collectibles I probably would have gone for the CE, but this is great as an SE.
June 3, 2014
Good Game
Enjoyed this. Voiceovers were good, except for the main character (can't remember her name). She was a monotone. I liked the way the HOS's were done. There were two connected screens, and you couldn't find the last item from the first screen until you found all the items in the second screen. Not a lot of puzzles, but the game play was enough to keep me interested. Very good music, some of the best graphics I've seen, and an actual ending to the story. About a 4 1/2 star game for me, but I upped it to 5 stars because of the graphics and music. Fun game.
June 9, 2014
listen to the music
game is brilliant but listen to the music, some of it is so powerful and uplifting.
July 16, 2014
Loved It
Great graphics and mini games. Definitely suggest this one
June 19, 2014
best game ive ever played
i love this game its really good to me
June 9, 2014
The Apple logo is a trademark of Apple Computer, Inc.
The Windows logo is a trademark of Microsoft, Inc.