Magic Bookshop: Mahjong
A new fantastic Mahjong adventure awaits you in this epic story of the struggle between good and evil! Play as a young elf who travels through an enchanted land. Find magical elixirs to prepare for battle with an evil witch, who holds an entire district against their will. Together with a young elf, visit the mysterious Elven Forest, the Mighty Castle of Knights, as well as the underground City of Dwarves. This is no ordinary mahjong game. Test your skills by collecting pairs of books for whimsical clients. Create and use powerful elixirs to your advantage. Can you defeat the evil witch and save the district?
50 levels
8 types of magical elixirs
Unique mini-game
Multiple game modes to choose from
Game System Requirements:
OS:

Windows XP/Windows Vista/Windows 7/Windows 8

CPU:

1.6 GHz

RAM:

512 MB

DirectX:

8.0

Hard Drive:

79 MB
Game Manager System Requirements:
Browser:

Internet Explorer 7 or later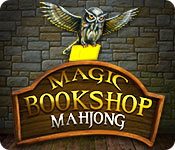 NEW299
The Big Fish Guarantee:
Quality tested and virus free.
No ads, no adware, no spyware.

Reviews at a Glance

Magic Bookshop: Mahjong
0
out of
5 (
0
Reviews
Review
)
Customer Reviews
Magic Bookshop: Mahjong
17
17
Fantastic Mahjong-Time Management Concept!
I've never seen a Mahjong game quite like this one, fast paced, exciting, frustrating and entertaining! The goal of this game is to match books (A.K.A Mahjong tiles) for each of the library clients. A tiny little Elf enters the library and requests a book as shown next to him and you must find a matching pair of tiles, hopefully before his patience runs out and he leaves. There is a Freeplay mode to choose as well which doesn't require you to serve any clients. There are 6 different trophies to earn and 8 different Elixer's to earn which can be used to find a random set of tiles, give you an undo or even unlock a tile. This game can be difficult, I found myself having to repeat some of the levels a couple of times because there were very few matching tiles, none of which were books I needed and you had to make all available matches before the board would shuffle. If there was an available shuffle button without having to earn or buy an elixir, that would have been a better option. I love it when the developers "think outside of the box" and this game is a perfect example of how creative a game can be when they make the slightest changes. This game could really qualify for a Time Management game as well, enjoy!
June 2, 2014
Challenging..... but good
This is definitely a challenging and different Mahjong game with a twist which I like. It gets stressful sometimes because you have to serve the customers, so you are always checking on them and playing the game at the same time. There are also elixirs you have to create to help you further. Yes it is a fast game but that is what I like. If I want slow and boring I may just watch TV. Nice little minigames too
June 2, 2014
Fun game!
Mahjong can sometimes be repetitive and boring...this adds a twist.
June 12, 2014
I really wanted to like this!!
I really love games where I have customers to take care of while doing Match 3's and such, but the timer on this one is just too tough for me. It took me 45 minutes to play 3 levels, which I guess I could take as a good thing because the game would last a long time!! But I did get pretty frustrated running out of time. I was bummed that I couldn't pick a level of difficulty or turn off the timer. If you usually don't have trouble with timers, then you'll be fine, but, sadly, not for me.
June 2, 2014
Not Really Mahjong, more like a time management matching game
In this game, you are presented with a clock to beat and stacks of books with pictures of barrels, gold, crowns and the like on them. Heavily pixelated customers come in the door and ask for a certain book. You find the matches in the piles and more customers come in to repeat the process. You have to serve so many customers and clear all the books by the time the clock runs out. It was okay. Just because it contains tiles/books doesn't mean it should be called mahjong though. It lacked the ability to grab me like a good mahjong game will. But it was somewhat interesting. What I really did not like about this game was the music. The title music was lovely and fantasy-esque to match the story. The level music however, is more like music I would expect in a fitness themed time management game. The graphics were very dated and I felt I was back in the 90s. Okay play and bad artistry mean it's a no-go for me.
June 2, 2014
Mahjong meets time management
I am sure mahjong fans will enjoy the take on this game. As well as clearing boards, you must supply your customers needs as they appear in your book shop, their hearts depleting as you try to meet their needs until the dreaded pulse begins. I admit I only completed half the demo as I was a) finding the music very repetitive and irritating (yes, you can turn it off but then you just have an awful silence) b) I prefer a more relaxing game and I found myself getting anxious as the time ran down (silly I know) Being a novice at this type of game, I didn't manage to work out the tricks and strategies, but I am sure someone will be along in a minute to fill in those details. If you enjoy this type of challenge and are a skilled player then this will probably be absolutely your cup of tea.
June 2, 2014
Time Mgt Game With Mahjong & Elixirs!
BASED ON DEMO IN BRIEF Game opens without Full Screen ratio adjustment, so it is skewed on my monitor. That put me off a little up front. The graphics are cartoon of acceptable quality, with the story exposed comic strip style. No voiceover. Total silence. The music and sound are set at zero, so you need to go do the settings yourself. The music is okay but not what I would have chosen for either a Mahjong game or a Time Management game. And this is definitely both. And an elixir-making game as well. One that is very easy and simple, but which has no explanation of any of the rules. And up front for those who need to know. There is a timer. You cannot progress in the game without beating it, and I had trouble in the 3rd level (but I am really bad at timed games). That is the storied version. You also have the option of playing any of the boards in the Free Play section of the game, without having to unlock them. The story is a simple one. You are an ambitious little elf and you have opened a rapidly successful bookshop. Unfortunately, an evil witch heard about it and came looking to steal a book that could be used against dark magic. Luckily, a wise owl took off with the book and the witch was thwarted. But she trashed the bookshop and now you must find your customers? orders from the disorder, then move on to visit the wise owl. The shop?s customers come in asking for specific books, which you must find on the piles. They each have 4 little hearts above their choices, and if you don?t get it in time, they go away unsatisfied. If you must remove books not yet wanted they go on a bench until needed, where you must remember to give them to the customer. There are 3 different tile sets to choose from. The elixirs allow you to see the correct tile matches for the customer, or shuffle. And, I assume, other things. I only got to use one. There are several you can make from recipes in the Book of Good Deeds. This involves a very strange mini-game with Match 3 elements but totally beyond my grasp or understanding. The instructions are of no help. I couldn?t complete the game and there is NO SKIP. So. Based on my limited ability to play this game, I would have to sadly say it is not a game I would, overall, recommend. Which is a pity. I like games that mix things up a little and take off at a new tangent. For those who can figure out the puzzle, and enjoy a reasonably challenging time management game, this may well appeal! But...
June 2, 2014
Good Idea, Poor Reality
A major mahjong fan, I had high hopes for this meld of time mgt. and mahjong. Good idea. I still think it is, but not as it was realized in this game. The story's ok (This isn't an adventure game so I wasn't expecting a novel!# and the cartoonish characters are acceptable. The 3 tile sets are, progressively, difficult, hard and virtually impossible to distinguish for each other when the timer speeds up #by level 3). More and clearer choices would've helped as would a slower increase in time and objective complexity. The free play aspect is ok but with so many better mahjong games out there, it's not worth it unless you play the main game. An untimed option would've helped, also clearer instructions. But if you enjoy fast-paced action and have sharp vision and reflexes this game may be just your thing. I'm not recommending a buy, but I almost always suggest a try.
June 2, 2014
Too hard for me!
Loved the concept and enjoyed the game but it took me the whole trial period to get through level 2, wish there was a way to eliminate or slow down the time clock. Love to see new mah-jong games but this was way too frustrating for me.
June 3, 2014
I love this game but......
I love mahjong very much and also time management games and I thought I would give this a try. And I love it and would purchase it but for one reason I'm not. The reason is because if you don't complete the task, you cannot move up. And like the rest, I'm stuck on level 2. IF I'm stuck on that level, what is going to happen on the upper levels. The one good thing, is the free play. If you love the challenge then this game is for you. I love a challenge but don't want to be frustrated.
June 8, 2014