The Tiny Tale 2
The Elven kingdom is in great danger! Thanks to the greed of Elven Queen Ginevra the Elven life-giving shrine was corrupted by the Evil Necromancer. The Troll and his fellow Gremlins must find the remaining holy shrines scattered around the kingdom to heal the cursed one and banish the Necromancer. Head on to mysterious journey with your creatures and save the Elven kingdom!
40+ challenging levels
Various spells and enemies
Customize and outfit your little helpers
Challenging time-management gameplay
Try The Tiny Tale
Game System Requirements:
OS:

Windows XP/Windows Vista/Windows 7/Windows 8

CPU:

1.0 GHz

RAM:

512 MB

DirectX:

9.0

Hard Drive:

260 MB
Game Manager System Requirements:
Browser:

Internet Explorer 7 or later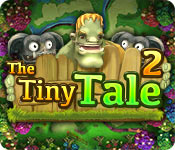 NEW299
The Big Fish Guarantee:
Quality tested and virus free.
No ads, no adware, no spyware.

Reviews at a Glance

The Tiny Tale 2
0
out of
5 (
0
Reviews
Review
)
Customer Reviews
Love Those Little Gremlins!
The Shrine of Compassion has been corrupted, instead of spreading health and well being, the Shrine is now spreading death and the Trolls must find the other Shrines and take a sample of each one to rejuvenate the Shrine of Death. You can choose a Relaxed setting if so desired, and you can speed up the game or slow it down to customize the game. There are several resources to collect such as wood or food and you must send the Troll Shaman to chase away the Mummies, Pumpkin Heads, and Skeletons which will steal your resources. If you build houses, you get more Gremlins which are the one's who do the legwork here, and if you build taverns, they will produce food over time. You are tasked with collecting manna, gold and chopping down trees for wood, and you must fix bridges and corrupt gardens which will produce food as well. There are several alters which when activated will regrow trees and pumpkins and even make the gremlins faster for a burst of time. One of the features I like on this game is that whenever you press the spacebar, you can see what tasks are available in green circles around the items and if the item is red that task is not yet available. When you complete the level in the allotted time, you receive flowers that can be used to upgrade the gremlins and Troll in a 3D virtual room, enjoy!
June 3, 2014
Just as good as Tiny Tale 1
This is just as whimsical as the first installment of this game. The graphics are large, clear and quite adorable. Yet again, I love watching the little shaman troll dance when he turns baddies into mushrooms. I'm not a huge fan of the over-played genre of resource management games because of the lack of originality in them (collect wood, stone and food - they're all the same). But this one is so whimsical and has such nice graphics and enjoyable music that it was an immediate buy for me.
June 4, 2014
ADORABLE AND CHALLENGING
Excellent fun time management game with: - lively music - wonderful sounds and effects - lots of activities and workers to manage. Fast-paced, beat the developers' time in reaching goals on each of its many levels. You'll assign tasks to your gremlins, have the troll defeat intruders, pray for more manna, chop trees, collect pumpkins and berries and gold, build bridges and factories or houses, cast spells (this is just collecting elixirs and going to an altar where you spell can improve your workers or hasten the growth of your resources). SUMMARY: This is such a fun, colorful game.
June 3, 2014
Great Fun Game
There is not a lot I can say about this game that has not already been said by the first 4 reviewers and I totally agree with their comments. Give this game a try. Please don't dismiss it due to the comments made by JeannieT and Grapeleaves. Of course they are entitled to their opinions but I can't understand the reason(s) that they dislike it so much. It's a hard game to play if you try to beat the Developer's score. It's a fun game whichever mode you play it in and Oh yes, in my opinion, the Tutorial is good. Please note that unlike some games, the clock is stopped whilst an element of the game is explained for the first time. Go on have some fun, give this game a go!
June 4, 2014
love it
I loved the first one and i love this one too. More challenging than the first and love watching the characters work.
June 3, 2014
Enjoyable TM Game
I have really enjoyed playing this game. I played in timed mode and you really have to think about your moves before you go into action. I have had to play a level more than once just to get 3-stars. As time management games go, I put this game in my top 5.
June 3, 2014
Great game
love to play this kind of games
June 4, 2014
Loved it !
Bring on Tiny Tales 3 and 4 and 5?? What an enjoyable game to play.
June 12, 2014
very funny
i loved this game. it was much better than the first. the characters are very funny. their between level bantering cracked me up. the story line is well done and carried through. there is a satisfying ending and and untimed version which l love. the game play is interesting and requires thinking. each level has different challenges for you to complete. i'm looking forward to a tt3 in the near future!
June 17, 2014
Can you help restore the Shrine of Compassion?
Once upon a time, there was a miraculous Shrine of Compassion, guarded by an Elven Queen named Ginerva. Mere humans would come and drink from the Shrine and it would heal sickness, even resurrect the dead. But, the Elven Queen felt too many humans were using it and there would be water left for the faeries. So, she cut them off. But, the Shrine could feel it and didn't like that at all and started to get green and smelly and nasty and called upon another Guard --- a Necromancer. Now, the Shrine was doing evil things and was known as the Shrine of DEATH. The Elven Queen, realizing her mistake, hired the trolls to find a cup of water from each of the remaining Shrines. When these 4 cups were instilled into the Shrine of Death, all would be well again and the Shrine of Compassion would return. On your travels with the trolls to find these Shrines, you come across areas that need their help terribly. Get water from altars, harvest food from plants, restore farms and much, much more. The head troll (I guess), who is also the Narrator, turns mummies and other beasties into mushrooms so they don't bother the trolls during their building and renovating. I LOVE THIS GAME! The Narrator gives you specific details about the next level, AND during game play, to help you. I played on "relaxed" mode. You earn flowers based on how well you do and you get to outfit your trolls using flowers as money. How cool is that??!!! This game is a definite buy for me. How did it ever get by me??? Thank you BF for finally getting my attention. LOL. I recommend everyone, especially if you are new to these building games - perfect for a beginner but good and fun for those who are more experienced. Happy Gaming!
August 5, 2014
The Apple logo is a trademark of Apple Computer, Inc.