Sea of Lies: Nemesis Collector's Edition
Exclusive
Another intriguing whodunit brought to you by Eipix, the makers of Hidden Expedition: Smithsonian® Hope Diamond, and the successful Final Cut series...

Authorities are baffled by the death of a prominent citizen, and the Governor himself has asked you to investigate. Can you find out how these men died, how they're all connected, and most importantly, who killed them? This murderer's calling card is your nemesis in this exciting continuation of the Sea of Lies series.

In this exciting Hidden Object Puzzle Adventure game, you'll use a forensics kit to examine murder scenes and look for clues.

This is a special Collector's Edition release full of exclusive extras you won't find in the standard version. As a bonus, Collector's Edition purchases count toward three stamps on your Monthly Game Club Punch Card!

The Collector's Edition includes:
Play the bonus game to uncover more secrets
Earn pirate-y Achievements
Search for "buried treasure" in every scene
Get soundtracks, wallpapers, screensavers, and concept art
Try the available Strategy Guide
Game System Requirements:
OS:

Windows XP/Windows Vista/Windows 7/Windows 8

CPU:

1.6 GHz

RAM:

1024 MB

DirectX:

9.0

Hard Drive:

857 MB
Game Manager System Requirements:
Browser:

Internet Explorer 7 or later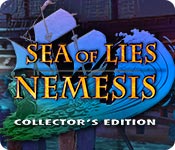 The Big Fish Guarantee:
Quality tested and virus free.
No ads, no adware, no spyware.

Reviews at a Glance

Sea of Lies: Nemesis Collector's Edition
0
out of
5 (
0
Reviews
Review
)
Customer Reviews
Sea of Lies: Nemesis Collector's Edition
43
43
Glorious Variety
BASED ON DEMO FIRST IMPRESSIONS Great interface! That was my first thought. Graphics are below par throughout the game, but particularly rough in the intro, which detracts from an otherwise sound beginning. Not too flashy, but interesting and involving, particularly if you played the first ?Sea Of Lies? game. Although it is not necessary to this story, it is nice to see the return of a friend. SIGHTS & SOUNDS By below par, I am referring to Eipix games specifically, it is only in comparison to them that this game falls short. So by most standards, the graphics are good. The artwork is nicely done. The sound is excellent. Voiceovers wonderful. Just the right degree of accented speech. Lip synched in the speaker?s cameo, still in the main scene. The music includes the Eipix signature tune, but also a good variety of other music in several moods. WHAT?S HAPPENING? As Senorita Addams, famous lady detective, you are called upon by the Governor himself to investigate a suspicious death. The victim had received a figurine of the goddess of revenge, Nemesis, leading the Governor to believe that perhaps Ramirez? recent paranoia was, after all, justified. He cannot be seen to be involved with this investigation, but he leaves you Sergio to assist you. GAMEPLAY Adventure (easy), with a bunch of various styles of HOP and a few puzzles. What the game really consists of is what I am, for the sake of brevity, going to call micro-puzzles. The miniature games are usually no more than a dozen steps in content, and they occur WITHIN some other action. For example, some of the inventory items have micro-puzzles that must be completed for the item to reach its final useful form. And the HOP scenes in this game all represent a collection of micro-puzzles, nested within a single HOP hot spot. They could be any mix of interactive lists, silhouettes, multiples or fragments. So, no one form of HOP dominates. You will find several within a scene, in close up windows. Some are obvious, a few are not, but no micro-puzzle is seriously hard ? because there is no skip for them. The HOPs also include the pan technique, where you move through 3 or 4 segments of a HOP scene, completing a shorter list at each before moving on. Or you can skip all that glorious variety and play a Match 3 game. As well as the usual tools (journal, objective list, interactive jump map and teleporting hint system), you have a forensic kit for taking finger prints where indicated. I think this gadget could be better. The rest is as you?d expect. Lockable inventory. 3 levels of difficulty plus a custom level. CE BLING! Achievements are performance based only and have 3 levels to each. They do not include an award for getting all the collectibles, as far as I could tell. Which are 40 treasure chests. Quite large and easy to see, but not always in the open. Some you have to move other stuff to find it. There is also gold to be found and used to buy items in the chest room. These are largely of a decorative nature. A Chest Hunt game, and the Souvenir Room game, are again included. I love these. The Chest Hunt allows you to revisit the locations where you missed the Chests. The Souvenir Room involves going to each location and finding a further item. There are 30 puzzles and 11 HOPs to replay, as well as the Match 3 game. And there is the gallery. Wallpapers x6, Concept Art x6, photos of the team at the photo shoots, movies and music. There is also a ?Making Of? game/movie, which in other games has been far more than just pix of the team at work. COMBINED IMPACT Despite its strong nautical theme (a favourite with me, and appropriate to the series), this story doesn?t appeal to me as much as most Eipix games do. I do, however, revel in the gameplay with all its glorious variety.
June 19, 2014
A good CE albeit short....
There were many mode options, including custom which I always appreciate. The graphics were fab, and the music in keeping. No helpful critters either. Found a bit too much chit chat, and some VOs were cringeworthy! Loved the HOPs; quite different and no endless junk pile rubbish. They varied, and some were very interactive. Puzzles the 'same old', and mainly very very easy. Ran seamlessly on my Mac. My only gripe and hence the 4* was the brevity of the game. Played main and bonus game. and in total game took 3 1/2 hours.
June 19, 2014
Still Not Sure I Want to Sail This Sea of Lies
You play the game again as Senorita Adams a renowned detective who has been personally selected by the governor to handle a curious murder case. The governor definitely suspects foul play but he requests your utmost discretion in dealing with the case since he doesn?t want to cause a panic in his town. Upon further investigation it seems that the governor is correct and it?s not too long before your simple case becomes much more mysterious and dangerous. I need to make a comment here about something I noticed right off the bat. I begin the game with a bit of confusion as to my marital status since Governor Vega refers to me as both senorita and madam. This is not a big deal but it indicates the lack of editing in the dialog. The graphics are okay but overall a huge disappointment for a game from this developer, and although there are lip-synced voice overs, I don?t care for the voices or the contrived accents. OMG, the overly dramatic young woman in one scene was almost too much. The fact that I had to listen to her sob in the background as I searched the area was a bit overwhelming to say the least. Wow, this may be one of my first disappointments in a game from EIPIX. In Sea of Lies Nemesis, we find the standard tools that are in every HOPA game. There is a journal that keeps track of the story and contains our objectives. We also have an interactive, transporter type map that indicates where we have tasks to accomplish. Another tool we find during our adventure is an evidence dusting case. As we move through the game we will come across items that need to be ?dusted? and this is where our trusty evidence kit comes in handy. There seems to be far higher ratio of HOPs to puzzles in this game than I like. That being said, the HOPs are very interactive and almost mini-puzzles in themselves. However, one of the things that I did not like about the HOPs is that some items were very difficult to find since I couldn?t determine what they should be to begin with, particularly in the HOP where items to find were displayed on gold coins. If you don?t want to or can?t locate items, you have the option switch to a colorful match 3 game. Although I didn?t encounter that many puzzles to solve in the demo, the puzzles were actually quite good and some of them a little tricky, so that is a mark on the plus side for the game. There are treasure chests to find located throughout the game and although some of them are easy to find, some of them are quite well hidden. We also have gameplay based achievements to earn, which I don?t care about since I never can earn all of them. Aside from the bonus game we have some extra games and searches along with the standard fluff that we have come to expect in CEs. I?m still trying to decide if this is one of those games that improve or if it will end up being a huge disappointment in the end. I would like to give the developer the benefit of doubt but given the less than wonderful graphics and the absolutely awful voiceovers, I have a feeling that I might well decide to pass up on this game. I am giving the game a fairly high-star rating since there is quite a bit of variety in the game and many of you will find the gameplay to be quite enticing given the multi-level HOPs; however, I found it a bit too monotonous and mechanical to be truly enjoyable. As always, I recommend that you at least try the demo to see if this is a game you will like.
June 19, 2014
Excellent game sans the fingerprinting... ugh!!!!
I agree with the 5 star reviewers... the game itself is wonderful. The graphics are amazing, creative HOS scenes, and although the plots of these games are rehashed over and over again, i enjoyed unraveling the murder mystery so much so that I bought the game after the hour demo. Although the idea of a female detective in this time period was very forward thinking, it was a bit unbelievable, although it sure would have been great if this was the case. So I kind of went with the irreverence. All was well until I came across the fingerprint kit. Cute idea I thought... until I tried it. I spent half an hour tapping with the brush on the cave door and another hour tapping on the cannon parchment before I became so frustrated that I just quit the game as you can not proceed until these tasks are complete AND there is NO SKIP option. When a game offers special feature it must be flawless. If not the fun factor goes out the window. I would have really appreciated a skip button so I could continue to enjoy the rest of the game. I read that other reviewers had similar reactions to the fingerprint kit... maybe it's a MAC thing. Will I go back into the game and tap until I turn blue... No, I don't think so. And it's too bad because I was really enjoying the rest. Please consider revamping this feature. It created more frustration than fun.
June 19, 2014
Poison, poison everywhere!
I played the Beta of this game and not much has changed except now there are 40 treasure chests to collect instead of 20. There is lots to do and things to find, but game isn't as good as some of the more recent releases. Calling me senorita and madam within a few minutes is slightly irritating besides being grammatically incorrect! Anyway, you are contacted by the governor to find out who is killing this group of men - two are found dead in the demo. The old pirate Ramirez was killed by poison released through the ventilation shaft. You found Mario Medina in a wine cellar, poisoned by fumes from a wine bottle. Both were holding a Nemesis figurine with notes about their upcoming demise. Your fingerprint kit shows a 4-fingered person touched both the shaft and the bottle. And Sergio, the aide assigned to you by the governor, just happens to have only 4 fingers. And is there when you are accused of killing Mario and arrested! The jump map is excellent, the graphics are quite good, and the voice-overs have moving lips. But the story is too cut and dry, at least in the demo. The HOS are excellent, with multi-tiered play using lists and silhouettes. The mini-games are a bit easy. You can play a Match3 game instead of HOS. But the CE bling is over the top, with The Making Of video and the souvenir room -- two of my favorite extras. Of course there is the bonus game, plus a Chest Hunt where your 40 Treasure Chests are stored, and a Chest Room where you get to spend your treasure. Plus a replay of your puzzles and your HOS, and the normal CE bling as well. An overall fine game. But the storyline is a bit too straight forward for 5 stars.
June 19, 2014
Definite buy for me!
Hi all. Here we have another nice game from Eipix. They are becoming a very nice habit. Graphics and game play are quite good. Colors are bright and clear and easy on the eyes. Voice overs were well done, even though I heard a combo of Italian and Spanish, but still better than just reading off a script. Music is the standard and I got so engrossed in the game that I didn't really pay attention to it. There is a jump map, but I didn't even find the need to open it, so not sure how it worked. HOPs are different and interactive with puzzles within the HOP. I found these to be very entertaining. Items were clear and not too difficult to find, but some took some thought to figure out. That's what made them fun. If you wish, you could switch to a match 3. It seemed to me that you actually had to match 4 to get an item deleted from your list, but maybe not. Puzzles weren't difficult, some a little different. SG was the standard, but only shows 2 chapters...really don't care for that. Why not show all so we can get an idea of how long a game might be? Anyway, I didn't have to use the SG much either, because the hint system worked quite well and does include a transport feature. The only collectibles I found are the treasure chests filled with gold. They are not difficult to see, but some are partially hidden. You can use the gold to purchase items for your garden, not sure why, as I didn't seen anything exciting about what you can buy. There are a number of achievements which include a chest hunt and a souvenir lookout. Haven't gotten that far yet. This game grabbed my attention from the very beginning and kept my interest throughout the entire demo, which ended too quickly for me. Even though the story is nothing new, I did find the need to buy this one and see how it plays out. This game has the right amount of fun and challenge and I think it will appeal to all levels of players. Definitely CE worthy and a definite buy for me. As always, try it for yourself and see what you think. We all have different tastes in games and you may not care for this one at all. Thanks for the reviews.
June 19, 2014
great game package
Really enjoyed this one. it had quite a good storyline involving a ship's crew who find of a treasure and the fallout from that as several crew members plot a mutiny to keep it for themselves. Locations were beautiful, there were collectible treasure chests and a good array of achievements to achieve. The VO's were believable. I liked that the HO scenes were a mix of different styles. They had some three level ones and also some where you had to use objects within the scene in order to locate other items. I found the extra chapter entertaining and a decent addition to the rest of the story. My only critique is that the game was quite short. I managed to achieve the "complete the game in under five hours" achievement without even trying to. Now that may be a combination of the game being short and/or the puzzles being really super easy. They took no time at all and they're what will often slow me up. Anyway, overall good game I thought with a lot of extras to offer. A souvenier room for example where to go back to each location and find one object or a challenge to get 100% in each of the HO scenes if you want to play them all over again. I did like it. A pretty good package and an entertaining game.
July 3, 2014
Day early review of EIPIX Sea of Lies: Nemesis CE, (Casual)
Only BAD thing: Visual is pixilated/grainy(so no 5). 4 modes of play. Jump map with objectives. Great variety of HOPs or Match 3. 40 Treasure chests-1 in each scene (shown in lower Rt). NO morphing objects. Fingerprinting Kit for clues. Fun new puzzles. Storyline kept my attention: Senorita Adams is Detective called in to solve murders. 5 guys years ago did something and they're being killed off. At end of test time she was in jail. Definitely you should try this!
June 19, 2014
GREAT ADVENTURE GAME
Review of completed game, bonus and extras. There is: * Voiceovers; * Casual, Expert, Insane and Custom modes of play; * Interactive map; * 40 achievements; * Fingerprint kit; * Find 40 treasure chests in game and bonus; * Play Match 3 instead of HOS; * Unlock Souvenir Room once bonus completed. I played on Insane mode throughout the game and bonus. The graphics were okay - they just took me a little while to get used to. They seemed to me to be a bit grainy at first, but then after a while they seemed to get better. I had no trouble finding the clues and doing the puzzles. The music played quietly in the background - kind of adventure, pirate music. There were many types of HOS. There were the usual straightforward HOS, silhouettes and pieces of items. I enjoyed them all and had no trouble finding them. However, if you don't feel like doing the HOS, you can play Match 3 instead. I played a bit of both. There were many mini-games to play and most of them were easy. Only one sliding tile game had me going for a while. I enjoyed these all as well. You need to find 40 treasure chests in the game and bonus. Most of them were easy to see as you entered each scene, but a few were hidden quite well. I found 38 of them! However, when you have finished the bonus game you can go back and find any you missed. Once you have accumulated some coins, then you go to the Souvenir Room to buy statutes and the like for the room. There are lots of achievements to get - about 40 of them I think. I think I got about half of them. I tried out the interactive map and hint button in the last part of the bonus game. Both worked well and the hint button charged almost straight away. I don't normally use either of these but thought you might want to know. All up, the game took me about 5 hours and the bonus and extras took me about 90 minutes. So overall, a good game. I definitely enjoyed it once I had got used to the graphics and the way the game played. Definitely recommended.
August 9, 2014
A nice sequel of Sea of Lies!
The second game in the Sea of Lies series by Eipix --------------------------------------------------------------------------- There are 3 levels of difficulties. Again the story involved pirates. You are a woman detective investigating death of a famous citizen. Nice VO and graphics, very crisp and fit the scenery. The music is the same like the previous one, a tropical kind of music. I think the VO here is the best among all of their games, really fit the setting in a Spanish(?)language speaking area. HO games are not the usual finding items on the list but more to finding items through silhouette. Bonus contents are a lot altough I don't think I will make use any of them, I enjoy Making Of tab, of course, but they won't be adding much change to the game so I suggest you to just buy SE. The Chest Room is pretty nice, along the way you will collect chest of treasure in which you can spend money to decorate your, uh.. villa. I kind of like this game, fast paced, map and hint is efficient and the story seems very engaging. Although it's usual detective work, there are lots of characters to suspect, and make the game more enjoyable.
June 21, 2014
The Apple logo is a trademark of Apple Computer, Inc.