Sea of Lies: Nemesis Collector's Edition
Exclusive
Another intriguing whodunit brought to you by Eipix, the makers of Hidden Expedition: Smithsonian® Hope Diamond, and the successful Final Cut series...

Authorities are baffled by the death of a prominent citizen, and the Governor himself has asked you to investigate. Can you find out how these men died, how they're all connected, and most importantly, who killed them? This murderer's calling card is your nemesis in this exciting continuation of the Sea of Lies series.

In this exciting Hidden Object Puzzle Adventure game, you'll use a forensics kit to examine murder scenes and look for clues.

This is a special Collector's Edition release full of exclusive extras you won't find in the standard version. As a bonus, Collector's Edition purchases count toward three stamps on your Monthly Game Club Punch Card!

The Collector's Edition includes:
Play the bonus game to uncover more secrets
Earn pirate-y Achievements
Search for "buried treasure" in every scene
Get soundtracks, wallpapers, screensavers, and concept art
Try the available Strategy Guide
Game System Requirements:
OS:

Windows XP/Windows Vista/Windows 7/Windows 8

CPU:

1.6 GHz

RAM:

1024 MB

DirectX:

9.0

Hard Drive:

857 MB
Game Manager System Requirements:
Browser:

Internet Explorer 7 or later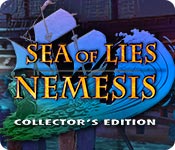 The Big Fish Guarantee:
Quality tested and virus free.
No ads, no adware, no spyware.

Reviews at a Glance

Sea of Lies: Nemesis Collector's Edition
0
out of
5 (
0
Reviews
Review
)
Customer Reviews
Sea of Lies: Nemesis Collector's Edition
41
41
Cliffhanger demo ending
They really try to suck you in with these demos that end right when someone needs help and this one is no different. Graphics are bright and well done, voice overs are right where they should be with only enough info and not too chatty. Loved the HOs as there were many varieties in one game and puzzles, so far, are fairly simple, which fits me just fine. Another female detective story set in a time period I enjoy. I haven't decided if I'll go with the CE or wait for the SE, but it is definitely one I will add to my collection.
June 19, 2014
Free trial: Interesting and stimulating game
This is one of these games from what I call a "New generation": not a revolution, technically limited, but an interesting evolution. As in the Italian Affair, the storyline is far more consistent, the plot more attractive, arousing your curiosity, the characters show more personnality (i.e. in some games, you have dialogs with choices in answers). It seems well balanced. A few reservations: please, stop the introduction with a writer seen from behind or a hand on a phone, and enough of the initial carriage or car !
June 19, 2014
Sea of Lies Very E-Sea
The story, investigating the murders of several people who were first sent a Nemesis statuette, is the one thing about the game that can hold someone's interest. Each murder is accomplished by different means, and some are quite creative. The drawing style is a bit grainy looking. I can't decide whether it is a stylistic choice or just not top quality. Music...was there any? I did not notice it. Same for sound effects. Voices were inconsistent, average at best. There are several objects that are used ....uh...let's say in unusual ways, The hidden object scenes have mostly large objects, mostly easy to find, and objects are few in number. To add a tiny bit of complexity, some inventory items require additional steps before using. There is a mixture of hidden object types, otherwise the play would be intolerably boring. Mini-games are simple, and have very simple solutions as well. Match 3 option exists, but your humble reviewer is not a fan of match 3. This is not a game that requires a lot of skill to play. There are 40 collectible treasure chests, but otherwise the game does not project anything "pirate-y" - at least during the demo. Being a CE, this has the usual other pseudo-extras that do not interest me. In my opinion, this is a game best suited for beginner or intermediate players, or if you just love the story. As for me, I'll either wait for the SE or just sail away.
June 19, 2014
not up to Eipix usual standards
I was pleased initially to see another Eipix game as this firm has produced some of the better games in the past couple years. Unfortunately no home run was hit here, perhaps just a double with no other runners on base. To begin ( and may I offer a long standing gripe with all developers ) we have another female detective. Given the era in which this game is played I doubt very much there were women anywhere doing such work. As a man playing these games, why are the protagonists almost always ladies. Come on devs, give the guys a break!! I'm sure the women players won't object. The storyline is nothing groundbreaking as this is a case of been there, done that. The graphics are not up to the level generally seen in Eipix productions. I do like the way the HOG segments are handled given the variety of tasks within most HOG scenes. The puzzles during the demo, which I completed in 30 minutes, offered nothing we haven't seen before. As I have stated in prior reviews, Devs are churning out games at such a rapid pace that originality suffers. Many HOPA players own hundreds of games. When we see the same old same old rehashed, does not that suffer the dev as to sales? Sea of Lies will surely appeal so some, but not to this granddad. Too bad.
June 19, 2014
Will probably purchase based on demo.
Well, as many of us (BF game buyers/players) have said many times, the good games just aren't there to be had. Although the seafaring thing is not my favorite, in this case, I can get by that as the HOs and puzzles are more involved and interest-holding than the usual "same-old" offered in most "games" today. BUT, this IS NOT a great game. It is an OK game, pleasant to play. Nothing special. don't expect too much.
June 21, 2014
On the Fence (Based on Demo)
I am on the fence with this one. Story took awhile to get into and I am still not sure this will be a buy for me. I am going to wait for the SE version and try again. I dont think this is CE worthy. This was not a game that grabbed me in, I just "kind of" wanted to see what happened after the demo. HOS were pretty good. Graphics were o.k. Something was just lacking and I can't put my finger on it. Try the demo you may like it or you may feel like me and just think it is o.k.
June 21, 2014
ho-hum
I see I am the only one who found this game a tad boring. I actually got lost in what the whole game was supposed to be about. Visually it was pretty good, and it was nice to get away from all the witch, demonic, etc. that we see so much of. I'm just waiting for the ONE! The game that totally blows me away, and this one didn't do it. Games super easy which for me is great. This is just my opinion.
June 19, 2014
Getting sloppy. !!!!
I usually purchase not so sure this time. I hate the use of ho's. Some developers do it different sometime but so much more creative. It's been a couple of days and this is what we get. I need something more much more to peak my interest.
June 19, 2014
Pretty, colorful, unusual locale
The graphics were colorful and bright. The setting was a bit different from the usual. Various levels of difficulty are available, but I still found the game to be too easy to hold my interest. Would be a buy for many.
June 19, 2014
Oh, Eipix... What Have You Done to Sea of Lies?
BASED ON DEMO I enjoyed the first Sea of Lies game immensely, so I was really looking forward to a second installment. How sad I am to say this, but it has let me down! I'm sorry, but everything I loved about the first Sea of Lies was just... gone. I'll start off by saying this story is COMPLETELY different to the last one. If you like pirate-themed games, you'll be disappointed. It's moved from a save-the-person type thing to a murder-mystery. I absolutely love murder-mysteries, but this one was a bit below average. The story took quite a while to get in to, and had some technical problems. Someone seriously needs to do their research here, because something's wrong. The detective actually took the ring off the finger of the victim! I've done research here, and I know for a fact that NO ONE is to touch a dead body! Surely a detective would know this? Content-wise, I wasn't impressed. The game began well, but slacked off a bit during the demo. There was a really stupid plot twist for the end of the demo, which really disappointed me. I was also saddened to find that there was no backstory of any kind. Overall, a very disappointing story. One positive though, is that it follows Madame Adams from the last game. I was extremely disappointed with the gameplay too! The basic gameplay stuff I liked from the first Sea of Lies was just gone! This is the first, last and only time I will ever say this, but I DID NOT LIKE the HOS! They've changed completely from the ones I loved in Mutiny of the Heart. As the old saying goes, ?if it's not broke, don't fix it.? It seems Eipix have become extremely fond of the longer, 3-part HOS. In these HOS, there were some interactive items as well as mini-silhouette HOS. In the first game, the mini-silhouette scenes were nice and long, but in this one, there is really emphasis on the word mini! There were literally three objects to find and then we were done. In the last game, it was about 6. I have one positive to say about the HOS: the mini-HOS did return here. These are smaller HOS that only have about 10 items or so to find. I really enjoyed them. For those who don't like HOS, there is the option of a Match 3. The HOS are evenly spaced out, and I get the impression there will be quite a few of them. I think Eipix need to take a look at some of their older games. Go back to the HOS from those ones! It was what really made me fall in love with you. The puzzles were a mixed bag for me. Some I liked, a couple were a bit hard. Most of them, however, were generally easy. As a whole though, I thought the puzzles were fun to attempt and had clear instructions. Like the HOS, the puzzles are spaced out evenly. The puzzles are nothing new, in contrast to Eipix's last game, which was full of new stuff. As far as additional gameplay features go, this game has a few. It's got + objects, which are items you need to interact with to complete. There are a few of them there. The items are indicated by a + sign, which turns green when the item is ready to be interacted with. This game also has a brand new feature called the fingerprinting kit. I really liked this one. I've been waiting for it to appear in a murder-mystery HOPA. It's only used a couple of times, and is quite confusing when you first use it, but it was really fun to use. I hope it makes its return sometime soon! Other than those couple of features, this is your normal HOPA. It's got 4 difficulty modes, a working hint and an interactive map. However, I was extremely disappointed to find that the diary had been omitted. For me, the diary is key to remembering important story events. Developers may not think the diary is important, but it actually is a very good part of the game. Eipix diaries are especially great, so I'm bewildered as to why they would suddenly decide to remove it. The graphics are, as usual, great. They are the usual Eipix standard: well drawn with nice colours and a lot of detail. Every scene was clear and the character designs were great. Good job by Eipix here. However, I found the voice-overs to be extremely annoying. The accents were terrible and the voice-overs in general drove me mental. I also don't understand it. They were American last time, why suddenly change it to an accent that, clearly, the voice-artists don't know how to do? I don't get it. FEATURES 4 modes of difficulty: Casual, Advanced, Hard and Custom. I played Casual. Custom mode lets you set the game the way you want, and the differences in the other modes are standard. Hint/Skip- both recharge at a reasonable rate. The hint is helpful outside HOS. Sometimes the hint will act as a jump map and teleport you to your next place. Map- The map is interactive and quite helpful. It tells you where your next task(s) can be performed. + objects- These are objects you need to interact with to complete. They are indicated by a + sign, which turns green when the object is ready to be interacted with. This was a great feature. Fingerprinting kit- Even though it was confusing, I found this to be a great feature, and I'm glad someone finally thought to include it in a murder-mystery game. CE EXCLUSIVES Bonus Chapter- not sure if needed. Built in Strategy Guide- shows location of collectibles and is also useful for puzzles. Achievements Collectible treasure chests (40)- one in every scene. They are also used as currency for the shop. Shop- This is where you can spend the gold you find. Here, you can purchase statues. This was a great CE Extra. Souvenir Room- basically one giant HOS. Match 3 levels Replay HOS & Puzzles Replay cutscenes Wallpapers Concept art Snapshots- behind the scenes photos of the actors Music WHICH IS THE BETTER BUY? I reckon you'd be happy with either. Collectibles, achievements and a shop are, in my opinion, 3 necessary CE extras. As well as that, there are a couple of other interesting exclusives here. Those who don't like CE stuff should be happy with the SE. Overall, I've got almost nothing positive to say about this game and, regrettably, I give it a two star rating. The story is ridiculous, and the gameplay that made the last Sea of Lies game so great is gone. This is a major step back for Eipix and the Sea of Lies series. I hope Eipix learn from their mistakes. As I've always said, ?if it's not broke, don't fix it.?
June 20, 2014
The Apple logo is a trademark of Apple Computer, Inc.