Reflections of Life: Tree of Dreams Collector's Edition
Exclusive
From GrandMA Studios, creators of Whispered Secrets: The Story of Tideville and Whispered Secrets: Into the Beyond, comes an exciting new adventure series!

For 25 years, you've thought you were an orphan. But one stormy night, a mysterious man steps out of a mirror in your home and claims to be your uncle. What's more, he says your parents are still alive! The city they live in is under attack from a force that could threaten the entire world… and you're the only one who can stop it. Do you have the courage to step into the mirror and face your destiny? Find out as you journey through a series of strange and beautiful worlds in this Hidden Object Puzzle Adventure game!

This is a special Collector's Edition release full of exclusive extras you won't find in the standard version. As a bonus, Collector's Edition purchases count toward three stamps on your Monthly Game Club Punch Card!

The Collector's Edition includes:
Pass tests of skill to become a guardian of the order
Complete your collectibles tree to open a hidden chapter
Earn additional achievements
Get wallpapers, soundtracks, and concept art
Integrated Strategy Guide
Game System Requirements:
OS:

Windows XP/Windows Vista/Windows 7/Windows 8

CPU:

1.0 GHz

RAM:

1024 MB

DirectX:

8.0

Hard Drive:

1539 MB
Game Manager System Requirements:
Browser:

Internet Explorer 7 or later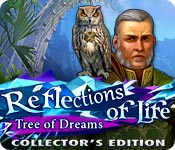 The Big Fish Guarantee:
Quality tested and virus free.
No ads, no adware, no spyware.

Reviews at a Glance

Reflections of Life: Tree of Dreams Collector's Edition
0
out of
5 (
0
Reviews
Review
)
Customer Reviews
Reflections of Life: Tree of Dreams Collector's Edition
46
46
The Forgotten Child
When the people of Earth dream, the dreams come alive in another world. Their thoughts feed Vi Animo, keeping the tree of life alive. (roughly translated heart and soul?) You are the forgotten child, the child raised in an orphanage, abandoned, with only an amulet and a note that reads "Please protect our baby girl, she is in great danger. Her name is Grace" A man suddenly appears in your mirror, briefly before a dark shadowy monster attacks him and pulls him away from your vision, leaving behind a beautiful owl with an identical amulet secured around his neck! After fixing his injured wing, you read the note attached to a crystal asking you to use the crystal to travel to their world and it was signed, Mother and Father! As far fetched as it may seem, you know you will travel anywhere to find your parents, so you use the glowing crystal to open the portal in this seemingly normal mirror, are you prepared for the darkness that awaits? This is a beautifully designed adventure game with bright vibrant colors, filled with all the extras that a Collectors Edition has to offer, Achievements, Wallpapers, Concept Art, Music, Movies, a built in Strategy Guide, and a Bonus Chapter that can only be accessed after finding all 176 Magic Leaves. Yep, thats correct, 176 transparent leaves to find, each scene has several leaves hidden and theres no need to worry if you've found them all because a tab will appear (or you can click on the tab at any time) showing how many leaves are in that scene or how many are left to find. Many of the inventory items you find will have a plus sign indicator that means you either have to fix that item in the form of a mini game, or you need to combine that item with another item such as a filled tobacco pipe that you light with a flint. The owl that you rescued belonged to your Uncle and he tells you that the owl will help you in your journey to save the world. This owl is trained to attack the darkness monsters and even better, you control what and where the owl flies and where exactly he should attack. There isn't really anything special about the Hidden Object Games, they are simple interactive list finds that may require you to pick up one glove and put it with the matching glove to complete the pair. You can opt for a Match 3 game instead, but the Match 3 game isn't anything special either, truthfully it is rather bland and slow, BUT the mini games and puzzles are AWESOME!!! Some of the mini games were same ole same ole puzzles such as turning several rings until you complete a picture, or swapping colored beads until all beads are in their matching colored bases. Other games were way more appealing some I haven't seen before, there was a game that had several keys on the top that required you to use left and right arrows to unblock all of the keys paths so that they would drop to the bottom of the board into the keyhole, the entire row of blocks moves when you use the arrow allowing some keys to fall yet blocking others so you had to be careful not to permanently block keys. My all time favorite was a puzzle, I'm a jigsaw puzzle geek anyway, this was a puzzle with square tiles and there is a black and white ghosted image of the picture in it's entirety on the board. An elephant grabs one puzzle tile at a time and you need to guide the elephant left to right until the puzzle piece is lined up to where you want him to drop the piece. The puzzle doesn't necessarily go row to row, some pieces go ontop other pieces not just side by side (of course eventually they will and none of the spots get blocked in) I really enjoyed playing this game, seems like BF has been thinking outside of the box lately as they are obviously trying to figure out how to improve and progress forward on games that are fantastic to begin with, in order to keep the games current not stale. Personally, I find myself expecting more and more out of the CE's the more they give us, the higher the bar raises, give this game a try and see if you don't agree, enjoy!
June 21, 2014
YES YES YES!
PARENTAL WARNING - THIS SUBJECT MATTER RELATES TO DEMONS. I think this is the first game ever I have given all blue bars to. It was EXCELLENT, and with the sale this weekend, a buy for me! I'm not one to retell the story, so here's what you need to know. All the usual stuff, levels of difficulty, bonus areas and strategy guide with the collector's edition. And it looks like you will be able to revisit the hidden object scenes when the game is over. There are 176 leaves to find in the story, but they tell you when you have found them all in a scene - perfect! They can be a bit sneaky... but easily findable. Hidden object games happen, and previous hidden object areas are revisited, but they are in a fairly short list, easy to see, in a reasonable quantity and they change up what you are doing each time. You can do a Match 3 puzzle in lieu of finding all of the hidden objects. LOTS and LOTS of puzzles and mini-games, and NEW ones! Nothing horribly difficult, but I had to reset a few times when I assumed they were easier than they first appeared to be. I want to tell you what they are, but actually, that is part of the game - figuring that out, so I won't mess that up for you. Large quantity of inventory items, but you use them (so far) fairly quickly. They stick to about 7 major screens at a time and revisit them, so travelling is kept to a minimum, but then there are many other worlds to visit. Yes there is a navigatable map. Easy to use - a flower for your location, an exclamation point for areas you need to visit. Okay, so they added in some cute little animals to the scenes - oh admit it - they make you smile a little. But your main helper is an owl. If you get to the end of the demo the story is going to make you want more... Just saying' :-)
June 21, 2014
Hours and hours of play .....YAYYYYYYY!!!
Great game, not quite as good as MCF Fates Carnival but certainly in the race. What a fabulous game. I took my time with this one as I love this type of graphics and the fact that each scene had several play and puzzle areas.....ALWAYS a plus for me. I really get bored with "lining up" puzzles which was a bit of a pain for me, I was able to finish most puzzles, only skipped a few because they were tedious and too long to complete more than challenging. I do not like challenging, entertainment is my gig. And this game was most entertaining. Story line was good but nothing special. It took me roughly 8 hours to complete and that's what I call my money's worth. I think the only time I would call a CE a money's worth game is if the storyline is completely new with a few or more twists or hours of fun and entertaining play, like this one. I did get it on the sale but it was worth the full price. There was one chapter that completely stumped me and I had to use the map, the hint and the guide to get through it. Which rarely happens. I liked collecting the leaves and the bonus chapter was fun but terribly short. Now if we could just get more of this type of game. :D or of course like Fate's Carnival....still the top game for me.
June 22, 2014
Bravo developers.....not recommended for kids though!
GrandMa Studios created new hit about fantasy world and forces of darkness that must be stopped by any means necessary in Reflections of Life: Tree of Dreams Game! There is another world, world of dreams, hidden near our own. You can see this world each time you?re watching in the mirror ? every mirror in the world is a portal to the world of dreams, but almost no one able to use these portals. Alice from Lewis Carroll?s book visited it once. For two and half decades of your life (actually, for all your life!) you thought that your parents are dead and you?re an orphan, but you?re wrong. They are trapped in the world of dreams, and now you?re their only hope! Travel to the world behind the mirrors and save your parents in this awesome Hidden Object Puzzle Adventure!
June 23, 2014
My Family is Not Dead but in an Alternate World?
Storyline: You are Grace, orphaned as a young child, and now that you've grown and it's time to move on from the orphanage some strange things have happened. You thought your parents were dead. You find an amulet with a note attached that says "please take care of our little girl". If that isn't shock enough, in the midst of a terrible storm, a man appears who says he's your Uncle and your entire family has been living in another dimension. Your amulet will allow you to travel through mirrors to different worlds. But, he says, the world where your family is, is dying. Evil darkness is spreading. He can say no more because ...... a monster comes out of the mirror and takes your Uncle back inside. Those monsters are being controlled by an even larger Evil. What can you do? You HAVE to find out if your parents are really alive. So, off you go through the portal that your mirror has become. In your desperation to help you find a prophecy. Are you the "forgotten child" who will save everyone? Is this YOUR destiny? Graphics: Pretty amazing. Not too dark and dreary but nothing bright and cheerful and cartoony either. The colors were a bit muted but I thing quite appropriate for the scenes. Sound: The voiceovers were great. As long as I can hear them and make out what's being said, that's a plus for me. Background music wasn't tedious and the sound effects were really good - from the windy rain storm to the owls. Game Play: There are 4 (or 5) mirrors (worlds) for you to go through. In the area where the mirrors were, I clicked on a large turtle and a dreamlike scene appeared with 5 mirrors - one had an angelic looking figure standing in front of it. They were named as follows: Lunos, Librios, Florus, Medios and Somnios. So 4 or 5? Guess we have to play the game to find out, huh? The object of the game is to go through all the mirrors and destroy the Evil that threatens to destroy the other worlds. It appears to be a long and arduous task. But, you have your Uncle's owl to help with things that are too high for you to reach - after you heal him. Don't worry - you don't have to name him or dress him or call him Cutey and he doesn't squawk, caw or speak. Silence is Golden - LOL. HOGs: Very nice to play for a change. Nothing dark and dreary. Nothing tiny and impossible to see. Yes, there were interactive items but for the most part straightforward itemized lists of items to locate. You can choose to play a match 3 game instead. Your reward, of course, is an inventory item. Mini Games: Some were very simple while others required some definite brain power. I had to skip one (for time's sake, when I own this game I'll definitely work on it until it's finished - HEY, did you get it? WHEN I buy it - HAH!). I'm sure those of you who played the demo know to which one I refer. You are armed with some usual things and some rather unusual things in this game. For instance, an "album" that holds important notes and story information. A map (looks like a compass) that is transportable and indicates where you are and where an active objective is. I love that you can zoom in or out of the map areas to get a better picture of where you are going. A briefcase that holds rare items that will help you throughout the game (but you never see them once they go in there - hm) and the customary tutorial you can choose to take or not. There are 3 modes of difficulty - casual, advanced and hard. There are also "plus items" in your inventory. CE Bling: Bonus Chapter AND a Hidden Chapter Strategy Guide Achievements Wallpapers, Concept Art (12), Music (4 tracks), Movies; and 176 leaves to find hidden in each scene. NOT one in each scene - it appears to be 3 in each scene. And when you find one, a little sign comes out the left side of your screen informing you how many are left to find in that scene and the total number you have found altogether (for example, "there are 2 more leaves in this area" and "5 of 176"). What happens when you collect this humongous number of leaves is beyond me but I can't wait to find out. So, in this not-so-little-nutshell, the game has been explained and reviewed. This Glam-ma is sitting on the fence re purchasing it in the CE version or holding out for the SE and seeing what it has to offer. While there are definite items that pique my interest in the CE version, my pocketbook is only so deep and there have been quite a few good CEs that have recently come out - so Glam-ma has to be a bit watchful of how she spends. Too bad. Anyhoo - (HAH, I said "hoo" - owl in the game - hoo hoo - I slay me - LOL). I encourage EVERYONE to try this game. The demo is free and you get a remarkable 90 minutes to play. I can almost bet most of you will really take to this game and want to hit that "BUY" button right away. Happy Gaming!
June 22, 2014
Beware the dark tornados!
The story opens with a monster dragging your uncle back through the mirror portal -- and it is a pretty good depiction of a monster. After that, however, the evil is all dark smoky and windy tornados -- not too scary except at the end of the demo you are literally hanging from a cliff -- a real cliffhanger of an ending! The demo took me 81 minutes to complete! I took my time and enjoyed all the puzzles, which aren't too hard but some are unique ones we haven't seen. I am really enjoying the new method of presenting demos -- not really time-based, but dependent on getting to a logical place to stop. Anyway, you are the orphan Grace, who can save your parents' world from the dark winds, according to your uncle who comes through the mirror to visit you with his owl. You follow your uncle back through the mirror and find several portals you will have to solve and visit to create pieces of your Vi Amino Amulet, to save the dream world. The graphics make you feel like you are immersed in the world, not just watching. At the end of the demo, you can scroll though multiple screens of artwork that are just gorgeous. The only voice-over so far is your uncle, but he is well-done. The extensive jump map has zoom buttons to examine a location more closely, plus you can scroll the map in 4 directions. There are only 3 modes of play - no custom. You collect 176 leaves - four per scene - and you are told when you've found them all. The first four are hard to find, but the rest seem fairly easy to spot. If you find all the leaves and solve the puzzle, you get and extra Hidden Chapter, in addition to the Bonus Scenario. Of course there are achievements as well. Your uncle's owl becomes your assistant to fly up to those high places you can't reach, and attack the monsters for you -- but still needs your help. The HOS are lists that can be swapped out for a Match 3 game. The HOS scenes repeat, but the items you have already found are missing. I liked the mini-puzzle that required you to move 4 keys to the bottom, as well as the one to find about 7 pieces of a boot you needed to enter another room. This game is both challenging and easy at the same time. There are so many things to do, and places to visit, it seems it will take a while to complete. Thanks to the jump map, it is easy to travel around the game world, which appears fairly large. This is an interesting game, and a definite buy for me.
June 21, 2014
DREAM ON
I just finished this game and can honestly say I really enjoyed playing, played the bonus also, visual were excellent and loved the story line, Loved the idea of the owls also, but then again I love fairty tale guardian games, Hats off on this one, was a winner for me and the entire family. Keep em coming please. this is one of those games will play over and over with grandkids, thanks again
June 21, 2014
I found this game delightful!
What a nice change, the different puzzles were refreshing. I enjoyed the varying formats even though some were simple to solve the formats were new. I found the length of play to be very worthy of a CE. I don't usually write reviews but I found some of the reviews a bit too harsh.
June 30, 2014
EXCELLENT GAME ALL AROUND
HI Gamers, I love this game. I know I have said that and given great reviews on a lot of games in the last few months. I take my reviews very seriously because I would want to know whether it is worth the buy or not. With that said, the story line as imaginative and new, the music is so good I am saving it to my computer, the visuals, voice overs, mini games also great. The HO's can be played as is or in Match 3 mode. As a reviewer this game is worth the buy. Happy Gaming, Addy
June 27, 2014
Great game - FANTASTIC value for money
I bought the CE and I have to say I would recommend it to everyone. The main game is great fun and I thoroughly enjoyed searching for virtually invisible leaves throughout and getting help in high places from an owl. This hint button is a boon (especially when you're as impatient as I am# and there is an interactive map. The only thing is that the 'diary' type book only shows the video clips and isn't a complete update on the game, so if you need reminding on something you have to try and remember.. The game flows quite well into the different 'dream worlds' with the aid of a map on the side of a turtle! #Anyone say Pratchett?#. The voices are good but not intrusive and the graphics are very high quality. I will admit, I wasn't expecting such a good game from the title and was very pleasantly surprised. The CE comes with the usual bonus chapter - which I have to say is the best value for money I've seen in a long time, its not a teensy tiny add on, for once its an entire chapter so to speak - great fun. You also get a 'hidden' chapter as well #providing you find all the leaves - but don't worry, if you don't - because you can click on the ones you didn't find and it takes you to the screen where they are to give you a second go!#... All in all a fantastic game and it has owls in it - need I say more? Wish all CE games gave this great value.
July 13, 2014
The Apple logo is a trademark of Apple Computer, Inc.