Hidden Expedition: The Crown of Solomon Collector's Edition
Exclusive
The expedition continues... Track down the fragments of King Solomon's crown and foil a madman's plot in this exciting follow-up to the bestselling series!

You've stopped the Robideaux family from stealing the Hope Diamond and using its shards for their own twisted ends. But before Robideaux's cargo can make it safely back to the museum where it belongs, a criminal has stolen a valuable artifact. It's a piece of King Solomon's crown, long broken apart, its fragments scattered across the globe. Can you pick up the pieces in time?

This is a special Collector's Edition release full of exclusive extras you won't find in the standard version. As a bonus, Collector's Edition purchases count toward three stamps on your Monthly Game Club Punch Card!

The Collector's Edition includes:
Track down H.E.L.P.'s history in the bonus game
Collect nearly 50 crowns throughout the game
Find morphing objects and earn special achievements
Soundtracks, wallpapers, screensavers, and concept art
Try the available Strategy Guide
Game System Requirements:
OS:

Windows XP/Windows Vista/Windows 7/Windows 8

CPU:

1.6 GHz

RAM:

1024 MB

DirectX:

9.0

Hard Drive:

1065 MB
Game Manager System Requirements:
Browser:

Internet Explorer 7 or later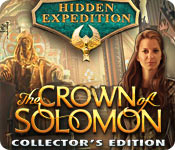 The Big Fish Guarantee:
Quality tested and virus free.
No ads, no adware, no spyware.

Reviews at a Glance

Hidden Expedition: The Crown of Solomon Collector's Edition
0
out of
5 (
0
Reviews
Review
)
Customer Reviews
Hidden Expedition: The Crown of Solomon Collector's Edition
60
60
Better than expected if you don't compare with Hope Diamond
BASED ON COMPLETED GAME & BONUS In a nutshell, it's better than most games, just not as good as Hope Diamond - but few games are as good as that in my opinion. My thoughts: THE GREAT: -Adventure, adventure, adventure!! This is for all you adventure lovers out there. Trust me, you don't want to miss this game. Very exciting and action-packed in comparison to most HOPAs. This by itself made the game for me. -Most of the graphics (still scenes) were really beautiful and up to typical Eipix standard, which is better than many out there. -I thought the HOPs were great and creative. Don't judge those based on Demo only reviews. They got better after the demo in my opinion. -Interactivity - some of what I think people are calling puzzles are just interactions with the environment, which we've seen more frequently in the more recent games. That being said... THE OK or MIXED FEELINGS: -True, most (not all) of the puzzles (mini-games) were a bit too easy. They never has been Eipix's strong point, though. If they weren't so darn good at adventures, I wouldn't love them so much because I LOVE puzzles. But somehow I still manage to overlook that. -Cut scenes. See, I love good cut-scenes, and they had lots of fun ones here that really developed the story and created intensity/excitement. But, so many of them were really pixelated, as others have mentioned. HOWEVER, MOST games don't try to do as difficult and action-packed of cut scenes as this...so...it's hard to be super judgey. I would rather they have pixelly cut scenes that make this as much of an adventure as it was rather than not have them at all, personally. And to be fair, they did keep them short. -Also, for the record, I love their trademark blend of animated-real people. Except for when they are really pixelated and/or they looked weirdly different from their "cameo" self, both of which happened a few times. THE UGLY: -Oh my lord, Eipix, you give us all these custom options but don't give us the option of turning off the "YOU FOUND A COLLECTIBLE!!!!" notification OR turning off the Objectives Notifications?? This was beyond annoying. Truly. -Need a bit more work on the music section...that main theme is repeated too much, even though I can tell they are variances...they need to branch out a bit more. -The strategy guide. I don't use these much, but when I occasionally do, I expect them to help me out. But they did not include solutions to the HOPs. Weird. Maybe it was intentional, so you can't cheat on the achievement for completing all HOPs without a hint? NOTE ON DIFFICULTY: Eipix gives you more custom difficulty options than most developers. I don't think it's fair to complain about it being too easy unless you played with no tips and no contextual pointers (which is true for some of the complainers, but not all). I played with tips turned off and I felt it was a reasonable level of difficulty in terms of the gameplay itself, while HOPs were a mix of moderately challenging and easy, and most of the puzzles as mentioned before were on the easy side. I thought after reading the reviews that the gameplay would be too easy and therefore boring, but I do NOT feel this was the case. Despite some annoyances and a bit of a drop in visual quality/puzzle difficulty from Hope Diamond, I still think this game is a solid 4.5 (rounded up because it's current rating is lower than that). I think if this game came out today and we hadn't played Hope Diamond before, we'd be jumping all over it more than I'm seeing. Just my opinion. CE or SE? I rarely buy CEs, but I did for this one. You get a lot of cool extras, more than your average CE I feel. Lengths of main game and bonus were also very good. AND you get to throw tomatoes at bad guys to unlock one of the extras in the end. 'Nuff said.
July 6, 2014
It has everything
Really loving Eipix Games. Will be looking for more from them. Has morphs, collectibles, achievements (that are doable and one may achieve some of them like HOP times and mini games after one has finished the story), fun story line, nice graphics and music. My only WANT: More HOPs ...at least 4. I recommend this game!
September 4, 2014
So good!
There was a great mix of HOP and different kinds of mini games. Lot's of fun extra's on the CE. The bonus game for the CE was worth the extra money. Definitely one my my favorite game developers right now!
July 21, 2014
Wonderful Adventure In Search of A Pricless Relic
Hidden Expedition: The Crown of Solomon is an exciting adventure game that takes you all over the world and under the sea in search of King Solomon's crown. Like watching an Indiana Jones adventure with high tech gadgets to H.E.L.P. you outwit the villains and get you out of some sticky situations. I could have been watching this as a movie on the television. It was really good. So hats off to the hardworking team of Eipix for another wonderful Hidden Expedition game. The only thing I can say is that the game was a solid adventure and really did not need the hidden object scenes. They were done well. I just think this game would be better without the HO scenes. Thanks Big Fish for bringing us such great entertainment I totally recommend this game.
July 8, 2014
IN BRIEF
BASED ON DEMO FIRST IMPRESSIONS Wonderful new intro to the main page. Great main page. Beautifully different introduction/tutorial has us finding yet another totally new way of arriving at our destination. SIGHTS & SOUNDS The cut scenes are excellent, a vast improvement on the beta, the graphics are a delight, close up and location. The sounds include the signature number for Hidden Expeditions 6. A little too much of it. The atmospherics and special effects are great. The voiceovers, too, are very well done. WHAT?S HAPPENING? Having successfully completed our first mission for H.E.L.P. (no, it isn?t necessary to have played the previous game, but I seriously recommend it), we are flying home with the treasures when we discover a traitor on board. Eventually, we end up in Istanbul, in pursuit of smugglers, and the evidence points to parts in the far north. It seems we are off on a new mission in the heart of the Arctic Circle, recovering the pieces of the powerful artifact, Solomon?s Crown. GAMEPLAY All the gameplay is easy, at least on the easiest of 3 levels + custom, but I loved it. The mini-games are amusing not challenging. The HOP scenes are beautiful and imaginative with 3 different search types in one HOP. The map is a teleport, the hint is directional. The H.E.L.P. box (gizmo) that acts as journal includes Fact Cards, and Achievements, as well as replayable messages from the main office. CE BLING! There are 44 Crowns to collect, and an unknown number of morphing objects found only in the HOPs. I love that! The achievements include Mystery Achievements, along with performance and story ones. The gallery items; pix, music, movies, replayable puzzles and HOPs are all accessed via a simple little mini-game each. Love that too! There is also a Souvenir Room, which is basically another intricate HOP. And a Making Of which are always fun when Eipix produce them. COMBINED IMPACT I couldn?t dream of living without it lol.
July 3, 2014
A Very Enjoyable Game ...
Great Graphics, Sounds, Animations, Effects, Voice & Video Bits ... I Always Enjoy A Game That Makes You Feel A Bit Like You Are In A Movie ... Enjoyable Layered HOGS ... The Extra Chapter Was A Nice Addition, But Not Essential To The Main Story ... I Got Mine On Special, So I'm Happy ...
July 11, 2014
very good
we loved it... really enjoy the various styles of hidden object play. puzzles are relatively easy.
July 13, 2014
Suspense, thrill, adventure!
A game by Eipix -------------------- Ever since Eipix took over the series from BFG, the games have increased significantly in story and quality. The interface is also a one step further, and Eipix is one of those prolific game developers. I am glad they come up again with this one. It's truly one outstanding game. This time you are to find the Crown of Solomon. The cinematic is really like scene from a movie, more like Indiana Jones to be precise. I am glad that Eipix does not focus on HOPs but more to the good quality story. HOPs are just additional mini game. Puzzles are also of moderate variety. Nice graphics, very life-like, especially the scenery. Honestly I have never been to any of the country mentioned in this game, and I am glad that they show them beautifully. VO also very nice although some of them don't really fit the character, but it was not a big deal. Music also fits the scene. I feel like I am in Central Europe. Many bonus contents, great addition to the CE game. Even without those extras, this game itself is already one great package all in itself. Definitely 5 stars.
July 4, 2014
Another Masterpiece
I love these Hidden Expedition Games. There is a certain quality of excellence: graphics are breathtaking; HOS supreme; story line engaging - what more can I say. Just started the game and cant wait what happens next.
July 9, 2014
Possibly The Best Hidden Expedition - Lots of Fun!
The Story begins with finding a priceless artifact and then a murder. It looks like we are in for a great ride with this exciting new adventure in the Hidden Expedition series. Hidden Expedition The Crown of Solomon is a tale of treachery, loaded with mystery and secret agents. Are you up to the challenge to solve the mystery of The Crown of Solomon? The graphics are very good but for some reason the graphic artists have chosen to use that misty wash that I don?t like. With a game from EIPIX we always know that the sound package will be awesome and Crown of Solomon is no exception. Your H.E.L.P. box contains your video messages, fact cards, and a section that shows your achievements. You have an interactive map that can be quite helpful. I am not going to go into all the HOPs but will note that you should keep your eyes open. Discovery is half the fun ? right. I happen to like the HOPs that EIPIX includes in their games since there is always a lot of variety. As for the puzzles, they are good and my favorite part of all HOPA games. EIPIX does not disappoint with the variety and number of puzzles included. Some are easy but others can be a bit tricky. If you are looking for a game with great CE content this is the game for you. We have 44 crowns to find and 12 morphing objects and some of them are tough to find. Of course there are achievements to earn but I don?t care so much about those since most of them are gameplay based and there are some I will never earn ? lol. One of the extras I enjoy most is the opportunity to replay some of the puzzles. Throw in the Souvenir Room, pictures and the Strategy Guide and you have a CE that is sure to please a variety of gamers. Overall, this new Hidden Expedition game is wonderful and probably will be my favorite in the series. For me the game was an instant purchase but as always, I recommend that you at least try the demo to see if this is a game you will like.
July 3, 2014
The Apple logo is a trademark of Apple Computer, Inc.