Hidden Expedition: The Crown of Solomon Collector's Edition
Exclusive
The expedition continues... Track down the fragments of King Solomon's crown and foil a madman's plot in this exciting follow-up to the bestselling series!

You've stopped the Robideaux family from stealing the Hope Diamond and using its shards for their own twisted ends. But before Robideaux's cargo can make it safely back to the museum where it belongs, a criminal has stolen a valuable artifact. It's a piece of King Solomon's crown, long broken apart, its fragments scattered across the globe. Can you pick up the pieces in time?

This is a special Collector's Edition release full of exclusive extras you won't find in the standard version. As a bonus, Collector's Edition purchases count toward three stamps on your Monthly Game Club Punch Card!

The Collector's Edition includes:
Track down H.E.L.P.'s history in the bonus game
Collect nearly 50 crowns throughout the game
Find morphing objects and earn special achievements
Soundtracks, wallpapers, screensavers, and concept art
Try the available Strategy Guide
Game System Requirements:
OS:

10.9/10.8/10.7/10.6

CPU:

1.6 GHz (INTEL ONLY)

RAM:

1024 MB

Hard Drive:

1041 MB
Game Manager System Requirements:
Browser:

Safari 4.0 or later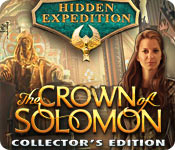 The Big Fish Guarantee:
Quality tested and virus free.
No ads, no adware, no spyware.

Reviews at a Glance

Hidden Expedition: The Crown of Solomon Collector's Edition
0
out of
5 (
0
Reviews
Review
)
Customer Reviews
Hidden Expedition: The Crown of Solomon Collector's Edition
61
61
Liked this game
I found the story line immediately got me interested, The items that were put in the inventory were many and the use for them did not take long to figure out. The flow of the game was very good.
July 3, 2014
I should have hidden
The opening story was great. It sucked me right in and kept me hooked all the way. It was so fun that I didn't mind the easy puzzles and so so HO's. The whole story made me feel like the character and kept me connected to all around characters and events. Great game, Easy game. Will go on my to buy list.
July 3, 2014
Not Bad But Not Great Either
Usual story of bad guys making off with the treasure & you are the detective hot on their trail. You, of course, are foiled and off we go trying to nab them before they do us in. Graphics: Are still old school looking to me. They sometimes look like they couldn't agree on a color scheme & just used one of each. Characters: Are finally more realistic looking & the VO seem spot on. HOS: Interactive & seem to be of a better caliber/more fun. Mini-Games: Seemed a little simple & not very challenging. All in all this seems like an engaging game that moves along without becoming tedious. At the end of the demo you are left in quite a precarious predicament & I'm looking forward to seeing how it all works out.
July 3, 2014
Glad to see an enjoyable game again.
Great game for casual entertainment. Had been lacking recently, but enjoy this one. Off to buy it!
July 3, 2014
Great fun game
This is a fun Hidden Expedition game with a good story line. You play a detective that must hunt down the pieces of King Solomon's crown because whoever has it can have the power of King Solomon. Overall it's a good game. Patience is required because there are certain things that requires precision. It'll take a couple of tries before you get it. Definitely check this one out.
July 5, 2014
Bland entry to the Hidden Expedition series
The visuals and sound are very good. Navigating is, for the most part, smooth although a few of the interactive inventory objects seemed to require exact placement of one item over the other to interact. Without this exact placement it seems as if you just chose the wrong two things to combine. The HOS were very simple, very few, and not incorporated into the storyline very well. I can't remember a single one that required you to find more than 8 or so items per scene and almost all items were clearly identifiable when first glancing at the scene. There is no real searching for things in these HOS. Some HOS had an "interactive" component that required moving something out of the way to find an item that was completely obscured but these were very easy to recognize. The puzzles were equally simple. In one case you had the solution to the puzzle in your inventory before you even got to play the puzzle. In another you assemble a torn picture from six fragments. I would say I'd like to see more puzzles because there weren't many but, given that they were mind-numbingly easy, maybe it's better that they're also few in number. The storyline, although not super-original, was somewhat interesting. Unfortunately, I don't think it's interesting enough to make up for the weak HOS and puzzles. People who like the adventure component of these games may find this game too easy for them as everything is pretty straightforward and predictable. Even though I had game tips turned off I occasionally received messages in the bar at the top of the screen telling me what to do. I don't mind this too much personally but I've seen a lot of reviewers complain about this kind of issue so it's worth mentioning. There are lots of collectibles which I liked. There are achievements which is fine but when you get one the notification flies out over the screen and was a little bothersome. Overall, this game really doesn't stand out in any way especially compared to previous games in the series. For a HOPA game it is very lacking in the puzzles/HOS department and even the adventure component is pretty simple. People seeking any kind of challenge aren't going to find it here. The storyline is not sufficiently interesting to overcome this problem for me and I feel pretty disappointed in this game. I own almost all the other Hidden Expedition games and had high hopes for this one. It just doesn't measure up though. It has none of the charm, humor, or challenge the others have. It's a rather bland game which doesn't justify the cost of a CE in my opinion.
July 3, 2014
Not All That Bad,Just Not Up To Standard
BASED ON DEMO Since taking over the Hidden Expedition series, Eipix has made some great progress with it. I fell in love with the first game, Hope Diamond, and so, had high hopes for this one. While this game was nowhere near as good as Hope, I still enjoyed the demo. Although I'm not really in to the whole archeologist/lost, powerful symbol kind of stuff, I found this story to be fairly interesting. It started off well. There was a real element of action and mystery in there. I was drawn in to the story straightaway. After the opening, the story improved. I continued to be impressed and interested by it. There was a slight backstory that added extra enjoyment to the game. However, the ending of the demo confused me a little. I had absolutely no idea who the people were and how they knew me. I just didn't get it at all. On the technical side of things, the story improved from the previous installment. What was so wrong with the previous installment was that it started with a scene from halfway through, thus making it less interesting. This game fixed that, and the developers should be applauded. However, where this story fails for me is that the characters have no personality to them whatsoever. I get this is a serious game, but that doesn't mean every character has to be serious, does it? Eipix have been jazzing up their HOS lately and they have done so once again with this game. Gone are the days of just standard interactive junkpile, and in are the days of interactivity and challenge. The HOS from Eipix are a lot more challenging, a lot longer, and more interactive than they used to be, and that made them really enjoyable. I respect this developer's guts to try something different, because it has paid off and will pave the way for future HOPA games. I found 3 HOS in the demo, so that gives me the impression they are spaced evenly. The puzzles disappointed me a bit, to be honest. They were all the same stuff we've seen before and were easy. I had no trouble completing them. Like the HOS, the puzzles are also spaced evenly. In terms of additional gameplay features, this game is a massive step backwards for Eipix, especially considering how many great features their last few games have had. There were + objects, which are becoming more and more of a standard, but I still enjoyed them. The + objects were indicated by a + sign, which lit up when you could interact with the item. Another feature that makes its return from the last game is the collectible cards. These, in my opinion, are completely useless and just a waste of time. I didn't enjoy reading them, and felt that they should have been replaced with something more fun. This game is kind of lacking in the basic stuff too. We do have a map, but we do not get one until part of the way through, which is really, really annoying. There is also no diary, which I disliked strongly. I love diaries in HOPA games. They help me remember the story. However, in its place was the H.E.L.P box, which displayed messages given to you by fellow group members. These are replayable. I did like the H.E.L.P box feature, but I would have liked a diary as well. In terms of overall challenge, I found this game quite easy. I had little trouble figuring out what to do next, which is also a step backwards from the developer's last couple of games. The one thing I can always count on with Eipix games is their top quality graphics. They are the same here. Their artwork is so wonderfully drawn, with lots of details and some nice colours. Everything is clear and chatacter designs are well done. Voice-overs are standard. I have no problem. FEATURES 4 modes of difficulty: Casual, Advanced, Hard and Custom. Custom lets you set the game the way you want. I played Casual in order to give a fair review. Hint/Skip- they charge way too quick. For example, I played a puzzle. I opened my drink bottle, took a sip, replaced the lid and the skip was done. There's a such thing as too easy, and this is it. I play casual to relax, not to be babied. H.E.L.P Box- this displays messages given to you by other H.E.L.P members. These can be replayed. Collectible info cards- As I said before, completely useless and a waste of time. Map- I did not acquire the map until part of the way through the game, but when I did, I found it very useful. It displays locations where there is something to do, so I was rarely lost. CE EXCLUSIVES Bonus Chapter Built in Strategy Guide- will show collectibles. Achievements- some have more than one level (e.g. finish one HOS with no hint for level one, three for level two, etc...) Collectible crowns (44)- One in every scene. If the past is the same as now, the collectibles won't be available in the bonus chapter. Pictures- this is the home of wallpapers and snapshots. You actually play a little minigame to assemble the camera before you can go here. Souvenir room- basically one giant HOS. Music Re-watch cutscenes Making of- I've seen one of these before and didn't like it. Replay Puzzles & HOS WHICH IS THE BETTER BUY? I'm not going to purchase this game, but my advice would be to wait for the SE. There's not much in here that appeals to me. I do like collectibles though, Overall, based on the gameplay, I'm going to give this game a three star rating. This developer has released other games that are so much better. This game has almost no additional gameplay features, which makes it pale in comparison to other games out today. That being said, it still was interesting. The three star rating is not a like/love, but it's just in comparison to other games by this developer and others on the market today. If this game were a 2012 game, it would probably be a five. Please do give the trial a whirl and decide for yourself. I enjoyed the trial, but will go no further.
July 19, 2014
Not nearly as good as the Smithsonian that precedes this game
When I saw a new HE game to try I was thrilled. When I recalled that Eipix had taken over the franchise the thrill grew. But then the game started. My overall impression is that the level of challenge in this Crown game has been diminished. All of the earlier HE games have some tough nuts to crack and this game ( based solely on the demo ) was just too easy. The story line is predictable in that some bad dude wants powers untold by obtaining a legendary artifact which is now scattered to the four winds. Our detective must stop him and thus save the planet. The graphics are somewhat fuzzy and certainly not up to Eipix standards. The hidden object scenes and all of the puzzles in the demo can be handled by a smart child. There are some little things in the game, as in lots of games, that bother me. For example when the detective is heading from Istanbul to the Arctic Circle the player is led to believe that the trip can be made in a helicopter without once refueling. Impossible !! When in the Arctic Circle the bad guys overrun our gal at gunpoint. At the start of the game, someone is shot and killed by the same baddie but the detective is not. They elect to sink a ship she's on instead. Now if she's shot, end of game. So just leave the gun out of the picture. Sure I'm nitpicking but I hate to have my intelligence insulted by mindless development. I have enjoyed all of the HE games except Devil's Triangle and the Smithsonian game is a gem. I cannot see myself ever purchasing Crown in the CE version. I may need to twist my own arm to obtain the SE later on. Time will tell. Bummer !!
July 3, 2014
Not Worthy of the Crown
The Hidden Expedition series has been a fairly strong one, with the last offering, Hope Diamond, one of the best in this reviewer's opinion. First off, let me say what this game is NOT. It is not a story about a princess, fairies, or talking animals (so far, so good). It is also not historical - yes, Solomon was a historical figure, but there is no legend about his crown. But okay, I'll play along. You are a member of H.E.L.P., an organization that recruited you in the last episode - but it's not necessary to have played it for this installment. As the title suggests, the goal is to retrieve all the pieces of Solomon's crown, which is supposed to have incredible power, i.e.,wisdom of Solomon. Of course, evil smugglers are also trying to get the pieces and you must not let that happen or - End Of The World. You have a communication device to keep in touch with the H.E.L.P. team. The drawing and artwork is colorful but grainy, not quite as good as Hope Diamond. Voices are fairly good. Puzzles and hidden objects (there are not too many) are very, very (did I say very?) easy. Objects in your inventory are used pretty much right after collecting them, so that's easy too. Since this is a Collector's Edition (CE) there are collectible crowns, morphing objects, a slew of achievements, (including watching the entire credits) and a souvenir room. And the usual bonus play and strategy guide. I was frankly disappointed. Yes, there is a lot to do, but the locations are not compelling, the artwork is not distinctive, the play is far too easy and the story way too predictable. It's an ordinary game, playable but soon forgettable. It may please beginners, but not more experienced players. Wisdom of Solomon? Not required. Three stars.
July 3, 2014
Not as good as the "old" Hidden Expeditions
I'm just disappointed in the latest Hidden Expedition games. I've collected all of the former Hidden Expedition games which I have always loved but they have changed quite a bit and lost the uniqueness that they once had. Just like the MCF games, the developers strayed away from the classic way they were made and saw how people in general did not care for the changes. Just as with the last MCF coming back around to it's original intention, I'm hoping the same happens for Hidden Expedition series.
July 3, 2014
The Apple logo is a trademark of Apple Computer, Inc.
The Windows logo is a trademark of Microsoft, Inc.