Forgotten Books: The Enchanted Crown
Exclusive
Your curiosity is piqued when your librarian friend shows you an ancient book that seems to have no ending. As you open the book's pages, a character in the story begs for your help! All at once, you're swept into his magical kingdom - where a monstrous threat is bent on destruction, but your path is blocked by a mysterious pen re-writing the story. Can you find a way to free the king from his chains, and rid the land of Eldor from danger before the final hourglass runs out?
Game System Requirements:
OS:

10.9/10.8/10.7/10.6

CPU:

1.6 GHz (INTEL ONLY)

RAM:

1024 MB

Hard Drive:

621 MB
Game Manager System Requirements:
Browser:

Safari 4.0 or later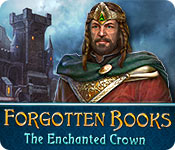 NEW299
The Big Fish Guarantee:
Quality tested and virus free.
No ads, no adware, no spyware.

Reviews at a Glance

Forgotten Books: The Enchanted Crown
0
out of
5 (
0
Reviews
Review
)
Customer Reviews
Forgotten Books: The Enchanted Crown
15
15
A Magical Artifact, An Imprisoned King, An Ancient Prophecy, & A Dark Mage
An old friend from the library calls you one day to tell you that a magic book has shown up at the library, a book he's never seen, a book with no ending only blank pages. Strange things have been happening ever since the book has shown up, even the staff have run away in fear. When you open the book you are surprised to see the words "We are dying, will you help us?" I'm not sure where the magical quill came from but you naturally answer yes and *poof* you find yourself smack dab in the middle of the neverending, constantly changing story! Liev, the King's loyal servant greets you on page one to explain that the Dark Mage, Eldor has imprisoned the King of Torelion and is after the Enchanted Crown! King Kelen's mother, Amelia begs you to take the ancient shield (after you fix it of course) for protection and save her son. The Hidden Object Scenes are a mixture of finding 12 golden objects and finding items that match the silhouetted shapes, the scenes are also doubled up. You can switch to a mini game and choose between casual or hard with the goal of building fences on a grid and enclosing the boxes to gain more property than your opponent. The mini games are fairly easy such as anticipating the block that two caterpillars will land on by watching the pattern of their moves. Another game I thought was cute but super easy was bopping the beaver without a gas mask as several beavers pop out of different holes. Great game, I think this Standard Edition is perfectly fine because I other than a bonus game and collectible paints, this game is exactly the same as the collectors Edition. Find out why the Enchanted Crown is so important, and save the King, enjoy!
June 8, 2014
EVERYTHING I WANT IN A GAME
Simply wonderful. This was a buy within 2 minutes of playing. Sometimes you just know. What's great: - special effects (and a little animation) - voice overs - flawlessly smooth gameplay - unique mini-games (fit right into the gameplay) - some spooky sections (like the moving hands on the walkway to the castle, which you could easily miss) - HOS: good visibility; find a number of similar objects; silhouettes - beautifully conceived and riveting story (Book rewrites itself while you're in it, just at the most inopportune time) - graphics, artistry and color palettes (reminds me of Alice down the rabbit hole) - customizable difficulty - hint system with teleport map What's Not So Great: - skippable dialogue (if you skip it, you don't get the story and what a shame that is). NOTE: If you read faster than the dialogue flows, you can click the box to get to the next exchange. CE has plenty of extras, achievements and collectibles. I didn't see any morphs, though. But the gameplay is sufficiently able to overcome that little flaw.
June 8, 2014
Thank you!
So tired of some of the HOGs that have been coming out, all creepy and scary, somewhat disturbing. This harkens to some of the Dark Parables and Margraves games, clever, a bit of danger but nothing disgusting. Fun, minigames are a bit different and don't require a PhD in quantum mechanics. Really enjoyed it!
June 12, 2014
Can You Restore the Enchanted Kingdom?
Forgotten Books the Enchanted Crown is a wonderful story about an enchanted land where good versus evil, a theme that we see all too often in HOPA games but in this game it is well done. You play the game as a reporter who receives a call from an old friend telling you about an old book that he found that is about a place called Torelian and the enchanted crown that powers its world. The book begins when the crown goes missing but the strange thing is that although the book is ancient it appears to be unfinished. Interested in seeing for yourself you take the book and flip through its pages but as you get to the end a fresh page appears and someone is asking for your help. Will you accept? As you write your answer on the book?s page, you are whisked away to a magical and enchanted land that seems similar to the one that ?Alice? must have fallen into. The graphics are excellent as is to be expected from ERS but the artists have used that misty appearance a bit too much in some scenes. The game has voiceovers and it looks like ERS has completely reverted to the days of non-lip-synced characters. Maybe they have decided that with so many people complaining about their games, it isn?t worth it to go the extra mile. The music is pretty much the standard ERS signature but I tend to enjoy it. One of the interesting things about this game, and of course it goes with the storyline of an unfinished book, is that a magic pencil appears and changes some scenes as you approach, which I think is very clever and well done. We find the standard set of tools, a diary that notes your progress through the game as well as an interactive map that shows where we have objectives to complete. There are no animal helpers or fuzzy companions in the game but as soon as we enter the book we do meet up with Liev, the king?s faithful servant, who pops in once in a while to act as our guide during the adventure. There are the various types of interactive HOPs which, BTW, ERS was the first to introduce in HOPA games. In this game we have the standard interactive list type, as well as ones where we find so many of a specific item, silhouette type, and then the progressive silhouette where we need to think about what to do next. The puzzles are nothing new, at least in the demo of the game, but usually the puzzles do become a bit more difficult as the game progresses. Even though the puzzles in the demo were easy I did find them to be quite entertaining. I have to say that when I originally attempted to play the beta test for the game I might have had an off day because I didn?t like the game and thought it would not be a very good game. However, upon replaying it a second time I found that I really enjoyed the game and then went ahead and purchased the CE. One thing that hooked me with Forgotten Books the Enchanted Crown was that I couldn?t wait to finish ?writing? the book and restore the kingdom of Torelion. I think this is one of the best ERS games to come along in a while and, for me at least, it is a signal that my favorite game developer is back on track. Of course there are a few, who always have something negative to say about not only ERS games but HOPA games in general, and they are entitled to express their opinions as well, but something about the game caught my fancy and I found it to be very good and entertaining. As always, I recommend that you at least try the demo to see if this is a game you will like.
June 8, 2014
Loved It
Another game with great graphics. Also, as a book lover I gave this extra kudos because it was fun going into some of the classics.
June 19, 2014
Excellent game.
I loved many things about this game: Story line, mini games not your usual garden variety, beautiful graphics in bright primary colors made moving through each scene a pleasure, you can adjust your setting for hints and skip buttons. ( More and more games are doing this and I love it. When I want to skip, I don't want to wait ! ) It's relaxing and enjoyable.
June 30, 2014
Fun HO/Adventure Game
This game was just the right balance of HO, puzzles, and adventure. It has a lot of options (difficulty levels, the choice of a game versus HO scenes, etc.) as well as a variety of HO scene and mini-game types. Some of the minigames were simple and others were more challenging. The storyline was not particularly original but the game was well-designed to follow the story logically. The artwork is lovely and the rabbit character is charming. I did skip a few games rather than play them more than once, but overall I found the game compelling. Unlike a lot of the darker games, this one is also older-kid friendly (though possibly a little complex for younger children). I wish now that I had bought the CE version so I could play more! I hope there will be more in this series.
October 4, 2014
Go into an enchanted world...an SE worth buying
Haven't written a review for ages but had to thank devs & BFG for giving us this game. Thanks fishies for all the reviews I was convinced to buy and I'm glad I did. I normally play 30 mins per day and finish a game in one week. Not so with this one. I enjoyed the game and got so involved it took me only two days- that's 2.5hrs in one go! The VO and sceneries are great -like I was watching a fairytale movie! With a jump map, lockable inventory and a journal I had everything I wanted in a game. For an SE it's great value for money. I should have gone for CE. I wish BFG would give us that "upgrade" option *hint*hint* That way we only top up payment & not need to have both versions of one game. If you like fairytales, easy puzzles & a different twist of HO try this game....you might enjoy it as much as I did. This one's a keeper. I am off to play it again!
June 13, 2014
Fast Moving Adventure
Not a fan of adventure games but I liked this one. The sound, color & graphics excellent. Creative story & characters kept it interesting without doom & gloom. Tasks flowed in a logical order without too much running around & backtracking. Mini games very good -a bit different than most. I played trial in casual mode & it was just right for me. Might buy -will be first adventure game I've bought in a long time.
June 10, 2014
Another Little Gem From ERS
Again, ERS didn't disappoint with their excellent graphics. They also didn't forget that some of us really enjoy good music with the story. Some of the voiceovers weren't the best, but most were adequate. I don't pay much attention to the story. Mini games were fun, and I liked having a choice in the HOS's to play a puzzle instead of finding hidden objects. Not quite up to 5 star standards, but still a fun little game.
June 24, 2014
The Apple logo is a trademark of Apple Computer, Inc.
The Windows logo is a trademark of Microsoft, Inc.