Fright Collector's Edition
Exclusive
From Lesta, creators of the Nightmare Realm series, comes a terrifying new thriller!

After a suspicious accident, you find yourself stranded at a run-down motel with a group of strangers. You quickly realize that your group is not the first - people have been disappearing in this same area for the past 10 years! The first was a little girl… the very same girl you saw in a dream just before your accident. But before you can put the pieces together, a terrifying new threat begins targeting your group one by one. Can you survive to uncover the mystery of the motel and escape before it's too late? Find out in this chilling Hidden Object Puzzle Adventure game!

This is a special Collector's Edition release full of exclusive extras you won't find in the standard version. As a bonus, Collector's Edition purchases count toward three stamps on your Monthly Game Club Punch Card!

The Collector's Edition includes:
Discover how the terror began in the bonus game
Get extra mini-games in the motel's gift shop
Soundtracks, screensavers, wallpapers, and concept art
An available Strategy Guide
Game System Requirements:
OS:

Windows XP/Windows Vista/Windows 7/Windows 8

CPU:

1.0 GHz

RAM:

512 MB

DirectX:

9.0

Hard Drive:

1339 MB
Game Manager System Requirements:
Browser:

Internet Explorer 7 or later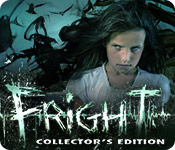 The Big Fish Guarantee:
Quality tested and virus free.
No ads, no adware, no spyware.

Reviews at a Glance

Fright Collector's Edition
0
out of
5 (
0
Reviews
Review
)
Customer Reviews
Fright Collector's Edition
112
112
too dark
I played half the demo and quit because I had to clean my house! Just kidding, but it was just too dirty. The story line would have been great, but I got lost in the characters and didn't know if I was finished with them or not and they just didn't fit in with the game. It was boring, and I appreciated a couple of the games, but it just didn't work for me and I quit out of it. I can see that many people liked it so it's just a matter of taste.
June 28, 2014
Scary? Really???
Read reviews & thought this game would be scary ... "not so much" - it had a spooky storyline and if you are an intermediate or newer player, this game may be challenging. I was bored with the play. Definitely a one-timer.
July 22, 2014
FRIGHT C/E
Sounds like it could be an interesting game! I downloaded the 90 min trial version.But was working my way through the game! But at the 22 min left mark. The game ends saying thx for playing the demo version!? With the demo version ending so abruptly! Sort of put a damper on purchase! )o:
June 29, 2014
ok game
ok level 2 not enough hidden object areas
June 28, 2014
So much potential, so little game
This review is based on a complete playthrough of the game and bonus content. With a name like "Fright" the game brings a certain expectation of 'scare' or 'creep' or something. You start off stranded in a corn field with black smoke and ravens - classic horror stuff right? Children of the Corn ready to go all Deliverance or something like that? It just never comes together. First off, the bonus content (or "Why should I pay double for this game?"): The bonus chapter lasted about an hour, but was even less engaging than the main game. The best thing going for it was the 'puzzle' at the very end, which can be 'brute force' solved if you don't like hints or the guide (the in game clue is only enough to get you about half way there). You could collect dollars to spend in a 'store' - there were a couple of 'the making of' videos which were funny/interesting, and you could redo the puzzles and HOS. And you could dress up a doll in various outfits. Yippee. The main game took me maybe three full hours to play through. I didn't 'hint' through it, solved all the puzzles, and generally took my time to watch all the cutscenes. That's half the playtime I typically get from a good SE game. Even 'short' games I generally get 4 or 4 1/2 hours out of, and that's without cutscenes. Now the specifics: THE GOOD: Live actors and well done cutscenes. They really ramped up the production budget on this one. The actors were fairly convincing and the scenes were well done, other than the lip synch thing which I'm guessing is because the original wasn't in English. Lockable inventory, customizable difficulty (which could be changed in game), and general UI goodness. Hint was directional outside of HOS. Circle object and where to go inside them. The HOS were all 'puzzles' in themselves - find this and use it somehow to get that, use these over here to do this, eventually the scene all comes together. Pretty challenging, but doable: cursor changed over 'usable' items which helped a lot. The story wasn't bad: some good misdirection and twists and turns, there just wasn't enough "game" to go along with it. It does come to a conclusion in the main game - the bonus chapter is from a different time. THE BAD: The game was incredibly short. Yes, there were collectibles, but nothing really to do with them - no achievements, no morphs, typical 'swag' package. The plot is incomplete. Too many loose ends that are never tied up, questions that are never answered... No real 'creep' or 'scare' factor. There were some jump scares, but that's about it. THE UGLY: One game breaking bug in a cutscene in the bonus. BOTTOM LINE: I'm bucking the trend here, but as a GAME, I don't think it measures up. This might have been better as an interactive novel (but then they would have had to do a lot more filming). I'm giving it three stars primarily because of it's length and the lackluster bonus chapter. The very well done cutscenes and HOS keep it from being lower. As a CE, I say save your money.
August 2, 2014
Based on the demo...
I played through the demo in about 20 minutes (of the given 90). I'm not a hardcore hidden item/puzzle player, and yet this game still seemed really easy. :/ Based on that, I decided not to purchase it. Had it been the normal price and the the double collectors edition price I might have went for it, but since many of the reviews mentioned the game's overall shortness, I don't think it's a very good buy. Pity, because the story was interesting once you looked past the bad voice acting.
July 11, 2014
Too Easy
This is a fine game for a beginner but the puzzles were so simple they weren't the least bit challenging. Everything in the game was just a bit too obvious and it played in about 3 hours total. The HOG were nice, they actually made you think a little bit. Overall, not impressed. I gave it 3 stars, but I was being generous.
July 10, 2014
Not a Collectors Edition by any stretch of the imagination!
It was ok. I would absolutely NOT buy the collectors edition. Usually I can play a Collectors Edition for a couple days and it's generally a blast. This game was over before it started. It's really short and typical.
July 9, 2014
Very disappointing game
First off, this was a very short game. I completed the main and bonus games in about 4 hours on the intermediate level. I had problems moving around via the map and the instructions for the games in most of the cases were just poor and didn't provide enough info as to what you needed to do or how to do it. There were too many cut scenes and they were very slow. Also, character interactions were also slow and tedious. I would NOT recommend buying this game, it just wasn't worth it and there wasn't anything to make this game stand out. Same tired storyline as most HOG/adventure games out now.
June 28, 2014
Glitchy, Unremarkable...Disappointing
Are these really the same developers who produced the Nightmare Realm series? Seriously? Was there a major change in staff or something? Because Fright comes nowhere near the excellency as found in the N.R series. First off, the bugs, glitches?whatever you want to call them?were so terribly unacceptable. Check the forums and you'll see what I mean. Mostly the glitches consisted of audio/voiceover issues and a few others involving game mechanics. Granted, they quickly put out a patch, but still there were a few minor problems, even afterwards. Patch notwithstanding, this is unforgivable. The story felt intriguing at first, but then drifted off into flaccid territory. It's like someone had a really great premise, but for whatever reason couldn't continue in crafting a good, solid tale. I guess I just expected something more from developers who have demonstrated rousing storytelling in the past. Some of the puzzles were illogical, having no rhyme or reason. Again, in comparison to Lesta's past games, this was really surprising. A few puzzles were challenging and inventive, but these were few and far between. I consider their prior games perfect for expert players, requiring thinking outside of the box, and I hoped Fright would be on the same order. Not so. Some other reviewers mentioned the dialogue and cutscenes are painfully slow, and yes, this is true. At first I was okay with this but then it became irritating. I can't recall if there is a skip option or not (as I never skip cutscenes) but I suppose you could skip, lest you miss out on important info. Altogether this game was just "okay." I didn't really see anything exceptional, unique or innovative going on here at all. If like me you're a fan of the N.R series, there's a chance you may not be too pleased with Fright. Perhaps I'm too biased because I love the developer's past games. But isn't it reasonable to expect continuity? I think so.
July 12, 2014
The Apple logo is a trademark of Apple Computer, Inc.