Fright Collector's Edition
Exclusive
From Lesta, creators of the Nightmare Realm series, comes a terrifying new thriller!

After a suspicious accident, you find yourself stranded at a run-down motel with a group of strangers. You quickly realize that your group is not the first - people have been disappearing in this same area for the past 10 years! The first was a little girl… the very same girl you saw in a dream just before your accident. But before you can put the pieces together, a terrifying new threat begins targeting your group one by one. Can you survive to uncover the mystery of the motel and escape before it's too late? Find out in this chilling Hidden Object Puzzle Adventure game!

This is a special Collector's Edition release full of exclusive extras you won't find in the standard version. As a bonus, Collector's Edition purchases count toward three stamps on your Monthly Game Club Punch Card!

The Collector's Edition includes:
Discover how the terror began in the bonus game
Get extra mini-games in the motel's gift shop
Soundtracks, screensavers, wallpapers, and concept art
An available Strategy Guide
Game System Requirements:
OS:

Windows XP/Windows Vista/Windows 7/Windows 8

CPU:

1.0 GHz

RAM:

512 MB

DirectX:

9.0

Hard Drive:

1339 MB
Game Manager System Requirements:
Browser:

Internet Explorer 7 or later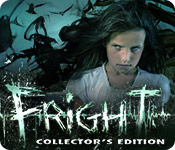 The Big Fish Guarantee:
Quality tested and virus free.
No ads, no adware, no spyware.

Reviews at a Glance

Fright Collector's Edition
0
out of
5 (
0
Reviews
Review
)
Customer Reviews
Fright Collector's Edition
112
112
Really not a CE game
The game was ok I guess just not very long or challenging.Gameplay was for me slow and annoying at times.Certainly not worth the CE price in my opinion. Some things made no sense at all, and the ending was abrupt. So would I have bought this game if I'd have known? NO, not at the CE price.
June 29, 2014
Not quite the fright I was looking for
This could have been a great game but it failed in my opinion. I only played the trial but that was enough for me to know I didn't want to buy it. First the good stuff, I like the scenery graphics, very attractive. But the whole 'real actor' video clips of real people is just too much for me. You clearly have artsy graphics with the real people element and it doesn't mix well. Also, normally with CE's you can still get an idea if the full game is worth it. But when they 'lock' so much content so you can't even peak at what you get for your money it just says to me they either have nothing good to show or not enough to warrant a CE price/purchase. Had they not had the 'real people' video clip element and had they given us some sort of idea what we get with the CE, I most likely would have bought it.
July 22, 2014
Frightful... NOT!!!
A game by Lesta The game sounds exciting with a rather creepy title, but I found the game to be shallow and the story underdeveloped. I expect this game to be dark, but not quite. The story is slow progressing; we spent 1 chapter alone to find bandage to help the wounded driver. The characters are all live actors, making the game even less scary. The map is pretty useful, the hint.. just there, the skip button drives me crazy.. I was on the easiest mode and I think it took 3 minutes for the skip button to recharge. It says "Quick" for the skip recharge, but no, it's not even quite. Graphics is the only thing I can commend here, it looks realistic. But other than that, I don't see anything truly extraordinary in this game. Too many backtracking, with funny usage of inventory, like how come a trunk key of an incoming car inside the sink pipe in the motel? how is that possible? and why, after we have helped the driver, still want to wonder inside the house? what for?? VO is okay, but not remarkable. HOPs are consecutive combining objects, but the HOP only happens like a time machine. I am just glad it is not many cos it's annoying. Bonus content is the usual stuff, not much for a CE. We collect money throughout the game which we can use to buy souvenirs, what.. postcard that we cannot even use interactive? what's the point?? I played until Chapter 1 and I am bored. Too much special effects, not much story development. Annoying, slow game. I will surely pass this one.
July 1, 2014
Hidden object, Fun object games
Compared to all other games i have played this is at the bottom of my list. The games are very easy, child easy. The game took no time at all to finish where as some others would take me days to finish. There could have been more challenges and harder ones. Surely not worth the money of one game let alone paying for a collectors edition price. Very very disappointed.
July 14, 2014
Too Dark
Not only is this story extremely dark, game interaction is extremely slow to react to your actions. HOs were different and actually the type was a little annoying, but maybe if I was enjoying the game, I would have found them new and refreshingly different, but alas, who knows. Voiceovers were slow and mouth still working when conversation was over. Most puzzles were easy, but that's OK as I dislike puzzles anyway. The bottom line is this story was dark and not enjoyable enough to want me to keep going. I'm sure all you dark people will love this and I say "Enjoy", but I'm not buying it.
June 28, 2014
No-buy for me.....
I didn't like anything about this game, not the graphics, the story line, or the games. I won't be buying it.
June 28, 2014
Big disapointment
After reading the reviews I couldn't wait to play only to be let down. I thought it was going to be kind of scary but it was not. only the scarecrow. wasted my money on the collectors addition.
July 29, 2014
(recommendations at bottom) I wanted to like it but . . .
. . . but the story made no sense. The graphics were wonderful, of the sort that could really suck you into the story of a game, if only there were something coherent to get sucked into. It didn't help that they used live actors that were absolutely terrible. The mother was particularly horrid. She gestured madly or waved her arms around almost every time she spoke. It was as if she were imitating a monkey. I did really like the HOSs. You would get sucked into a photograph or an old memory, and then rather than combing through junk piles, you'd actually investigate. But I'm a story person, and the nonsense and bad acting really ruined this one for me. It is impossible for me to discuss what made this a one star game for me without discussing the story in some detail, so SPOILER ALERT!!!! I have some game recommendations at the bottom *********************************** *********************************** I like ghost stories and the opening cutscene had me intrigued. What's with the evil scarecrow? what could make the crows so crazy all of a sudden? You never find out. The story has nothing to do with scarecrows or corn or the birds themselves. Instead, it's about the family that owns the motel. They have a daughter, she dies, they adopt another daughter, then lock her in the attic for some reason. Except that somehow she's able to get out and walk on the roof so that you can see her. Ummmm, okay. She's not dead but she's able to intercept your emergency call somehow without access to a phone. Riiiiight. The dead girl decides to "grab" complete strangers (adults, probably not any fun) and not the parents she wanted to play with her at the time of her death. Uh-huh. These are just a few of the little illogicalities and inconsistencies that continue throughout the game, but the worst one comes at the end. Either the living sister dies somehow because "sisters are supposed to stick together, " or the dead sister comes back to life. Neither option makes any sense. I had hoped that the bonus game would tie things together, but it was just more nonsense. In the end, the father blames everything on this random toy that was one of the puzzles in the main game. WHAT????!!!! It had nothing to do with anything. It was just an insignificant puzzle. *********************************** *********************************** END OF SPOILERS I don't need things to make total sense. The characters in these games often do things that don't make sense, like locking important doors with puzzles that any idiot could figure out. But when the story itself makes no sense, I have to draw the line. I'm actually kind of angry that I spent money on this thing. If you're looking for a good story almost anything is better than this game, so I'm having trouble choosing one to recommend. If you're looking for a spooky game and by some slim chance you haven't encountered the True Fear series, the Shiver series, or the original Phantasmat, you should try those. Committed: Mystery at Shady Pines is this game's opposite, with a good story and terrible graphics. I think I'll just take the opportunity to recommend a game I thought was under-appreciated: Resurrection, New Mexico. I'll include the link at left.
July 12, 2014
Frightful = After you realize you have been duped!
Unbelievably SHORT! I am still sitting here wondering how I just finished this game in 2 HOURS! Yes, fellow fishies 2 hours Including the demo! Once you finish the demo you are half way through the game. Do not get pulled in by all the 5 star reviews, I think they must have played a different game or be playing themselves. The game is very, very easy and short, microscopic! REALLY! I like live actors when they are professional, but here I think you are getting the developers children and family members. It is that bad. The hidden object scenes are interactive but childlike in their simplicity. No challenge during game play, only easy puzzles and mindless things to do. There is little if anything frightful about the game but the fact I just spent money on it. (Shiver) Run, don't walk away from this impossible 4 star review game.
July 15, 2014
TERRIBLE
I didn't think this game was worth any amount. never would pay the CE price. I thought the acting by the characters was laughable. I was bored throughout.
June 30, 2014
The Apple logo is a trademark of Apple Computer, Inc.