Antique Shop: Journey of the Lost Souls
Help Emily free the trapped souls from the evil book in Antique Shop: Journey of the lost Souls, the exciting second chapter of the trilogy!

Travel to new and exotic locations in a desperate search for artifacts that will unlock the mystery of the strange and powerful book. From fog shrouded 1898 London to the blistering heat of the Egyptian pyramids, new challenges await as the devious book becomes more and more difficult to control. In a race against time, Emily and her company must solve the riddle of the book or she will be forever lost within its confines.

Join Emily in an adventure to save the souls of the book's previous owners and herself!
Explore new and exotic locations!
Play new mini games!
Upgrade and use tools to facilitate gameplay
Collect key objects and free the trapped souls
Game System Requirements:
OS:

Windows XP/Windows Vista/Windows 7/Windows 8

CPU:

1.0 GHz

RAM:

512 MB

DirectX:

9.0

Hard Drive:

241 MB
Game Manager System Requirements:
Browser:

Internet Explorer 7 or later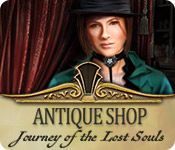 NEW299
The Big Fish Guarantee:
Quality tested and virus free.
No ads, no adware, no spyware.

Reviews at a Glance

Antique Shop: Journey of the Lost Souls
0
out of
5 (
0
Reviews
Review
)
Customer Reviews
Antique Shop: Journey of the Lost Souls
30
30
Great Game
I love this game and I don't say that often. I expect not many men will appreciate it because much of the game is in the story. For those that are having a difficult time seeing things, did you know you can adjust the brightness under options? Its a great feature. I wish all developers would adopt it. You also have a magnifier you can use and a lantern. I'm not sure what all the belly-aching is about. Looking through the forum I discovered this is #2 in a trilogy, so I had to go get the first one as well. It's name is Antique Shop: Book of Souls. Happy fishing and antiquing and a good summer for all. :$ :thumbup:
June 28, 2014
Really different
I loved it! I enjoyed the narration of the story (journal entry) as you search and set the souls free. It is a much more laid back game, perfect for when you want a good story and a little more relaxing game after a long day!
October 9, 2014
LOVE THIS GAME
Pretty much a straight HOS with a good voice over telling the story. Don't know what it is about the game, but I really liked it, despite the fuzzy darkish graphics and no adventure element. Maybe it was the narrator who held my interest. I do like straight HOS, but this one really got to me in a way that adventure-HOS games do. You need to collect objects to free souls lost in a book. It was pretty funny when the first one was freed. The HOS contain a mini-HOS, which can be turned sideways, up and down to locate a new list of objects. You have a light beacon and magnifying glass to help you find objects [Objects can be very indistinct, especially if far away.]. I found many objects by accident.
June 9, 2014
Classic iHOG Meets Modern Expectations
BASED ON DEMO IMPRESSIONS This is not a Hidden Object Puzzle Adventure (HOPA) like that which we see most often here, but a purely Hidden Object game, with some dressing up with puzzles and story for added entertainment. So it doesn?t start off with a spectacular car wreck or wild and stormy weather, but a simple story of a woman who has found a magic book in the Antique Shop, left to her by her Uncle. The game looks quite good. Nicely done art, I thought, along realism lines. Many items are far too small, however, and too many scenes are of the outside ? always difficult to search. The music is classy, and relaxing. The cursor is a major drag ? literally and figuratively. The drag was the worst I?ve ever encountered, but there is a slider to correct it. Unfortunately, even at maximum correction, mine still lagged a little. There is the choice also of a system cursor. The game is also not widescreen, but does have panels of appropriate wallpaper ? that clashed, for my tastes. This is a direct sequel, and I must say that if story was really important in this game, the back history was not handled all that well. But story is just for decoration. The game doesn?t follow a coherent logical line, but skips all over the place between visions, places we have been to and places we?ve yet to see, with little rhyme or reason. GAMEPLAY The game?s structure is Classic HOG. Each step forward in the story is marked by a HO scene. Once complete, it unlocks another, and/or a simple puzzle. And usually more talk. The new scenes are presented postcard like in our journal. This takes us to the only allowable destination on each occasion. The talk is plentiful. Far too much if you are not trying to keep up with the story ? and I gave up trying to do that because it was so all-over-the-place. It was done beautifully though. The lead character?s voice is lovely to listen to and eminently suited to the times. The others Are equally pleasantly exotic. Each HO scene has a word list of required items, and includes a smaller Close Up scene, which is fun. It has its own mini-list of objects to be found, and it also has a minimal capacity to be looked at 3 dimensionally, wiggling it about with the aid of arrows on the sides. This tiny skill is necessary to find all the objects on the shorter list. There is also in each general location a ?soul object? which is required to release the tormented souls in the book. Once it is found, whether you have found all the items on the list or not, the scene is complete. There are little puzzles straight out of the classic iHOGs of years ago ? word find, spot the difference, match 3, and find silhouettes ? interspersed among the HOs. The scenes are repeated, but with either a magnifier or a light, or a special monocle (?) that shows up invisible items. There is a hint which is unlimited and quick to refill. There is a clock on the ?dash? that indicates your time zone?s actual time, not a timer, and is there, I assume, in case you get carried away *wink*. COMBINED IMPACT I am not a fan of the classic HOG game. But this, I recognize, is a very nicely done version. It meets the modern need for quality art and variation, while remaining loyal to the idea and framework of the Classics. For fans, and I know there are many, I think this is a winner.
June 9, 2014
Not Too Bad of a Journey
Finally a game with some new twists. I didn't find it boring at all. The storyline was good & easy to follow. The graphics/music are good & the HOGS/mini games are something different in a good way. Loved the main characters VO. It was definitely spot on. There was no character movement/lip sync. They were rendered only in a picture setting. Some reviewers did not like that the game did not fill the whole screen & hated the borders. I, personally, did not have a problem with this. The only negative I found were the itty bitty hidden objects. Even with the magnifier you still need the eyes of an eagle.
June 9, 2014
Items Are STILL too small!
This is a game that could have been awesome, but just like the first one, the items are teeny tiny. The story is good, after taking over her Uncle Jacks' antique shop she comes across a book of Lost Souls. The names and dates of several people including Uncle Jack and herself are in this book, trapped until you find the item that they cherished and set their souls free. The hidden object scenes are entire rooms not sections, therefore, the items you need to find are going to be small in aspect to the size of the room. Some items have question marks next to them which when clicked on will show you a picture and a brief description of that item.. Some of the items have zoom in areas and inside that window will be more listed items to find and the screen can be moved left and right, up and down to create a 3D effect. There are simple mini games such as flipping coins over to try and find a matching picture. There is a magnifying glass and a lamp that you can use to try and find items, believe me, you're gonna need em.
June 9, 2014
based on demo
This is a frustrating game....at least for me. The game is very different from what I expected from a HOG/adventure. There is a lot of dialogue from Emily who has to travel to find clues that release lost souls. The book is dangerous for her, but she is not letting it stop her from a mission. The HOGs are not clear. Some of the objects I had to use the hint button to find as they were so small I couldn't see them or were the same color of the area they were located. I muted the music. Her voice was irritatingly calm, sweet, English.. There is ink to collect to help with....I am not sure what. The hint button recharges quickly & you need that. At least I did. I don't normally use the hint button unless really stuck, but to move on in the demo I had to use it too much. There are silhouette Hogs & HOGS within HOGS. One was use the magnifier to find what was invisible. I didn't enjoy playing this game. I will not buy it. I was very disappointed.
June 10, 2014
Too Fuzzy for Comfort
The plot of the game is very good. A haunted book, trapped souls each needing objects from their lives to free them, time and place travel....All good. So, what's the problem? The graphics seem to be emulating photographs, and blurred ones at that. When you're offered a lantern and a magnifier at the start, be on alert. Obviously you'll really need them! And you do. At least the magnifier at first. Objects are small, often blended into others or the background. Some aren't accurately described (a "bronze horse turns out to be just the horse's head#. But since it's clear #to me) that most of the game will be HO scenes, this isn't a great beginning. Even with adjustments, mouse response is slow and "jerky". You can, however, turn up the ambiance to lighten the scenes, but that's not always very helpful. In short, if you can handle the unclear objects and erratic cursor, the story is worthy and the VO is nicely done. Try it and decide, as always, but beware of eyestrain!
June 9, 2014
TRY and catch the floating arrow!
Hmm, the story is fine. I'm sitting at a desktop with a 24" screen and I cannot believe how anyone but Superman could find the hidden objects.....then trying to keep the pointer en-pointe! The character's voice is lovely and I suppose the story would be enhanced if we could SEE stuff. I must add leaving was a chore. I found the main menu after I tamed that wild arrow but then I got crest-fallen and sadly left. YEP I own it so another time I'll attempt the near impossible again. I am NOT ready to throw in the towel....yet!
June 9, 2014
Completely an HOG - no puzzles and no inventory.
This has a lot of dialogue before each location which tells the progress. Other than that it is one HOS after another, with brief looks into "the book of lost souls" where you can purchase upgrades with bottles of ink you acquire after a HOS completion. The objects in the scenes are very small and hard to find luckily the hint recharges quickly. That's about it. Just not my cup of tea, so I'll pass this buy. Read the reviews and play the demo to see what you think -- you might love it.
June 9, 2014