Jewel Match IV
Voyage through a wondrous match-3 adventure as Luna, a recent graduate of the Magic University. Use your magical expertise to search Varanah for the missing wizard, Ludovic, across more than 50 sprawling levels! Enlist the help of wizards, sorceresses, leprechauns, and other mysterious characters on your journey.

Enjoy an all-new moving match-3 board with a choice of 5 unique game modes sure to fit any play style. Earn gold and purchase dozens of unique upgrades from the shop to help traverse the expansive levels. Take a break with over 30 hidden object and jigsaw scenes, plus bonus mahjong and sudoku minigames!
Over 50 HUGE match-3 adventure levels!
5 game modes to fit any play style
6 separate upgrade scenes to rebuild
More than 30 hidden object and jigsaw scenes
Game System Requirements:
OS:

Windows XP/Windows Vista/Windows 7/Windows 8

CPU:

1.2 GHz

RAM:

512 MB

DirectX:

9.0

Hard Drive:

275 MB
Game Manager System Requirements:
Browser:

Internet Explorer 7 or later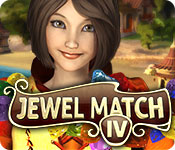 NEW299
The Big Fish Guarantee:
Quality tested and virus free.
No ads, no adware, no spyware.

Reviews at a Glance

Jewel Match IV
0
out of
5 (
0
Reviews
Review
)
Customer Reviews
Jewel Match IV
Loved this Match game - the different puzzles to solve were really interesting to me. I didn't give it more stars because I got some serious eye strain on the search puzzles. The graphics on this were not really crisp enough. I tried playing on a larger screen but then the screen bobbled around a bit. Waiting for the next game.
August 1, 2014
A LOT GOING ON
The match 3 game has about 63 levels. Each level involves several moving boards with the typical wood, fog, and chains. You have several modes of play timed, untimed, lazy, etc. There are also 8 Sudoku puzzles and 11 Mah Jong games. You unlock these by gaining money. As other gamers have mentioned you are restoring gems and rebuilding parts of a town. The hidden objects part of the game gives you items to use in building. Although I did like the game, I thought the hidden objects became rather boring toward the end as the same ones are repeated over and over.
July 8, 2014
Bright, Pink and Silly - This Game Plays Well
This game, with it's bright pink stars and huge icons, is really embarrassing to play in public. It looks like you are spending the day with My Little Pony. But, the play is solid, the story works and the mini-games are fun. Pros: Bonuses that help clear huge sections of the massive boards and help speed along the game. Easy mini games but diverse to keep things active. Clear story that makes sense. Cons: Game takes too much control away from the player, telling you when you can shop at the store, etc. The thing is a toddler's eyesore to look at, and worst of all - the hint feature charges you money for hints. So you are actually penalized for needing a hint. Some HOS objects are small or shadows. Overall, an addictive you'll like in spite of yourself - just don't let anyone see you playing!
August 27, 2014
Very beautiful
I love the sparkly gems in this game and the levels. I wish that there was a "land" to purchase buildings instead of parts of buildings like "Heroes of Hellas". The characters are a little freaky looking. Not totally humanlike but ok. The power ups are great. kd in md
July 25, 2014
too many interruptions
I have played many match 3 games and I don't know if it was the level I chose or if all levels do this....you are just getting going and it stops play to tell you to use a hammer...and you can't keep going until you have used the hammer. Now I don't usually use tools etc so that annoys me and also if I do need the hammer it is no longer available because I've already used it when I didn't need to. Same goes for chain breaker, fog remover etc...otherwise it seems to be a cute little game
June 16, 2014
Same Old Same Old
This series I feel is getting a tad stale. The premise of match 3 is a genre in itself but it how game developers work within this game-frame. With the meteoric rise in tablet match 3 games, the quirks of this genre are being explored and new and different ways of playing these types of games are making them more innovative and engaging. Sadly the same cannot be said with regards to this series. This is the fourth in the series, though of course there have been others in the same mould, and it plays exactly the same as all the others. The game plays exactly the same, with the chains, the fog, having to match to clear the fog and break the chain, the same power-ups are incorporated into the gameplay and even the non-playable characters are the same. In essence then this is exactly the same game as the previous incarnation just that this has a slightly different story. I like match 3 games and have a lot on my tablet, maybe that is the ?problem? in that I have seen the new and innovative ways in which match 3 games have progressed and this to me just seems stuck in the past, no cutesy graphics no ?candy? to match, this just seems like the developers are cashing in on previous in the series and the fact that yes the genre is still popular but have released in my opinion a sub-standard half-hearted game. The controls are ok and the sound is as of the ilk. There is talking on the introduction storyline, but from thereon in it is just text. At least this game you get to ?find out? why there is gems all around the university, so this may possibly be the last in the series, in my opinion it ought to be or if it isn?t then it needs a serious overhaul injection if there is going to be a number 5. Unless you are brand new to this genre or you really really like this game series then I can?t really recommend this game, as there are better match three games out there no matter what the format, tablet, PC, smartphone etc, personally I feel that this particular genre lends itself better to a touch screen, as you can get the intimacy that this sort of genre lends itself to. I do like match 3 but this is not a good example of a match 3 game.
June 16, 2014
Dizzying Match 3 Game
Storyline: You are Luna, and you have been summoned to the Magic University. You are to meet the Head Wizard in the Mage's Room where he recounts a story to you of himself as a younger wizard and his friend, Ludovic. Apparently, they were trying to make a potion when Ludovic purposely added another ingredient. The Head Wizard was so angry he threw the beaker out the window and when it hit the cobbled stones in the street, they turned into magic gems. The University is now running out of magic gems (although what they are used for is beyond me) and Ludovic, who is now a Great and Famous Wizard, needs to be found and somehow to get the "magic" ingredient from him. Graphics: Stunning. Bright, colorful jewels. However, the characters themselves come across as very dull and muted color-wise. Sound: Background music was very nice and relaxing. Game Play: As in any match 3 game your goal is to make matches of 3 or more of the same colored jewels. While making these matches you want to uncover all the gold tiles on the game board. Also, the game board moves around to other "rooms" where the game play continues. While all this going on, conversations between you and the Head Wizard continue, new characters come on board that do wondrous things for you during your game play and all in all it becomes verbose and confusing. Add to that the jewels are inexorably huge and wiggle and jiggle - it made me dizzy. Seriously. If not for the dizzying game board, the humongous jewels and the weak storyline which just went on and on and on in conversation, especially with new characters chiming in, this could have been a wonderful match 3 game. I did notice some reviewers gave it high scores. However, I have also noticed that these same reviewers give ALL games a high score just to get their review noticed in the top few. Mine won't be noticed by many because I chose to give an honest review of the game and not some dandified imitation of what a good game it should have been - just to get noticed. I hope this review was helpful. I always recommend that you play this game. The demo is free and it's only an hour of your time. You many be one of the ones who love it. In that case, give a review of your own - lol. Happy Gaming to All!
June 16, 2014
Jewel Match lV
To many hidden object and other games I found confusing. I can't finish the game because I cannot pass the irritating mini games. I liked the other Jewel Match games. They were really fun. I wish they would let you opt out some of the mini games and play them later.
July 22, 2014
Scrolling screens, hate them
I love match games very much, but this one I hated right away. I only purchased it because of the Columbus day sale. Even on sale I paid to much. The screen scrolls left, right, up, and down. I hate that so much I had to warn you. Other than the scrolling game screens, I really do like the game. Graphics are great and play is fast and smooth. I didnt enjoy playing it at all, but if you like that kind of scrolling game play, you will love it.
October 13, 2014
boring
I am generally a fan of match three but this one left me cold. I dislike not being able to see where I am going or having the board move without my direction. Personal to me but others might have the same opinion.
July 24, 2014