Grim Tales: The Vengeance
Exclusive
You've been summoned to court to provide testimony in a trial against your nephew James, who stands accused of murdering his sister. By using your power to learn an object's history simply by touching it, you must examine evidence from the crime scene to determine what really happened to Elizabeth. Can you prove James innocent and find the real killer? As you explore the family mansion, a dark force is trying to cover up the truth! Watch your step, or you could be next! Follow the trail and crack the case in this thrilling hidden-object puzzle adventure game!
Game System Requirements:
OS:

10.9/10.8/10.7/10.6

CPU:

2.5 GHz (INTEL ONLY)

RAM:

2048 MB

Hard Drive:

855 MB
Game Manager System Requirements:
Browser:

Safari 4.0 or later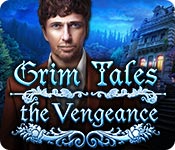 NEW299
The Big Fish Guarantee:
Quality tested and virus free.
No ads, no adware, no spyware.

Reviews at a Glance

Grim Tales: The Vengeance
0
out of
5 (
0
Reviews
Review
)
Customer Reviews
Grim Tales: The Vengeance
16
16
Vengeance or Evil Entity?
James McGray makes a frantic call to his Aunt, "Elizabeth is gone, and they are accusing me of murder"! Because she is able to move to the past, James' Aunt will be valuable to the case and she travels back in time to the McGray family mansion to search for clues, to prove either his guilt or his innocence! Time stands still and there shouldn't be anything moving in this mansion, but an evil entity has shown his presence and his intention are clear, leave or else! As you search for clues and fix everything that seems to be broken you find clues that are conflicting. James always loved animals, and he was clearly training his Doberman Pinschers with a dog whistle and Elizabeth was killed by Dobermans. On the other hand, James vowed to do anything to protect his family which is an honorable family tradition. Your job is to bring evidence back to the Judge to allow him to make the decision. You need to find 5 pieces of evidence as shown in a separate inventory bar to the right of the screen, and each piece you collect will show a short clip about the lives leading up to the point of the murder. Each location you travel to will require these pieces of evidence to complete that part of the investigation. The Hidden Object Scenes are well done, interactive list finds. The mini games range from simple puzzles, such as replacing the stained glass pieces, and there are more complex puzzles too. My favorite was placing dominoes around 6 different animal pictures in a figure 8 shape, the dominoes had to match each other as well as the animal pictures they touched. The Collectors Edition has morphing objects, and collectible family statues with a quick description about each family member and most of them seemed to have a sordid past! There is also a built in Strategy Guide, but the game itself isn't that hard to figure out and you can always use the hint button which will show you exactly where to go next or what to do and which item you use. (not in the hardcore mode) The graphics are stunning, typical of the Grim Tales, so put your sleuthing cap on and solve this murder mystery, enjoy!
June 13, 2014
Vengeance Ain't Yours Mr. Ghost
This is posted after playing the entire game. This is a winner in my book. Elephant has done it again. The only regret I have is I ran out of time and couldn't finish it yesterday. Terrific game with a lot of fun thrown in to boot. The graphics are awesome! So realist, clear, and pleasing to the eye. The music was not annoying at all, and the voice overs were extremely well done. The sound was excellent. Hidden object scenes were well done as well. Speaking of the hidden objects, they were not a push over. Although well drawn, they were also well hidden. The hint button and I became pretty good buddies. The mini games were decent. I did most of them so you know they weren't the kind that took a lot of time and yet were challenging enough for me. You have an interactive map which will take you wherever you want to go and shows places where things need done.The hint button recharges quickly and will also teleport you where something requires your attention. There is also the diary which will come in handy from time to time. The story is well written and easy to follow. I makes perfect sense as you trek through the game. Characters are developed well and I got involved in the plot. You really owe it to yourself to at least try the demo. It will give you a decent taste of what the game is about. I believe I have all the games in this series and this is the best to me. I can't wait to play it again.
June 14, 2014
MUST HAVE
SUMMARY: A great adventure game with a small amount of HOS and plenty of puzzles. Outstanding cutscenes and graphics. Nice hint system. Good story situated in England [though slight unrealistic - you don't start discovering evidence as the trial starts; it's before.] Smooth gameplay. Lots of entertaining fun. MORE DETAILS IF YOU WANT: STORY: James McGray is accused of killing his sister in order to inherit a rich estate. You play their aunt and, after the initial cutscenes setting the scenarios, arrive at his trial. You are to look over the physical evidence to determine what should be presented at the trial. [Really? But this is a made-up story to encompass all the activities.] GAMEPLAY: As you look at the evidence, it will take you to different locations, where you will see more of the background story and collect clues. There are quite a few cutscenes that catch you off-balance as they suddenly zoom at you. You can interact with objects, such as clicking on a cat who then purrs (I like that type of play). You are given tasks to complete. If you need a hint, you will be shown a cutout of a different location to which you can teleport. Alternatively, if there are still things to do in your current location, the hint will point to the activity. Gameplay is relatively straightforward. Usually there are many things to do that are outstanding at one time. HOS AND PUZZLES: The HOS are mildly crowded, interactive and list-based. They are fair and objects are distinct and of a good size. Puzzles are varied and vary in difficulty; but none are what I'd say are so challenging as to make you want to tug your hair. OTHER STUFF: Lots of cutscenes. Great animation and sound. Graphics are colorful and artistically done. Voice overs are realistic (I ignore lip sync since games are likely translated into other languages and the developers aren't going to redo all the lips for each language). Pleasant music. 3 modes of difficulty.
June 13, 2014
Absolutely the Best Grim Tales Ever!
First things first, so let me say that I absolutely love the reality of this game and the way it is presented. I think that our friends at Elephant Games have topped themselves with this one. The game begins with a tragedy, the loss of your niece Elizabeth McGray, with her brother being charged in her murder. The adventure begins as you, a psychic detective and the aunt of James and Elizabeth, arrive at James? trial. The game is presented in retrospective where you will be able to examine evidence and find clues within different scenes to provide insight to the court for use during the proceedings. Again, I must say that I love the way the game is presented. This game in the Grim Tales series is without a doubt my favorite. The graphics are wonderful and so realistic. The characters finally are lip-synced and add so much to the power of this version in the Grim Tales series. It seems the creative team at Elephant has really stepped up their, ahem, game ? lol. All joking aside, the sound track for the game is excellent and I am just thrilled to see one of my favorite developers present such a wonderful game. On the lower right side of your screen right above the menu button you have a book that when clicked contains your diary and transporter type interactive map as well as other items. As is the case in all games by this developer, we only seem to find the standard, slightly interactive list type which is okay with me. Sometimes the HOS in games become tedious because way too much interaction is required. The puzzles are not hard and some are a bit different but still doable if you take the time to think about them. As you can tell by my comments above, I love this game and for me the CE was an instant purchase. I was not thrilled with the last Grim Tales game so this is a wonderful and refreshing game. Thank you to Elephant Games for a wonderful addition to the Grim Tales series and kudos for your creativity ? this is a wonderful game. As I mentioned earlier, Grim Tales the Vengeance is an instant buy for me but I always recommend that you at least try the demo to see if this is a game you will like.
June 13, 2014
Elephant Has Come Through Again!
I've been disappointed in some of the Elephant games lately, but not this one. Excellent! Fantastic graphics, good voiceovers, some challenging puzzles, not an overabundance of HOS's, and even a half-way interesting story. (I really don't get into the story lines because they're all so much alike.) I should explain that I don't mind a few HOS's if they're interactive ones. I just don't care for games that are nothing BUT HOS's. One thing that Elephant could do better at is incorporating better music into their stories. Music can really make a game for me. ERS & Eipix do a good job in this area. All in all, this was a very fun game for me.
June 15, 2014
Loved It
A fun murder mystery always gets extra points from me because I love the 'creepy' factor. Great game with great graphics and storytelling.
June 19, 2014
I Love elephant games
This has been the best,,, I do own a lot of games. and Elephant are the best.
July 12, 2014
Auntie to the rescue! Again! And again!
As many of the other reviews have said, this game has absolutely stunning graphics and cutscenes. The individual locations are also visually gorgeous, although the voiceovers are a bit weak at times. My biggest deciding factor on any game is the length. I played on Expert mode with no hints, and the main game took me about 5 1/2 hours. Since I also played the CE version, the bonus chapter took me a surprising 45 minutes, which made the overall length quite satisfying to me both as a CE and a SE. The puzzles themselves were nothing mind-bending. Fishing objects out of an aquarium, making a potion, melting metal on a fire, etc have been done to death and were all present in this game. However, the HOs were very clear and well-spaced, the beautiful graphics saved the day, and the story progressed at a fast enough pace that my interest in the game stayed steady. Of course, this series is about an aunt rescuing every single one of her relatives by going into the past and changing the future outcome. It gets a little tiring to have such dense nephews and nieces and sisters that are constantly destroying the family tree and humanity in the process. If you are looking for a new idea in this series, it is not here. It is another Auntie rescue mission. But the fresh twists and plot still hold their own and I definitely enjoyed this latest game in the series. Here's hoping for more! Happy gaming, Big Fishies!
June 26, 2014
give it a try
nice game. 3 main chapters. not many HOS but plenty of puzzles. 2014
July 11, 2014
Series returns to its roots
I'm copying this review over from the CE game, so you'll know what you're missing if you go with the SE: This review is based on a complete playthrough of the game and bonus content. After swerving a hard right for Bloody Mary (a most enjoyable excursion, I must add), Grim Tales is back to the basic premise of the first installments of the game. First, as always, the bonus content (or Why should I pay double for this game?): The bonus game took me a good hour. It wasn't what I was expecting, in a good way. It did leave a bit of a feeling of 'series finale' at the end, which I hope isn't the case. The window is certainly still open. Plenty of morphs and achievements as well as the usual swag. The main game does end conclusively, so you won't feel cheated out of an ending if you go the SE route. Now for the game: THE GOOD: Back to the original formula with the family being the center of attention. Remember the castle? It's back. Naturally it's up to you to solve all the problems your family gets itself into, but what are aunts for? Very nice variety of puzzles. Some old favorites, some with new twists. None hair-pulling hard, but they weren't all simplistic either. I'm going to call it a 'grown-up' game. Not that there's anything disturbing for kids (there isn't), but they aren't going to 'get' most of the plot. Then again, if they grew up on procedural crime dramas like my daughter did, maybe they will :) Graphics and voicing were all top-notch. Ambient sounds were ok, but got repetitive quickly. Map and Hint are both teleporting - hint recharged quickly at middle difficulty and didn't get 'used' up by a teleport (or even just showing a specific area - that could be good/bad, fielder's choice). THE BAD: Maybe I went in with too high expectations after their last title, but the story didn't grip me the way others have. It wasn't lackluster, just not edge of my seat stuff for the most part. I had no trouble walking away from it for a while without wondering what was going to happen. THE UGLY: A few mini-games I had to use the map to back out of. That's the only real bug I found. There's also an issue with things you find - papers you can read aren't copied into your diary, so you've got one shot to read them when they're on screen that I could see. Read quickly before they're gone (the substance of them is put in your diary). BOTTOM LINE: Hearty recommendation, as long as you know what to expect. If you enjoyed the first couple titles in this series you'll love this. If you just started with Bloody Mary or even The Stone Queen, this one may seem a bit more laid back to you (none of the 'creep factor' of Bloody Mary). Either way, it's still a good game, well worth your time.
July 9, 2014
The Apple logo is a trademark of Apple Computer, Inc.
The Windows logo is a trademark of Microsoft, Inc.