Grim Tales: The Vengeance
Exclusive
You've been summoned to court to provide testimony in a trial against your nephew James, who stands accused of murdering his sister. By using your power to learn an object's history simply by touching it, you must examine evidence from the crime scene to determine what really happened to Elizabeth. Can you prove James innocent and find the real killer? As you explore the family mansion, a dark force is trying to cover up the truth! Watch your step, or you could be next! Follow the trail and crack the case in this thrilling hidden-object puzzle adventure game!
Game System Requirements:
OS:

10.9/10.8/10.7/10.6

CPU:

2.5 GHz (INTEL ONLY)

RAM:

2048 MB

Hard Drive:

855 MB
Game Manager System Requirements:
Browser:

Safari 4.0 or later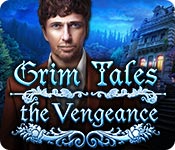 NEW299
The Big Fish Guarantee:
Quality tested and virus free.
No ads, no adware, no spyware.

Reviews at a Glance

Grim Tales: The Vengeance
0
out of
5 (
0
Reviews
Review
)
Customer Reviews
Grim Tales: The Vengeance
24
24
Eye candy graphics!
Over the past year, I think I've bought more games than I've played. I was working long hours and didn't have enough free time, so I'm just getting around to this game. I had forgotten I had even downloaded it and almost rebought it! I played a couple of other games before I got to this one, and I'm glad I did. The quality in the graphics is just amazing. Having just played a game where I was wondering if the screen was stretched or if my graphics card was acting up, I got to see the clear difference with this one. The art is very detailed with lots of nice layers that make it all shiny eye candy! Plus, they used my favorite color scheme. :-) In the story, you take the role of an aunt with touch sight who is present at her nephew's trial after being accused of murdering his sister. At first glance, all evidence points to him being guilty, but the aunt uses her abilities to examine the evidence and determine the truth. I honestly can't remember if previous grim tales were similar. In touching each object, the aunt is thrown into a memory connected to that object. Each memory has several scenes. The help button was very... um, helpful. When I had overlooked something, it helped me find it right away, and I believe there's a map to help you locate areas where something is not found yet. I like to play on casual mode on all of my games as my purpose is to relax, and I am often interrupted, making timed games rather annoying. If I could name any drawbacks, it would be that it seemed brief to me, but maybe it was the same length since time flies while you're having fun.
September 8, 2014
Auntie to the rescue! Again! And again!
As many of the other reviews have said, this game has absolutely stunning graphics and cutscenes. The individual locations are also visually gorgeous, although the voiceovers are a bit weak at times. My biggest deciding factor on any game is the length. I played on Expert mode with no hints, and the main game took me about 5 1/2 hours. Since I also played the CE version, the bonus chapter took me a surprising 45 minutes, which made the overall length quite satisfying to me both as a CE and a SE. The puzzles themselves were nothing mind-bending. Fishing objects out of an aquarium, making a potion, melting metal on a fire, etc have been done to death and were all present in this game. However, the HOs were very clear and well-spaced, the beautiful graphics saved the day, and the story progressed at a fast enough pace that my interest in the game stayed steady. Of course, this series is about an aunt rescuing every single one of her relatives by going into the past and changing the future outcome. It gets a little tiring to have such dense nephews and nieces and sisters that are constantly destroying the family tree and humanity in the process. If you are looking for a new idea in this series, it is not here. It is another Auntie rescue mission. But the fresh twists and plot still hold their own and I definitely enjoyed this latest game in the series. Here's hoping for more! Happy gaming, Big Fishies!
June 26, 2014
Series returns to its roots
I'm copying this review over from the CE game, so you'll know what you're missing if you go with the SE: This review is based on a complete playthrough of the game and bonus content. After swerving a hard right for Bloody Mary (a most enjoyable excursion, I must add), Grim Tales is back to the basic premise of the first installments of the game. First, as always, the bonus content (or Why should I pay double for this game?): The bonus game took me a good hour. It wasn't what I was expecting, in a good way. It did leave a bit of a feeling of 'series finale' at the end, which I hope isn't the case. The window is certainly still open. Plenty of morphs and achievements as well as the usual swag. The main game does end conclusively, so you won't feel cheated out of an ending if you go the SE route. Now for the game: THE GOOD: Back to the original formula with the family being the center of attention. Remember the castle? It's back. Naturally it's up to you to solve all the problems your family gets itself into, but what are aunts for? Very nice variety of puzzles. Some old favorites, some with new twists. None hair-pulling hard, but they weren't all simplistic either. I'm going to call it a 'grown-up' game. Not that there's anything disturbing for kids (there isn't), but they aren't going to 'get' most of the plot. Then again, if they grew up on procedural crime dramas like my daughter did, maybe they will :) Graphics and voicing were all top-notch. Ambient sounds were ok, but got repetitive quickly. Map and Hint are both teleporting - hint recharged quickly at middle difficulty and didn't get 'used' up by a teleport (or even just showing a specific area - that could be good/bad, fielder's choice). THE BAD: Maybe I went in with too high expectations after their last title, but the story didn't grip me the way others have. It wasn't lackluster, just not edge of my seat stuff for the most part. I had no trouble walking away from it for a while without wondering what was going to happen. THE UGLY: A few mini-games I had to use the map to back out of. That's the only real bug I found. There's also an issue with things you find - papers you can read aren't copied into your diary, so you've got one shot to read them when they're on screen that I could see. Read quickly before they're gone (the substance of them is put in your diary). BOTTOM LINE: Hearty recommendation, as long as you know what to expect. If you enjoyed the first couple titles in this series you'll love this. If you just started with Bloody Mary or even The Stone Queen, this one may seem a bit more laid back to you (none of the 'creep factor' of Bloody Mary). Either way, it's still a good game, well worth your time.
July 9, 2014
give it a try
nice game. 3 main chapters. not many HOS but plenty of puzzles. 2014
July 11, 2014
Far From Perfect, But Very Enjoyable
BASED ON COMPLETED STANDARD EDITION GAME Grim Tales is probably my least favourite of all Elephant's series, so when I played the demo of this one, I was quite surprised! I enjoyed it, so I purchased. While the quality of this game did go downhill a bit after the demo, it was still a very enjoyable game in its own right. What attracted me to this game was definitely its story. It had a unique, exciting concept and was executed quite well. I quite liked the courtroom setting to begin with, and I liked the idea of being able to travel back in time to find bits of evidence to do with the case. The story started off well and picked up the pace a bit. With each bit of evidence uncovered, a new part of the story was told, and things got more exciting. The twists that occurred in the demo were good ones, and by then, I had already made up my mind to purchase. When the demo ended on an exciting note, I simply had to no what happened next. The events immediately following the demo were quite exciting and set up what I thought would be a brilliant final part of the story. However, my excitement soon faded. What started out as an exciting murder mystery/save the relative type story quickly changed in to a supernatural/ghost story. Ghosts and supernatural stuff like evil skeletons, possessed teddy bears, etc. became the main focus of the story and appeared seemingly everywhere. This ruined the story a bit for me. Despite the story being ruined a bit, the rest of the game had some nice twists and built up well to the ending. But the ending was TERRIBLE! Don't get me wrong, it was conclusive, but WOW, what an awful, awful finish! I won't go in to details on the ending as a courtesy, but that was, in all honesty, one of the worst endings I've ever seen. I was disappointed that the game ended like that as it took away from the realism of the game. Overall, a decent story, but it went downhill after the demo. I also enjoyed the gameplay, even though it was fairly run-of-the-mill. I liked the HOS. They were all list junkpile with a few extra-step objects in each one. For me, this was a nice change from the jazzed up stuff, and it added to the more relaxed feel of the game. Having said that, due to their simplicity, I found the HOS to be quite easy. I thought the HOS were well spaced out. There was a decent number of them, but I would have liked a couple more. As the game wore on, there seemed to be fewer and fewer HOS. The puzzles were good, even though they were nothing I haven't seen before. I liked how they varied in challenge, from quite easy, to quite hard. I liked attempting them, even though I had to skip a couple. The puzzles were quite enjoyable and a good accompaniment to the rest of the game. They were well spaced out and there was a decent number of them in the game. I think the real killer for this game was its lack of innovation, and that showed with the lack of extra gameplay features. The only feature here is + objects, which are becoming a standard feature these days. There are a decent number of + objects, with some requiring more than one addition to complete. My only problem with this feature is that there is no indication of when the item is ready to be interacted with. Other than that, I really enjoyed the feature. But when it comes to gameplay, that was it. That was the major annoyance for me. I get animal helpers are out of place in this game, but you don't have to add an animal helper to make things fun. Elephant is definitely capable of innovation, as I have seen in some of their other games. You don't have to add fancy new features... maybe jazz up the HOS a bit? Or the puzzles? The lack of innovation took away from the fun factor significantly. It also meant that the game was quite easy. For Elephant's next game, I expect some improvement on the gameplay, because in this day and age, with all the new gameplay features about, they're just going to fall behind. Despite the lack of innovation, I will admit that this game's basic features have been done well. There is a diary, three difficulty modes and a map. The map is interactive and lets you know where tasks can be performed. I was very glad to see a diary here. It helped me remember key events of the story and was also nice to read. It seems developers no longer think that diaries are important, but they are. I'm glad that at least one developer still thinks so. The graphics are quite good. They are typical Elephant. The scenes are drawn with great detail and some nice colours to match the atmosphere of the game. The scenes are clear too. There is also lip-synch in the game, which is always nice. The voice-overs are standard. I have no issue. FEATURES 3 modes of difficulty: Casual, Advanced and Hard. Differences are standard. I played Casual. Hint/Skip- Both recharged at a decent speed for the difficulty I selected. The hint was useful outside HOS, sometimes acting as a teleporter. Diary- The diary keeps track of events. It was good for helping me remember key events. It is located with the map. Map- The map was interactive and helpful. It let you know where there were tasks to perform, and when there was no current tasks in an area. I often relied on it to get around the game. + Objects- There was a decent number of them, and I liked how some required more than one item to complete. I didn't like that there was no indication of when they were ready to be used, though. WHAT DO I MISS OUT ON IF I BUY THE SE? Bonus Chapter- Not needed. The ending to the SE is 100% conclusive. Built-in Strategy Guide- Would have been nice for the puzzles, but I managed without it. Achievements Collectibles- the collectibles are figures of the McGray family. Concept Art (8) Wallpapers (9) Screensaver WHICH IS THE BETTER BUY? I bought the SE and was extremely happy with it. I highly advise you do the same. The CE has very little bonus content, none of which is appealing, or worth the extra dollars. The SE story has a conclusive ending, so there's no need for the bonus chapter either. ON THE GAME LENGTH Game length was about 3 hours for me on Casual mode, which is my ideal length. I am a relatively fast player, so the time may be longer for you. Overall, I enjoyed this game. It wasn't perfect, but I am certainly not sorry I bought it. This is the best game of the Grim Tales series and it now has me eager for Grim Tales 7. I give this a three and a half star rating, but since there are no half-stars, I will round it up to four. Kudos to the developers for an enjoyable game. I will be replaying it in the near future.
September 30, 2014
Quite Good Fun!
Well, I did enjoy playing this game, but I can't say it was a gripper..an average type game..the graphics were well done
July 14, 2014
Definetly NOT Worth 4/5 Stars!
Based on CE Demo: Another relative in peril & you are called upon to save the day storyline. Graphics: Again cartoonish & VERY blue. Music: Ok..nothing special. Characters: Have lip sync movement but bodies are wooden & stiff. HOGS are not so very cluttered this time & there are the usual assortment of mini games. Collectibles are available & not too difficult to find. Game is not very challenging but fun to find out where next scene will take you. Give demo & try & see if this rehashed, nothing new storyline game peaks your interest enough to buy
June 13, 2014
Maybe it's just me, but.........
I'm not sure why I'm not wild about this. Partly I don't like puffs of angry black smoke coming at me, and partly because it was pretty simple, with most of the challenge just remembering where one had to backtrack to use every item. Another thing, the directions for the puzzles were incomprehensible to me. "Do what, where?" The HO scenes were fine. The story itself was interesting, and the game did seem long enough, so perhaps it is just me - I believe I would have been much more satisfied had I bought the CE, since I would have some idea about the puzzles, plus, of course, the extras. My bad.
July 26, 2014
Just not for me
I normally like a game that has a lot of puzzles without all the HOG, this game has a lot of that but I am not quiet sure what it is that I do not like this game. It just isn't for me I guess, it is worth a DL to try it and see
June 16, 2014
Nice Continuation but Not Exceptional
Having played all the Grim Tales games, I feel like part of the Gray family. I was there when the sister married and had James - now he's on trial. Game is good, but oddly flat. Pros: Graphics, music, functioning all beautiful - like we expect from this series. Puzzles easy to medium - quick to solve. A lot of different locations, not just 'same room/different time." Easy to follow story. Right amount of HOS. Cons: #1 problem. The mini-puzzle instructions are terrible. They don't explain how the puzzle works in any way. I ended up skipping a few puzzles because I couldn't figure out how the mechanism worked. The game just seems flat. The story is engaging although it jumps very quickly to the final conclusion, and once you see the reveal - you don't really care. Toward the end there's a lot of "Do this /go there/get that/" back and forth. Boxes holding puzzle pieces of other boxes. I'd recommend this for die-hard Gray family followers, but not as a step into the series.
September 28, 2014
The Apple logo is a trademark of Apple Computer, Inc.
The Windows logo is a trademark of Microsoft, Inc.