Tales of Terror: House on the Hill
Exclusive
When you signed up for a ghost tour at an old estate, you were just hoping to spend some time with your sister, who loves the paranormal. But the brochure never mentioned the real danger you would encounter the second the doors close behind you. Walls shift and corridors expand, creating a terrifying maze that separates you from your sister. Now you must outwit dangerous traps and find a way out before the house claims another victim. Summon your courage and get ready for thrills in this Hidden Object Adventure game!
Game System Requirements:
OS:

Windows XP/Windows Vista/Windows 7/Windows 8

CPU:

2.0 GHz

RAM:

512 MB

DirectX:

9.0

Hard Drive:

828 MB
Game Manager System Requirements:
Browser:

Internet Explorer 7 or later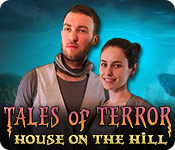 NEW299
The Big Fish Guarantee:
Quality tested and virus free.
No ads, no adware, no spyware.

Reviews at a Glance

Tales of Terror: House on the Hill
0
out of
5 (
0
Reviews
Review
)
Customer Reviews
Tales of Terror: House on the Hill
22
22
Good fun!!
I enjoyed this game, a little twist from the norm in the story. The house effects were quite good and the story line kept it going. You can teleport via the map which I love. The puzzles and games were fun with enough difficulty to keep it interesting. The only reason I gave it 4 stars is I just do not like when they use real people in a game, it gives it a hokey quality to me. The story was cool and believable if not for the poor performances in the cut scenes. But the game is definitely worth the purchase and I would purchase a sequel to it.
June 15, 2014
Good Terror in the House on the Hill
Based on Demo: I was pleasantly surprised by this game. Graphics are much improved with realistic moving characters & lip sync. Story premise is not original but moves along with some interesting twists & turns. HOGS are interactive & the mini games are pleasant enough. Music is quite nice. Although, the lack of a SG in the demo is a downer. It's so nice to finally find a game that TRUELY earns 4 Stars!!
June 15, 2014
Excelloent Game. Abrupt Ending.
This games had all the earmarks of a fantastic journey into the deepest, darkest corners of the mind. And it delivered. There were just two things about the game I didn't like: 1.) The use of real-life characters, which took away the "storybook" element, and 2.) The extremely abrupt ending, which disappointed me a bit. There was no "final conflict" with the evil one, and you had to wonder about the rest of the people who were trapped in the house. How many escaped? Who knows.
July 12, 2014
Nightmare in the House on the Hill
This is posted after completing the entire game. This isn't a bad game. I rather enjoyed it. The hidden objects were fun and the mini games were doable. That's a plus in my book. Graphics were very good. They were clean and easy to see. The sound left a bit to be desired in the voice overs. I couldn't hear them very well at all. Might have been the way I had the settings, but there were only two, music and FX. Music was tolerable and the effects went along with the story. As I mentioned the hidden objects were rather simple and I did the majority of the mini games, so I would have to list this as being rather easy. If you are looking for a challenge where you spend hours upon hours racking your brain, this isn't for you. But for we simple folks, was pretty good. You have an interactive map along with your diary. You will need both of these to complete the game. I love those maps. The hint button recharges quickly and will move you along should you get stuck. The only thing I did not like was the story line. It was okay, but the ending was ... the end. Nothing to it. It just ended. The rest of the story was good and kept me involved in the game. I wish I had been able to complete it in one sitting, but I wasn't able. I see nothing wrong with this game. It might be a bit short, but I enjoyed it. Check out the demo, of course, and I think you will find you might just enjoy it too. I did.
June 20, 2014
Excellent Game But...
The mini games spoil this game as they are really hard and have very bearing on the story, that said the it's one of the best games we have played, only let down by a very weak ending...
July 18, 2014
Fun, After I Got By the Glitch
I had to uninstall & reinstall this game because one item didn't go into my inventory near the very beginning. After that the game worked fine. I was pleasantly surprised at some of the puzzles. They were different and fun. Voice overs were good, as were the graphics. Music was your standard "dramatic" theme, but nothing to get excited about. I felt that I got my money's worth because of the length and the puzzles. HOS's weren't bad, either. Good game; not great.
July 14, 2014
Creepy, Campy Fun
This game is sort of a scaled-down version of the House on Haunted Hill movie. You play a character accompanying your sister on a guided tour of a haunted house that turns out to be exactly that. The beginning of the game starts out in a creepy and fun way, and the tone of the whole experience continues from there. Actors are motion captured and lip synched, which for the most part looks great. I particularly enjoyed the action sequences and the visual effects that went into constructing some of the different rooms in the house. It's like a combination fun house and ghost story. The game is scary, but not in a super realistic way, which I think will cause it to appeal to more people. Voice acting is fine, though one character in particular oversells it. Minigames are varied but not too challenging, and you'll complete each hidden object scene twice. They are very straightforward but you will need to manipulate some objects in order to access others. Nothing that should slow you down too much. If I have one complaint, it's that the game suffers on the story side after establishing its initial tone. There's very little character development of the other members of the group, and your notebook will skip ahead to things you haven't even seen yet. The ending (at least in the standard edition that I played) is also a bit unfulfilling. All of that said, I really liked the spirit of this and it was a blast to play. Looks good and is just long enough to be savored.
December 31, 2014
An OK Time Passer Game - Review of Completed CE
I'll start by saying this is the 2nd in the series of the Tales of Terror. The first is Tales of Terror; Crimson Dawn. This game here definitely stands alone. If you haven't done so there is no need to play the first in the series before playing this game. 6 Chapters JOURNAL: Holds notes/some puzzle clues MAP: You get this a little into the game however I didn't even look at it but from my reading after I completed the game is a transporter one. GAME PLAY; HOPA: For me the puzzles/mini games and HOS were well balanced but I thought the "adventure" side could of been just a bit more. HOS: All found by word list with some slight interaction. I did come across one scene find the matching pairs. Each scene visited twice. PUZZLES: The usual run of the mill. Nothing I would consider new. I'm not a fan. Less the better. Having said this. These weren't hard at all for me. VISUAL/SOUND QUALITY: The graphics I thought were good. The live actors were top notch for me. Actually the best I've ever come across in a game that used live real actors. I thought they were excellent. A kudos to the developer here. LEVEL OF CHALLENGE: Here we go again. 3 play modes and the only difference between the harder two modes is the hint/skip are disabled in the hardest mode. Neither have sparkles (thank you) however both overloaded with black bar tips stating what needs to be done in the game. Since this developer isn't new here I deducted one star just for this and I will every time I see this in a game. I hope they do a CUSTOM MODE for their next game offering. I prefer no sparkles, no black bar tips. I like to figure out for myself FIRST. If I can't that is what the hint/skip are for. Please let me decide when I need "help" in the game. ANNOYING! STORY LINE: Well this started off with promise for me but after the demo went down the hill. Sorry but I thought this story was lame. I do think the developer here could of came up with a much better story than this one. I don't particularly like spiders (no phobia though) but I know some do have a phobia: If you have a spider phobia well a few in this game are pretty huge. The main game came to a conclusion for me and was 3 1/2 hours. Fun Factor: Overall 3 stars from me. An OK time passer game. With the exception of the 'black bar tips" and could of been just a bit more on the "adventure" side I enjoyed the game play. I also thought there could of been more effort put into the story especially the bonus chapter. This is one game I wish I would of purchased with a coupon code or daily deal/catch of the week price $2.99. I did rate the CE 3 stars as well but didn't and still don't recommend that and I even got it on sale $9.99. That was too much in my opinion. CE Extras: Bonus Chapter: For me was very short. Only about 1/2 hour. This didn't really add anything to the game for me and while coming to conclusion but ends very abrupt. Strategy Guide: While this wasn't really an "issue" for me but when the CE was released some people had one. Some didn't so you may or may not get one here. Achievements which are performance based, 46 collectible hearts to find, 8 wallpapers and 8 concept art. As always, give it a whirl and decide for yourself.
June 15, 2014
What about the others?
This is based on completion of the SE in casual mode. I was a bit disappointed with the ending. There was a lot of mystery still left unanswered. The visual was okay -- a bit dark in some areas. The sound was okay. Nothing really wrong with either. The story was okay, but not the ending. The puzzles are a little different so if you like challenging puzzles you will love these. I skipped quiet a few. The instructions were not as clear as they could have been. At this time there is no walk through which would have been great especially in solving some of the puzzles. I really wanted to learn how to solve them. The HOS are very easy IMHO and some are repeated twice. Not as many HOS as I like. The hint button recharges fairly quickly in the casual mode and works outside the HOS by either pointing to where an object is to pick up or it gives directional arrows. I really liked the hint. There is an interactive map showing an exclamation mark where there is something to do and then it transports you there. Very helpful. I did stumble a couple of times but with a little sleep I figured how to water the Venus fly trap. Go to the forum if you get stuck here too. All in all it was a pretty short game which disappointed me at the end. Please play the demo and read a few reviews before you purchase. This is not the best game out there and although it had some features I look for in a game I was sorry I'd wasted a free game purchasing it.
June 17, 2014
A bit of a disappointment
I really liked this game when I first started it, but found many of the puzzles to be unclear as to how they worked or how to solve them. I rarely skip over a puzzle, but found myself skipping most of the ones toward the end of the game. I tried to solve them, but found the direction so lacking that I became frustrated, and just wanted to continue the game. And, my all time biggest gripe, an abrupt ending. PLEASE let me participate in the conclusion of the story! The ending of this game not only just ended, but left you hanging as to what happened to the others who were trapped. Did the developers run out of time before they needed to release the game??? Too bad the last third of the game was not as fun as the first part.
September 13, 2014
The Apple logo is a trademark of Apple Computer, Inc.