Love Alchemy: A Heart In Winter
When a new romance blossoms, the door to mystery opens in Love Alchemy: A Heart in Winter. Follow a young woman as she's caught in the tightening web of intrigue surrounding her charming but mysterious lover. To do so, you'll have to search for hidden objects, solve puzzles, and win mini-games, even as the game romances you with its astonishing beauty. From opulent castle halls, to creepy dungeons, to exotic faraway lands, you'll want to stop and soak in the visual splendor. But you won't because each discovery will lure you closer to an ending you won't expect. If you enjoy adventures that hold your heart in their grip like a budding romance, then play Love Alchemy. As the door to mystery opens, you'll be helpless against it!
A magical love story
Amazing worlds inside paintings
A shocking alternate ending
Captivating characters
Challenging puzzles
Game System Requirements:
OS:

10.9/10.8/10.7

CPU:

2.5 GHz (INTEL ONLY)

RAM:

1024 MB

Hard Drive:

482 MB
Game Manager System Requirements:
Browser:

Safari 4.0 or later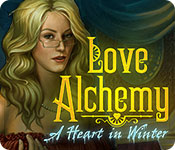 NEW299
The Big Fish Guarantee:
Quality tested and virus free.
No ads, no adware, no spyware.

Reviews at a Glance

Love Alchemy: A Heart In Winter
0
out of
5 (
0
Reviews
Review
)
Customer Reviews
Love Alchemy: A Heart In Winter
43
43
Loved It At First Sight!
BASED ON DEMO It?s a rare treat to get the chance to rave about a standalone standard edition game, but this one is wonderful! It looks good, sounds good, and has a pleasant easy flow of gameplay. Yes, in widescreen, the images are stretched (I prefer the black bars myself). Yes, there are plenty of HOPs, and the puzzles must have been very easy, because I can?t remember a single one! Yes, there is plenty of handholding (at least in the easiest of 2 game modes). And finally, yes, the story is simplistic. But it is all done so wonderfully well despite a tight budget, and it is just plain delightful relaxing fun. Now, for me, one of the all-time best HOPA game ideas is the ?world in the painting?, which I guess gives this game a big head start with me. And the story, original only in the sense that it adds a different quirk to a familiar theme, is the ?Bluebeard? story. "Don?t go wandering the castle while I?m gone, dear, or you might find the tormented souls for my previous 7 wives!" But it is such fun when combined with the ?1000 door? concept of many worlds within the castle. And all that beautiful colour! The graphics are good quality and beautifully drawn, and show beautiful locations and characters. The cut scenes are wonderful! They put ?creepy? into a game that might otherwise have been too pretty to chill the bones. There are no voiceovers, and to begin with, there is too much info given too quickly to catch it all, but that settles down after the intro. The music is varied and relaxing for the most part, and there are lovely vignette sounds in each world. The gameplay is simple. You wander the empty castle finding strange locks and hidden doors, and stumble into HOPs where you can usually find what you need. There is a fair amount of travelling before you start to find the items needed to open all the rooms you uncover, so it is good that your map is a jump map. It doesn?t, however, tell you anything else other than your place within the castle. If you are in one of the other worlds, you will need to choose the portrait that takes you there. Hint is directional but limited. It takes a while to recharge. The HOPs are a standard non-interactive word list. Not at all difficult, the items are clearly shown, the graphics are bright and sharp, and it is not overly junked. You visit some of them twice, but with very long gaps between. There are some mistakes in translation, but not enough to cause a lot of frustration. There don?t seem to be many puzzles, but now I think about it I can remember one. An easy "follow the music" type. The notebook is helpful for interpreting the purely drawn instructions you sometimes get. I love this game. BECAUSE it is easy ? on the brain and on the eye. I am having a hard time restraining myself to wait till next year to buy it. *grin* Happy New Year Fishies! AFTERTHOUGHT: No cute pets. And this game, too, is set around Xmas.
December 31, 2013
Unexpected Top Quality! Creative Story!
Now, this is a good game with a good story line and the music is exceptionally entertaining. When a gamer starts to play, as I did, expecting the same old same old and finds a game with a creative twist, now that is something to grade accordingly--FIVE STARS! What the game may lack in morphing objects or achievements, it, by far, makes up with quality story telling and visits to unexpected far-away and exotic lands. Even better, this is a standard game that can be purchased immediately without waiting until the Collectors'' Edition sells first. Put your memory cap on because you will have to remember where you were and then have to return, however, an interactive Map will help gamers on their way. Just a lot of fun, fun, fun figuring out what is going to happen to our gal in the story as her eyes slowly open to the truth about her new-found, handsome beau. Enjoy! -Mama Mia-
January 15, 2014
Based on demo
My rule usually is, if there's no walkthrough, no game, however I've taken a chance with this game, and so far, I'm pleased, it's about a women who is involved with a man called Charles, and when she reaches this house, she starts to find, women who have fallen in love with this man, and he's painted them, and trapped them, and the women who is finding these women, is being painted herself, so far I love it!
December 31, 2013
SHOKING ALTERNATIVE ENDING!!!
This is my first HO game, that has an alternative ending! It's AWESOME!!!
January 5, 2014
Really fun to play
I took a chance on this game & glad I did not a lot of star's is what I go by but I liked the magical screen shot's I'm glad I got it I couldn't stop playing. It is one I will go back & play agian
January 3, 2014
I Feel So Confused!?
I hope you are a speed reader, you're going to have to be to read the introduction of this game at lightning speed! There are no voiceovers, no collectibles, no frills, but oddly enough this game is entertaining. The confusion comes into play first of all because I was only vaguely aware of the plot (one of my superpowers are not speed reading) and I fell for the ole...internet love connection, yes of course I'll come to your castle and promise not to be nosy schemes. Then I'm on my own in the castle of love and the next thing I know I'm snooping every corner of the castle, opening safes and finding hidden dungeons, and tip toeing past the giant black widow spider. Then I find paintings of different women around the world that my dear Charles, allegedly imprisoned after breaking their hearts, and I travel through these paintings to help these damsels in distress. The HOS are list finds but they did a nice job with them and the mini games tend to be on the easy side, but some were creative and new. One puzzle required you to turn all the discs red only in the diamond shaped center by clicking different directional arrows. It's really not a bad game, try it.
December 31, 2013
Nice SE! Travel through portraits to save trapped souls.
Based on demo. Your beloved Charles leaves you alone in his castle while he is away on a mysterious errand. As you explore the castle you find locked portraits of women that are actually portals to other worlds. Has your beloved trapped these women through false love? Or is he blameless? This is an SE game, so no bells and whistles. There is a journal and interactive map to help. No wide screen or VOs. However, the cut scenes are quite good and so is the music. The graphics are good and the different worlds are well imagined. HOSs are standard type and puzzles are of medium difficulty. This is an enjoyable, easy to play game that is fine for all ages. I think it is easily as good as some recent games that are masquerading as CEs, but really aren't. Recommended!
December 31, 2013
Good eyesight required!
The story here is more intriguing than you would get from the intro. You are invited to the overseas castle of an artist you met online. You find yourself alone when he leaves on business and you go exploring. And soon you find yourself opening hidden safes, exploring secret passages and dungeons, and rescuing enchanted maidens left entrapped by, most possibly, your beloved. There are two difficulty levels, not overly annoying music, basic HOS, a variety of mini-games, good artwork, and an interactive map that lets you travel around more quickly. The hint is sometimes helpful outside of the HOS, but not always. You'll do a lot of reading in the intro and of notes you find. There is a lot of potential here. The story is interesting and there is not an excessive amount of hand holding. BUT the HOS items and even the list of items to search for are VERY tiny. I have a huge oversized monitor and the printed items list had letters an eighth of an inch high on that. I am sure this is not a game I'd even try on my laptop. But for a story with potential and a new and beautiful castle to explore, I'll invest in a good magnifying glass!
December 31, 2013
A Travel Through Portraits - Review of Completed Game
STORY: You take on the role of Ellie where an internet romance with Charles, an artist, turns into an actual meeting with a candle lit dinner and then he takes you to his castle in France where he leaves you for some mysterious business in the valley. While he is awhile you are going through the castle and you discover that Charles isn't as charming as he appeared. You end up having to save 7 women lovers of the artist here that are trapped in portraits. WIDESCREEN: There is a "keep proportions" option within the options. I had to deselect that for the game to go into widescreen otherwise I would of had black bars. 2 PLAY MODES: I played the hardest of the two. Sparkles came up for me for the HOS and there were also black bar tips telling me at times what needed to be done. The hint I didn't use it so no comment there. GRAPHICS: May be "too dated" for some but I really like these kind of graphics. Some of the scenes also "cartoon" style type drawn. These were nice and clear for me. No problem. VOICE OVERS: NO JOURNAL: YES. Holds story/notes. MAP: YES but I didn't use it. Checked it out though. It's transporter but doesn't indicate if there is anything to do or not at least in the hardest of the 2 modes. HOS: At first didn't seemed to be few and far between but did pick up as they appeared more frequent. All found by word list and are not interactive. These were nice, crisp, and clear for me. I had no problem here. PUZZLES: I am not a fan. The less amount of puzzles the better for me. I enjoy games more on the adventure/HOS side. Having said this these for me were all on the easy side so I didn't need to skip them though I will say I didn't see a skip button. Just a help and quit buttons at the top and a hint button at the bottom. Not too many in this game. MY PLAY TIME: This was 3 hours for me. I was just fine with the game length. Well worth the use of my punch card coupon code. OVERALL IMPRESSION: I'm gonna start by saying this does start off as a "Christmas" type setting game but then went to the demonic/occult side so some may really be offended by this game. It didn't bother me at all though. I was definitely intrigued by the story and was drawn in immediately. I just had to see where this ended up going and I must say it was kinda "out there" and "off the wall" but I really enjoyed the story. It held my interest from beginning to end. I also enjoyed the game play which seemed to be more on the lite adventure side as there is some back/forth to this game that is if you don't use the map. I do have some criticisms about this game. The first being: No true widescreen as I had to deselect the "keep proportions" options so the graphics did appear stretched for me. Second: I thought the dialogue at the beginning of the game went by just a bit too fast unless of course you are a speed reader which I'm not but then thank goodness slowed down and I also prefer the characters in the game to talk. My last criticism with this game the sparkles and black bar tips. Just provide me with a hint and skip button and I'll decide when I need help or skip any of the puzzles. Overall 4 stars from me. I rated this on the higher side due to the story as it was so "out there." I was taken in by it and intrigued. Thanks Big Fish and developer. As always give it a whirl and decide for yourself.
January 1, 2014
The Artist Did It
So you fall in love with Charles via the Internet and agree to meet him at his castle in Europe at Christmas. Charles is an artist and the castle and town seem to be out of the 18th century or so, including the soft music playing in the background. After a lovely, romantic evening, Charles leaves on business and says to explore the castle. So what you find is several incarnations of Charles, including a painting of what seems to be his great-grandfather, but looks just like him. You find a loveletter to Mary from Charles during the war. You find several paintings of various women all locked in some misfortunate trap, all of whom loved Charles at some point and place in time. You go through the paintings to rescue the women, and receive the Tears of Love they each shed for Charles. Each set of tears adds to the love story of the French Charles de Ras and Ariel, his wife. Of course there is a demon............... So it is an excellent story line wrapped in a game that is not so excellent. There are only two levels of play. The inventory doesn't lock open. The introductory tutorial tips can't be clicked away, although you can skip the tutorial. The HOS are all lists, and sometimes the last item on the list cannot be clicked on -- you need to use a hint to actually remove it from the HOS. The Hint button only works randomly - or else takes a very long time to refill! There is jump map - no activities marked, however. Almost no puzzles included. If you can put up with these idiosyncrasie, you have a decent story line to follow, and 8 women - including yourself - to rescue. Plus Charles. Try before you buy!
December 31, 2013
The Apple logo is a trademark of Apple Computer, Inc.
The Windows logo is a trademark of Microsoft, Inc.