Panopticon: Path of Reflections
Enter a world in which the border between reality and illusion is paper thin and the answer to a mystery will test the limits of human understanding!

Guide Senior Inspector John Perry as he sets out to find magician Andy Fox and his assistant, who vanished into thin air while using a new machine during one of Andy's performances. Explore far off locations in which the unexpected is expected, scour alternate dimensions for clues and hidden objects, and employ your skills as a virtual sleuth to solve cunning puzzles. Along the way, you'll perform magic tricks, interact with the Great Houdini, and outsmart a scheming shop keeper!

The world of Panopticon is filled with twists and turn, and will keep you guessing until the truth is revealed in the final, stunning moment of the game. Are you prepared for an adventure unlike any other?
Cleverly hidden objects
Cunningly designed puzzles
Visually stunning locations
Captivating storyline and a surprise ending!
Game System Requirements:
OS:

Windows XP/Windows Vista/Windows 7/Windows 8

CPU:

1.4 GHz

RAM:

1024 MB

DirectX:

9.0

Hard Drive:

1431 MB
Game Manager System Requirements:
Browser:

Internet Explorer 7 or later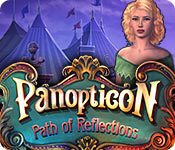 NEW299
The Big Fish Guarantee:
Quality tested and virus free.
No ads, no adware, no spyware.

Reviews at a Glance

Panopticon: Path of Reflections
0
out of
5 (
0
Reviews
Review
)
Customer Reviews
Panopticon: Path of Reflections
21
21
Wonderfully Weird original Mystery!!!
Magician Andrew Fox and his assistant have disappeared. Unravel the secrets of alternate dimensions to find the missing duo in Panopticon ? Path of Reflections, an unusual hidden object adventure that will have you puzzling and puzzling. During a recent show, the magician and his assistant performed a new trick using a mysterious new machine. As Inspector Perry, you're on the case. The unexpected becomes normal and the path of answers winds like a snake. Perform your own magic tricks, encounter the Great Houdini, and follow the story's twists and turns to the shocking end. I really loved this game, and one of the characters, Mr. Toad looks like the dwarf from the TV show Twin Peaks. Excellent!
June 22, 2014
A Great Value Game ...
Good Graphics, Sounds, Effects, Voice & Video Bits ... Great Story With Influences From Mild Fantasy To Sci-Fi Stories Spanning Generations ... A Real Mixed Bag Of Fun ... A Great Value For Money Game ...
June 21, 2014
Good game
This is a very well produced game: good artwork, good music and great VOs. The story is very interesting, and there is a good journal. It's a fairly simple game with minimal back-and-forth, although there are lots of different scenes. It's a fairly long game, too. The HOS and puzzles are all good. This is a thoroughly enjoyable game that I highly recommend.
July 5, 2014
Wonderful game
I loved this game - nice Idea to travel through a portal in mirror worlds - great graphics, challenging min games. Thumbs up.
July 31, 2014
What A Pleasant Surprise A Nice Stand Alone SE - Review Of Completed Game
VISUAL/SOUND QUALITY: While I enjoyed traveling through the portals my one and only criticism here is the bright flashing light. Other than this I really enjoyed this and really liked the graphics. The dialogue while there is a lot at times especially the very beginning of the game (didn't bother me though) I was very impressed with the characters. I thought the voices were excellent. A couple of these characters made me LOL when I got more into the game past the demo time The music seemed fitting to the game. No star deductions here but I hope this developer thinks about this for their next game that bright flashing light. LEVEL OF CHALLENGE:This for me is just a standard HOPA. That's fine. The hint is quick to charge up and directional outside of HOS. There is a journal. There is no map which may bother some people but not me. The game play pretty linear for the most part for me anyway. There were a few objects I needed to pick up outside of HOS that weren't always so obvious. I also had to go back a few scenes a couple of times. The HOS are just standard word list with slight interaction. The puzzles I'm not a fan. Less the better. Having said this: These in this game I found downright annoying as I had a hard time executing them because they had to be done just so - cursor in the exact spot. Thank goodness for the quick skip button. I skipped most of these. I won't count off for puzzles/mini games since I'm not a fan of these and I was able to skip them rather quick However,this developer does lose a star in regards to play modes since they are not new and have been making games for quite awhile: In the hardest mode I still had black bar tips, glints on some areas of interest, and sparkles on the HOS. Please do a custom mode for your next game offering and have it actually apply to the game. I prefer no sparkles/no black bar tips, no glints, and a quick hint/skip button charge up in case needed. In other words I like to decide when/if I need help in the game. Oh and please don't put the menu bar up at the top left hand corner. That was well hidden for me. I found that by accident when I clicked on an object in a HOS scene as it was right by the menu bar and then the menu bar dropped down but it actually took me out of the game when I clicked on it. Please put that at the bottom where it's visible. Reading the Big Fish forum I see a couple of people had trouble here as well. Story Line: While definitely nothing "new" to this story but I still found it interesting. It held my interest from beginning to end. I didn't stop playing until I reached the end. Fun Factor: Overall this gets 4 stars from me. Yes this does have some flaws but for me this is A LOT better than those so called "CE" games Big Fish has been releasing lately. I enjoyed the 5 hours I spent playing this game for the most part. This was worth the use of my coupon code. If I wouldn't of had a code I would of paid $6.99. Thanks Big Fish and developer. More like this PLEASE and I also THANK YOU for NO animal helpers. Much appreciated. As always, give it a whirl and decide for yourself!
June 18, 2014
A Portal, A Missing Magician, his assistant and a Fortune Teller.
All pieced together begin a story of mystery, suspense and travel. Storyline: You are Detective Perry. Your friend Junior Constable Sean Boston has called upon you to help investigate the disappearance of the famous Magician Andy Fox and his lovely assistant, Angela. Andy Fox apparently built a machine of some sort. No one knew the secret behind the machine, except that people believed even Tesla had a hand in helping build it. During a dress rehearsal of his magic show, Andy Fox and Angela stepped into the machine and disappeared. Leaving behind a note for Detective Perry that Angela would now love him/Fox whether she liked it or not. Detective Perry has long carried a torch for the lovely Angela but has never told her of his feelings. Now, he is headed back to his hometown to not only find the missing Andy Fox and Angela, but to profess his love to her as well. A mystery with a love story. Who could resist? Graphics: Very well done. Colors and scenery apropos to the environment. Characters in HD, the movement was a little stilted but not enough to disturb the game play. Even the flesh tones of the various characters were spot on. Amazing. As was all the scenery in the various places you get transported to. Sound: The background music seemed to want to be a haunting melody but missed the mark. It finally became so irritating I turned it off. Sound effects were good. Voices were clear. Loved the lip syncing and movement of the characters. Game Play: Find the machine that Andy Fox built and figure out how to use it. You not only want to find him but the lovely Angela (Fox's assistant) as well. Mirrors show parts of past deeds that hold clues. You are transported through a portal in a secret basement to several locations, where you find clues. However, remember this is a game about Magicians and clues will be found in the strangest of places in a variety of ways. HOGs: This game is not overrun with HOGs, however, the ones I played were very easy. The items were not difficult to find at all. Sometimes you visited the same HOG twice and the items you previously found were still there. Mini Games: Very easy. Although there were a few that gave little or no instruction and you had to figure it out yourself. There are 2 levels of difficulty - casual and expert. You are given a journal which you should read constantly, as it contains not only notes that will help you along the way, but important clues as well. It really acts as good as a strategy guide. There is no map (transportable or otherwise) and one would have been very handy as there is a LOT of back and forthing. You can choose to take the tutorial lesson or not. When I started playing this game, I was really not interested at all. It was cheesy. The games were easy. The HOGs not difficult at all. The mini games not really much of a challenge. Why, then, when the demo was over, did I feel I had to purchase this game? The mystery of the story? The intrigue? The embedded love triangle? Who knows? I just knew when the demo ended my reaction was "What? No! Not yet!". THAT is my "wow" factor. And that wow factor decides if I purchase a game or not. For all its cheesy love triangle, circusy atmosphere, this game had me hooked by the end of the demo. Therefore, I encourage everyone to please try the game. the demo is free and only takes an hour of your time - which will actually speed by. This Glam-ma says - go for it. Happy Gaming to All!
June 18, 2014
Nice simple SE...
Hi all. Something a little different today. Yes, a very simple SE, but nice. Graphics were nothing special, but were clear and bright colors. Game play was very good, no problems with action, movements or screen. Music was very pleasant and somewhat haunting at times...I liked it. There is no jump map and no extras to find. There was a click penalty. Inventory does lock in place (thank you!). Voice overs are few, but well done for the time period and locations. Not much in the way of sound FX, but a few that are quite appropriate for the scene and what is happening at the time. HOPs were quite simple, but very clean and clear, no junk piles to mess with and no eye strain. There is a lot of back-tracking and you play the same HOPs more than once. Puzzles were also simple but fun. You do add pages to your journal, which gives you more information as you go along. The story is fun and a bit different. We have magic, carnivals, sultans and more, I'm sure, since we have time travel in this story. Kept me interested throughout the demo. Hint system is quite helpful and fills very quickly. This is not a very challenging game, but relaxing and well done for an SE. I think it was the music that did it for me. It just kept me going. I think this will appeal to all levels of players, especially advanced players who want to just take it easy for a change. Don't know how long this game is, but I'm going to get it and find out. Hopefully it is longer than the sultan's palace, which is where my demo ended. As always, try it for yourself and see what you think. We all have different tastes in games and you may not care for this one at all. Thanks for the reviews.
June 18, 2014
Panopticon Path of Reflections
If you want a relaxing HO game this is one for you, very simple story line, good visual quality, easy puzzles. The only negative is the fact that they do not have a map built into the program which would have made it a lot easier to navigate between sceans. I enjoyed it, but will wait until it comes on the daily deal to purchase.
June 18, 2014
Clever Hidden Object Game
A magician (who looks suspiciously like a cross between Johnny Depp and John Leguisamo) and his assistant disappear in front of a packed audience while performing a magic trick. They enter a time machine and then disappear. The next thing that happens is that the time machine itself disappears. The soundtrack in this game is excellent. The music is very intriguing and continues throughout the game. The voice overs are the best I have ever heard in a game, very realistic. The visuals are beautiful, also realistic. The characters are remarkably life-like. The hidden object scenes are very well done: list type with some interactivity. The clues are accurate and the objects are clearly drawn. Mini puzzles were also a lot of fun. I would have bought this game for the soundtrack alone. It is a great game.
June 30, 2014
I like this HUGE game~
I didn't exactly know HOW to think after reading those negative reviews. No, this isn't CADENZA, but it's fun. The lulling music, zzzzz, which I enjoyed, added to the No Hurry aspect. It is quite easy but the music, and characters...(gotta love the dwarf) made, at least for me, an enjoyable gameplay. The spex and story are in the other reviewer's comments. Give it at least a try...you may be surprised as I was/am.
June 19, 2014