Royal Envoy 3
Exclusive
The HMS Islandshire is exploring the South Ocean when all of a sudden they see new land! Previously unknown islands contain an immense amount of fish, pearls, and gold... not to mention troves of ancient pirate treasure! Embark on an exciting expedition to crack the intriguing puzzles of the past, while developing these new lands for the kingdom!
Game System Requirements:
OS:

Windows XP/Windows Vista/Windows 7/Windows 8

CPU:

1.4 GHz

RAM:

1024 MB

DirectX:

9.0

Hard Drive:

315 MB
Game Manager System Requirements:
Browser:

Internet Explorer 7 or later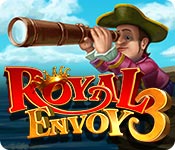 NEW299
The Big Fish Guarantee:
Quality tested and virus free.
No ads, no adware, no spyware.

Reviews at a Glance

Royal Envoy 3
0
out of
5 (
0
Reviews
Review
)
Customer Reviews
Royally Envoyable
Previously unknown Islands have been discovered and they have an abundance of fish, pearls and GOLD! The Islanders are willing to become part of the Royal Union in exchange for building them real houses, naturally the King is more than willing to help out the fellow islanders and collect their taxes. You are given goals for each level and you need to collect berries and build markets in order to feed the workers. You will need wood to build houses and repair bridges by either cutting trees or building sawmills, the sawmills and markets require you to click on them and choose how many products you want to produce. Houses can be upgraded in order to collect more rent. Different buildings will be available to build as you progress and this Standard Edition still has available achievements but no built in Strategy Guide. Personally I don't think you'll need the SG because there is a very good tutorial that will take you step by step and show you exactly to play this game, envoy!
June 20, 2014
Best Bang For Your Buck!
As lazy as some game creators are getting, giving little time in the game, using cheap graphics, playing copy cat.... I have to say Royal Envoy 3 is outstanding in all fields! Plenty of fun time traveling to many islands. Graphics are super, challenges are ever present but not nerve racking, storyline works well. I really can't say enough good about it. It's fun for young and old. Anybody knowing me, knows I don't give good reviews easy, but this game is top notch!
June 29, 2014
The Best Yet
absolutely fun ! a few new things and lots of levels ...for me there could be even more lol If you like the first once you will enjoy that one for sure. it is easyer with the mouse to work no more clicking on every coin ;):):) hope there will be more. Have fun
June 20, 2014
lots and lots of levels
over a hundred levels to play! If you like the other Royal Envoy games, you will like this one too.
July 3, 2014
Love the Challenge
This game is fun and challenging. After beating all levels in regular and expert mode with 3 stars, I am still working on mastering all the achievements -- so still have hours of fun ahead. I love that the goals on many of the levels are broad, allowing the player to develop his or her own strategy for achieving them.
July 19, 2014
Royal Envoy Junkie
I really enjoyed this game even though it is a "rerun". I have played the whole series and this still seems fun and challenging. I played through the whole game, 82 towns, and then went back to correct the ones where I didn't earn 3 stars. There are two levels of play and even the easiest makes for a nice challenge. I almost didn't buy it because I hated the game RE-Campaign for the Crown. But this one has cleaned the the thing with the rabbit holes that I didn't like. If you are new to Royal Envoy here is what it is about. You visit a series of islands and complete tasks to move to the next village. There are trees to cut, food to gather, and structures to build to be successful. There is an elephant helper than drains swamps and rabbit holes to jump through that teleport you to outlying areas. When you collect products all you have to do is sweep over them with your mouse. This makes for less clicking and a more enjoyable game. There are lots of choices to make as you play. If you do things in the wrong order you will not finish in time. Dialogue between characters is kept to a minimum. There is a great bang for your buck in this game. The collectors edition has additional challenges when you finish the basic round. I believe it also has the strategy guide included.
July 29, 2014
Hours of fun and challenge.
Getting the best of gold stars is very doable. Challenge yourself first, then use the help option if you get stuck. Great game, excellent graphics, characters. Just do it!
July 30, 2014
Great Game
Lots of islands to cover. Great Game
October 13, 2014
Best yet - great value
I have all the Royal Envoy titles and this is the best yet. So many levels - new islands just kept appearing. Well done
October 17, 2014
And We're Off to Claim an Island for the King!
I truly enjoyed this game. An upgrade from the previous ones in this series. Loved the inflated looking cartoonish characters more than anything! Storyline: The King of Islandshire has sent his subjects out to discover a new land. A message comes back to the King that a series of islands has been found - an archipelago - and the Chief of these islands agrees to let the King rule and the King, in return, will build up the island with houses, cottages, farms, sawmills and much much more. Graphics: As I said, I love the inflated looking, cartoonish characters. The colors were so bright and cheerful looking, as well as being very realistic (for example, the grass was green (or brown in the shade), the bark of the trees was a nice brown, everything just perfect. Sound: Had to turn the sound down due to puppy sleeping but the background music was upbeat and positive. It positively made the workers work - lol! The sound effects were great, trees being cut down (sorry, tree-huggers), buildings being built and even conversations could be heard - perfect! Game Play: Build, build and build some more. Cut down trees, work the gold mine and the forestry and make sure you have enough workers and food and wood to do everything necessary. There is a task list and since your time doesn't start until the first task is assigned, strategize a little before you start the level. You will build everything you need and upgrade as you go along as well. And read the little tips after and before each level, they really do help immensely. You can choose to play a "relaxed" level whereas you can continue to play after your time runs out. You can also restart or replay a level if you feel the need. There is a very short tutorial just at the beginning of level 1 and possibly into level 2. And there is a "relaxed" mode which I didn't find very relaxing at all. There are also Achievements you can earn (a boatload of them). HAH! Boatload ------ a frigate of crew members - HAH - islands - I slay me. Now, if I seem to like this game so much, why did I only give it 4 stars. Well, I'll tell you why I took a star away ------ First, I think it would have helped a lot if every time a new item was unlocked (or the ogre needs to be fed to clear the rubble, for example) we get SOME type of tutorial, help, something. Also, I'm a bit OCD and even though on the "relaxed" mode of play I can continue to play after the time runs out, there are still stars awarded - up to 3 depending on how well you did. If I'm playing "relaxed", there shouldn't be the competition (even if it's self-imposed) of trying to get those 3 stars on every level. It would drive me nuts! So, for the above reason (and yes, some of you may think it's stupid), this Glam-ma will not be purchasing this game. However, I DO encourage everyone to try this demo - it's an hour long (a very quick hour) and it's absolutely free to try. I think you will enjoy it much more than I did. Happy Gaming
June 20, 2014
The Apple logo is a trademark of Apple Computer, Inc.