Secrets of the Dark: The Flower of Shadow Collector's Edition
Exclusive
From Orneon Limited, creators of the Secrets of the Dark and Echoes of the Past series, comes a thrilling new secret to uncover!

A father's frantic plea sends you in search of his daughter, Maria, who seems to have vanished into thin air. A mysterious and supernatural force has kidnapped her on her 16th birthday, sealing her room with a magical glow. Your investigation leads you from an odd, flower-shaped lamp through a portal - an ordinary room becomes a nightmarish forest! Can you find Maria in time? Or will she be trapped forever in a shadowy realm by a creature bent on revenge? Find out in this exciting Hidden Object Puzzle Adventure game!

This is a special Collector's Edition release full of exclusive extras you won't find in the standard version. As a bonus, Collector's Edition purchases count toward three stamps on your Monthly Game Club Punch Card!

The Collector's Edition includes:
Destroy the seeds of evil forever in the bonus game!
Collect flowers and morphing objects
Win points and prizes as achievements
An available Strategy Guide
Game System Requirements:
OS:

Windows XP/Windows Vista/Windows 7/Windows 8

CPU:

1.0 GHz

RAM:

1024 MB

DirectX:

9.0

Hard Drive:

846 MB
Game Manager System Requirements:
Browser:

Internet Explorer 7 or later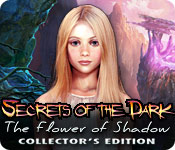 The Big Fish Guarantee:
Quality tested and virus free.
No ads, no adware, no spyware.

Reviews at a Glance

Secrets of the Dark: The Flower of Shadow Collector's Edition
0
out of
5 (
0
Reviews
Review
)
Customer Reviews
Secrets of the Dark: The Flower of Shadow Collector's Edition
50
50
Great game!!!
Try this despite the negative reviews..it's great!!!
July 17, 2014
Fun Fantasy Adventure
Based on the Demo A pilot's only daughter, Maria, unwraps a gift without a card. A malevolent metaphysical beast comes out of the box and kidnaps her. Her father, desperate to find the sixteen year old Maria, employs your help. The soundtrack is great, with just the right eerie and spooky background music. The creepy music is consistent with the theme of the game. Voiceovers are very realistic and well done. The visuals are beautiful : full color, very well illustrated. There are collectible flowers and morphing objects to find. Hidden object scenes are the silhouette type, totally interactive. The scenes are very well drawn, consistent with the story. They were a little more involved than the usual hidden object games. Mini games were fun, unusual, and pretty challenging. To help with gameplay there is a hint button, a journal, a map, a strategy guide, a metaphysical "transformer" to change locations, and my personal favorite: a cute little animal helper that clinched the sale for me. This game has something for everyone.
July 5, 2014
Slightly on the short side - 4 1/2 stars
Firstly, I only just clicked that this was a "Secrets of the Dark" game. Very mainstream compared to the others. A lot less emphasis on the dark and light hopping. Not sure why it copped such bad reviews - I really enjoyed it. Can't place what it was that held my interest, it just had a "different" feel about it when playing it. Had everything i'd expect in a CE game, although achievements were only very basic. Storyline was a little thin and weak - but still flowed well. The game itself was a little on the short side and the bonus chapter was also very short. This game will very quickly end up in the "forgotten about" pile of games that i have played, nothing unique or exceptional to stick in my memory. But whilst playing the game, my interest was fully drawn in. Will definitely recommend this game, but would probably lean towards the SE version due to its length.
July 8, 2014
Loved it !
I don't understand why this game hasn't gotten better reviews. I loved it, was challenged, the HOs were totally interactive (until you got toward the end of the game and then they got "lazy" and reverted back to standard list types) I should have reviewed right after I played the game so I could say more about it but I loved the game and bonus and will definitely play this one again!
July 10, 2014
A Total Surprise!!
When Secrets of the Dark: Temple of Night was released, I was blown away by the innovation and creativity of the game. It was so different to find a game where the reality would change from real life (or perhaps perceived real life) to an alternate reality. The second game, Eclipse Mountain, was also very good. But by the time the third game came along, something changed and I found it boring and tedious to say the least. When I played the beta for The Flower of Shadow it was such a mess that I left some less than glowing remarks for the developer. I am sure that I was not the only one to scream ?what on earth has happened to a great series? because now it seems like the developer listened and made some impressive changes. Instead of the mess that was originally presented, The Flower of Shadow now seems like it will be an excellent game. The graphics are much better and the game at least starts out with more presentation. The Overall sound package including music, ambient effects and voice overs is really quite good, although there is no lip-syncing ? always a disappointment to me now. For tools you have a special device (looks like a robotic bull?s head) that allows you to dispel magic spells. You have to fiddle with your device frequently in order to use it but that only adds to the gameplay. The journal is set up so that it contains tabs where you can access your objectives, your map and the strategy guide. The map is interactive, which is great since in the last game in this series the map was virtually useless and it was a mess navigating. Fortunately the developer improved that feature for this game. There are various types of interactive HOPs, which are quite different than the ones we normally see. I won?t go into what they are because I hate to give too much away. The puzzles in the game may seem familiar but they are really a bit difficult at times. Some of the puzzles I enjoyed but others not quite as much. I always have difficulty when it comes to those puzzles that require ?mousing? expertise ? lol. We have collectibles and morphing objects to find. The collectibles look like lilies on steroids and they are scattered throughout the game. We also have 16 morphing objects to find and some of them are not obvious. Aside from that we have the standard CE content, but we can replay the puzzles ? a feature I always enjoy. Of course we have the strategy guide which will most likely come in handy for this game, particularly if you are new to the HOPA genre. I was so impressed with the changes made by the developer since the beta was released that I now think The Flower of Shadow will be on par with the first two games in the series. I was so surprised by the changes and also that I found myself actually enjoying the game. I didn't finish the demo since I couldn?t wait to hit the buy button. As always, I recommend that you try the demo to see if this is a game you will like.
July 5, 2014
A Flower With Plenty of Power!
The story caught my attention (changing world within worlds) and the graphics (the lamp, magic effects) got my attention. After the opening cut scene, (where I thought the visuals were a bit blurry) the game had me in my chair for the demo and it's a buy for more, more, more! Sure we've played the "missing child" story before, but not often with such creative flair. The puzzles are fair and #in the demo# are new takes on tried and true ideas, but except for those pesky fireflies, not overly difficult #some thought required#. The flower hint button recharges quickly and the guide is terse but clear and the photos in it are good. The voices are appropriate if occasional unclear #there's text to read# and the collections #glowing flowers and morphs# are relatively but not overly easy to spot. The high point for me is the transition from our ordinary world to a surreal #but clear# world of....whoops, no spoilers here, fishies! With customization and CE perks, this is a sure buy for me. As always , though, try it first #Thanks BF for the longer trial times! Super!# and you may just get captured by it's "flower power"!
July 6, 2014
A fortune teller, a pilot, and a 16 year old girl
This is the fourth in this series and it does not disappoint. A sixteen year old girl was taken by a terrible beast, after she opened a magical birthday present. Her father was a test pilot, who is also attacked and loses his memory. While piloting a plane, he crashed into the creature, which is perhaps why the creature has targeted his daughter. The creature needs 3 innocent souls to restore his master, which appears to be a giant flower! While the story is a bit convoluted, it slowly works itself out into an interesting journey, allowing you to pass between the normal world and the dark world by using a device. The device needs a lot of maintenance, however -- a new battery, a repair, a rescue from the creature. All quite challenging and fun! There is also a mysterious fortune teller that gives you glimpses of the story as well. To help you in your journey, you have an interactive map with activities marked. You have a hint button that will actually take you to another scene if necessary. And you have a device you repaired that lets you remove magical spells from doors or items. Plus a strategy guide, if needed. The HOS are interactive picture lists, requiring you to use items found in order to find the next item. Also, there are the "place the items in the scene" form of HOS. Both are challenging and required me to use the Hint Button. The mini-games, however, are easily solved. Some are unique, and some are common. There are 4 modes of play, including custom, 30 collectible flowers, achievement awards and points, plus morphing objects. The morphing objects fit into the scene they were found in, turning the darkness into the normal -- a nice twist. I played the demo for 63 minutes, and at the end, the fortune teller promises to show you "how to save Maria." What she actually shows you is a preview of all the upcoming scenes and dangers -- another nice touch. I really enjoyed the demo and plan to buy it. You should try it and see for yourself!
July 5, 2014
Great Game
I was very happy that I was picked to do the beta trial of this game.Yes,its a little different to the others in this series but it works very well. The characters and voiceovers are great. There are lots of different puzzles to do along the way.I love the graphics...very colourful and clear. I recommend this game
July 5, 2014
Happy 16th Birthday Maria
A strange glowing flower began to bloom, revealing it's creation for the world to see. This was the rise of an evil Goddess who threw the world into total darkness until she was defeated. The Goddess left behind a loyal servant, desperate to revive his flowering master. He began searching for three innocent souls to revive his beloved withering flower Goddess and restore her powers. Maria Kolak had just received a beautifully wrapped present for her sweet 16th birthday, but the lamp inside would forever seal her fate as the first innocent soul victim. Can this supernatural anomaly be stopped before another innocent soul is taken, can Maria be saved before it's too late? I was a wee bit disappointed in this game, in my opinion the story was too vague, perhaps it's explained in more detail as you progress. How did this strange flower come to be? Where was this flower, here or another world? How did the Goddess leave behind a servant, in the form of seeds? How did she transform the world into darkness and who defeated her, how did they defeat her? This game has the usual Collectors Edition extras, concept art, replayable mini games, achievements, a bonus game and a built in strategy guide. There are 30 collectible hidden flowers to earn with an icon to view the collected flowers. There are also 16 morphing objects, they aren't hidden or blended very well, they are in plain sight usually on a large blue monster so I wasn't very impressed with the morphs even though I'm a huge fan of morphs. As with the other Secrets of the Dark games, you need to transform dark areas into normal lighted areas, in this case you will use the lamp in Maria's room. Some of the things you do in the transformed areas will affect what happens within the other realm and visa versa. You have some type of device that enables you to scan doorways that have been locked with a supernatural force field. Maybe I wasn't paying attention, but I don't think the device gadget has a name. To use the device you click on the icon located to the right of the screen and scan the desired area to receive the code. Each time you use the device, the code becomes larger, but the process is the same. The left knob has a negative number such as -3 and the right knob has a positive number such as +5. You adjust the knobs either three numbers down or five numbers up until your device numbers match the code, one digit at a time. I actually found this mini game kind of fun. Most of the other mini games are fairly easy such as using arrows to slide four different rows with various open slots so that two colored balls at the top of the board drop to the matching colored slots at the bottom. The Hidden Object Scenes were mostly progressive interactions where you find the first item that matches the picture shown such as a battery. You then pick up the battery and place that battery in the camera which will take a picture and reveal a ring which goes onto a ring holder to reveal the next item and so forth. Although I was slightly disappointed with this game because it didn't seem as exciting as the other games in this series, I do think it's a decent game, with some fun and entertaining aspects, and hopefully you'll like it as well, enjoy!
July 5, 2014
Different, had to buy it!
Hi all. Well another addition to the Secrets series, this being the 4th. Yes, I have the other 3 and thoroughly enjoyed them. I guess I'm going to be one of the few on this one, but I sort of liked it. It was different all the way around. Graphics were very nice, as was the animation. Very bright colors, and some very dark areas that you needed to find a form of light to get into (this was a little challenging at times). Music was very soothing, until something was about to happen...well done. Voice overs were well done as well, but not too many so far. HOPs were fairly clear and items not difficult to find, but you needed to work at it a little, e.g. where does this go and then use that item to find something else. I didn't find very many HOPs during the demo, and you do repeat the same one multiple times, but find different items. Puzzles so far aren't difficult at all and nothing different. Hint system is very helpful and fills fairly quickly. I found the SG to be either blurry or the print is just too small, but I didn't care for it and didn't have to use it either. Didn't even open the jump map, so can't comment on that one. The only collectibles I found are the flowers, which are not hard to see at all. Also, there are morphing objects that can be a little difficult to see, as they blend in to some areas very well. As I said, I liked this game...not sure why, but I do and I will purchase it. I think this will appeal to most all levels of players. Not very challenging, but I found it fun and a little different. Don't get frustrated by the first few items you need to find, as you will do quite a lot of running around. Once you get the hang of it, you got it made. In case you are wondering, the other 3 in the series are: Secrets of the Dark: Eclipse Mountain; Mystery of the Ancestral Estate and Temple of Night. As always, try it for yourself and see what you think. We all have different tastes in games and you may not care for this one at all. Thanks for the reviews.
July 5, 2014
The Apple logo is a trademark of Apple Computer, Inc.