Beyond the Unknown: A Matter of Time Collector's Edition
Exclusive
Brought to you by ERS Game Studios, makers of the popular Shadow Wolf Mysteries and PuppetShow series, comes an exciting new adventure!

Your grandfather, a famous archaeologist, was lost at sea years ago. He was searching for the legendary Golden Sarcophagus, rumored to hold a great and mysterious power. Now you find yourself shipwrecked on the very island he was seeking out… Will you finally be able to solve the riddle of the Golden Sarcophagus and find out what happened to your grandfather? There's no time to waste in this time-bending Hidden Object Puzzle Adventure game!

This is a special Collector's Edition release full of exclusive extras you won't find in the standard version. As a bonus, Collector's Edition purchases count toward three stamps on your Monthly Game Club Punch Card!

The Collector's Edition includes:
Learn how the time collapse began in the bonus game!
Replay mini-games and hidden-object puzzles
Get soundtracks, screensavers, wallpapers, and concept art
An available Strategy Guide
Game System Requirements:
OS:

Windows XP/Windows Vista/Windows 7/Windows 8

CPU:

1.4 GHz

RAM:

1024 MB

DirectX:

9.0

Hard Drive:

913 MB
Game Manager System Requirements:
Browser:

Internet Explorer 7 or later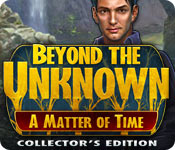 The Big Fish Guarantee:
Quality tested and virus free.
No ads, no adware, no spyware.

Reviews at a Glance

Beyond the Unknown: A Matter of Time Collector's Edition
0
out of
5 (
0
Reviews
Review
)
Customer Reviews
Beyond the Unknown: A Matter of Time Collector's Edition
44
44
Ancient Curses & Time Travel!
BASED ON DEMO FIRST IMPRESSIONS This is a much darker and more dramatic game than expected, we experience two shipwrecks in the first minute. The intro and interface are quite a departure for this developer, having sleek and modern lines. But the game itself is pure ERS. SIGHTS & SOUNDS The graphics, particularly those opening cut scenes, are extraordinary. Clear, imaginative, very fluid with lots of animation and movement. The characteristic hand painted scenes look stunning in this context. This is another game that manages to make a beautiful warm sunshiny day scary. There are these shadows, and ?evil mists?, and ghosts... Crazy men predicting the final days...Visions in greyscale, burning... The music is astounding. Great crashing waves of sound, sudden crescendos, eerie silence. Again, very melodramatic. The voiceovers are wonderful, with the player character speaking out loud her thoughts, and the others doing a pretty good job at lip sync. This game is made something awesome by its soundtrack. WHAT?S HAPPENING? Bear with them on this. At first, the plot seems all over the place, but soon things make sufficient sense ? for a time travel game anyway *grin*. An archaeologist finds the legendary Golden Sarcophagus, made of pure gold, on a small island, and attempts to bring it back to the mainland. Despite the rumoured curse on those who try to take it off the island. The sarcophagus, belonged to the infamous Time Lord (no, not Dr Who!). The boat carrying the sarcophagus sank before it could leave island waters, but in the process, the 4 golden eagles on its face were lost. The archaeologist begs you to find them and return them to the sarcophagus, which he has reset in its original place. In our awakening moments after our own ship wreck, which takes place 10 years after the archaeologist was on the island, we see flashes of news print telling of strange temporal disasters. I really liked that. A different kind of threat altogether. We?re on the island now, looking for our grandfather ? is he the archaeologist? And we go to our family home. Were we living on the island that had the sarcophagus? What seems to be happening is actually an age-old love triangle with a time travel paradox thrown in. As well, there are furies to deal with, and the ghosts of revenge ? they are minions of that Time Lord dude, I think. GAMEPLAY You are immediately caught up in doing stuff. There is quite a bit of adventure play, more so than puzzles and HOPs, although you do get to them eventually of course. The HOPs are interactive lists visited twice, nothing exciting about them, but they are beautiful to look at and clear as a bell. Alternatively, there is a simple Match-3 game you can play, but simple is not easy, and it gets more difficult in each new scene you play. The puzzles are nothing too difficult yet, but you have the choice to play the easy or the hard version of some. You also have a choice of 3 difficulty levels, and a very thorough range of options with which to customise your gameplay. Enough I think to satisfy the toughest die-hard. There is an interactive map that you acquire once you?ve got your GPS up and running, and you also keep your notes, task list, replayable videos and photos on your phone. The map only gives you your location and completed scenes. The photos are part of the gameplay. Take 5 photos of areas relevant to the character (5), and you receive a high definition image of him, plus more of his story. That might be a CE exclusive I guess, but... Hint and skip are as long as you want it to refill, and directional. CE BLING! There are achievements, and 20 collectible ?mysterious clocks?, which are wonderfully intricate clocks of all sorts. Together they open the time portal, which I assume is a good thing. CE extras include wallpapers x5, concept art x20, screensavers x 5, music x4. There are 13 replayable HOPs, and 31 mini-games. There are also photographs we can take with our phone, 5 for each character (5), that will produce a HD picture of them and more detail on their history. The collectible clocks are good. Hard to find, surprisingly, and very imaginative. That, for me, was the single most appealing part of the extras - and if they are needed to finish the game by entering the time portal, then they are not going to be CE exclusive anyway! I dearly HOPE! COMBINED IMPACT This is a fun game so far, and is about 50% of the game according to the game recorder ? which took me only 60 minutes. Which makes it seem a bit shorter than my liking, but I was sorta familiar with this game, having played the beta months ago. And it has some very attractive qualities, such as the sound. It is nevertheless a fairly standard HOPA, and nothing to get hysterical about. No doubt, though, I will enjoy the full game immensely. But as with most ERS games, I am leaning towards the SE.
July 10, 2014
if This Game is So Bad, Why Did I Enjoy It So Much?
BASED ON DEMO (50 minutes) For some reason, this game received mixed to negative reviews. I don't know what everyone's problem is, because this is quite a good game! I enjoyed it a lot, and will purchase the SE. For those who don't know, ERS scrapped their original plan for the story and changed it completely. They even gave it a new title. I'd say that plan worked well, because the story is quite good! It has an interesting concept (even though the story has been done a few times) and was executed well. For some reason, I've always been attracted to the ?travel back in time to save your family? type stories, and this is no exception. The story coasted along as I expected it to for the most part, but it did have a couple of really interesting twists in there that made it a lot more exciting. The opening scene was very good; it drew me in and made me want to play on. The story progressed nicely and logically. I enjoyed the characters, but felt they could have had a bit more depth added in to them. For now, they just seem like the standard run-of-the-mill, no personality game characters. I like to feel like I know the characters; I like characters that stand out from the crowd; I like to remember the characters. Next game, ERS should work on character personalities. It will make the story a whole lot more enjoyable! Other than that, the story was good. I enjoyed the villain, and the limited appearances it made. There's nothing worse in a game than your villain appearing in every cutscene, like ?hey, everyone, look at me! I'm the villain! Helloooooo?? so ERS have done a good job maintaining the villain here. This game also had a backstory, which was told through someone's diary. In order to get the next part of the story, you had to assemble the next page. The backstory was not really that good, to be honest. I found myself not looking forward to the next installment. Overall, this story wasn't brilliant, but it was a good story to go with good gameplay. It had a great concept and was executed well. My only concern, however, is the length. There was a thing in the GPS-map which told you how far you were in to the game, and it said I was up to 35%. I'm not sure if that's accurate or not, but if it is, that's a little scary. I checked the online walkthrough and discovered I was at the end of chapter 2 after the 50 minute demo. There are 5 chapters. I'm still purchasing this game, but those looking for a long one best be careful. In the ?More Games? section, the first game shown is Maestro: Music from the Void. That game was released as a CE about a year and a half ago, so my guess is the developers started making this game around then. For some reason though, it wasn't released until now. The gameplay in this game is very similar to games released in that time, which is probably why it's not getting high reviews. That being said, I did enjoy the gameplay very much. The HOS are your standard word list junkpile with some extra-step objects. They are very easy, but also quite nice. I found 3 in the demo, and enjoyed playing every one of them. For those who don't like HOS, there is an option to play Match 3, which is also quite fun. The HOS are spaced out evenly. I didn't even encounter one until I got to the scene with the thicket you had to cut with the garden shears. Even saying that, there were a good number in the demo. This gives me the impression that there will be a few in the game. I liked the puzzles too. I was able to solve most of them. They didn't involve much thinking, and were all the same as we've seen before, but they were still good. Similar to the HOS, there were a good number of them, and they were spaced out evenly. I get the feeling there will be a good number of them. In terms of additional gameplay features, there are only a couple, but they are good ones. The main feature is an animal helper. This comes in the form of a Jack Russell Terrier dog that you get to name (for those interested, I called mine ?Atticus?). I love animal helpers, but what I especially liked about this one was that it was more helpful than most. There was the usual ?get stuff that's hard to reach? kind of thing, but as well as that, there were some items with a paw over them. You had to drag these items over to your dog (also in inventory) and it would help you. The dog was used quite a few times in the demo, but the paw items were not. I hope that, as the game wears on, there will be more of it. The other additional feature was the photos. Similar to Dark Tales 6, sometimes you picked up a black and white sketch of a certain scene. When you placed the sketch on the scene, it changed to a zoom location and you could collect an item from it. I loved this feature in Dark Tales 6 and I like it here too. My only concern is that there aren't enough. I would have liked a couple more in the demo and hope that there are more as the game goes on. The basic gameplay features, for the most part, are done well. There are 4 modes of difficulty, as well as a diary. My problem is that the map was not very helpful. It was a good concept, but not done well. Sometimes, the map would not indicate where there was a task to perform, which was really annoying. To add to my frustrations, you don't even get the map at the beginning of the game, which meant there was quite a bit of backtracking until I acquired the map. Overall, the gameplay was pretty good, even though it wasn't challenging. I think this game focuses more on adventure than HOS & Puzzles, which makes a nice change. The graphics are the same ERS we see time and time again. They're uniquely drawn with some good colours and nice detail. The character desings are very lifelike, and there is lip-synching again! WOOHOO! I don't like it when developers don't use lip-synching, so I was glad to see it back here. The voice-overs are standard. I have no issue. FEATURES 4 modes of difficulty: Casual, Advanced, Hard and Custom. Differences are standard. Custom lets you set the game the way you like. I played Casual. Hint/Skip- both recharge at a decent speed for the difficulty I selected. Hint is useful outside HOS. Diary- The diary is good for keeping track of events. Also holds tasks. Game completion tracker- lets you know how much of the game you have completed. Map- I'm sorry, but the map wasn't helpful at all. Sometimes it wouldn't show where there were active tasks. You do not get the map at the beginning of the game either. Sketches- These were sketches of a scene. Each time you placed a sketch on the scene, there would be a zoom location and you would earn an item. These were good, but not enough in the demo. Animal Helper- Very good. Used quite a bit; a lot more helpful than most. CE EXCLUSIVES Bonus Chapter- unsure if needed, but can never tell with this developer. Strategy Guide- Shows location of collectibles and gives step by step solutions for puzzles. Does not show HOS screenshots. Achievements Collectible clocks (20) Wallpapers (5)- Not very nice looking. Would not use them on my desktop. Music- 4 tracks Screensavers (5) Concept Art (20) Replay HOS & Puzzles WHICH IS THE BETTER BUY? I 100% advise you to go for the SE. The CE bonus content is incredibly weak and just not good enough. There was not one decent feature in the bonus content. It was just full of the standard stuff. It really is not worth the extra money. The SE will be a much better experience. I don't know about you, but I don't want to pay an extra $10 for that. I've got no idea why I enjoyed this game so much, but it was enough to put this game on my purchase list. This earns a solid four stars out of five for me. I can't wait to finish the game.
August 16, 2014
Nice game, wonderful animation..
Hi all. Well, another ERS game today. I don't every automatically give 5 stars to every game I review, guess I'm a bit picky. This one is a pretty nice game, actually. Graphics are the usual ERS, but without the blues and pinks (thank you!), which makes it a much nicer game to play and much easier on the eyes. Game play was very nice, no problems and filled my large screen. There is a jump map, but the picture locations are very small and do not identify where there might be something to do...only saw it once. Voice overs and animation are very well done and very realistic. Really like the music and the sound FX. Sort of puts you right into the game. HOPs are the usual interactive and you can switch to a match game. Items are not difficult to find, but some do take a little thought. Did not care for the "heavy breath" sound you got every time you pick something up within the game. Got annoying very quickly. Puzzles were somewhat different, but also not difficult so far. There are a lot of achievements. One of which is to find the ERS bunny logo. I accidentally found one during the demo. You need to take pictures in locations in order to open access to other characters. Each character requires more than one picture to activate. Collectibles are clocks, which I found a little difficult to find, as they morph, so be on the look out. I also discovered that if you don't find them while you are in the location, you can't go back and pick them up. This may be only for the demo, but was a bit odd. I only found 3 and I know there were more. They are various sizes, shapes and colors. This game was not extremely challenging, except to find the clocks, but I like the story and the animation a lot, and it was challenging enough to keep me interested. I think this will pick up as I get further into the game. Opening scene was very well done and grabbed my attention right away. There is a lot to do in this game and it keeps you constantly on the move. I think this will appeal to all levels of players. As much as I dislike buying more CE games, I find the need to play this one out, so going to buy today. As always, try it for yourself and see what you think. We all have different tastes in games and you may not care for this one at all. Thanks for the reviews.
July 10, 2014
Find the 4 Eagles to the Golden Sarcophagus or Time will END!
Storyline: An old sailor tells someone while at sea that they have aboard the 8th wonder of the world - The Golden Sarcophagus that belongs to the Time Lord (not Dr. Who gang - sorry). A storm, ship runs aground before leaving the island waters - OH NO! The sarcophagus has disappeared. 10 years later and YOU are destined to find the 4 Eagles, place them on the Sarcophagus and save time - and the world! Graphics and Sound: As usual for this developer, the graphics are amazing. Lip-syncing characters throughout the game, beautiful background music that touches on crescendos and sound effects such as creaking doors, etc. Game Play: New buildings, Lenin resurrected! Go to the island, another storm, phantom hands on your windshield, get shipwrecked as well. Meet your grandparents and find the 4 Eagles. HOGs and Mini Games: HOGs are pretty standard. You can play a match 3 game instead as an alternative. Mini Games that I played were relatively easy. CE Bling: Wallpapers - 5/Screensavers - 5/Movies and pictures - 4/Concept Art - 20/ HOGs - 10/Mini-Games - 21/Strategy Guide/Bonus Game (didn't see it but it's described on the game description page Collect 20 clocks throughout the game - keep an eye out because they are morphing objects. Each clock opens a lock and when all are unlocked it opens the Gate of Time (could be the bonus game). Take 5 pictures relative to each of 5 individuals to get better resolution. Find missing pages of your grandfather's journal as well as pieces of a treasure map (not sure if these are CE material). There are 4 difficulties - casual, advanced, hard and custom. The hint and skip button can be manipulated in "custom" mode. You are equipped with a cell phone that contains Tasks, Notes (and clues, very important to read this constantly), a GPS map that you have to get working before you can use it, and videos/pictures of cutscenes. I was pretty tired when I played the game but it seemed pretty straightforward. The storyline flowed well, there as consistency in the game play. CE bling seems to be a lot "on paper" but not sure if it's really all that much in reality. Will probably wait for the SE before I decide to purchase. Want to check out other reviews in a day or so because one reviewer hinted that it may be a short game. If so, definitely NOT worth the CE price. All this being said, I DO encourage everyone to enjoy the amazing 90 minutes of game time (I finished in about 60 minutes) and it's free to try. Happy Gaming!
July 10, 2014
I liked it!
I really enjoyed the Demo, and love the small HOs throughout and not just the big single HO in a scene; had both list and silhouette types. Maybe the story isn't new, but I find some storylines never get old as they are all a different version. Voiceovers were well done, interactive map worked well, and scenes were nicely done. I do want to get this one, but since I didn't find the need for the guide, I'll wait for the SE.
July 12, 2014
A Very Enjoyable Game ...
Good Graphics, Sound, Voice & Video Bits ... An Enjoyable Adventure With Creative HOG's & Puzzles ... Bonus Chapter Was A Nice Addition And Good Value On A Special Deal ...
July 13, 2014
nice easy game
based on the trial only, i found it quite easy, i dont always need a trialsome game, and its quite enjoyable
July 12, 2014
Promising story and game play mechanics fell apart.
This game started off great, hence my purchase, with an interesting story line involving time paradoxes and manipulations, but shortly into the game it just sort of fell apart. Special touches like using your pet to solve challenges and communicating with your grandfather to help solve the meanings of mysterious carvings stopped shortly after the beginning. There was also this strange feature where you took pictures and it would say, "You've uncovered more of the story!" but there wasn't any follow up to that. It felt very much like about 1/3 of the way into development the team changed or they lost funding or leadership. Over all it was disjointed, a bit glitchy (though playable), and ended up disappointing after a promising start. The bonus chapter was terrible, very clearly thrown together. I regret the purchase.
July 11, 2014
Not dismal but not very interesting
The graphics and sound are good but nothing special. The storyline is based on a theme common to the HOPA genre and never rises above complete predictability. The little dog you get is cute, in my opinion, but his cuteness isn't enough to make me feel immersed in the story or even want to feel immersed in it. Game play has quite a bit of back and forth running around built into it. Basically you find something at point A, run to point C, trade that item for a different one, take the new item back to point A, trade it for another, rinse and repeat. At least most of what you're collecting makes some amount of sense but all the backtracking feels like a waste of time more than an interesting journey through the game. In between the running back and forth you do a few fairly easy puzzles and even fewer and easier HOS. This is a game heavily dependent on its adventure component for fun factor and the adventure component just isn't that fun. While this game isn't completely dismal it really isn't very interesting either. Overall it's just okay and I can't see spending CE quantities of money on it. As an SE it might be good for someone new to playing games of this kind if they weren't too picky about story line.
July 10, 2014
Could have been better...
This game started off okay, but went downhill towards the end. Graphics, cut-scenes, voice-overs all pretty standard but still well done. Hidden object games were a little on the junk side. Puzzles...were fine up until a few at the end that were confusing and frustrating. Really put me off the game. Storyline was mediocre...actually didn't even make sense. I didnt play the bonus game - had lost interest by then.
July 29, 2014
The Apple logo is a trademark of Apple Computer, Inc.