Beyond the Unknown: A Matter of Time Collector's Edition
Exclusive
Brought to you by ERS Game Studios, makers of the popular Shadow Wolf Mysteries and PuppetShow series, comes an exciting new adventure!

Your grandfather, a famous archaeologist, was lost at sea years ago. He was searching for the legendary Golden Sarcophagus, rumored to hold a great and mysterious power. Now you find yourself shipwrecked on the very island he was seeking out… Will you finally be able to solve the riddle of the Golden Sarcophagus and find out what happened to your grandfather? There's no time to waste in this time-bending Hidden Object Puzzle Adventure game!

This is a special Collector's Edition release full of exclusive extras you won't find in the standard version. As a bonus, Collector's Edition purchases count toward three stamps on your Monthly Game Club Punch Card!

The Collector's Edition includes:
Learn how the time collapse began in the bonus game!
Replay mini-games and hidden-object puzzles
Get soundtracks, screensavers, wallpapers, and concept art
An available Strategy Guide
Game System Requirements:
OS:

Windows XP/Windows Vista/Windows 7/Windows 8

CPU:

1.4 GHz

RAM:

1024 MB

DirectX:

9.0

Hard Drive:

913 MB
Game Manager System Requirements:
Browser:

Internet Explorer 7 or later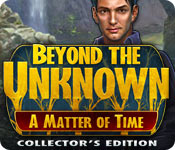 The Big Fish Guarantee:
Quality tested and virus free.
No ads, no adware, no spyware.

Reviews at a Glance

Beyond the Unknown: A Matter of Time Collector's Edition
0
out of
5 (
0
Reviews
Review
)
Customer Reviews
Beyond the Unknown: A Matter of Time Collector's Edition
44
44
Played a second time and enjoyed it more the 2nd time
ERS games I love... My only true disappointment was the jump map gave you No clue of if it had any activity to be done in a spot.... From what I saw it was only a jump map... When I get stuck nowadays instead of hint I look at map go to objective area then figure out what to do.. Graphics.... typical of ERS... music pleasant... heard a few touches from some of their old games... For some reason on the first go around on this game I had no clue on a few mini games... not like me on ERS... the second time around I must have been more awake because I got them all without one skip... I was mad after first time playing game... I missed one of the morphing clocks and could not figure out which it was and by end of game could access start of game, so gave me a good reason to redo game a second time... Found all clocks :) HOGS and mini games are replayable in EXTRAS..... so im happy with yets another ERS game... thanks guys and gals at ERS.. :)
July 21, 2014
Another 'Winning' Adventure to Go on!
I am not one of the few that give reviews constantly....in fact, I very seldom offer my two cents worth unless I find a game really good or really bad. In my humble opinion this game falls into the former. I didn't even finish the 'demo' before going to buy it. I'm even ordering in Pizza so I can continue playing without interruptions. Right from the opening I was drawn in.....the 'Art Work' is superb as usual from this developer. Very realistic characters, and they really are! Characters that is! You WANT to talk to them. I personally like that the HO scenes aren't your usual 'junk piles' plus you do have the option of 'Match 3' if you want....I didn't. The Inventory that you pick up, so far at least, seems to be quickly used....not sitting there forever leaving you to wonder what it will be used for. I've enjoyed the 'Puzzles' that I've come across. They haven't left me scratching my head as how am I going to complete this one? The game progresses in a linear fashion which at my age is appreciated. I won't go into all the bells & whistles that they've put into this game.....it's been done by other reviewers already. But....for my moneys worth....this is a VERY worthy offering and a game that can be played & replayed. Thank you developers & Big Fish Games for bringing us this one!
July 12, 2014
Beyond the unknown : Evil Cantello is truly a cad!
Hidden-object adventures have become more and more streamlined these days, and A Matter of Time is no exception. You've got your customised difficulty settings, your handy instant-travel map, your match-3 option in hidden-object scenes... all of it feels designed to make the experience conform to you rather than the other way around. Some puzzles even have two settings, "casual" and "hard", which changes their solution. Unfortunately, the story, intriguing as it is, is also a little confusing due to the haphazard way it tries to explain its time travel elements, as well as the way it locks more information about characters and the story away until you've taken photos for... reasons, I guess. It makes the game feel disjointed, so it isn't quite the smooth ride you've come to expect from ERS. The plot point revolving around rescuing your grandmother from a sociopath who is keeping her locked in a bedroom until she loves him is actually a little uncomfortable, mostly due to just how absolutely insane they make him look and act towards her, but if he's fooled by a couple pillows and a dusty vase, maybe he isn't that much of a threat after all. Despite those complaints, however, Beyond the Unknown: A Matter of Time is still engaging. The plot goes more than a little bananas, with backstabs and double-crosses, paradoxes and magical MacGuffins, and you'll quickly discover you've got your very own Marty McFly situation going on. The overall design is beautiful, making even the monsters nightmarishly captivating, and the detail on some of the puzzles makes them stand out from the pack. The gameplay leans more towards classic point-and-click adventuring, so though you'll have to deal with a fair amount of backtracking, you also don't have to worry about being bombarded by one hidden-object scene after another. Though you might be tired of the genre's infatuation with giving you a small, scrappy animal companion, here your dog at least feels more useful than goofy, with several different mechanics and puzzles attached to him. Though it has its flaws, Beyond the Unknown: A Matter of Time is well worth a look. Most players will probably finish it in around three to four hours regardless of difficulty settings, but while it lasts, it's a welcome respite for anyone who likes their hidden-object adventures with a wibbley-wobbley, science-fiction fantasy adventure theme.
July 14, 2014
What if you'd never been born?
A clever game with a clever plot! Your grandfather tried to bring back the sarcophagus of the Lord of Time from an island, but the casket was disrupted and triggered a time collapse. You have to save the world by finding and replacing the four eagles that secure the sarcophagus, or else you might never be born! The opening video is so realistic, I was almost seasick from the waves. And the characters are realistically drawn, with smooth movements and excellent voiceovers. Their mouths don't just move -- they look like they are actually saying the words. I was totally immersed in the story, and enjoyed every minute of the 75 minutes I spent playing the demo. You get to give first aid to your grandfather, and rescue your grandmother from a villain who is in love with her, and owns one of the golden eagles. Both of them are still young, and you could even be your grandmother's twin! There are four modes of play, including custom. You have a jump map - after you fix the satellite GPS - but it doesn't have the activities marked, so you have to remember things like where you saw the other half of the grass clippers. You've brought along your pet dog, whom you get to name after you rescue him from a shark. He of course digs and helps you with some of the critters you meet. You repair a videophone that your grandfather uses to keep in touch with you while you explore. And your "notebook" is a high tech cellphone with tasks, notes/clues, videos and the map. A slightly new twist is a camera, which you use to take pictures of clues. If you take five pictures of key characters, you will discover more info about them. The collectibles are 20 morphing clocks, which unlock locks on the Gate of Time. You also find pictures, which when matched to the scene, yield helpful items - you just have to remember where you saw that partial scene before! The HOS are fairly simple lists, which you can exchange for a Match 3 game. The mini-puzzles are more interesting, and you can choose Casual or Hard for more challenge. The demo ends when the Guardians of Time - winged females who look like angels but aren't - grab your grandfather. I can't wait to buy and see what happens!
July 10, 2014
Review of a finished game...
Remarkable game. Couldn't stop playing it. If you have played the puppet show games or any thing related to ERS games you will recognize the style of the graphics for this game as well. You are not bombarded w/ music in each scene either, just good sound effects @ times, which is a very nice change up. Some of the mini-games are right on the scene you are working on, no changing to a full screen, ( just focused on the mini-game itself). I liked that, kept the game going. No need for a map, (not alot of far backtracking) when you do backtrack, it is only a couple of screens. Hidden clocks to find (20) in all. Along w/ all the extras you would expect from a CE.. Well worth your time and $$$. game on gamers...
August 30, 2014
A bit fresh but nothing to impress.
This game is created by ERS - Puppetshow series. Storyline : Spoiler Alert The game start with old accidents a boat that carry a golden sacrophagus is hit by giant stone . The story continue when heroes from the past resurrected and make mess in the modern world. The next cutscenes show that your quest to find your grandfather in the cursed island and accident cause by fog and uncontrollable boat. well if you play the game make sure play first Phantasmat and compare the game Gameplay : There are 4 difficulties - casual , expert , advance , customs. The game have more HOGS than puzzles and adventure. The hogs are hard for me and there a few and easy interaction and so far only a list HOS , no variation. Puzzle is some kind of creative but easy. There 20 morphing time pieces to unlock time portal and lots of taking picture to unlock characters biography. There are a few easy-achieve achievements - morphing ERS logo, etc. The game character have lip sync and full voice overs. There are smartphones as your objective marker , journal , interactive maps , replayable cutscenes and picture, hints , guide [5 chapters + collectibles + bonus], inventory locks and your companion dog. CE contents The game includes wallpapers , concept arts , replayable HOS and puzzles , screensavers , bonus gameplay , guide, collectibles , achievements , characters bio , soundtracks. Option Menu : Adjustable sound , music and voice over volumes. Customs cursor , widescreen support , and fullscreens. Change difficulties. Overall the game feels so bad because its story adapt from famous Phantasmat. This game also lays heavy on HOS which is no fun for me because the HOS is hard but this will be good game for expert players. I play the game for 3 hours so far but still not finish .Well enough talking , try this game first then you'll know. Anyway, pray for Gaza !
July 11, 2014
Shipwrecked to the Future
As always, ERS Games have produced a marvellous adventure. An ancient time machine is shipwrecked, lost its Eagles, and times has uprooted from its proper place - your grandfather is young again and you are given a task of saving your grandma and find the Eagles. Such a pleasure to play a good game with beautiful graphics, good voice overs made by great programmers who know what they are doing. Love it.
July 10, 2014
Loved it
This game is such fun to play. Everything is well drawn and sound is perfect. Voices match the characters and the storyline draws you in. The HO's are easy to see (size wise) but a little different to do. The game is good about what to follow next. I really enjoy it and am buying it now. Hope you will enjoy it. Can't get any better than ERS making a game.
July 10, 2014
WOW!
Fantastic story! Grandpa found an ancient sarcophagus belonging to the Lord of Time. His ship ran aground, disturbing the sarcophagus, releasing the Guardians of Time and unleashing a massive time collapse. The 4 golden eagles that adorn and protect the sarcophagus must be found before time collapses or you will never be born! This truly is the eighth wonder of the world. You are equipped with a camera phone and some of the scenes require you to take pictures when there is a camera icon. This will unlock information about the characters you meet, you need to take a picture of five points of interest for each character to unlock that characters picture and information. You have brought along your adorable Jack Russell Terrier and after you rescue him from the man eating shark, you get to name him, my dogs name is Hotdog. Some items will have a pawprint above them which means that your pup can help you out with that item. There are also 20 collectible clocks throughout the game, these clocks open up the locks on the time portal and when all 20 have been unlocked you will be able to see through time and space! There aren't many Hidden Object Scenes, this is mostly an adventure game, with a lot of adventure! The HOS are interactive list finds with simple interactions such as picking up a block of cheese and placing it in front of the mouse hole until a mouse appears, or clicking on a rose which opens up to expose a butterfly. Some of the mini games were revamped to make them more interesting such as clicking the bolts in the centers to rotate other bolts until the correct colored bolt would engage in the correct matching colored slot, by clicking different bolts you could change the pattern of the center bolt. Other games were simple puzzles where you had to reconstruct torn diary pages by dragging them to the correct place. This Collectors Edition has the usual extras, achievements, wallpapers, screensavers, music, concept art, replayable Hidden Object and mini games, a bonus chapter and a built in strategy guide. The graphics are well done but I have to give mad props to the artists that created the characters, extremely well done, and very lifelike, even the body movements and voiceovers are well done. They even did a wonderful job with Hotdog, most dogs in these games aren't lifelike and certainly don't move as fluent as this one, enjoy!
July 10, 2014
BEYOND THE UNKNOWN:A MATER OF TIME.
I FOUND THIS GAME TO BE A REAL ATTENTION GRABBER. I LOST MYSELF DURING GAME PLAY. GRAPHICS WERE BEAUTIFUL. THE STORY WAS VERY INTERESTING. HOWEVER,THE DEMO WAS NO WHERE NEAR LONG ENOUGH. HOPE ALL THE FISHIES OUT THERE ENJOY THIS ONE.
July 10, 2014
The Apple logo is a trademark of Apple Computer, Inc.