Dead Reckoning: Silvermoon Isle Collector's Edition
Exclusive
From Eipix, the makers of the Final Cut, Off the Record, and Myths of the World series, comes a classic whodunit with a unique interactive feature!

Silver-screen star Veronica West plummeted to her death from the top of a lighthouse on Silvermoon Isle. Was it an accident? A suicide? Or did someone at the party that night kill Veronica?

Solve the case using an innovative "deduction" feature that turns questioning suspects into a fun, interactive game!

This is a special Collector's Edition release full of exclusive extras you won't find in the standard version. As a bonus, Collector's Edition purchases count toward three stamps on your Monthly Game Club Punch Card!

The Collector's Edition includes:
A thrilling bonus game!
Extra hidden object and puzzle challenges
Wallpapers, music, concept art, and more!
Available Strategy Guide
Game System Requirements:
OS:

Windows XP/Windows Vista/Windows 7/Windows 8

CPU:

1.6 GHz

RAM:

1024 MB

DirectX:

9.0

Hard Drive:

974 MB
Game Manager System Requirements:
Browser:

Internet Explorer 7 or later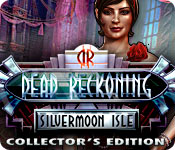 The Big Fish Guarantee:
Quality tested and virus free.
No ads, no adware, no spyware.

Reviews at a Glance

Dead Reckoning: Silvermoon Isle Collector's Edition
0
out of
5 (
0
Reviews
Review
)
Customer Reviews
Dead Reckoning: Silvermoon Isle Collector's Edition
58
58
favorite part voices and storyline as a Detective
I will let others give you the long review. I enjoyed meeting different suspects with voices and solving the crime. I finished the Game. I did not enjoy the hidden object screens, or mini Games. I thought the graphics in hidden object screens are not as good as I am use to from this Dev. The hidden object screens with long random object lists are especially boring toward end of Game there are 2 long lists back to back. The lists have no interactivity and are boring in my opinion. I skipped nearly all the mini Games very boring nothing new . The hidden object screens ruined the flow of the story for me. I expected gorgeous graphics for hidden objects zoomed up close views with unique various ways of finding objects. One hidden object screen was fun it involved in a character giving riddles to find the object using the Character's voice. I have never encountered this done before and hope Dev will continue to use it again in more Games. My favourite Game is still Cadenza: Music, Betrayal and Death Collector's Edition I expected graphics as eye candy graphics like in Cadenza and myth collection fiends and fairies. The Cadenza Game hidden object screens and mini games are fun. In Cadenza the Hidden objects list were kept short . I don't regret buying the Game but for the first time I am not rating a Game from this Developer 5* . I have always in the past rated 5* but if I don't ask for better hidden object screens and mini Games how will the Developers know.
July 16, 2014
Solidly average
The graphics and sound quality were good. The story line is a typical murder mystery set, as is frequently the case, in a somewhat isolated location with a limited number of suspects. You, of course, play the detective sent in to figure out who done it. Game play flows smoothly with all the typical obstacles familiar from other HOPA games. They are employed here in a generally logical fashion so you have a good idea of what your overall objectives are and what tasks you need to accomplish to achieve the objective. There isn't any frustrating running around wondering what to do. As a detective you have the ability to make deductions about a suspect based on your assessment of their appearance. Opportunities to do this arise as you meet a new suspect. You also have the ability to assess a location apparently using a camera-like device that works by telling you about areas of interest as you scroll your mouse over them while holding it. At least I think that's what was going on...it wasn't entirely clear. There are few HOS and they are very, very easy. There are a few mini-HOS for lack of a better term. These consisted of small scenes where you had to find 4 or 5 items that were very obvious at first glance. There are several puzzles and all of them are very easy...some to the point where it's difficult to dignify them with the term puzzle. There are achievements and upon receiving one a box pops up to tell you. This is fine but it lingers there on your screen for awhile which was a little annoying at times. There are also collectibles. Overall, this is a well made game with a decent, if unexciting, storyline that flows easily along because no element of it has much challenge to it. For people looking for something to while away some time without exercising their brain this game will fit the bill. For those looking for a game with more meat to it this game might feel a little lacking. It is a solidly average game that I can't say is worth buying as a CE.
July 12, 2014
I was disappointed
This a review on the full game. Maybe my expectations were too high, because of all the great reviews, but I became bored while playing this game. It is not a bad game, but not great either in my opinion. I preferred Fright over this game. I was disappointed, because I do love a great mystery!!
July 13, 2014
Review of Demo
This game could have been great. I absolutely loved the storyline and I liked the way we interact with the suspects to determine who is lying. What a great twist! Great responsiveness, hate lagging games that take time to load between scenes. I liked the music, seemed perfect for the plot. I did not like the cursor in this game. It was very large and pulsated through out game. Puzzles seemed very easy and were by no means a challenge. HOG's were standard. There were many times I was not sure where to go next into the game. I ended up using the hint button several times and don't like to do that. I like being absorbed by a game. Map was helpful. Hint button was also a transport button . I like this feature in games. I did not see any morphing objects but others have commented on these. Collectibles were stars and some were extremely difficult to locate. I am afraid this game may be very short. It is difficult to tell though because the demo had limits on what they would or wouldn't show us. Too bad because this is a factor for me to consider when purchasing a game. I did not feel I had adequate time becoming fully immersed into the game. It did not draw me in. I fear this may not happen in this game for me due to the length of the game. I will try the SE and see if I change my mind. What I did not care for most, was the visual style .I am sorry to say this is why I wont be buying the CE. I had no problem running on my system and did not seem like there are going to be any glitches. However, I only played the demo.
July 13, 2014
On the fense.!!!!
I played for a time. Still Mystery Trackers do the best in graphics. This one did not hit the mark. I have been playing a long time now. They don't stick to he great HO'S if it's not broke don't try to fix. Work on the stories not much else. I don't give five stars lightly not this one. When you see five stars from me it's awesome.
July 12, 2014
Dead Reckoning: Silvermoon Isle, CE
I was very disappointed in this game. Usually Eipix games are very good, not this time.
August 9, 2014
really wanted to like this game but got stuck
this game was going great until I got to a point where I had to find the lighthouse. nothing told me where the light house was or would take me there. the hint button only kept sending me to the guide basically I just got stuck. may give this one another try when it comes out as not as collectors but just can't recommend it right now.
July 12, 2014
Well...they DID create a world.
BASED ON COMPLETED GAME Eipix. Creating Worlds. That is the logo. There is no doubt that they created a beautiful world. Rooms and rooms of Art Deco wonder. Its the GAMES that have become rather lackluster to me lately. I just cannot recommend a game that I have ZERO INTEREST in replaying and, in this case, even finishing. The 'clue finder' just added interruptions to the actual game play. I found it uninteresting, unresponsive, and unnecessary. Frustrating and, I felt, really just a way to lengthen the game. The evidence board was just a glorified journal with a flashing exclamation point that I found distracting. There is an ACHIEVEMENT for spending more than five minutes reading it. Hmmm. Morphing objects in the HOS. I definitely prefer them as part of the bigger picture. Had a bit of a problem with the game registering my clicks on the hidden objects. There were more than a few times when I KNEW I was selecting the correct item, but it just wasn't registering. Several times I ended switching over to the bubble shooter option just to be able to complete the scene. THAT is frustrating. If you're achievement driven you MUST play the bubble shooter anyway, but that wasn't my preference. Puzzles were average. Nothing to get too excited about. It seemed that, generally, there just wasn't MUCH to get excited about. About 3/4 of the way through I couldn't even rally to find the remaining collectible stars. I made it through the main game, got started on the bonus game, and realized I had no desire to continue. So I didn't! The very first game I ever played was an Eipix game. Final Cut: Death On The Silver Screen. I've played that game three times over. Enjoyed it every time. I'm sure I'll play it in the future too. This one will be a game I come across and think, "NO WAY!"
December 21, 2014
The Apple logo is a trademark of Apple Computer, Inc.