Dead Reckoning: Silvermoon Isle Collector's Edition
Exclusive
From Eipix, the makers of the Final Cut, Off the Record, and Myths of the World series, comes a classic whodunit with a unique interactive feature!

Silver-screen star Veronica West plummeted to her death from the top of a lighthouse on Silvermoon Isle. Was it an accident? A suicide? Or did someone at the party that night kill Veronica?

Solve the case using an innovative "deduction" feature that turns questioning suspects into a fun, interactive game!

This is a special Collector's Edition release full of exclusive extras you won't find in the standard version. As a bonus, Collector's Edition purchases count toward three stamps on your Monthly Game Club Punch Card!

The Collector's Edition includes:
A thrilling bonus game!
Extra hidden object and puzzle challenges
Wallpapers, music, concept art, and more!
Available Strategy Guide
Game System Requirements:
OS:

Windows XP/Windows Vista/Windows 7/Windows 8

CPU:

1.6 GHz

RAM:

1024 MB

DirectX:

9.0

Hard Drive:

974 MB
Game Manager System Requirements:
Browser:

Internet Explorer 7 or later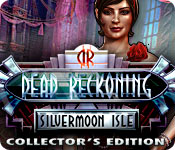 The Big Fish Guarantee:
Quality tested and virus free.
No ads, no adware, no spyware.

Reviews at a Glance

Dead Reckoning: Silvermoon Isle Collector's Edition
0
out of
5 (
0
Reviews
Review
)
Customer Reviews
Dead Reckoning: Silvermoon Isle Collector's Edition
58
58
ALL THE BELLS AND WHISTLES
This game has everything you could ask for. I played the entire game under the casual mode. The storyline was very interesting, a great detective story and an excellent change from dark, fantasy games. The hidden object puzzles covered all types; lists, silhouettes, etc. I did need a few hints for them. The puzzles were fairly easy; I played all of them without skipping or using hints, thus winning some awards. There were often layers within both the hidden object scenes as well as the puzzles. Supposedly, there were morphing objects to find in the hidden object scenes, but this was not explained at the beginning of the game, or in the tutorial, which I played all the way through. Being unaware of these objects to collect, I missed out on one of the achievements. There definitely could have been better instructions at the beginning of the game. Collecting stars in the various locations unlocked 4 brand new bonus hidden object locations at the end. I missed 5 of the stars, even after going back over every scene to find them. The great thing was, at the end, in the bonus section, the game showed the location of which stars I missed and allowed me to return to that location to collect it, thus ensuring that I was able to play the extra hidden object locations. This was a really neat idea. The extras also included all the hidden object scenes in the game that could be replayed to earn an additional achievement award. The achievement awards had a neat twist to them; you could earn some of them for doing things wrong, like over-clicking in a hidden object scene. A neat change of pace. I was unable to win all the awards, as some are based on speed and I'm not that fast with a mouse pad. The bonus chapter was supposed to be a prequel to the game, but I really didn't see the connection. It was fairly long and was as interesting as the main game. It also was a detective-type story. The extras had a lot of extra things, including a search for collectibles. These objects were not available to collect during the game, only at the end. The game takes you to each location to find one object that was not there during the main game. Fairly easy to do, but also a nice addition. I tried to leave the music on, but the repetitive nature of the music with all games gets on my nerves and even at very low volume, I end up turning it off. The voiceovers were not affected by this, which is a really big selling point for me. I like listening to voiceovers, but hate to have to leave the music on in order to be able to hear them. The voiceovers in this game were excellent. The interactive map was over the top. You even get an achievement for using it to jump from one location to the next. I used it a lot. It was really a beautiful map, as the locations on the map were actually a replica of the area, not just a drawing. Very nice change and more eye candy. The game was nicely linear, with not too much back and forth. After completing one series of locations, the game moved into another series, but the previous locations were not closed. This is how I was able to go back and look for missing stars. I found some of the stars, but still missed 5 of them through the entire game. To collect all the stars, you have to play the bonus chapter as well. I did not have to refer to the built-in strategy guide at all. With the combination of the excellent map, the hint button, and good instructions for the puzzles, I did not need it. This is a very classy game. Good job, Big Fish.
July 13, 2014
NO DRAGONS!
The main thing I like about this game is that it's NOT set in yet ANOTHER fairy kingdom! At last! A game set in this century! Thank you, Eipix .... I am really, really tired of gnomes, faeries, king & queens, dragons, witches, princesses, and wizards. Please, developers, give us games with modern story lines!
July 16, 2014
I Love Elpix Games!!!
I play the demo for 15 minutes And I know right there I needed to get this game.This is a fast pace, fun, who did it . The graphics and voices perfect.... A must have ENJOY
July 16, 2014
Well Put Together
This is a very nice "who done it?" And you get to interview suspects and discover clues a little differently than in other detective games. I appreciated that it was more adventure than HOGs, and when there were HOGs, they weren't your typical ones. Very pleasing graphics, and a fairly difficult but doable level of challenge make this game one I highly recommend.
July 23, 2014
Eipix creates a masterpiece murder mystery...
Game opened in widescreen Lockable Inventory...like this one, it's unobtrusive but items are still visible. + items mixture. Choice of Game Modes, including 'Custom'.... love this choice, turn off sparkles but still retain Hint... all modes tell you what you get and don't get....can be changed during play Achievements, there are a few, can be checked under Achievements tab, scroll down to check them all....there's a couple of strange ones. Worth a look before beginning game if you're an Achievements fan. Extras Room : Replay HOPS and Mini Games. Play Bubble Shooter game. Souvenir Room #locked in demo# etc. Choice of 12 Wallpapers of varying sizes. Collectibles: 44 Stars Morphing Objects : 12....found it HOPS Hint system allows you to Teleport....jump map, scenes named. Evidence Folder contains Evidence Board where you do a profile on each suspect and an Evidence file....really like this feature, little mini puzzles...won't go into too much detail. Strategy Guide only showed 2 Chapters HOPS I came across were interactive lists with quick mini puzzles included and silhouettes, these were fun and done a bit differently. Choice to play a Bubble Shooter game instead. Mini Games I came across were sliders, fuses, and matching pairs....some easy, some a little thought needed, good mixture. Story : You, as a detective are called in to find out if the socialite Veronica West has committed suicide or was she murdered? You and Agent Daniels just make it to the Island before the boat develops engine trouble so Daniels has to stay and try and repair it while you go to investigate and it's not long before you encounter some suspicious friends and relatives of Veronica West. Opinion : Liked the game a lot, no Tech difficulties, voiceovers were clear with lip sync., colours were bright, graphics suited the game theme. Liked how you questioned possible suspects...something new here and it was fun....again won't give too much away. Always a good idea to check out Achievements and Extras Tabs before starting games these days if you like to know all the Achievements and Morph/Collectibles. It's a blast to play, thank you Bigfish xox's
July 13, 2014
This is Definitely My Type of Game!
BASED ON DEMO I love murder mystery games, so as soon as I saw this one, I had to try it. This game is like a true murder mystery. It exceeded all expectations I had for it. I can't wait for the SE to come out so I can finish the adventure. The story is fantastic. Veronica West is found dead in what appears to be a suicide, But upon investigating, you quickly realise that this is not the case! This story had everything a murder mystery should: Suspects, interviews and plot twists! Oh, yes, this game had plot twists, and they were good ones. I totally was not expecting the event at the end of the demo! This story had me hooked from beginning to end, which is rare for me these days. This is probably my favourite story of the year. There is one technical issue in the story though. To me, this game appears to be set in the 1950s, maybe earlier. At the beginning, someone is asked to call 9-1-1. However, 9-1-1 wasn't created until 1968. The developers should have done their research to make things more accurate. Overall though, the story was fantastic. The HOS were great, typical Eipix. They were longer than usual, and such fun to play. Eipix has jazzed up their HOS again. Sometimes they were junkpile, sometimes silhouette, sometimes a mix of both. Sometimes, we would even get a mini-HOS, which was a small scene with only a few objects to be found. I found the HOS quite easy, but they were very enjoyable. The HOS were also spaced out evenly, and there were roughly 2 in the demo (excluding mini-HOS). I was glad to find that the HOS weren't as jazzy as usual. I prefer interactive word lists. For those who don't like finding objects, there is a bubbleshooter as an alternative. The puzzles were great, but were also quite easy. I really did enjoy playing them. A couple of puzzles were unique, and others were the same as we've seen countless times. This was nice for me. Like the HOS, the puzzles are spaced out evenly and there are a few of them. My favourite minigame was probably the photo one. In this one, What makes this game a true murder-mystery is the additional features. We've got a brand new thing called the deduction game, which allows us to sort fact from fiction in the witnesses' statements. This is exactly what would happen in a real murder investigation, so that makes the game very realistic, which is great. This game played every time we met a new witness. I'd met most witnesses by the end of the demo, so I hope this game still continues! If not, I will be very disappointed. We've also got an evidence board, which is located near our diary. Here we can sort out our suspects and our evidence, which there are two separate tabs for. In the suspects tab, you can view information on each suspect. The evidence tab works sort of like a puzzle. You get small pieces of evidence each time and have to piece them together. This was a good feature, but it was not used nearly enough. Only once in the demo. I get the feeling it will be used more as the game goes on though. Aside from that, there are also + objects, which are just becoming standard now. That being said, I enjoyed the feature. + objects have a light blue circle around them, with a dark blue + appearing when the object can be interacted with. There were quite a few + objects here, which was nice. Eipix has done the basic gameplay features pretty well: The map is useful (and it appears at the start of the game, thank heavens), the hint works well, (even if it charges way too fast) and there are four difficulty modes. However, there is one problem. THERE IS NO DIARY! AGAIN! This annoyed me to no end because I rely on diaries to help me remember important bits of the story, and I like to read the entries. I don't know how many times I have to say this before it gets through: Diaries. Are. Important. Eipix really needs to listen here. Bring back the diary! One complaint I have about the gameplay, which is exclusive to the CE, is that there is no indicator on whether or not you have found the collectible in the scene. This is annoying as it is frustrating trying to remember whether I have found it or not! What would be nice for the next game is if Eipix gave us an indicator. As usual, the graphics are outstanding. Everything was clear and drawn with some great detail and nice colours. I liked the character designs too. They appeared to be very lifelike. I liked that the characters each had their own personalities in the game too. It makes the game more realistic and believable. The voice-overs are standard. I have no problem. FEATURES 4 modes of gameplay: Casual, Advanced, Hard and Custom. Differences in difficulties are the usual. Custom lets you set the game the way you like. I played Casual. Hint/Skip- Once again, I must say that the hint and skip charged too fast for the difficulty I selected. I get that Casual is the easiest mode, but there is a such thing as too easy. Come on, Eipix! Just because I selected the easiest difficulty doesn't mean I want to have my hand held all the way through! Map- The map appears at the start of the game. It is interactive and quite helpful. It lets you know where there is something to do. Deduction Game- This was quite good and made the game seem realistic. Here, you sort fact from fiction in the witnesses' statements. This is done by clicking on areas relevant to their statement. (e.g. clicking on eyes after being told ?I've been crying all night.?) Evidence Board- Once again, a great feature that made me feel like a real detective. There are two separate tabs for suspects and evidence. + objects- These are items you need to interact with to complete. A dark blue + will appear when the item can be interacted with. CE EXCLUSIVES Bonus Chapter Built in Strategy Guide- will show locations of collectibles. Collectible stars (44)- There is one in every scene. However, there is no indicator as to whether or not you have collected it. This made it hard to remember for me. Achievements Wallpapers (12) Making of- nothing special Souvenir room- This is basically a giant HOS. Replay HOS and Puzzles Rewatch cutscenes Music WHICH IS THE BETTER BUY? I'm going with the SE. I think this developer has begun to get a little stingy with CE Extras. I think you'd be much happier with the SE too. Overall, this is an outstanding game from Eipix and I am looking forward to finishing it. This earns five stars from me. I was very pleased with the effort the developers put in to this game. It will surely go down as a favourite.
July 20, 2014
Another great game from Eipix!
Just a quick and to the point review...I love the developer, Eipix. Their Collector's Editions are great, they have extra features, such as giving you an opportunity to go back and find collectibles. Their bonus games are just as good as the main game. Dead Reckoning does not disappoint in any of these areas. The graphics are clear, the ambient sounds fit right in, and I like the voiceovers, not over-the-top, but not dull either. I am not a big fan of a game having too many just straight up HOS, and I like how Dead Reckoning mixes it up, by using the traditional, as well as silhouettes, and an optional bubble shooter game, in case your eyes get tired from object searching!! Eipix is also great at adding interactive elements to their stories. In this game, you have an "Evidence Folder" that you use to keep track of certain items and information you collect throughout the game. There is also a chance to question suspects and based on certain items you click on, you can tell if they are lying, or being truthful. I strongly recommend this game if you are bored of straight up HOG, and are looking for something different. I also recommend any of their other games as well, such as the Myths of the World series, Final Cut series, and Hidden Expedition series.
July 14, 2014
Excellent Game
I loved every minute of it! Great story, great characters, great games, great music. I haven't enjoyed a game this much in such a long time. Thank you, developers, for giving us a game well worth our time!
July 28, 2014
Amazing!
A game by Eipix ------------------- I was suprised and happy that Eipix made this game. They're famous for creating many great action adventure games. This time they take it to the next step: detailed investigation. Although the story is not the most original, I am happy that we got to deduct, find evidence and play like a real detective. There are 4 levels of difficulties. HO is various, not so difficult, or you can also play the bubble shooter game instead. Puzzle is not that hard either. Nice VO and graphic, as usual. Map is also useful. Bonus contents are a lot.. the game is really worth its price. Definitely recommended.
July 19, 2014
AHHH! EIPIX SILVERMOON ISLE WITH HEAD PHONES
Not only is playing with sound a good idea, wearing a good set of head phones is a real treat--especially in this game! Developers poured their hearts and souls into producing high quality gaming in Dead Reckoning. Not to mention any names, yet, some devs of late have cut corners with every game too similar--not EIPIX. Story line is creative and the puzzles are challenging. Bring it! EIPIX games are getting better and better! Loving the Roaring 20's type time era, sharp details, music, sounds, voice overs. Not going to re-hash other reviewer details except to say--VERY pleased with this one! Thank you EIPIX and BFG! Enjoy! -Mama Mia-
July 13, 2014
The Apple logo is a trademark of Apple Computer, Inc.