Haunted Manor: Painted Beauties
Exclusive
A peaceful day at the park becomes a journey into the surreal in Haunted Manor: Painted Beauties! You thought it would be fun to have your portrait painted by handsome young artist Stephan Black. But you didn't realize you were about to be transported into the dark world of his painting. You soon discover that the mysterious artist has been filling his gothic manor with souls to fulfill the terms of a deal he made with Death. Now you must find your way out of the portrait before Death comes to collect you in this thrilling Hidden Object Puzzle Adventure game!
Game System Requirements:
OS:

Windows XP/Windows Vista/Windows 7/Windows 8

CPU:

1.4 GHz

RAM:

1024 MB

DirectX:

8.1

Hard Drive:

1258 MB
Game Manager System Requirements:
Browser:

Internet Explorer 7 or later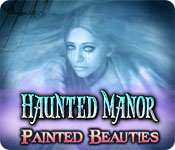 NEW299
The Big Fish Guarantee:
Quality tested and virus free.
No ads, no adware, no spyware.

Reviews at a Glance

Haunted Manor: Painted Beauties
0
out of
5 (
0
Reviews
Review
)
Customer Reviews
Haunted Manor: Painted Beauties
30
30
One of My Favorite Games This Year!
I tried the beta of the game and didn't particularly care for it but there was a great sale the weekend the CE was released so I decided to go ahead and get the game. Wow, I am sure happy that I didn't pass this one up. It takes a bit to really get into but it is such a great game when it gets going, Now, others have complained about the angel giggling but she only does that when the hint button recharges. I have hardly heard her giggle at all in the game but if you do use the hint button a lot, you will get that little giggle to let you know the button is ready once again. That being said, given the subject of the game, the devs could really have passed on the angel as cute as she is. The game is a bit challenging and one or two of the puzzles took quite a bit of time to solve, one of them due to figuring out the mechanics. I like a game with challenge that doesn't make it too easy to figure out and this game has what I love. I found that the game is quite a long and I actually kept notes on where things were needed since there are so many different portals that we go through. The whole game took me over three days to complete and I was more amazed at how great the game is by the time I reached the end. Unfortunately, there are two things that I do not like about the game and I really think the devs should consider in future games. The most significant item is that all puzzles must have a reset button. I ended up skipping one puzzle simply because I could not reset it and it seemed like too much work to keep going once I created a mess. The other item is that with a game as involved as this one, and maybe I have become a tad bit spoiled, is that the map does not show where there are active tasks. With so many locations to visit and a lot of backtracking required, it is very time consuming to figure out where something I saw early in the game and then totally forgot about where it is located. Please devs consider adding reset buttons to your puzzles and available task indicators to the map. Aside from the two issues mentioned above, I love the game and think it is so excellent. I can recommend without hesitation that you at least give it a try.
June 22, 2014
A MUST HAVE
Excellent game. I had to comment on the map. For me, I really liked that it didn't tell you where to go, but showed you the picture of the room so you could remember what you might have seen there. Love that you have to collect beads to make the necklace not as an "extra" thing but to save yourself. I recommend this game wholeheartedly.
June 26, 2014
Best game in years!
Loved it! Nice and long with lots of twists. Good mix of HOS, puzzles, and interactive objects. New items appearing in scenes already visited is a nice touch. Puzzles are new and different instead of the same-old-same-old stuff. I like the fact you find objects and carry them around without using them right away. Plenty of different scenes - someone really put a lot of effort and thought into this game. Best one I've played in several years!
July 6, 2014
FIND THE MISSING PIECES
Very well-developed and written story. A wicked artist painted ladies who disappeared as far back as 100 years ago and captured their souls. You have to find the missing pieces of their portraits to allow them to return to their lives and, in your spare time, find the missing pieces from your own portrait. Graphics, special effects and voice overs are very good. Well put together and thought out. Hint system is exceptionally helpful. Good production values. Lots to do and many little things to solve. Good ratio of HOS, puzzles and adventure. Moderately challenging.
June 22, 2014
Make A Deal With Death Herself
Stephan Black wanted to move people with his paintings, now that he has made a deal with Death herself, he does actually move people with his paintings, he moves them into a portal painting where they will be trapped as they wait for Death to arrive! Stephen's wife and son died of a horrible illness nearly 100 years ago and their spirits still haunt the Gothic Manor that you have been trapped in since you agreed to allow Stephan to paint your portrait. Now you must find a way to enter the painting portals and free the innocent souls that are trapped, while trying to find the missing pieces of your own portrait, can you right the wrongs before Death comes to collect her souls? I played the beta version of this game and couldn't wait till it was released. I will admit that I prefer the Collectors Edition because I'm a huge fan of Morphing Objects, and there are Achievements to earn as well. Also you may want the available Strategy guide because this game can be confusing due to the fact that there are several rooms in the mansion, and several portals to enter. There aren't a lot of Hidden Object Scenes or mini games, instead the game is loaded with a ton of interactions in every scene. You meet a priest who gives you a broken rosary and explains that if you find all 33 missing beads, the rosary will protect you from Death (whaaat...give me 3 of em!) Some of these little pearl beads aren't easy to spot because they tend to be located in the corner of a zoomed in area but you are focused on the main area of interest. The HOS are slightly interactive and are both list finds as well as finds that require you to find the object that matches the silhouetted shapes. The mini games are good, but some tend to be time consuming such as swapping tiles in between 4 different squares until each of the four squares contain related item pictures in categories such as planets or weather. I do recommend the CE over this SE, but if you don't care about all the bells and whistles extras, then this game will be just fine. There is a lot of back and forthing to do in this game but there is a jump map available, and some gamers complained that the Guardian Angel cherub baby used as the hint icon was annoying, but it didn't bother me either way. The graphics are mostly dark, gothic and dreary colors, perfect for this type of game, but not everyones going to like this genre, however, it really is a great game with an excellent but sad love story. Give it a try, enjoy!
June 22, 2014
a very long game that is great!
this is a long game. it does have an interactive map but you have to remember where you need to go. there is not a legend about where the objectives are or anything. there is a list of tasks. i was all over the game field because i couldn't remember where i needed to go. there were pictures of the scenes but it didn't help me so much. i would still recommend it. you are looking for an artist that paints women and then traps them in the paintings to give to death so he won't die. she is very greedy and he has to keep painting. he came across this thing by accident. death needs the souls and he traps them in the painting and every time death comes for him he gives her a soul. yes that is right.....death is a woman.
December 22, 2014
A Different Haunted Manor!
Played expert. Puzzles easy so far on demo, however, becomes more engaging. Hidden object scenes do-able and fun. Detailed artwork reflects developers Top Evidence have invested much hard work into making this game. I like stories about artists as it tells me they are good artists and take great pride in their work. Storyline different, yet, similar to other games involving artists which capture people onto the canvas. That being said, a cutesy child angel sits on the lower right for hints. Thankfully, gamers don't have to name it or interact. Game certainly has a certain amount of appeal and, even though there's a bit to and fro tracking, I recommend as a better game nowadays, relatively speaking. Just would like developers to allow the story to play out more rather than tell it to gamers. Also, proof reading the finished product is important and improves overall game quality. Enjoy! -Mama Mia-
June 22, 2014
haunted manor, painted beauties
It was an ok game. Everything was good except for the Map. It was useless. No explanation of where to go and find the area to explore. A lot of back and forth. It was the longest playing game I have bought. You had to totally rely on your memory. I mean totally.
June 24, 2014
A little bit of Dorian Gray
This game reminded me a bit of the novel Dorian Gray, by Oscar Wilde. You have to find your way through a dark and mysteries Manor, to save yourself and other woman, trapped in paintings done by the charming Stephan Black. He is always a step ahead and shuts the doors right in front of your nose. Unlock the countless locations to find the key's to solve the Mystery and set everyone free, before Death collects the souls. I loved the game , it has so many locations and you better have a good memory to know what task you have to do where. The music underlays the scenes perfectly and makes it a bit creepy. The puzzles are not to difficult , but some may need more time to solve them. I wouldn't recommend this game to someone who is easily scared or to children , it my cause nightmares. However, there is a beautiful little Angel (Hint-button) who guides you through the game. Have fun with this, in some aspects different Hidden Object adventure.
July 2, 2014
holy scmolly like to walk?
i apologize to the reviewer who complained about the angel in my head i said don't hit the hint so often but.... it wasn't that the noise was irritating it was the fact you had to use the hint alot for me anyways ,long tedious back and forth. hope you have a good memory wow back and forth to do one thing then ALL the way back where you were. i couldn't wait for it to end . maybe im tired? interesting story though which is why i finished .
July 1, 2014
The Apple logo is a trademark of Apple Computer, Inc.