Monument Builders: Alcatraz
Build the famous prison: Alcatraz! Oversee the construction of the most famous prison in the United States, while learning many anecdotes along the way.

Help contractor Lloyd Andrews gather the resources needed to complete work on the prison. Manage your workers skillfully to finish the levels in time, while repelling attacks from Call Palone's hired thugs as they try to send your project to the bottom of the bay.

Take part in building the monument that made Alcatraz Island a household name!
50 varied and challenging game levels!
Use your skills and creativity
Defend your site against mobsters
Learn genuine anecdotes about Alcatraz
Game System Requirements:
OS:

Windows XP/Windows Vista/Windows 7/Windows 8

CPU:

1.4 GHz

RAM:

1024 MB

DirectX:

9.0

Hard Drive:

324 MB
Game Manager System Requirements:
Browser:

Internet Explorer 7 or later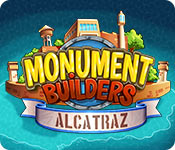 NEW299
The Big Fish Guarantee:
Quality tested and virus free.
No ads, no adware, no spyware.

Reviews at a Glance

Monument Builders: Alcatraz
0
out of
5 (
0
Reviews
Review
)
Customer Reviews
Monument Builders: Alcatraz
9
9
The Best Monument Builders Yet!
My favorite feature on the Monument Builders games are the anecdotes, in this case a very interesting subject, Alcatraz! Before each level you will learn a fact about this prison, once a military prison converted into a maximum security prison which once held the famous prisoner # 85, Al Capone. This is a TM game that requires you to meet specific goals and earn up to three stars depending upon the time it takes you to finish the level, you also earn gems which can be used to purchase upgrades. Some of the goals are clearing the roads of debris such as cement bags, logs, and giant cupcakes (??) You must repair the roads to allow the horse and carts deliver product. You may need to build a cement factory, a bank or a cake factory, but keep in mind that in order to produce food, you will have to build a cake factory, to build a cake factory you will have to collect cement and wood etc. With the gems you earn you will be given the choice to upgrade in three different areas such as, specialized workers, faster production, or automatic delivery of supplies. With 50 levels available this should turn out to be a very fun and informational game, enjoy!
June 24, 2014
Love It. Definite Buy!
I just played about 40 minutes of the demo and I loved every minute. All the usual things from Monument Builders games. There are some additions - I don't recall other ones having shops, for instance. If you liked the others in the series, this is at least as good as them. It may even be better. Give it a try.
June 24, 2014
Better than the other in the series
I played the game through the demo and wish it would not end. This is better than the other games in the series. It seems easier than the other ones.
June 24, 2014
not challenging enough
not worth buying i beat it in a day... not a lot of level and not that challenging thought it would be better then the other monuments but i was wrong...
June 25, 2014
I am warming to these and this one is highly recommended for beginners like me.
More entertaining, more informative and more fun that any other games of this genre I have played. I enjoyed the facts, the quiz and especially the Thugs and Thieves (is that really bad of me?) I might even consider buying one, but will check out others in this series first. Give it a try for sure.
June 24, 2014
The Horses are back and this time its personal
As with others in this series of games, the format follows pretty much the same. This time however it is focusing on the infamous building of Alcatraz and how and why it was the most notorious of all prisons. As with others in the series you are tasked with building the prison, in small baby steps, with around five ?training? levels to get you familiarised with the game, if you are familiar with this style of game unfortunately you are not able to skip these levels, I think this is an oversight as if people have played this style of game then they are going to know how this game works and want to get building as soon as possible, also of course the first five levels eat in to the hour free time. The game goes back to the ?horse and cart? for moving rather than the cars of the previous game, I find this odd as the game starts in the period when the car was just about coming to be, thus from a realistic point of view I would have thought it would have provided auto horsepower. The game is exactly the same as all the others in the fact that you need to mend roads, hit thugs, open and upgrade buildings, feed (what looked to me like ducks, but why ducks eat cake I have no idea), so the familiarity of the game is there, so if you don?t mind this and want to learn about another iconic building then I would strongly recommend this game. A good thing this time is that I think the programmers must have listened to previous comments as you are able to garner gems and with these gems you are able to purchase power-ups before each level. These power-ups however are useful, one is for automatic ?cart-pulling? which is a good addition as on previous games at times it could be slightly frantic (and boring) having to repeatedly click on all the different carts, so in my opinion this is a good addition. The gems are garnered on how quickly you complete a level, thus if you get three stars then you also get three gems. If on the early ?easier? rounds you build up your cache and you don?t use all three for all three bonuses then you can tailor the later rounds to how you want to play. One slightly negative comment I would give is at the beginning of the game when the scene is being set, the text moves to the next page too quickly on one of the screens, I tried again with a different profile and it was exactly the same, I am aware that this is just ?flowery? and scene setting but still it would be nice to be able to read all that the programmer has put together. As I have said in previous reviews with regards to this game series, then I would recommend it for people who want to learn about the history, or for a young person who is doing a project on that particular building, as whilst yes you can look on varying website and garner the information this makes it slightly more interactive thus making learning ?fun?. I would recommend this game, but bear in mind that the format, the sound and speech from the ?workers? is exactly the same as before and the graphics are only slightly different. If are bored of this series or have no real appetite for knowing about Alcatraz and the prisoners etc that were contained there within then this game is probably not going to be for you.
June 26, 2014
Marmite.
this game, just like the others is a bit like marmite, if your unaware of what marmite is you won't understand this review, but for those that do, you'll either love it, or you'll hate it. this game to be honest has no middle ground, you can't just tolerate the endless tiresome " pick this up " " pick that up " " click this " " click that " but if you can look beyond that, which i have been able to do, you'll find this game is amazing, with it's simple, but fun facts, if you've played the other games you don't need to learn the game, it's exactly the same. ( just with a prison instead of another monument )
June 24, 2014
This is an OK game but dont buy if....
you cannot clickity-click over and over as you need to do this time and again to get rid of thugs and thieves. Each one requires 5 quick clicks which is not too bad until you get to a level where they come in waves and you are just click, click, clicking to get rid of them before you can actually play the game
June 30, 2014
game in reverse
Why would you restart at a previous level. this game is for someone who has nothing to do but play all day. I wasted my game credit on this junk.
July 27, 2014
The Apple logo is a trademark of Apple Computer, Inc.