Artifacts of Eternity
Something terrible has happened! Most of the hard earned artifacts from your last time travel have gone missing again.

Your grandfather pleads for your help to recover the missing items. Travel through time to find the lost artifacts and restore the lost collection!
50+ locations
Rich environments
Travel in time
Return the artifacts!
Game System Requirements:
OS:

Windows XP/Windows Vista/Windows 7/Windows 8

CPU:

1.0 GHz

RAM:

512 MB

DirectX:

9.0

Hard Drive:

128 MB
Game Manager System Requirements:
Browser:

Internet Explorer 7 or later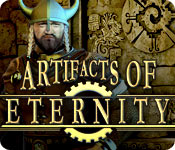 NEW299
The Big Fish Guarantee:
Quality tested and virus free.
No ads, no adware, no spyware.

Reviews at a Glance

Artifacts of Eternity
0
out of
5 (
0
Reviews
Review
)
Customer Reviews
Artifacts of Eternity
22
22
This Is How A Match 3 Game Is Done!
Available in Relaxed or Timed modes, travel to over 50 locations as you help the Professor collect the artifacts that were lost in time. You start out in the Professors lab until you repair the time machine that will allow you to travel to exotic places and times such as Egypt and Mexico. The goal is to complete an object needed to recover the artifact in that area, but different obstacles might be standing in your way, bushes which need hedge clippers, dams that need wood etc. Some of the Match 3 games require you to make matches below items such as an eye, wood, lightning, until enough fall off of the board thus completing the object needed. Other games require you to make matches until all cells have been turned yellow, and some require you to make matches clearing a path as the board moves so that the object on the left will travel to the object on the right such as a lamp and a generator. Some tiles are blocked requiring you to make matches beside them in order to break the stone or wooden tiles. You receive more points for larger matches and you must strive for 100% accuracy which was a really cool feature. After each area is completed and the artifact found for that area, you will complete a jigsaw puzzle which reveals the next location. The jigsaw puzzle is fairly easy, the shapes are outlined on the picture and you pick up the pieces at the bottom that are available, more show up as you place the pieces until complete. The tiles are appropriate for the area as well such as Egyptian birds, ankhs, and the eye of Ra, Mexico has Myhan themed pieces that resemble carved stone, this really is an entertaining Match 3 game, enjoy!
June 24, 2014
Looking for an Eternity for an Artifact
At least that's what it feels like trying to finish some levels - lol. Love this quirky match 3 (M3) game! Storyline: An ancient artifact has blown into a billion pieces (okay, maybe not quite a billion) and the Professor has asked your help in going through time to find them - they could be anywhere and everywhere. So, off you go. Graphics: Very muted color scheme, especially the beautiful background pictures - but that seems to fit the environment perfectly. The background pictures change as you finish each level - apropos to what you've accomplished - for example, a picture of a generator - find energy to start it - then you have a running generator and on to the next picture and "quest". Sound: The music was appropriate for the time period you were in - Ancient Egypt - the music was very lazy and relaxing. Sound effects were great. Game Play: And here is where the game stole my heart. You have to do everything any M3 game has ever had you do. Follow a path so an item can get from point A to point B; destroy all the tiles on the game board to form one solid color; get items to fall off the bottom of the game board; and more! You never know what you're going to have to do AND you get no direction so you have to pretty much figure out the game play for yourself. I LOVE IT! The storyline is ongoing as you finish each level. Love that too. You seem to accomplish "quests" to pass each level and they become more difficult as you level up - sometimes taking quite some time to complete your goal. The background picture changes with each level you finish - appropriate to the quest you are challenged to complete. There doesn't appear to be any "amazing" bonuses for matching 4 or more items - such as bombs, etc. You have 2 difficulty modes - timed and relaxed. I like to play the relaxed mode which generally has a story. This is such a quirky little fun game I couldn't help but enjoy it. Maybe it was that you didn't know what was coming in the next level for you to complete it - the mystery and intrigue. Whatever it was, it grabbed me and I definitely got my personal "wow" factor at the end of the demo. I encourage EVERYONE to try this game. it's a VERY quick hour long and it's free to try. I hope you enjoy it just half as much as I did - it's a definite buy for me. Happy Gaming!
June 24, 2014
Finally, a M3 the way should have been
A very relaxing, yet entertaining and to some extent, educational game. Cleverly put together. The only regret is the background music, it could have been better. Spare the words and lets get on with the game.
June 26, 2014
Almost Perfect Match 3
Based on Trial Hour. This would have been a 5 Star review had it not been for the fact that matches cannot be made whilst tiles are falling. I know this is a deal-breaker for some, but apart from this drawback, this is still a really decent Match 3 game. Storyline is good. Graphics are excellent and there is some nice animated scenery behind the boards. Ambient music is ok, but you will probably want to turn it down to a low level, so the sound effects, which are well done, come to the fore. Game play has some minor new innovations which are very welcome. I come across the first of these in level 4 where you had to clear a path for a Lamp. After the lamp moved forward in each square, the symbol on that square moved back a space, enabling more matches to be made automatically. The play was made more diverse with the inclusion of the odd mini game between the Match 3 boards. In the demo hour, e.g. there was a jigsaw to complete. I expect there will be others as game progresses. The symbols are very easy on the eye, pertain to the story very well, and change depending in what 'era' of the story you are in. Nicely done. From the beginning, there are two power-ups: Lightning and Shuffle. Both of these are powerful in their action, and as a result, take some time to recharge. There are also what appear to be 'random' bomb blasts which knock out 'groups' of symbols as they are falling. The object in most levels, is to assemble an 'Item' by allowing certain symbols to drop off the bottom of the board. In the timed mode, if you don't achieve this in time allowed, you replay the level, with the partially assembled item staying intact for your next attempt. OPTIONS Music volume adjustable Sound effects volume adjustable Screen brightness adjustable Full Screen Custom Cursor Overall, I found the playing experience positive, with enough variety to maintain my enjoyment and interest. As long as you don't mind not being able to make matches whilst tiles are falling, this is an excellent game which I can recommend to Match 3 followers.
June 24, 2014
Good game
Haven't finished the trial game yet... and playing in relaxed mode... however, intending to purchase this game, based on experience so far... for several reasons... First, i like having a relaxed game in queue for those times i just want to not be challenged... my brain needs a break sometimes! Then, the story so far seems rather pathetic, however that may improve as we go along... but it doesn't matter to me either way. What i'm finding is that i DO have to involve some thinking processes else i will run out of options and have to wait for a recharge of the energy (in the game, haha)... So it's not 'just' a mindless match 3 game... strategy is involved, even in the early stages. Looking forward to playing the timed version, but will complete this relaxed mode first... AFTER purchasing this nice little game.
June 24, 2014
Different!
I play a lot of Match 3, this one is different. Not only is every board different but there are jigsaw puzzles and other things to break the game play. This is a unique game...give it a try.
June 24, 2014
Bright and Colorful Match 3
Really enjoyed playing this game. There are 50 levels to travel through time; five or six tasks to complete in each level. You earn points by matching and can buy powerups in right had corner. Swap button at bottom right recharges. I played the relaxed mode, but want to try the timed. The graphics are well done and the icons on the boards change with each new location. There is a puzzle at the end of each segment. Looking forward to the sequel.
July 4, 2014
Make a sequel but make it better
pros: A decent story. Nice background graphics (everything but the actual match board). Ok music. Has a little something different than the typical match 3. Nice jigsaw puzzle when starting a new land. cons: Slow swapping, have to wait until all activity is complete before making your next swap. The swapping itself is not smooth, very herky jerky. This is almost a deal breaker for me. Power ups are not very exciting, if you buy one you have to use it in that level. Tile pics are too busy, made worse by a dark and busy match background. By the second land I could barely focus (luckily the end of the trial occurred because I didn't want to play anymore). Not many levels, I think there are only 50. If the swapping were improved, the match board and tiles MUCH easier to see, more and better bonuses and lots more levels, then I would definitely buy. Maybe in the sequel? I recommend playing the trial not the whole game.
June 24, 2014
Eternity for demo to be over
Don't get me wrong, I love match 3, but this one seemed to drag and didn't really do anything for me. The storyline itself was very good and the visual and sound were really good. I started out being excited to play a new match 3, but as the screens progressed I could feel my self getting bored and wondering how much longer the demo was going to last. I was really hoping that it would become more exciting(?) or draw me into more of the game, but it just didn't happen. You really need to try the game before you make a decision.
June 24, 2014
Match-3 with a story of sorts
So, the artefacts have disappeared through a portal and have scattered throughout time. Once you have fixed the generator to power the time machine you are on your way, visiting (in the demo) Ancient Egyptian and Mayan Civilisations where you 'perform tasks' in the shape of puzzles. This is out and out M3, no sneaky HO scenes. The only time you do something different is when you are about to travel to the next time zone and you have a jigsaw. I played in relaxed mode but there is a timed mode too. It was indeed relaxing and quite entertaining. The music was repetitive but appropriate to the environment (I particularly enjoyed the Egyptian). The music between puzzles as you progress along the map trail can get a bit irritating after a while. The thing which will stop me buying it is the M3 puzzles themselves. With the exception of one where you create a path for an object through a large puzzle, they are all very small and rather dull looking. You get occasional blocks to break with matches etc, but nothing really exciting. Also, you cannot make moves while things are happening on the board so you sometimes just sit, waiting. There are no tools or upgrades so if you have one last square to turn blue it can take quite some time. There is a shuffle but not a great help. Is this a sequel? I ask because the characters say things like "Last time you were here..." So, I don't recommend this to buy without trying first and I wouldn't even waste a dusty coupon on it.
June 24, 2014