Haunted Hotel: Ancient Bane
Exclusive
Brought to you by Elephant Games, creators of Haunted Hotel: Eclipse and the best-selling Mystery Trackers series!

Abraham Shadowy bought an abandoned hotel, planning to turn it into a haunted attraction for his guests. But when his guests start actually disappearing, people begin to gossip. Is it all just a publicity stunt for the hotel, or is there something more sinister going on? Join your detective friend James as you search for the truth among Shadowy's mechanical contraptions. It's dark in there, so watch your step in Haunted Hotel: Ancient Bane, a chilling Hidden Object Puzzle Adventure game!
Game System Requirements:
OS:

Windows XP/Windows Vista/Windows 7/Windows 8

CPU:

2.5 GHz

RAM:

1024 MB

DirectX:

9.0

Hard Drive:

1102 MB
Game Manager System Requirements:
Browser:

Internet Explorer 7 or later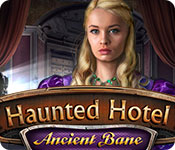 NEW299
The Big Fish Guarantee:
Quality tested and virus free.
No ads, no adware, no spyware.

Reviews at a Glance

Haunted Hotel: Ancient Bane
0
out of
5 (
0
Reviews
Review
)
Customer Reviews
Haunted Hotel: Ancient Bane
27
27
It Really Is Haunted
Buyer beware, if it's haunted, leave it be, problem solved. Abraham Shadowy is a mechanical engineer who has reopened a Haunted hotel using all his skills as a mechanical engineer to give his guests a truly good nights fright! However, when guests check in and disappear, the possibility that the hotel may indeed be haunted becomes a reality and James has asked for your help once again to investigate this paranormal site but so far the only thing paranormal is Abraham's behavior and a few mechanical parlor tricks you discover. This is a really entertaining game filled with all kinds of mechanical gadgets to tinker with, including a flying scarab that will assist you with those out of reach items. There are plus sign indicators which means that some of the inventory items require further action or repair. There is a map for teleporting, and you will probably want to use it because there is a lot of back and forthing required as you find an item in one location but need to use that item in the previous location. The Hidden Object scenes are slightly interactive list finds where you may have to click on a hat to move it, exposing an item or using a knife to cut stitching revealing an item. The mini games are very easy such as memorizing the sequence of several colored balls after the lid closes. Another mini game requires you to adjust mirrors to reflect a beam of light from one end to the other. I will admit that I wasn't as excited with this Haunted Hotel as with the first edition, but there are a lot of mechanical gadgets in this game due to the fact that Abraham is a mechanical engineer. The Collectors Edition has achievements to earn as well as Egyptian jars containing the ashes of the dearly departed. Personally I think this Standard Edition is the better value, I don't think there were enough bells and whistles in the CE, and because this is a fairly logical game, you probably won't need the built in strategy guide, enjoy!
June 27, 2014
I Stayed There One Night
This is posted after playing the entire game. I just wish I had written this yesterday after I finished playing, because there is so much to tell you and I know I'm going to forget most of it. I really enjoyed this game. I wasn't sure I would, but all in all it was entertaining and I can't wait to play it again. It's a long game and there are a few discrepancies, but not enough to worry about. The sound quality is excellent and the graphics are worthy of the this designer. I have most all of these games and I found this one right up to par. I liked it, because it was one I could do without racking my brain. I even did the mini games. The hidden object scenes weren't a push over by any means, but they were clear and fun to do. Mini games weren't new. We've seen them before, but they chose the ones that didn't take a lot of time to do and were simple enough that I enjoyed them. You have an interactive map which is quite a necessity, because you will accumulate quite a bit of things in your inventory and this will help you get back and forth to where you need to be to use them. You have a helper who will assist you in quite a few tight spots. The story is one we have heard before, but I enjoy it. It kept me entertained and in the game. It had a beginning and an end so that makes it good. So many just leave you hanging. There is a lot more to tell you, but you can be the judge. Play the demo, which honestly doesn't do the game justice, and make up your own mind. I highly recommend this game if you want something to entertain you and not have to work the grey matter to the bone.
July 18, 2014
O.K., I'm Hooked
I like haunted hotel/house games so thought I would try this with no intention of buying since I have so many "haunted" games, well guess what, I am hooked and must have this game. There are voice overs but no mouth movements, which is fine, the voices are well done. There are quite a few puzzles, not too hard, and the h.o. scenes are interactive. No morphing objects or collectables. There are 4 sound selections for; music,effects, environment, and voice. 3 play modes; casual, advanced, and hard. There is a wonderful jump map, which you will need as there is plenty of back and forth and has colored pins that show you where you are and where there is a task to be done and where there is no current task, also a task button to tell you what the current goal is. Sounds and colors are good, not too dark and you can change the gamma before or during play. There is a journal/diary to record your achievements. A couple of misleading items in h.o.'s; on the second floor h.o. the pen is actually a pin and in the hotel room h.o. the comb is actually a brush and the interactive is finding an angel, (you put the wings on) looks more like a bird of some kind. Music is good, of the mysterious type, goes well with the story which is you are there to find missing people and prove or disprove if the hotel is really haunted or not. There are some great spooky sound effects, moans and eerie thumps and such. This is a ghost story, I did not come across any demonic things, if you are very sensitive to sudden noises or things moving when you're not looking, it could be scary. For example, no matter what, a jack in the box always scares me when the thing jumps up! If you like ghost stories, you will like this one. Enjoy!
June 27, 2014
HH #6 Ancient Bane: BASED ON ENTIRE GAME & BONUS
This is my CE version review in case you liked this game well enough for the CE extras. To reiterate: THIS IS BASED ON FULL GAME PLAYED AND BONUS. And I've played all the other Haunted Hotels except for #5. SCREENSAVER in CE content: This ss deserves its own category because it is so way cool. If ONLY it would have stayed with the computer after the game was removed such as the Fear for Sale CE's! STORY: Abraham Shadowy buys a hotel to use as a haunted attraction but people that visit there have disappeared. (NOTE: You do not save these people in segmented chapter stories, which actually would have made this game a million times better.... but rather you save them all at once at the end as a finale#. Weirdly, there is an Egyptian Goolie that runs throughout and haunts this house. So you are at odds when the house has "haunted contraptions" A. Shadowy has built for entertainment....I just wish they'd chosen a theme and gone with it. This HH is mostly based inside the hotel itself, in its basement or surrounding gardens. I wish they'd taken us more into the hotel's surrounding outside areas. Graphics & voice overs well done. I actually liked HH Charles Dexter Ward better. -because Charles Dexter has a lot more outdoor gorgeous scenery-. This HH is mostly based inside the hotel itself, in its basement or surrounding gardens. CE specialties: 1 SCREENSAVER....that removes with the game, Wallpapers, --- who cares for, Concept art, music. but its there- Achiev. / collect 12 Egyptian obj. BONUS PLAY: I was bummed. The gameplay for bonus is mostly played off the area in the basement, I wasn't a huge fan, it could have used more newly drawn areas. Making this Haunted Hotel GOOD Not Great. SIMILAR GAMES: If you liked this game try these: I really liked all of them- 1. House on Haunted Hill - story almost exactly the same- 2. Mystery of the Ancients: Lockwood Manor 3. Shiver: Poltergeist 4. Lake house: Children of Silence DEVELOPERS: STICK TO HH 4 Charles Dexter Ward, with outside scenery to break the monotony, Add more Screensavers that stick with the computer after game removal. It will only remind Bigfishers they loved your game and buy the next one. And drop Concept art and savable music-most of us turn the music off, it isn't a LURE!- Its a detriment! Instead add content on WHO YOU ARE, AND HOW THE GAME WAS MADE, See how the game Fright CE did this to perfection. We are fascinated by YOU people behind the scenes, and love seeing who is making these awesome games for us!! Thanks! A SUPER, MAJOR, Big fish fan
November 14, 2014
A Little Disappointed
i really enjoyed this game, the puzzles were challenging...but at the end of the day, there were 2 tasks I never actually did, and yet the game is complete. Woulda got 5 stars otherwise. :(
July 18, 2014
good game
nice game. plenty of game time. give it a shot and I suggest playing in expert mode. 2014
July 25, 2014
Disappearing Guests
This is a long SE game with good mini-puzzles and inter-active hidden objects. You have a notebook, map, and hint key that fills quickly. You can also teleport to a new place. Several of the inventory items have several parts to find and complete.
November 16, 2014
They're just cranking these out like parts on a assembly line.
Nothing new to see here, just another generic HOG with a few mediocre puzzles, nice drawings, decent atmosphere and music, and a storyline we've seen dozens of times before. You can tell very little care went into this one, so many incorrectly identified items in the HOS - a brush is not a comb. A handkerchief is not a shawl. Makes it hard to care enough to buy this stuff when the developers just seem to be phoning it in at this point.
June 27, 2014
The Elephant is Missing in Haunted Hotel
Our detective friend James from the last Haunted Hotel is back and this time we are off to help a hotel owner solve the mystery of his vanishing guests. The game starts in the same way as almost every other Elephant game with the proverbial suitcase that is missing a key, which when opened leads to a hidden object scene. Once we are in the hotel we meet Mr. Shadowy (an ominous sounding name) who is acting rather strange and we are left on our own to investigate. Hmmm, what strange and mysterious things are going on and what will we find within the hidden rooms of Haunted Hotel? The graphics are excellent and I would expect nothing less from this developer. It is interesting that the beginning cutscene had lip-synced voiceovers but then they disappeared as we got into the game itself. The thing is (and this is the bad news) that good graphics are just about the only thing this game has going for it. The gameplay in Haunted Hotel Ancient Bane is very much the same as it is in all games by this developer, so much so that it is quite predictable. The HOS are the same old, same old slightly interactive list type that we find in virtually EVERY game this development team presents and there is nothing new to be found here. I am beginning to think that the well of creative thought has truly dried up at Elephant games. In Haunted Hotel Ancient Bane, we come across HOS scene after scene that I won?t necessarily call junkpiles only because the items are quite nice to look at, but nevertheless the scenes are stuffed with far too many items. Not only are the HOS cluttered, many of them are quite dark as well making it much more difficult to distinguish some items. Then we come to the puzzles or mini games, and again there is nothing new to be found with puzzles that seem very simplistic and easy. There was nothing to challenge my brain and I found the puzzles to be quite ho-hum if not downright boring. Not only were the puzzles quite ho-hum, the developer missed some great opportunities early in the game to integrate puzzles into several areas. Lately, it seems that there must be some simple formula that the Elephant team uses when developing its games, which includes nothing new or creative - only the basics. I might sound a bit harsh but when I see a game from Elephant, who is one of the top developers in casual gaming, I expect more and lately it has been missing. There is no wow factor present in more recent games from a team who in the past brought us a stunning game like The Nutcracker. I purchased the CE version of the game and it had very little in the way of collectibles or anything else that I thought made it CE worthy ? only the inclusion of the strategy guide. As I made my way through the game I found it tedious and slow, in fact the game was so forgettable, I am not sure I finished the original story. The gameplay was just rather mundane and with no challenge in the puzzles, it turned out to be a big disappointment. When one plays as many HOPA games as I do, I like to find something in the way of a storyline or some unique factor that stands out to ?ring my bell? but it was not to be found among the crowded rooms of topsy-turvy chairs and floating knives. This Haunted Hotel was lacking in the things that could have made it a great game. The game is not horrible and for many it will be what they are looking for, and if you happen to have a free game credit hanging around, it might be worth using it on this game. Overall I will give the game three stars and those only because of the graphics which are superb. As always, I recommend that you at least try the demo because the game might just be right for you.
June 27, 2014
"By the way, I found this!"
I was underwhelmed by the CE when it came out, but kept it lurking on my GM to remind me to look at the SE when it came out. I only managed 48 minutes of the demo before exiting. It is so dull and tries hard to be scary but falls well short. The SE has retained the jump map and transporting hint and thank goodness as you are going backwards and forwards all the time. For more detail, see the CE reviews. I was in the minority and many people really enjoyed it. Definitely one to try before you buy. For me, no. It is just too frustrating!
June 27, 2014
The Apple logo is a trademark of Apple Computer, Inc.