Toy Defense 3 - Fantasy
Face the fire - dragons are coming!

Fantasy features a magical new world with dashing warriors, fearless archers, crafty goblins, and immersion in a magical atmosphere. Step into the role of a 10th-century commander: recruit and train your kingdom's warriors, wizards, archers, and healers to create a powerful army and destroy the enemy's forces! Perfect the skills of warriors, build defensive fortresses, and devise strategy to dominate the enemy's army.

Immerse yourself in a medieval fantasy atmosphere and relish incredible graphics with an amazingly detailed medieval environment. Explore unique levels with non-recurring gameplay. Upgrade your warriors from peasants to knights and develop your own unique strategy with specialized tower power-ups.

Defend your castle and show your courage to drive vile monsters from your lands. Rid your lands of evil once and for all!
Develop your own unique strategy!
Battle evil generals at the end of each waves
Take advantage of 4 useful bonuses
Collect all the achievements during the game!
Game System Requirements:
OS:

Windows XP/Windows Vista/Windows 7/Windows 8

CPU:

1.0 GHz

RAM:

1024 MB

DirectX:

9.0

Hard Drive:

102 MB
Game Manager System Requirements:
Browser:

Internet Explorer 7 or later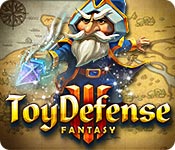 NEW299
The Big Fish Guarantee:
Quality tested and virus free.
No ads, no adware, no spyware.

Reviews at a Glance

Toy Defense 3 - Fantasy
0
out of
5 (
0
Reviews
Review
)
Customer Reviews
Toy Defense 3 - Fantasy
18
18
GREAT with one big problem
This is my favorite tower defense game. It's fun to play, but it has one problem that has been reported some time ago and at the time of this writing, hasn't been fixed. The pros: Neat animations of elves going about daily activities in the midst of massive battles Great variety of choices in the technology trees Strategies are fun to figure out, and not obvious The cons: BIG: In about one scenario in 25, you have to quit out of the scenario because the game stops feeding you attackers. This is a random effect, so if you quit out and restart the scenario, you usually get through it normally. But it can be VERY FRUSTRATING when you've spent 20 minutes nearly beating a scenario only to have the game go into an infinite loop. SMALL: Like other Toy Defense games, when you're in a scenario with a snow background I get eyestrain trying to find the cursor. SMALL: The easy level is very easy (I beat all scenarios with three gold stars using only elves# and the hard level is very hard #good luck if you don't get stunning elves). It would be nice to have an intermediate level to learn on. But as I said, this is my favorite of all the tower defense games, and I've played all that Big Fish offers.
October 5, 2014
Toy defense 3
Brilliant game fairly easy to play. once you have some points and have upgraded your towers etc you can go back to win levels you lost on. Hope there are some more levels coming soon. I have completed all the levels with 3 stars, cant wait for new levels
September 30, 2014
Addictive!
I am not happy until I achieve 3 stars on each level. It may take 3 or 5 times to restart, but it is fun, fun, fun...
September 27, 2014
Best In The Series
I own all three of the Toy Defense games, but found the first two to require a lot more effort than I can usually put in for fun after a long day. Fantasy is different, a wonderfully perfect blend of challenge and gratification when you beat a level. Difficulty ramps up gradually, upgrades to each troop type makes a world of difference, and the occasional gross overkill level happens and is fun to win well :). It looks good, plays well, and is FUN if you enjoy Tower Defense games. Not too hard or too easy, either. My favorite since Master of Defense came out - which is saying something. That is an old classic TD game. Thanks, Devs. Nice job here with this one. FUN is good.
September 26, 2014
So much better than the other Toy Defence games.
This is the third installment (obviously) of the Toy Defense games, and is 1000x better than the other two, IMO. I like the fantasy side of it so much better than the tanks and soldiers, and the overall game play is far better, with superior graphics and colours. It's a totally different TD game to the others. In fact, it is the best game from BF in a LONG time. Many TD games are often VERY hard, to the point where they are almost unplayable, so just get frustrating. But this is a little gem! Yes, it IS still very hard at times, but is it very playable. I like the various routes you can go to each defender, thus opening the field more and it's enjoyable finding out which weapon/defender kill which monsters. There are many levels, which makes it good value for money, especially as some levels do take a few attempts to get, especially later on. I The graphics are very good, as are the sound effects. There are one or two minor quibbles I have, but I have submitted a more extensive review in the forum for this game.
August 6, 2014
If you love tower defense games, give this one a try.
I LOVE tower defense games. Love them. And I just spent a few days playing this one through to the end. PROS: Like many of the tower defense games, there's a definite level of challenge with this one. You basically want to get through the various levels without taking *any* damage to your castle. If you finish the level with zero damage, you earn three "spendable" stars (more on that later). Something less than no damage but minimal damage earns two stars, and surviving the level without dying yet taking a lot of damage earns one star. Stars are used in the store to upgrade the four types of weapons you can use to stave off the attacks, as well as to upgrade your castle and your spells. The first two chapters were challenging. I had to get through them as best as I could to accumulate as many stars as possible while continually upgrading the weapons available to me. I didn't get through the first or second chapters with three stars on all levels; but I was able to go back as I upgraded weapons, spells, and the castle itself and re-play levels to achieve 3 stars. That's really the trick here: you want to earn as many stars as possible and backtrack to replay levels with a less than perfect result to ensure you are upgrading as much as possible as quickly as possible. Once you do that, while still mostly challenging, you can get through the levels perfectly. There's also a BIG bonus at the end of a chapter if you've earned three stars on every level. You also earn additional bonus stars for completing a variety of actions. The graphics are good, the levels are interesting and mostly challenging, and it's generally fun to keep upgrading weapons in the store and then placing and upgrading them on the battlefield to see what their capabilities are. CONS: It doesn't appear to me that you can earn enough stars to achieve all of the upgrades. I completed the game with three stars on every level, yet still fell just slightly short of fully upgrading my very last weapon, which is annoying. It could be that there are other upgrades / secrets I didn't discover, but I don't know - it would seem to me that a perfect game should yield enough stars to achieve ALL of the upgrades. Also, it *can* get a little repetitive. Once you earn enough upgrades to get through levels with 3 stars, the challenge is somewhat diminished, which is the only reason I gave it four stars instead of five. Overall, I thoroughly enjoyed it and think it's one of the better games available in this genre. It has more levels than Fort Defense and others in that series, and it was interesting and fun!
July 5, 2014
Good new game.
Love playing, defend games. This is a good one.
July 5, 2014
Disappointed...
i realize this is a TD game...but it just misses the mark for me. i bought it on the strength of the first two, TD 2 being the better. and i love fantasy and fairy tales, but this game is just boring. i enjoyed the 'little green men' and the way those first games were played much more than this one. it just lacked the 'can't wait to play' aspect i found with the others. i wish i'd played the demo longer as i would have realized it doesn't hold the same appeal as the first two...i certainly wouldn't have wasted a credit on it if i had. for some people this game will be just fine, so i will recommend it, as it isn't really bad, just not as good as the first two.
July 19, 2014