Chronicle Keepers: The Dreaming Garden
Exclusive
You've spent your whole life searching for information about your past. Who was your mother and what is behind the mysterious medallion she left to you? You can't shake the strange dreams you've been having lately, and the confusing, distant, memories gnaw away at you. A chance encounter at a local bookstore stops you in your tracks- an old, dusty book has symbols on it that match your medallion! What will you find in the ancient tome? Could it be true that it holds a secret passage to a distant land in another time and place? This surely can't be a coincidence!
Captivating second-sight mechanic lets you see a different world
Beautiful scene art spanning multiple worlds
Challenging minigames and unique hidden object scenes
Game System Requirements:
OS:

Windows XP/Windows Vista/Windows 7/Windows 8

CPU:

2.5 GHz

RAM:

2048 MB

DirectX:

9.0

Hard Drive:

1505 MB
Game Manager System Requirements:
Browser:

Internet Explorer 7 or later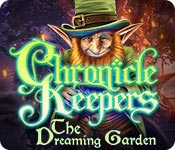 NEW299
The Big Fish Guarantee:
Quality tested and virus free.
No ads, no adware, no spyware.

Reviews at a Glance

Chronicle Keepers: The Dreaming Garden
0
out of
5 (
0
Reviews
Review
)
Customer Reviews
Chronicle Keepers: The Dreaming Garden
33
33
Nice Touch Developers (Based on Demo)
When my trial ended I was actually looking for the SG, bonus chapters and collectibles. To my surprise this is a stand alone SE. Definitely worth the price (especially at today's discount). I thought this was going to be the same old fantasy type of game as we have seen in the past, but to my surprise it was done very dark and not sugar coated candy. I absolutely loved the mother special effects and I had to laugh at the angry crow. Nice touch developers. You are searching to find answers about your mother with the help of your medallion. HOG's had a nice twist that I have not seen before. Puzzles are fairly easy and fun. Graphics were well done. Game was excellent on the fun factor. I love when developers try new things and this for sure is a hit. I don't know how long the game is, but for me a definite buy. Thanks Developers and Big Fish. Great game!!!
July 2, 2014
Seen Through a Green Glass....Mystery!
I wasn't greatly impressed with the blurred and wavering graphics of the opening cut scene, but my annoyance disappeared as the story unfolded and the sounds and music led me into the eerie, tinted worlds which....Hey, no spoilers here, fishies! Suffice to say there's a mysterious disappearance to solve, life-threatening choices to be made, and magic aplenty. What more could one ask of an involving and "can't put it down" game like this? The fuzziness of the graphics was due to an "effect" you'll find throughout the demo #and, presumably, rest of the game, too#. You need that fuzziness, however to spot the....well, things you need which often stand out clearly. A journal with magical pages which....but that would be telling, wouldn't it? Fast hint recharge and good puzzle directions. Fairly short tutorial which you can exit anytime, and varying levels of difficulty #not custom though#. In sum, I found this a very enjoyable, shivery mystery replete with odd shapes, runes, ghosts #?# and, well...I suggest giving it a try. For me, it's a keeper!
July 2, 2014
WHERE DID YOU COME FROM???GLAD YOURE HERE!!!
SURPRISE !! I LOVED IT!! UNUSAL AND A LOT OF FUN LOVED USING MEDALIAN KINDA SCARY LEPRECHAN GREAT COLOR ALMOST FINISHED SORRY TO COME TO THE END!! HOPE YOURE BUSY ON THE NEXT ONE!!!
July 3, 2014
FANTASTIC
I really loved playing this game, you have to save your mum by making an Elixir, you have to find a soldiers Armour, as well as collect stones as well. In each scene I went to I used the green medallion, you collect parts of your book that way, also use the medallion, in HOS, as the objects in green, you can only see with the medallion. I'm certain others will love this game as much as I did
July 6, 2014
The Dreaming Garden plays like a CE !!!
Chronicle Keepers: The Dreaming Garden is a hidden object puzzle adventure game where you will have to travel to an enchanted realm and do your best to free your mother from an evil spell. A powerful medallion that reveals the undead Take on the role of Kinnat, a young girl who lost her mother when she little. The only thing left is a broken amulet and a memory: a fight between Brenna, her mother and an evil woman who made her mother turn to stone and her to be dragged away into another world. After ten years from those events, Kinnat still can't shake the feeling that there's something more than our world. One day, while walking through the street, she notices a strange book in the mirror of an old bookshop. After taking a closer look at the ancient tome, she's dragged through a portal and transported to another time and place. Rescue your mother from eternal sleep It is here where she finds her mother and learns that only the Elixir of Life could break the awful spell cast by the evil banshee. With the help of a ghostly leprechaun and your powerful amulet, you must travel to the Sunken City and find the cure that will bring your mother back to life. The way ahead is perilous as this realm holds many dangers. By using your superior puzzle solving skills you must overcome all obstacles and find all the missing items. Make sure you use the amulet on each scene in order to find hidden objects. Solve puzzle after puzzle and have fun With three different levels of difficulty, an exciting story that unravels to the user as he progresses through the game and mind-bending puzzles, this hidden object game is accessible to all puzzle enthusiasts. I really enjoyed the adventure, and look forward to more from this developer....
July 19, 2014
Don't overlook this SE: original twists
Love the visual concepts in this story. Surprising results and actions with little handholding because you have only a few hints for a guide. There are a few puzzling lumps, but this puzzling is exactly what a game should be about. You really have to have your wits about you and look around - and there's lots to see without overwhelming with intricacies in the designs. Hidden faces loom out, statues perform unexpected actions. I recommend this game highly for originality, even a few new items in the HOS (which I am really enjoying). Not the same old ho-hum! I didn't want to finish...
July 10, 2014
THE DREAMING GARDEN
SO SO GOOD I LOVED EVERY BIT YOU NEVER GET FED UP THE PEOPLE THAT MAKE THE GAMES THANK YOU
July 14, 2014
Very nice game
I likes this game very much. Searching hidden things with the amulet was nice, graphiks were stunning - thumbs up from me.
July 3, 2014
I thouroughly enjoyed the game.
It was a very good game and bought it.
July 19, 2014
Petrified Mom
Kinnat was just a young girl when she witnessed her mother turning into stone. A stranger rescued Kinnat but she was too young to remember who that stranger was, and the only possession she has linking her to the past is a broken amulet medallion and vivid dreams of that fateful day. Several years later, Kinnat notices a strange book in a book stores window that seems to be connected to her medallion, but when approached by the books owner, she is abruptly told that the book is not for sale! That doesn't stop her of course and the next thing she knows is that she is inside the books magic realm. It is in this strange world that she learns of her mother's fate by a leprechaun (yep a little green leprechaun) "she's petrified" nope she's not terrified, she's been turned to stone! To save her mother she must find the elixir of life to revive her soul, and the other fragments of the broken medallion amulet to resurrect her body. You will use your medallion throughout the game for various reasons. Some items cannot be seen with the naked eye and the medallion will reveal 200 magic symbols, the symbols will show up in your magic book as groups, that will reveal a background story when a set is found. The medallion will also reveal some transparent animals and when you click on those animals, they will give you a magic coin. The medallion will also be used for finding items marked in green in the Hidden Object Scenes, there are only 16 HOS, so they are few and far between, they are slightly interactive list finds and if you are playing casual or normal difficulty, the items that require the medallion will be green. The mini games weren't bad, but most were super easy such as putting torn book page pieces together, or watching a dragon emit steam in a sequence of colors that you replicate by clicking on bells in that same color sequence. I liked the game with the statue heads where you had to put all blue marbles around the statues right eye and all the red marbles around the left eye with the dual colored marble directly in the center where the two circles intersect, but again super easy. Personally, I was on the fence with this game between a three star and a four, at times I found the game's pace too slow, there were game glitches, (in all fairness could have been my computer), and it just wasn't visually appealing, but the game does pick up the pace a bit in wonderland, and I found myself curious about the mother's plight. The broken medallion was a nice touch because it reveals things you cannot otherwise see, and after all it is a Standard Edition only. Don't get me wrong, the game has entertainment value, even though the story is similar to several others, it does seem to be going in a different direction than I expected, enjoy!
July 2, 2014