Shadow Wolf Mysteries: Under the Crimson Moon
Exclusive
A blood moon has risen over a rural village in Southern France. Wild wolves are attacking the citizens at night as accusations fly about townsfolk turning into werewolves. Is Martha Patio really a werewolf, or has she been falsely accused to cover up another person's secrets? Examine crime scenes to gather evidence and discover who is leaving strange coins on the victims and why. Your keen observation skills will help you uncover the liars, but be careful who you trust in this small town, or you'll become the next victim!
Game System Requirements:
OS:

Windows XP/Windows Vista/Windows 7/Windows 8

CPU:

1.4 GHz

RAM:

1024 MB

DirectX:

9.0

Hard Drive:

493 MB
Game Manager System Requirements:
Browser:

Internet Explorer 7 or later
Blood
Tobacco Reference
Violence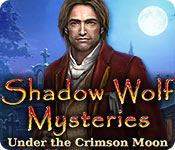 NEW299
The Big Fish Guarantee:
Quality tested and virus free.
No ads, no adware, no spyware.

Reviews at a Glance

Shadow Wolf Mysteries: Under the Crimson Moon
0
out of
5 (
0
Reviews
Review
)
Customer Reviews
Shadow Wolf Mysteries: Under the Crimson Moon
17
17
Follows Storyline & great Graphics
This game had a gloomy story with a dog & people turning into werewolves but the game & the pictures and all the colors were NOT gloomy looking. Thankfully, there were No dark gloomy areas which I don't like. I did have to check the walk-through twice to figure out why something wasn't working but other than that, I had not help. I believe I have all of the Shadow Wolf Mysteries - true some are better than others but I've enjoyed them all.
October 4, 2014
ERS Is Back!!
I asked for a challenge, and I got one! I normally refuse to use hints. I'd rather figure it out myself, even if it takes hours. I had to use four hints in this game. Some of this was due to (what I thought was) a technical problem toward the end of the game. All I want to say is, it had to do with a poison dart. (Developers, you know exactly what I mean.) This game deserves five stars, but not because it's perfect, by any means. There are several flaws. But it's the best game I've played in quite a while. I was stumped several times, which is a huge plus for me. It makes me use my brain! The puzzles were fantastic. Puzzles are my favorite part of these games. Some really good, different puzzles are here for you puzzle lovers. There were HOS's, but they were all a little different, so I didn't mind them at all. I really liked the music. Good job ERS! BUT... can't you vary it a little? It was the same refrain over & over again. Throw in something different for each part of the game. Use some new composers. It's a good chance to showcase their work. Now, for the voiceovers... this was some of the worst acting I've come across in a game for a while. It was all so monotonous and unexciting. No way in the world would you believe anyone was in danger. You can do better in this area, ERS. Take the lead from other developers. EIPIX has the best voice overs I've heard. Just a really great game! I played in the most difficult mode, but I think anyone would enjoy this if they stay within their mode of comfort.
September 5, 2014
Best Shadow Wolf HOG
I could not stop playing this game! The best one ever. Graphics were excellent, how the wolves came at you, awesome! Storyline wonderful. A definite buy.
August 2, 2014
WOOF WOLF
ABSOLUTELY loved THIS GAME. SOOO REFRESHING TO PLAY A GAME THAT FOLLOWS A STORY-LINE. I MUST ADMIT I CHEATED IN THE SKIPPING OF SOME GAMES..SHAME ON ME. MY RECENT FAVORITE AND I HAVEN'T SAID THAT IN AWHILE. AS ALWAYS PLAY BEFORE PAY, BUT I DO HIGHLY RECOMMEND.ENJOY..
July 15, 2014
OUTSTANDING
SUMMARY: Another winner that is simply awesome in this continuing saga of Shadow Wolf Mysteries. Graphics and animation are outstanding. Atmosphere is sinister and alarming. Objects to help you in your quest are unique. If you like the other Shadow Wolf Mysteries, this will certainly not disappoint. IF YOU WANT MORE THAN A SUMMARY, MORE DETAILS ARE BELOW FOR SPECIFIC TOPICS. STORY: Play as a detective in the 1890s, investigating a town held in peril by ferocious wolves and/or werewolves (you have to decipher which it is). There is a rumor that the next door neighbor is a werewolf herself or is harboring them and releasing them at night. Learn facts about werewolves, including the first one. GAMEPLAY: Plenty to do; somewhat linear; and lots of places to go, with some back and forth. But you have an interactive map to help you. There are HOS, puzzles and mini-games to help you move forward. Graphics and animation are superb. Wolves are popping out all over. When you meet someone new, use your "magnifying glass" to find out information about them. If you find an unknown substance, use your analyzer by putting the substance into a box, answer a few questions and get your prize for one of the puzzles. HOS, PUZZLES AND MINI-GAMES: The HOS are not too crowded and objects are nicely distinct. They are the "find X number of items" that are of a certain type (such as metal or related to werewolves). Good ratio of HOS and mini-games to puzzles. Mini-games are not too difficult, not too unique, and give you a prize. Puzzles are in the form of finding objects needed to complete them and thus move the game forward. Not too difficult, but you if you need 3 objects to complete the puzzle, you must find all of them to use them. OTHER STUFF: Voice overs for the people are very good; but they could have captured the sounds of real dogs, cats and owls, etc. They sound too mechanical, but still acceptable. You have a moon that illuminates areas where you can interact. You have a diary, but I could not turn the pages back to check something. Don't know if this was a glitch.
July 4, 2014
Really Good!
I really liked this game! It wasn't just all "find the hidden objects"--just enough to make it fun. The puzzles weren't too hard that I couldn't get them. My idea of an all around fun kind of game to play!
July 7, 2014
They need to make more like this!!!
I liked this one a lot.I wished more were like this one instead of the same old boring fantasy,same backgrounds,storylines yawn fests.The story was fun,the graphics and sounds were great and the tasks and puzzles were different and fun to do.Lately I get so bored with the constant back and forth and same ole same ole that I can't wait for it to end.This one I didn't want to end.It's a keeper!
July 9, 2014
Shadow Wolf is Back and Better than Ever
The Shadow Wolf series is back and this time with Under the Crimson Moon, the fourth game in the series. IMHO, nothing could top Curse of the Full Moon and I was disappointed by the time the third game appeared but as Under the Crimson Moon begins we immediately become aware that things have changed and some exciting gameplay enhancements are coming our way. The game begins as you receive a letter from Ellis Cote who asks you to help solve the mysterious deaths in her town. When you arrive at her estate you are greeted by a vicious pack of wolves that are soon subdued by a horrendously ugly and monstrous werewolf, just the first of a few unexpected, scary moments. After you regain your composure and access the house you meet Ms. Cote and jump right into the investigation. As you move forward with the adventure, solving the mystery of the werewolf is becomes quite interesting, with more than a few of those scary, jump from the chair moments. The graphics are excellent and typical of ERS games but I do wish that the artists would get rid of the mistiness that is often present in some scenes. Aside from that, the ERS artistic team is very gifted when it comes to creating the characters in their games and brings them to life so that they don?t appear cartoonish and flat, which is one of the reasons that I have always loved ERS games. Where Shadow Wolf Under the Crimson Moon falls short is with the voiceovers, some of which are not very good and not at all typical of what I think the character should sound like. In addition to the out of character voiceovers, ERS has dropped the lip-syncing that made the first Curse of the Full Moon so incredible and elevated ERS to a top-tier game developer. Alas, times seem to be changing and we no longer see the realism that lip-syncing adds to a game. That being said, the remainder of the sound package is very good and has excellent ambient effects. The game has the tools that we find in most HOPA games with a diary that keeps track of not only our notes but of the evidence we find as well. We have a new tool in this game called an analyzer which we use quite often to identify ?unknown? objects. Use of the analyzer is sort of a mini-game each time the unknown object appears. There is a transportable map but it does not indicate areas where you have objectives. Under the Crimson Moon has a variety of interactive HOPs that are very typical of the types found in most other ERS HOPA games, but recently the developer has added the option of switching to alternative puzzles if you do not want to find items in the HOPs. The optional puzzle in this game is a match type puzzle reminiscent of a flow type game. Some of the puzzles I encountered in the game can be frustrating if you don?t take the time to really think about them. Since demo time is limited, I generally skip puzzles that I can?t immediately solve so that I don?t waste valuable gameplay time. That being said, most of the puzzles are the type that I enjoy. For me the CE version of Under the Crimson Moon was an immediate purchase and as I played the game I found myself being captured by the mystery and the gameplay: this is a game that I enjoyed from beginning to end, and I am now eagerly looking forward to the next game in one of my favorite series. I have no hesitation in saying that this game is a step up from more recent offerings from this developer and recommend that you at least try the demo to see if this is a game you will like.
July 4, 2014
Good but not the best
I have to be honest and this is my least favourite of the series. I think it's been cobbled together and has only the loosest of threads linking it to the others in the series. That said it was still brilliant. The graphics were top notch and the voices, as per normal, were very good too. The game play was much the same as the others, although I couldn't help looking for morphing objects (too many other HoG's I guess!# I will buy any others that come out because I do enjoy them as a rule. I felt the main game was a trifle short, especially if you've played the others and know what to expect. The 'examining witnesses' was a great new addition as was the 'analyser' for unknown substances. So, all in all a great game with great games and mini-games - you get to mend film clips, take fingerprints, bend metal bars with a wet shirt #small spoiler, but leave you to find the details#. The cut scenes were very well done and I loved them. All I will say as an end is ; "BEWARE CURLY"
July 6, 2014
Who's In love With The Big Bad Werewolf?
There's another mystery to solve, no worries, I've done this before. Ellis Cote has been attacked by a vicious wolf, not just any wolf, she truly believes this wolf is a werewolf, half man, half snarling wolf! Her own brother doubts they exist, after all, he is a doctor, a man of science and reason, werewolves simply don't exists.....or do they? Tonight is the first night of the crimson moon, a blood moon, and legend has been foretold that because of his cruelty, Lycaon, once King of Arcadia, was transformed into a beastly werewolf by none other than Zeus himself. The blood moon will force the brutal and painful transformation of man to wolf, if this is possible, how will it be possible to stop something neither man nor beast? Everybody loves a good werewolf story, and Shadow Wolf Mysteries won't disappoint you, in fact you just may be on the edge of your seat (computer chair lol) trying to get a closer look at this hideous seven foot Lycan! As a detective you have come prepared with an Analyzer kit, simply put substances in the analyzer that you can't readily identify and answer a few easy questions. Is the substance a gas, solid or a liquid, is the substance toxic, and is the substance natural or artificial, then the analyzer identifies the substance as olive oil, gunpowder etc. Don't worry, if you choose the wrong answer to any of the questions, the lights will flash red indicating that the answer is wrong, and you simply choose a different answer. I found this analyzer amusingly unnecessary because if you know enough about the substance to know if it's artificial or not, and whether or not it's toxic, you could probably guess at what the substance actually is. That's what Detectives do, they analyze things, and naturally people need analyzed or summed up as well, in this case in the form of a mini game where you need to use a magnifying glass and thoroughly scan each new person you meet and click on a specified number of clues such as scratches or gun powder residue (don't laugh, that's how us Detectives, detected in the 1800's) The Hidden Object Scenes are done twice in the same scene with the same requirements both times. The first time you activate a HOS, you may be required to find 12 werewolf related items and the second time you may have to find 12 metal objects in the same scene. The next HOS requires you to replace items back into the scene where they belong, and the second time the same scene requires you to replace different items back into the scene. Personally, I get bored when the Hidden Object games are in the same scene. The mini games are entertaining and you can choose either casual or hard modes, the one I liked the most was choosing a blackberry to start with and then use directional arrows to to pass over every blackberry without getting trapped and unable to complete a path over all berries. This edition is by far the better value because I didn't think the Collectors Edition had enough extras to set it apart from a Standard Edition. The CE has the usual wallpapers, concept art, replayable games, but from what I can remember, the only real difference is that there are no achievements in this edition. This is a great Hidden Object game that has the option of playing a game connecting pairs of identical tiles with an uninterrupted line, instead of the HOS, enjoy!
July 4, 2014
The Apple logo is a trademark of Apple Computer, Inc.