Myths of the World: Of Fiends and Fairies
Exclusive
From Eipix, the makers of the successful series Final Cut, Off the Record, and Sea of Lies, comes more Myths of the World.

The rat catcher's after more than rats this time. He's kidnapping fairy folk! Where did these pixies come from, and what do they have to do with your grandfather's fairy tales?

Play both traditional and silhouette hidden-object puzzles in this dark fairy tale game. A unique new Q&A puzzle helps you discover your grandfather's tie to the fairy realm.
Game System Requirements:
OS:

Windows XP/Windows Vista/Windows 7/Windows 8

CPU:

1.6 GHz

RAM:

1024 MB

DirectX:

9.0

Hard Drive:

863 MB
Game Manager System Requirements:
Browser:

Internet Explorer 7 or later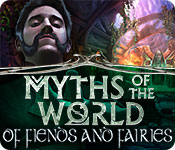 NEW299
The Big Fish Guarantee:
Quality tested and virus free.
No ads, no adware, no spyware.

Reviews at a Glance

Myths of the World: Of Fiends and Fairies
0
out of
5 (
0
Reviews
Review
)
Customer Reviews
Myths of the World: Of Fiends and Fairies
24
24
This Will Go Down As One of the Best HOPA Games of All Time
BASED ON COMPLETED COLLECTOR'S EDITION GAME My love of the Myths of the World series has rekindled with the fourth installment in this series. The first one was absolutely amazing, the next two sucked, and this one is definitely a game of the year contender. I'll be the first to admit that this type of story (you know, fairies, mystical worlds, etc.) has never interested me, so naturally, I wasn't going to be over the moon with this one. The story started off a little average. Things coasted along the way they were expected to in the demo, and there was maybe one or two good twists in there. The demo ended on a nice point. At this stage, the story hadn't gotten too interesting, so I almost considered not purchasing, but the gameplay was too good to ignore. However, things started getting really good after the demo! We suddenly learned that we had an ally, and then, when we thought we'd figured out the answer to all our problems... we had a villain! This was a great twist and the most exciting part of the main game for me. Then, we bumped in to the Queen of the Fairy Realm, Titania, and things got interesting once more. We were suddenly in a race against time to stop our villain and restore order to our world. The main game ended conclusively, so the bonus chapter is not needed, but I do have one complaint: Towards the end of the game, it is mentioned that Rita had a twin sister. Then it is never mentioned again until the bonus chapter. This, to me, just seemed like something that was chucked in at the last minute to set up the plot for the bonus chapter. That was the low of an otherwise good story for me. The one thing that I loved most about this story were the characters. They were a delightful little group, each with their own hilarious personalities. My favourite character of them all was Gideon the leprechaun, but I did also love the interaction between the two guardians of the coffin! That was absolutely hilarious. It's great that the developers decided to put that little bit of humour in there. It made the game so much better! Overall, what started as an average story got better after the demo and ended well. A great story; not Eipix's best, but still decent. This game has officially raised the bear in terms of HOPA gameplay! This game is packed full of features that made this game impossible to resist. It's for that reason I consider this a game of the year contender. Let me start with the HOS. Lately, it seems that they've been getting far too easier, but Eipix has put that to bed with these HOS. They're actually challenging, and come in many different forms. I found myself using the hint quite a lot, which is a little embarrassing! The HOS come in either junkpile, silhouette, riddles, or sometimes a combination of all three. The HOS are also quite lengthy too. Eipix has really taken it up a notch here and have done a fantastic job. The HOS were spread out fairly evenly throughout the game. Overall, there were 15 HOS in the main game. For those who don't like HOS, there is the option of playing a Bubbleshooter game instead. While I thought this was a good initiative, I didn't like it. The puzzles here are also wonderful. Eipix has really taken initiative here and learned that we players want something new, something exciting, and they've delivered here. We've now got a HOPA-first... The Q & A Puzzle! This is a wonderful new thing. The way it works is that you've got 3 possible questions and need to ask the right ones to move on. These can be skipped, so don't freak out. If you ask the wrong question, you keep going until you ask the right one. I found myself deliberately trying to get the questions wrong so I could explore all options. There was one slightly altered Q&A puzzle at the end, where you had to choose the correct answer to riddles. This wasn't a one-hit-wonder type puzzle; it was done 7 times in the main game. I thought the other puzzles were still good and extremely fun, even if most of them were a tad easy. Some of them are new, some of them are not. Like the HOS, the puzzles are spaced out fairly evenly and there are a few of them there. Overall, there were 28 puzzles in the main game, which was a fairly good amount. This means the ratio of HOS to puzzles is also good. Nothing pains me more than seeing heaps of one and hardly any of the other, so a good job here. As far as additional gameplay features go, I think Eipix have nailed it here. For starters, we have + objects, which are objects you must interact with to complete. They are indicated by small + signs above the item. The + turns blue when the item is ready to be interacted with. There were quite a few in the game, which was good. There was also a monocle, which was a pretty cool feature. It was used to destroy spells, which were indicated by either a purple or green glow. When you use the monocle, you will have to complete a short and rather easy puzzle. This feature was used quite a few times in the game, which was good. This game has all the basic stuff too. It's got a helpful interactive map, a diary, hint/skip and four difficulty modes. I must especially comment on the diary, which was actually quite helpful. The diary had a built-in timer, which let you know how long you had been playing the game. This was a wonderful feature for me and really helped. As usual, with an Eipix game, you get top-class, highly detailed graphics. The graphics are drawn well, with some pretty colours and lifelike designs. Everything is clear. The character designs are great too, as each character appears very lifelike. Job well done to the developers. The voice-overs are good too. They're Irish/British, which is a good change from the normal American ones. FEATURES 4 modes of difficulty: Casual, Advanced, Hard and Custom. Custom lets you set the game the way you want. Differences between the other difficulties are standard. Hint/Skip- In my opinion, the hint/skip charged a little too fast for the difficulty I selected. I found myself relying on the hint a lot. Diary- the diary could have been a bit better. It listed objectives instead of taking notes on the story. That being said, it redeemed itself by having a timer. Timer Map- the map is interactive and helpful. It lets you know where there are current tasks to perform. + Objects- These are objects you have to interact with to complete. Items are indicated by a little + sign. When the + turns blue, the item can be interacted with. Monocle- This is used a few times in the game. Every time it is used, you have to do a simple puzzle. WHICH IS THE BETTER BUY? The CE, definitely. It had quite a few good CE Extras in there. I found it was definitelty worth the money, something that is almost never the case. See my Bonus Content Review at the bottom for more info. ON THE GAME LENGTH The game, for me, was about 2.5 hours on Casual Mode, which is my ideal length. WHO WOULD SUIT THIS GAME? Beginners? NO. There are quite a lot of new features in here. You might struggle. Advanced Players? YES. Go for it. This will be a good challenge for you. Expert Players? YES. You'll enjoy this one. BONUS CONTENT REVIEW I found there to be quite a lot of Bonus Content in here, that I really enjoyed. STRATEGY GUIDE: The Strategy guide was good for finding the solutions to puzzles, and also showed the location of each collectible. I won't lie, I did use the SG to find the collectibles! ACHIEVEMENTS They are all gameplay based, but are a bit different from most. For example, there are achievements for using the map, using the hint, listening to cutscenes, etc... COLLECTIBLES There are collectible Fairy Shoes in this game. There are 36, one for every scene. I enjoyed collecting them. The Fairy Shoes have there own little place in the extras section. The only thing that disappointed me is that there were no collectibles in the Bonus Chapter. MAKING OF This is a short video involving the Eipix staff. It's quite weird, in my opinion. BUBBLESHOOTER This is the one extra I didn't like. I found the Bubble Shooter to be pointless and annoying. It was also quite confusing. REPLAY HOS & PUZZLES Here you can replay every single HOS and Puzzle you encounter, both in the main game and bonus chapter. For the HOS, you are timed and scored on your accuracy, and I think there are stars to earn, but I'm not sure. MUSIC Self-explanatory. This is just the soundtrack of the game. WALLPAPERS They're actually pretty cool. I have one set as my desktop background right now. You can set them to fit your screen resolution. They are downloaded to your My Documents folder. There are 8 to choose from. SNAPSHOTS Pictures of the Myths of the World: Of Fiends and Fairies cast TITANIA'S CROWN This is a bonus mini-game, sort of similar to the Souvenir Room that has appeared previously. You must create 1 jewel for Titania's crown in each scene. You do this through solving a quite challenging puzzle. It was very fun, albeit frustrating until I figured out what to do. BONUS CHAPTER This is an epilogue to the game, so is not necessary. Here, you play as Magrat, the Rat Catcher. Rita, the witch, has taken your children and you have to track them down. Your companion here is Rita, who has turned in to a mouse. The story was pretty good and lengthy (the Bonus Chapter lasted me an extra 45 minutes), but I'm a little disappointed that some good things were missing. Firstly, there were no collectibles in the bonus chapter, which was a little annoying. Secondly, the monocle is gone; it is not used. Other than that, a good bonus chapter. So, overall, this is a definite game of the year contender. This is Eipix's best game in quite a while and it deserves nothing short of a 5-star rating. Eipix has definitely raised the bar for future HOPA games and put all developers on notice. I can only hope Eipix continue to make these genre-defining games.
July 18, 2014
precious
first off if you don't like a lot of dialog this is not for you. me ..i love it being like watching a movie , i didn't want this one to end. loved all the characters and the humor put into some of them..i usually play casual but went one up one this one and had no problem they still helped you out a bit. i will be playing this again and i don't usually get to my games again.too busy buying more.lol..very colorful enchanting..watch some of the hos though i found some of the cube thingys hard to see what they were;but i'm due for an eye exam. LOVED THIS>>ENJOY>
July 18, 2014
I DIDN'T WANT IT TO END!
I enjoyed this game so much, I didn't want it to end. I thought I was getting tired of fairies and such, but am so glad I gave this game a try. The music was beautiful Irish music and each scene sounded different than the others. It was such a joy to listen to as I played. The HOG scenes were a variety of activity that they didn't seem like HOG scenes at all. You actually looked forward to playing them. I loved solving the riddles to find items. Some of them were tricky and you really had to put your thinking cap on. The puzzles were also fun and just challenging enough that I could work most of them, but did have to skip a few as usual. I loved the characters. Voices were great and each one was unique. The graphics were sharp and colorful. I will definitely play this game again many times. It's going at the top of my list. Thank you Eipix and BFG for such a fun game. I look forward to the next Myths of the World with great anticipation.
July 27, 2014
loved it
It never gets boring would recommend it to all
July 24, 2014
There's Magic in the Air
Something foul is afoot. You play the grand daughter of a famous writer who has since passed away. As you try your best to follow in his footsteps, suddenly you find yourself dragged into a magical battle that threatens to destroy life on Earth as you know it. As it turns out, your grandfather's fantastical stories were based on truth, and it's up to you to help finish what he started and ensure the safety of your realm and the fairy realm. The story is fun and engaging, the voice acting is great, and the graphics are nice,crisp, and charming. The puzzles are fun--not too difficult but not too easy. It probably took me over four hours to finish this game on my first play through, which is a pretty decent length considering how short a lot of these games are nowadays. I bought the SE during a sale, but I would definitely say that it would be worth it to buy at regular price.
November 13, 2014
What a great game!
I really don't do reviews although I play a lot of games. Mostly I just enjoy reading others and then deciding how I like the game for myself. But Myths of the World; of Fiends and Fairies wasn't just a great game, but unlike most of the Hidden Object games I've played, it had a really good ending. Funny even! I really appreciate the work the folks at Eipix put into this game and I'm looking forward to the next one I get to play. The game was a good length, with a wide variety of puzzles and even the hidden object games were varied and interesting. I had to use the hint button a few times but most of the puzzles were logical enough to figure out. If you like magic and fairies and humor, this game may be a good choice.
November 8, 2014
Long and Wonderful SE Game
Really enjoyed the hidden objects in this game. There are riddles to solve, and pictures to interpret so you have to think. The hint key is very helpful. The scenes are well done. The characters are good and there is humor.
August 9, 2014
what a fantastic, great fairytale!!
Very good game, with nice music, superb graphics and a great storyline! Loved the new features like answering the questions. See it for yourself, the humour in it is gorgeous! I had a really nice time with it and played about 5-6 hours. I was really astounded this game was so good. I have all the others, but this one is much, much better!! try it, I'm sure you'll have a ball with it too, just like I did! Have fun!Show less
July 6, 2014
Magnificent Game One of the Best This Year
Okay, I am not going to apologize but be prepared for lots of gushing. When I did the beta on this newest addition to the Myths of the World series, I was absolutely stunned and amazed at the beauty and quality of the game. The game is gorgeous and was a true delight to play. Since the game has so much going for it, I am not even going to get into the story because I think it is one that you need to try for yourself. It is not often that a game comes along that I find grabs me from the first scene and then goes on to get better. Of course, with EIPIX we know the will be the best to be found and that they are always colorful, so it should come as no surprise that a game with the title ?Of Fiends and Fairies would be full of gorgeous graphics and artwork. The voiceovers are lip-synced in the close-up bubbles and they are some of the best I?ve heard in games in a long time. When we couple the voiceovers with the music and ambient sound effects we then have a sound package that is of cinematic quality and absolutely wonderful. I happen to love the Celtic theme and setting of the game so right off the bat Of Fiends and Fairies had everything that would ?ring my bell.? IMHO, the entire package of graphics and sound add up to create an awesome gaming experience. In the game we have the standard equipment of a journal and an interactive transporter type map. We also have Orna, a pixie we meet early in the game, who serves as our hint button. Along with the standards we also acquire our grandfather?s monocle that will help us out in certain spell-binding situations. With this game being so terrific, I don?t want to provide all of the details about the HOPS except to say some of them are a bit different. The puzzles are typical and easy but they do flow with the game so no complaints here. Needless to say, I love this game and it was a no brainer for me to purchase the CE when it was released. The game is one that I enjoyed from beginning to end and I think it is truly one of those special 5-star games. Thank you to EIPIX and BFG for this awesome game. As you can see, I highly recommend Myths of the World of Fiends and Fairies but your tastes may not be the same as mine so I suggest that you try the demo to see if you like the game. If you try it, I don?t think you will be disappointed.
July 6, 2014
Another great addition to the series
The Myths of the World series from Eipix is one of the better collections available to gamers. Fiends and Fairies is no exception. Once again we are tasked to defeat an evildoer and save the fairy world. The player is aided by Orna the fairy and as the game progresses many fairy folk are encountered, some helpful, others not so. One of the things I enjoyed was the Irish accent given to the fairies. As is usually the case, Eipix graphics are well done. The hidden object scenes are a bit different than the norm and most are quite easy to complete. The puzzles are all doable with some taking a bit more effort than others. I bought the CE version and if it is within your means, the CE is the way to go. Not only are the collectibles fun to acquire but the bonus chapter is fairly long and adds to the overall story . However, for those of you on a tighter budget, the SE version is sure to appeal. This game is FUN and very whimsical. It will keep a smile on your face. I recommend it highly. Enjoy !!
July 6, 2014
The Apple logo is a trademark of Apple Computer, Inc.